Review Of The Mazda6 Tourer Estate
The Mazda 6 Tourer Estate is stylish, practical, and one of the most fun to drive cars in its sector. As such, it's going to appeal to a lot of people. Finally.
Let's face it; Mazda has been in the doldrums in this sector for way too long. But, with the languid flowing lines of the brand's KODO design marking out the exterior the way a cheetah's spots add to its beauty and a driving setup that makes it more engaging behind the wheel than the Focus Estate, this Estate is now a proper rival to premium cars such as the Volkswagen Passat Estate and the BMW 3 Series Estate.
OSV takes a closer look at what it's all about with our Mazda 6 Tourer Estate review.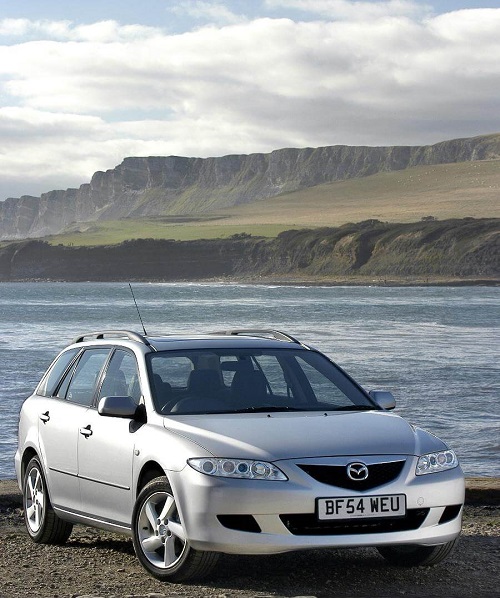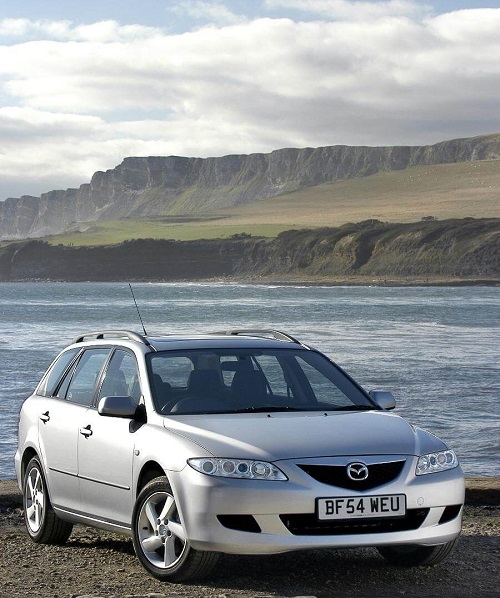 There are a few family Estates on the market that look a lot more stylish than ever before, but while they look the part, they struggle to offer much enjoyment on the road. The Mazda 6 is different; it promises the world and delivers it in spades behind the wheel. Positive steering ensures confidence as you approach bends – even at speeds – while body lean is well-resided thanks to a firm suspension setup. Potholes will throw you about a bit, though.
Our pick of the engines is the range-topping 2.2-litre 163bhp diesel unit that springs from rest to 62mph in just 7.8 seconds, making it perfect for motorway overtaking and cruising. It's performative too, while the meaty and accurate gearbox delivers plenty of power. The unit maxes out at 137mph and feels at its smoothest around 70mph. A rosy picture? You bet. Thanks to soft suspension, wherever you take this unit, things will feel comfortable.
The other unit in the diesel range is a 148bhp variant which takes a slower 9 seconds to get from rest to 62mph, but it too has plenty of performance and power to offer. It maxes out at 130mph.
Petrol heads might be tempted by the 2.0-litre petrol engine on offer, an athletic and responsive unit which comes in either 143bhp or 163bhp guise. It's nippy, and covers the 0-62mph dash in 9.1 seconds, but both variants are noisy and can feel slow in the real world.
Interior, Design And Build
The Mazda 6 is a comfortable car to ride in. You specify 19" alloys and still retain a lot of comfort, which is not what you can say in a rival car, such as the Audi A4 Estate. The supportive seat also boosts comfort, and you can adjust them as much as you want until you get the driving position that is right for you. Cruise control comes as standard, which is great news for if you're taking the car out on longer motorway journeys.
The dashboard has a sporty design that is going to catch the eye of lots of buyers. Solidly built, the quality of the plastics is overall good – but not totally. Cast your eyes far and wide enough, and you'll find that some of the materials don't match up to the standards of the BMW 3 Series Estate. There is a touchscreen infotainment system included as standard, but it hasn't aged well and can't compete with some of its more expensive rivals.
If you're a huge Mazda fan, and you're torn between this and the saloon, the Estate edges it in terms of practicality. It's got a bigger boot and a lot more space for passengers. Thanks to an extended roofline, headroom is much improved in the rear, as is knee room and shoulder room.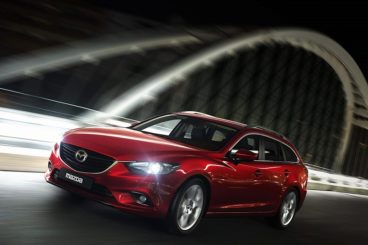 Three passengers can easily sit in the back in comfort, though the centre transmission tunnel will steal a bit of foot space away from the middle passenger.
Cubbyholes are sprinkled around the place, though the door bins are so unusually shaped that they can only really hold a 1-litre bottle of water. The boot offers 506-litres of space with all the rear seats folded up, which is competitive but a long way from being class-leading. The boot comes with a neat load bay cover that means you don't have to keep sliding the boot lid back and forth.
Although this car costs more than the Ford Mondeo Estate, it does have a decent amount of standard equipment on offer. The base-level variant comes with alloys, air conditioning, cruise control, Bluetooth connectivity and electric windows up front and in the rear.
The SE-L trim throws in automatic wipers and headlights, useful roof bars, as well as an armrest for front and rear passengers. Opt for the range-topping Sport model, and you'll get 19" alloys, a premium Bose stereo, xenon headlights, and heated front seats.
There is so much standard equipment that the options list is sparse. Optional extras include a £700 Safety Pack, which is well worth a look. You can only get it with the Sport variant, and it comes with a lane-departure warning. Meanwhile, forking out an extra £375 will get you wireless Internet.


Costs Of The Mazda 6 Tourer Estate
The Mazda Estate is wedged somewhere between the Ford Mondeo Estate and the BMW 3 Series Estate in terms of pricing. You can get your hands on an entry-level model for just under £22,000 while a top-of-the-range variant will cost you £28,700. If you choose to lease the car on a Contract Hire, you'd be looking at paying between £230 – £450 + VAT. Mazda dealers have a great reputation, so getting yourself a good deal shouldn't be too much of a problem.
Both individuals and companies will be interested in this car, thanks to its low running costs. Thanks to a setup the brand have christened SKYACTIV, the car is a lot lighter than last time around, and relies on super-efficient engines, each of which comes with stop-start technology to save fuel and energy.
The 2.0-litre 145bhp petrol is impressive, and can return 51.4mpg from a sensible drive while emitting 129g/km of CO2. The diesels are the most frugal, of course. The 2.2-litre unit returns 72.4mpg and will cost you just £20 per year to tax.
Insurance costs are not so low, though, and the entry-level variant sits in group 18 while the range topper vacates group 23.
Pros And Cons Of The Mazda6 Tourer Estate
Pros:
Bags Of Fun To Drive
There is only really one car in this sector that can rival the Mazda Estate for entertainment behind the wheel, and that's the Focus Estate. But whereas Ford have diluted their hatchback's drivability a little, Mazda have gone all out to develop a ballsy Estate that is easily the best in class to drive.
Aided by powerful, quick engines, this is a driver enthusiasts dream if that driver enthusiast now has a family and a lot of luggage to accommodate. It's built from lighter components than last time around and involves you in the driving experience.
It Looks Great
Mazda were probably afraid to modify the exterior because it looked so good last time around. Few Estates are what you'd call handsome, but thanks to a sleek new grille and flowing lines that make out Mazda's sexy KODO design, this is one Estate that is a cut above.
Yes, few changes have been made to its exterior styling, but few changes were needed. Opt for the range-topping Sport Nav trim and you also get LED running lights, which add a nice flourish.
It's Economical
Is SKYACTIV just a lot of bluster and hot air, or does it actually work?
While it hasn't always worked in the past, it certainly works this time. The athletic Mazda Estate posts impressive mpg figures and emits a lot less CO2 than last time around. Indeed, there is an improvement of up to 21% compared to the previous generation variant.
If you want to score the best numbers, you'll need to opt for the SE-L model because it comes with an innovative i-ELoop regenerative braking system.
Cons:
Petrol Engine Is A Bit Bland
The petrol engine has a lot of promise – but fails to deliver. Although either the 163bhp or the 143bhp unit feels the raciest out of the traps, covering the 0-62mph sprint in 9.1 seconds, they soon slow and begin to feel like slouches in the real world.
Dull Interior
Mazda have worked hard to make sure this Estate gets all the looks when it's parked outside your house or office building, but they haven't devoted too much care inside.
While there is nothing too wrong with the interior, it's a case of look, and you'll find materials that don't quite measure up to the standards of, say, a rival Volkswagen or BMW. Everything is tastefully done, but it's all a bit uninspiring.
Mazda6 Tourer Estate vs BMW 3 Series Estate vs Ford Mondeo Estate
Let's see how the car measures up against its nearest rivals in the comparison section of our Mazda 6 Tourer Estate review.
Mazda6 Tourer Estate vs BMW 3 Series Estate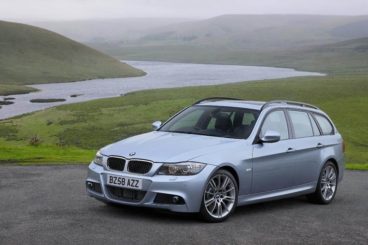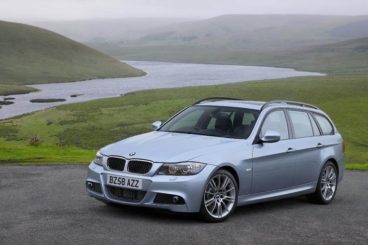 The BMW 3 Series saloon is a classy car. All BMW had to do was transfer its classiness to the Estate variant. Sounds easy enough?
BMW needed to retain what was so appealing about the 3 Series saloon and add elements that Estate buyers want and need. For example, a gargantuan boot.
BMW were the first brand that decided it was simply not good enough for car manufacturers to give up the ghost and insist that an Estate could never offer an inspiring driving experience.
They worked hard at capturing the saloon's "ultimate driving machine" experience, and the result here is a very involving machine that offers lots of behind the wheel engagement.
But here's the thing: The range-topping diesel in the Mazda range outperforms its counterpart in the BMW. Indeed, to match these unit's performance, you would need to go for the 320d in the 3 Series, but this is going to cost you a lot more money. It's a tiny bit quicker, but it also costs more to run.
There are lots of engines in the BMW's lineup: 9 to be exact, including 5 diesels and 4 petrols. As well as being the most performative, the 2.0-litre 320 ED diesel is also the cheapest to run, but with returns of 67.3mpg, it is still more expensive than the Mazda's most frugal unit. Moreover, those numbers can only be achieved if you opt for the automatic transmission.
The Mazda can't match the interior fit and finish of the 3 Series Estate. Everything here looks and feels luxurious, and the cabin is very well built. It's modern and slick, and the dash is simple, user-friendly and classier than the touchscreen infotainment found in the 6 Tourer Estate. Space up front is impressive, but back seat passengers will feel the pinch if there are three of them.
But every Estate has a major flaw. While some lumber down the road with as much life in them as a corpse, others have small boots. The 495-litre boot offered with the BMW might be okay if you were buying a saloon, but it's this Estate's Achilles heel. The load area, however, is very practical.
Asking prices for the BMW are also high, as are the optional extras.
Prices:
Mazda 6 Estate- £23,000 – £28,700
BMW 3 Series Tourer- £26,500 – £42,000
Mazda6 Tourer Estate vs. Ford Mondeo Estate
Drivability is among lots of peoples' criteria these days when they're looking for a new family-friendly Estate. The Mazda is setting a precedent, and while Ford can usually boast of having most-fun-in-class cars in their arsenal, a lot of the engagement of the Mondeo hatchback has been removed here. None of the engines in the range are as powerful, quick or as performative as anything the Mazda can offer, while running costs are worse too. The cheapest in the range returns 67.3mpg, which is shy of the 72.4mpg returned by the 2.2-litre diesel in the Mazda.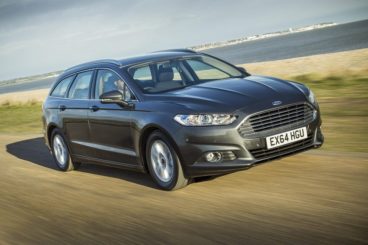 Both cars are handsome and will look the part when parked up. The Mazda has swooping bodywork whereas the Mondeo is more composed and commanding. Both are lookers, but while one is more of an ageing but still smooth and suave James Bond, the other is a youthful Christian Grey with a touch of flair. Inside, both can offer pleasant enough interiors, but neither is going to wow you.
Mazda can offer more standard equipment with their Estate, and while Ford has introduced lots of new safety equipment and advanced technology, much of the best stuff is only available as optional extras. Both cars score equally when it comes to practicality, with the sizes in boot space-incremental, although the Mondeo has more total capacity.
And while the Ford is more expensive to run and has a higher asking price, it does have lower insurance costs.
Prices:
Mazda 6 Estate – £23,000 – £28,700
Ford Mondeo Estate – £22,000 – £34,000
Verdict Of Our Mazda6 Tourer Estate Review
Like the Ford Mondeo Estate and the BMW 3 Series, this Mazda is fearless on the road and offers a great driving experience for an Estate – which is surely how things should be in 2016. The old argument that an Estate can't be both fun to drive and practical has also been put to bed, but while it looks great on the outside things aren't so rosy on the inside.
Still, the Mazda 6 Tourer Estate is sexy, has bags of room, lots of new technology and is cheap to run.
Get in touch with a Vehicle Specialist Today
Fill out the form below with your details, and one of our highly qualified specialists will be in contact within 24 hours.
When you lease a car with OSV there are no hidden costs, request a call back and we'll find you a finance, lease or purchasing deal designed just for you.