Review Of The Mercedes Benz C-Class AMG Saloon
Every now and then, you just want a fast car. Sometimes, you want a luxurious fast car. The new Mercedes Benz C-Class AMG Saloon is a scorching compact exec Saloon that's great to drive, comfortable – and reasonably affordable to run. Airmatic air suspension ensures you travel in style, while a high-quality cabin boasts luxury.
The AMG is a more expensive, more powerful step-up from the standard C-Class model. It has all the luxury of that car, but adds more kit, more speed and bigger alloys. Essentially, it's for the driver who can afford to take things up a notch.
OSV takes a closer look at what it's all about with our 2017 Mercedes Benz C-Class AMG Saloon review.
The C-Class AMG weighs 100kg less than last time around, which has boosted its agility. It's also improved its driving dynamics in general, making it a better car to drive. You can flick through four driving modes to get the feel you want, starting with Comfort and ending with Sport +.
Ride quality in the AMG model isn't quite as smooth as the standard C-Class. However, Airmatic air suspension helps to smooth things out, and it absorbs lumps and bumps well. There is no getting away from the fact that it has larger alloys, though, and these will negate any chance of supreme comfort.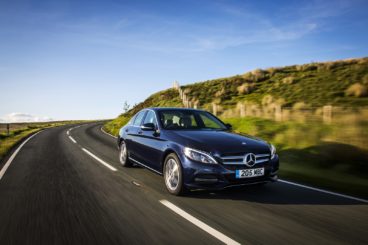 Overall, the car scores well for sharpness and responsiveness, but it isn't class-leading. As ever, it trails behind the BMW in this area. That's despite this being the feisty AMG model. It's accomplished, but you'll have to push your driving skills to the limit to get the best out of it.
The good thing about the AMG models is that they avoid the diesel clatter of the standard versions. You get a choice between an AMG C63 and an AMG C43 model. The former develops 476bhp, while the latter produces up to 362bhp. There is only really one reason to buy the AMG C63 model: It's Fun with a capital "F". It does 0-62 in 4.1 seconds, and is worth every penny if you can afford it.
The AMG C43 model, meanwhile, does 0-62 in 4.7 seconds and costs £10,000 less. Both models come with four-wheel-drive that offers lots of grip, as well as a nine-speed automatic transmission. Both engines are also super quiet.
Mercedes Benz C-Class AMG Saloon Interior, Design & Build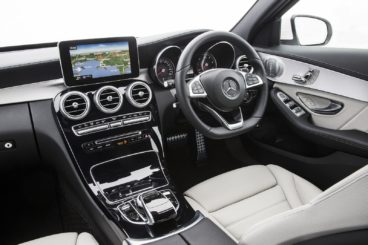 It's no surprise that the car is gorgeously executed. Without a noisy diesel engine in sight, the AMG's cabin is a quiet and relaxed place to be. The design is sleek and smart, and the fit and finish is first-class. The seats are comfy, too.
It's easy for the driver to find the perfect position, thanks to a steering wheel that adjusts for rake and reach. The driver's seat, meanwhile, is height-adjustable.
We like the amount of attention to detail Mercedes have paid to the dashboard – it has a very upmarket feel to it. It looks similar to the S-Class, which is no bad thing at all. The car comes with a 7" infotainment screen, which is controlled via a wheel or a touchpad.
The C-Class AMG Saloon has grown in size, and now measures 4.7m in length. This means you get more interior space, with shoulder and legroom in the rear much improved. Headroom hasn't really changed, though, thanks to the cars sloping roofline.
Storage spaces are plentiful and include a big glovebox, a pair of cup-holders, and a few door bins. Visibility is good, and the AMG gets a reversing camera.
The boot has seen a modest increase of 5-litres, which means it now offers 480-litres of space. That's competitive for this class, although the high boot lip will frustrate. Still, it does have a large opening.
Equipment & Safety Of The Mercedes Benz C-Class AMG Saloon
The AMG adds a few features that the standard car misses out on. These include a leather finish for parts of the dash, bigger 18" alloys, a sports steering wheel, and sports suspension. You also get an AMG body-kit, while other kit featured on all models includes a 7" display screen, sat-nav, LED headlights, as well as a chrome exterior trim.
Optional extras include a £2,000 Burmester surround-sound stereo.
Safety shouldn't be an issue. The car scored 5/5 when crash tested by Euro NCAP, and it comes with a whole host of safety features. These include Attention Assist, Collision Prevention Assist, a tire-pressure monitoring system, and cruise control. You can specify your 9-speed automatic transmission with a Driving Assistance pack, which adds a blind-spot warning sensor and adaptive cruise control.
Costs Of The Mercedes Benz C-Class AMG Saloon
Prices for the new car start out from around £62,400 and rise to almost £73,000. For more information on our leasing deals, check out our page here.
In terms of its running costs, the C-Class AMG saloon fares reasonably well. Mercedes claims it can return as much as 34.5mpg, although the S version returns a bit less – 33.6mpg economy. Emissions for both models are 200g/km of CO2.
However, on paper it's one story, while in reality it's quite another. Driven like an AMG should be driven, the car will probably average returns of around 25mpg.
It's expensive to insure too, sitting as it does in the highest insurance group.
Pros and Cons of the Of The Mercedes Benz C-Class AMG Saloon
Noisy Engine
If you're looking for a hair-raising engine that can cause a small tremor in your neighborhood, the AMG's power plant delivers a vocal note that rivals a thunderstorm.
Exceptional Performance
The power band is wide, 0-62 can be done in almost 4.0 seconds, while the range-topping model has up to 650Nm of torque available.
Handsome
It sports subtle but handsome looks. The design won't be to everyone's taste, but there is a mark of sophistication here.
Bland Interior
Maybe those subtle good looks were meant to be the giveaway. Inside, the car is distinctly ordinary. Disappointing.
Expensive
Prices start out from over £60k, while running costs are high.
Mercedes Benz C-Class AMG Saloon vs BMW M3 Saloon vs Audi S4
Let's see how the car fares against its rivals in the comparison section of our 2017 Mercedes Benz C-Class AMG Saloon review.
Mercedes Benz C-Class AMG Saloon vs BMW M3 Saloon
The new BMW M3 Saloon is the kind of car your Mum warned you about when you were a kid. Fast, aggressive, it's the one we all secretly wish we owned.
The "problem" the M3 has is that, a bit like Manchester United, it was number one for years and years. Eventually, though, rivals have caught it up. Still, that's not to say it isn't a beastly proposition.
With a 0-62 time of 4.1 seconds, it goes head-to-head with the Mercedes. However, it loses out in the guttural roar stakes, with the AMG being louder. Still, you can pay extra for a sports exhaust that increases the size of the tremors this car can make.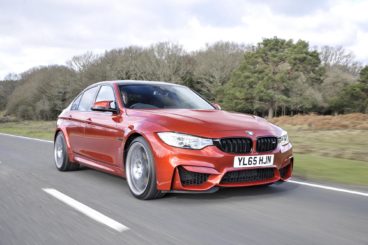 With or without that exhaust, there is a lot of pleasure to be derived from driving this car. Power is always available, even at low engine speeds. The suspension is stiff enough to make it easy to take corners at speed, while a comfort mode can tone things down a bit, turning the car into something of a cruiser.
Road noise will always be an issue, though, thanks to the massive 19" alloys.
Despite all the savage performance that's available, the M3 Saloon is reasonably inexpensive to run. In absolute terms, returns of 34mpg economy would be dire, but for a car like this it's welcome. Emissions, meanwhile, go as high as 204g/km of CO2 if you opt for the manual gearbox. All versions cost £140 a year to tax, but there is also a surcharge of £310 to pay for the first five years.
Boring numbers aside, there's not much we can fault where the car's interior is concerned. It's ergonomic, comfortable, and the sporty driving position will enhance its appeal among keener drivers. The cabin has been revised recently, and now comes with an updated sat-nav.
Other nice touches include M badges here and there, as well as sports seats. The steering wheel is small enough to continue the sports car-theme, while parking sensors make it easy enough to park.
It's a practical car, too. It has five doors, a 480-litre boot, and plenty of storage spaces. These include a decent-sized glovebox, some cup-holders, and a few pretty big door pockets.
Rear legroom is one of the very few issues. A wide transmission tunnel doesn't help, so we'd suggest sticking with four rather than five passengers.
Price:
Mercedes – £44,050 – £69,490
BMW – £58,580 – £61,580
Mercedes Benz C-Class AMG Saloon vs Audi S4
The new Audi S4 is a faster, more powerful version of the A4. It's a lot pricier too, but can boast terrific speed, comfort, and an impressive cabin.
It comes with a substantial price-tag, but it won't be lost on buyers that £45,000 is what it costs these days to get your hands on a classy high-performance car that these German brands do so well. The Audi S4 is powered by a six pot 3.0-litre petrol engine that develops up to 349bhp. That's enough to pin you to your seat as it launches from rest to 62 in 4.7 seconds.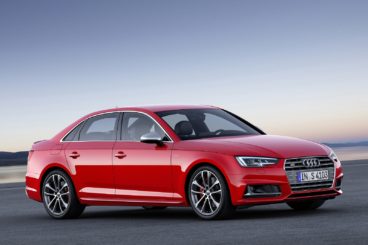 Not quite as jet-heeled as the Mercedes then, but there is plenty of fun still to be had. It comes with adjustable suspension as standard, while its 8-speed automatic transmission is as smooth as these things come.
However, the steering – despite being precise – lacks feel. This lack of feedback means you never quite know how much grip you've got. And for such a powerful car, that can make one feel a tad queasy.
The economy is good, all things considered. The S4 has claimed returns of 38.67mpg, although we don't expect many drivers to actually average that. CO2 emissions, meanwhile, are 166g/km, which would have resulted in a yearly tax bill of £210. However, all S4 saloons bought from now forth are liable to a £510 yearly tax bill.
We don't expect anything less than an elegant, luxurious interior from Audi – and that's exactly what we have here. The cabin goes a long way to justifying the price tag. It's ergonomic, comfortable, and looks great. If we have but one complaint, it's the infotainment screen is non-retractable.
Nappa heated leather seats are a highlight, as is the fact that back seat passengers have their own air conditioning controls.
Considering it's based on the A4 Saloon, it's perhaps not that surprising that the S4 is so practical. But a 480-litre boot is on par with the Mercedes (it's the exact same size) and four adults have got plenty of space to get comfortable inside here. In many ways, despite the extra speed and power, the S4 is just as usable as the A4.
Price:
Audi – £45,000 +
Verdict Of Our 2017 Mercedes Benz C-Class AMG Saloon
This isn't a necessary car by any means. Far from it. But sometimes, you deserve a treat. If you don't mind the high running costs, the explosive new Mercedes Benz C-Class AMG Saloon is as self-indulgent as a big box of dark chocolates on a cheat day. Fast, powerful and luxurious, it's for the buyer who appreciates the finer things in life.
When you lease a car with OSV there are no hidden costs, request a call back and we'll find you a finance, lease or purchasing deal designed just for you.