Review Of The Mercedes-Benz C-Class Saloon
The new Mercedes-Benz C-Class saloon continues to set the bar high in a very competitive executive sector. This saloon is bigger than ever, much more practical than last time around, and houses an interior fit for a king, a queen and their kids.
If you've ever looked at Mercedes flagship and more expensive and even more luxurious S-Class Saloon, the C-Class is a more scaled-down version that is less expensive, but which comes with a long list of smart and pricey options.
Mercedes have introduced plenty of exciting advanced tech to keep things interesting, while there is also bags of performance on offer. OSV takes a closer look with our Mercedes-Benz C-Class Saloon review.
Mercedes have done a stellar job of trimming 100kg from this car's weight, with the result being a more agile and enjoyable car. There are four driving modes to choose from: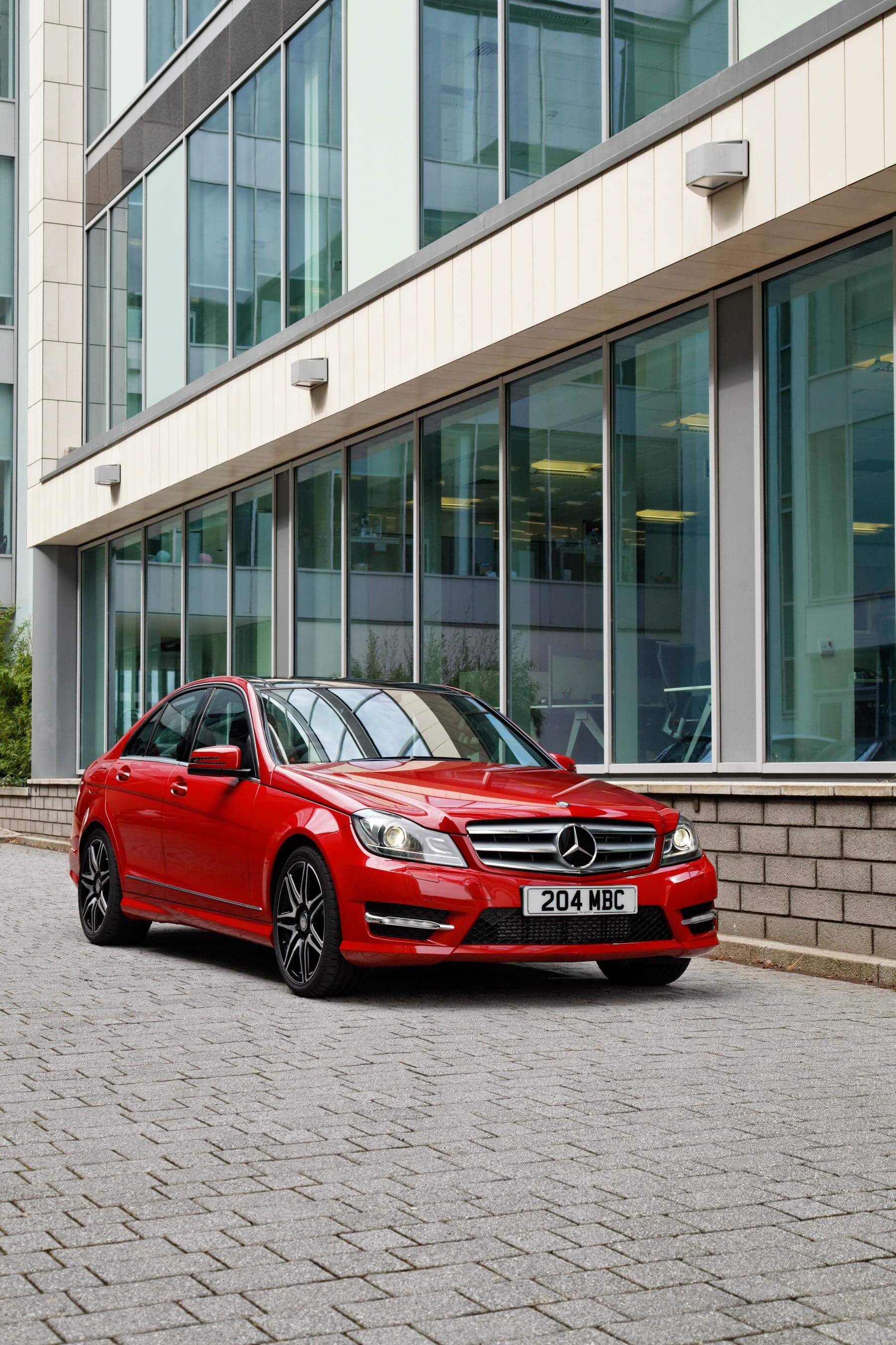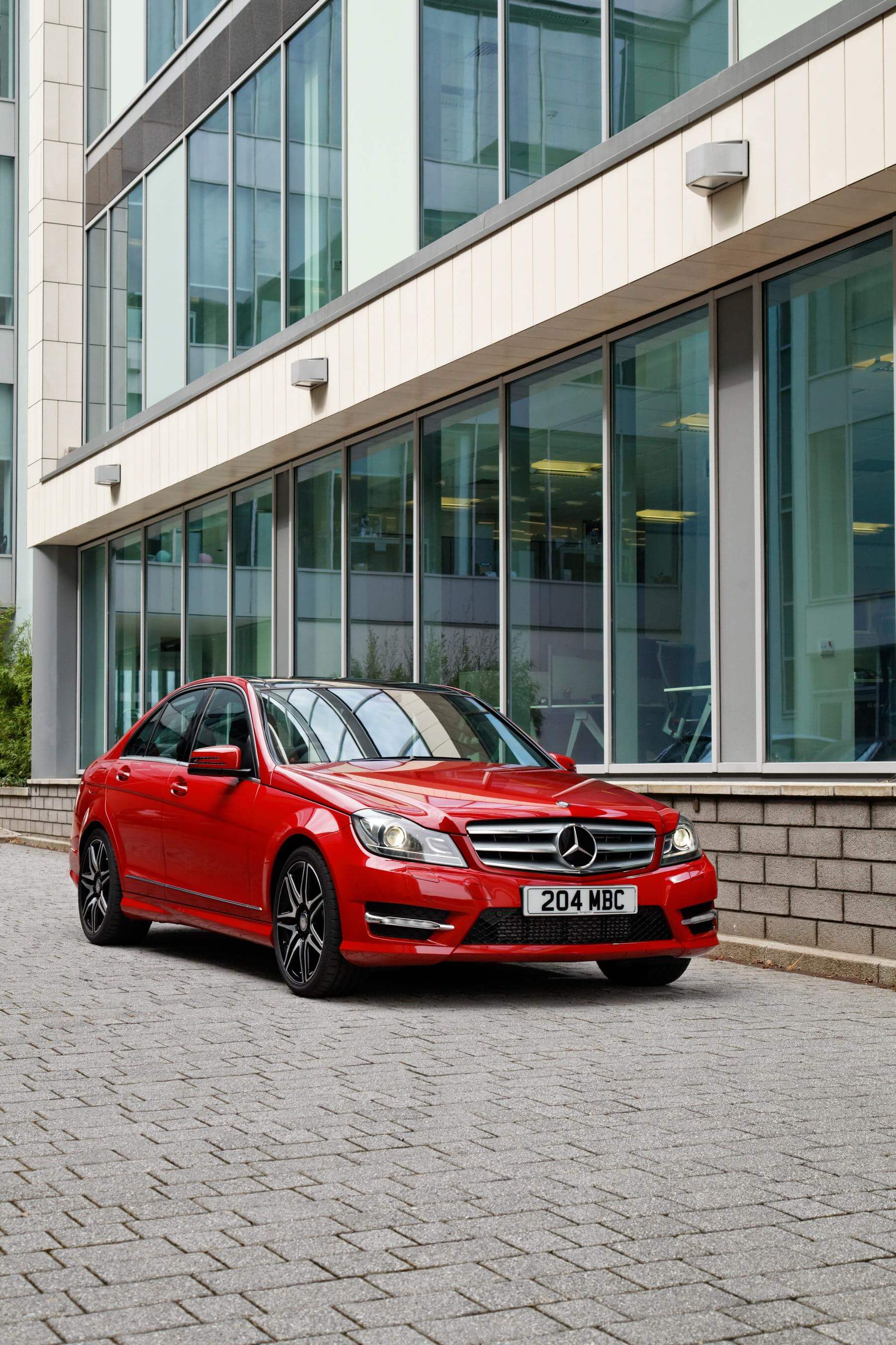 This means you get to choose how comfortable or sporty you want the car on any given day. Ride quality will come down to the type of suspension setup you get, but even the base-level model is competent enough at soaking up the bumps on some of our worst roads.
Air suspension is available as an optional extra; it costs almost one-thousand pounds, but it will make you feel as though you're driving a floating cloud. It's adjustable so that you can switch between more poise or comfort, but drive it at slow speeds and you'll feel the hit when you tackle poor surfaces.
There isn't much separating the petrol engines in terms of performance. The C200 petrol model can get from rest to 62mph in a respectable 7.5 seconds, but you can improve that time by pairing it up with a 7-speed automatic 'box.
This is OSV's top pick if you're going to be spending most of your time in town as opposed to lengthy journeys. For more performance, a C350 unit develops 293bhp and covers the 0-62mph sprint in 4.7 seconds.
The fastest diesel in the range is a C300h power plant that can get you from rest to 62mph in a matter of 6.4 seconds. The 2.1-litre is old, though, and as a consequence makes a fair amount of noise. If you want a more economical, cleaner engine, we recommend the C200d engine. It is, however, slow and can't cover the 0-62mph sprint in less than 10 seconds.
The interior is one of this car's strengths. The fit and finish impossible to fault, and the design is on point. The seats offer plenty of comfort, with the only real disappointment being the diesel units that bark and growl a bit too much.
This is generally going to be okay on jaunts around the town, but you might find it irritating on the motorway.
The driver's seat is height-adjustable, while the steering wheel is also adjustable. The dash is the product of great care and looks excellent. The details are super pleasing, and is evidence that Mercedes have spent a lot of time crafting an upmarket car that is going to be a pleasant place for anyone to sit inside.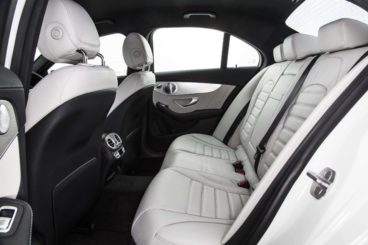 The new model is wider and longer than last time around, and while this negatively impacts on its handling it also means that interior space is better. It's not perfect, and there are roomier cars in this class, but it's an improvement. Visibility is excellent all-round, while your car will also come with a reversing camera to make parking easier.
Up front, space is nothing short of excellent. Led and shoulder room in the back, meanwhile, is only really going to be an issue for taller adults. The car does come with a sloping roof that is going to cause an issue for some, while foot space could be better. Pleasingly, there are plenty of storage spaces dotted around the cabin, while the 480-litre boot is 5-litre bigger than its predecessors. The standard trim doesn't come with 60:40 split-folding rear seats. If you want it, you'll need to fork out an extra £900.
As expected with a premium car standard equipment is excellent. Even standard models get treated to a DAB digital radio, twin-zone climate control, 17" alloys, lowered suspension, satellite navigation, and a 7" display screen.
Move up to the AMG Line and you get treated to 18" alloys, a sports steering wheel, sports suspension, as well as a leather dash finish. The SE Executive Edition trim is new and adds active parking assist and heated front seats.
Costs Of The Mercedes-Benz C-Class Saloon
The new saloon has a purchase that starts at £28,000 and rises to £70,000 if you want the range-topping model as well as the Sport Premium Plus package. If you want to Contract Hire it, you can expect to pay somewhere between £170 and £700 + VAT per month dependent on specifications.
When it comes to selling your vehicle, the mid-range trims offer the best resale values after three years. Whichever model you choose, you should be able to claw back something between 43% and 47% of its original price.
Pair the C220d up with the 6-speed manual 'box, and you should be able to achieve pleasing returns of 70.6mpg. Road tax, meanwhile, will only cost you £20 a year, which makes this car an attractive proposition for companies on the lookout for a new fleet.
If you want a bit more pace, the C250 diesel engine is quicker, and is still good for an impressive 65.7mpg. The C200 petrol is remarkably frugal too, and returns 53.5mpg while emitting 123g/km of CO2.
Pros and Cons Of The Mercedes-Benz C-Class Saloon
Pros:
Inexpensive To Run
Easily one of the best things about this car is that it's cheap to run. The most frugal unit in the range is the C300h diesel-electric hybrid that has plenty of acceleration and can deliver returns of around 78mpg. The C350e plug-in hybrid, meanwhile, is good for 134.5 if you stick mainly to electric mode.
All engines in the range are inexpensive to run. Even the petrols are worth a look. The C200 petrol can return 53.3mpg, which is very pleasing.
Classy Interior
The new C-Class Saloon's interior has been given a makeover so that it looks new, fresh – and super luxurious. It's so good that it takes the idea of a premium saloon to all new heights.
The interior is kitted in advanced tech, and it also unveils a new touchpad system for the first time. Scrolling through various menus is easy, and you are able to select your favourites at just the touch of a button. This touchpad is built into the central console panel's hand rest, and basically works as a smartphone or a tablet.
A Lot More Practical
Mercedes have worked hard to make this car more practical than last time around. It's wider and lengthier than before, which means there is more room for rear seat passengers.
There are also numerous storage options dotted around the place, and a reversing camera is standard across the range. The boot is marginally bigger, while a motorised boot lid is available as a useful optional extra.
Cons:
Standard Manual Gearbox Isn't Up To Scratch
The 6-speed manual transmission might be brand new, but it isn't top notch. It's available on all models as standard, with the seven-speed automatic optional. Mercedes reckon 83% of buyers will snap up the automatic, and it isn't hard to see why: The manual 'box is vague, and we expect that it will be better next time around.
Quickest Diesel Is Too Noisy
While refinement is overall better than ever, the fastest diesel in the range is a noisy affair that can spoil your enjoyment slightly. An old 2.1-litre unit, one wonders how much it's got left before Mercedes decide to kick it into touch.
Mercedes-Benz C-Class Saloon vs BMW 3 Series Saloon v Lexus IS Saloon
There are a few cars rivalling the C-Class in this sector. Before you make a decision, let's see how it measures up against the 3 Series and the Lexus IS in the comparison section of our Mercedes-Benz C-Class saloon review.
Mercedes-Benz C-Class Saloon vs. BMW 3 Series Saloon
The BMW 3 Series Saloon is now into its sixth generation. It continues to dominate the premium saloon market, thanks to more space than ever, better drivability and an even more sophisticated interior.
All models in the 3 Series range are entertaining to drive, and handling is exemplary. Grip is awesome, the suspension is nice and firm, while the steering is well weighted. It's better on twisting roads than it is on the motorway, though; get it up to speed in a straight line, and you might notice that the steering has a bit of a 'dead spot.' It certainly works, but it isn't going to suit the keener driving enthusiasts out there.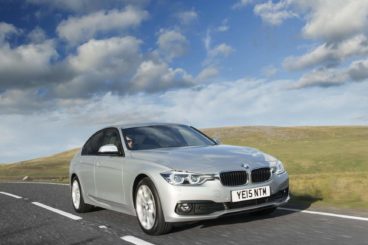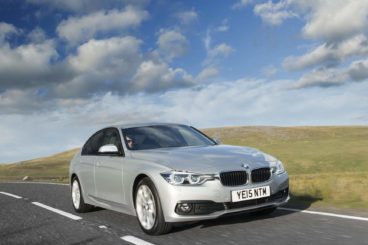 The 3 Series Saloon's interior is very driver-oriented. The dash is well laid-out, the dials are all easy to find and use, while the ventilation and stereo controls have been logically arranged. A dash-mounted colour screen is also a nice touch. Overall, the interior is slick and contemporary, but not as luxurious as the one found inside the Mercedes.
Neither is it quite as practical. The BMW is more cramped inside than the C-Class Saloon – indeed, it's more cramped inside than most cars in this class. Even though it's the biggest 3 Series so far, and although head and legroom has been improved, there are still problems. For example, whoever sits in the middle seat will find foot room is poor.
Visibility is good, but parking sensors are optional – in the Mercedes, rear parking assist comes as standard. The boot, meanwhile, is the same size as the one in the C-Class.
Although the BMW 3 Series commands a hefty asking price, it boasts solid running costs. The 2.0-litre diesel is free to tax and returns around 74.3mpg off a sensible drive. The more powerful 330d unit is good for returns of 56.5mpg, while the 335d four-wheel drive variant can manage returns of 51.4mpg.
The Mercedes has better resale values than the BMW.
Price:
Mercedes – £28,000 – £70,000
BMW – £25,000 – £41,000
Mercedes-Benz C-Class Saloon vs Lexus IS Saloon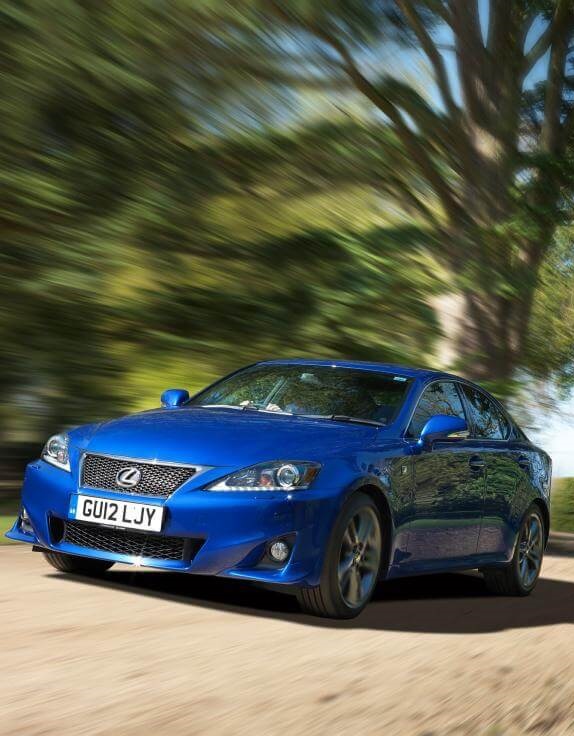 The previous Lexus IS Saloon was a rather uninspiring and unappealing affair. Happily, the brand has made the new IS a much more striking affair. It's an outside choice, but definitely worth a look.
Handling is better than last time around, but it still won't be able to satisfy keener enthusiasts. The steering is accurate; the braking is strong, and there is a lot of grip on offer. It lacks the sharpness of the BMW and the Mercedes, though.
Although running costs for the IS 300h hybrid model are going to be low, you can only pair it up with a CVT automatic 'box that is nothing short of frustrating. The engine makes a racket and it disengages you from the driving experience altogether. Lexus have created a dial that creates more noise in a bid to make this car sportier, but it's clearly artificial and doesn't sound all that good.
And although the IS 300h hybrid is cheap to run, its returns of 65.7mpg will be hard to achieve in the real world. Moreover, it isn't as efficient as some of the most frugal units in the C-Class Saloon's range. It is, however, very low on company car tax.
Inside, Lexus has dreamt up a futuristic dash to rival the restrained luxuriousness of the Mercedes. It's certainly different, which is something this sector needed. There is a good amount of standard equipment available, while the 480-litre boot is the same size as the Mercedes. If you opt for the hybrid variant, you will lose 30-litres.
Servicing costs for the Mercedes are going to be quite high. Where Lexus majors is in terms of reliability. Ownership is essentially going to be flawless, and the brand continues to score highly in customer satisfaction surveys.
Price:
Mercedes – £28,000 – £70,000
Lexus – £29,000 – £36,500
Verdict Of Our Mercedes-Benz C-Class Saloon Review
The new C-class saloon is no longer the obvious choice for consumers looking for an upmarket executive saloon. As well as the usual offerings from Munich and Ingolstadt, there are now very appealing exec saloons on offer from the likes of Jaguar and Lexus.
With that said, the Mercedes-Benz C-Class saloon still has a very convincing case to make for itself; it's got badge appeal, is priced competitively, and can't be beaten when it comes to comfort and a well-crafted, luxurious interior.
Looking For A Price On The Mercedes-Benz C-Class Saloon?
Fill out the form below with your details, and one of our highly qualified specialists will be in contact within 24 hours.
When you lease a car with OSV there are no hidden costs, request a call back and we'll find you a finance, lease or purchasing deal designed just for you.