Review Of The New Mercedes-Benz E-Class
Now into its fifth generation, the Mercedes-Benz E-Class Diesel Saloon is a car that has got better and better with age. It's one of the best when it comes to seducing those lucky enough to be in the market for a luxurious cruiser, and it now has an entire arsenal of technological tricks up its sleeve to tempt those away from its rivals.
This is now an executive saloon with a mind of its own – a semi-autonomous car – that, with the right options, can pretty much drive itself. Yes, the Mercedes-Benz E-Class can think for itself now, and that makes it one of the very best cars in its class.
Let's dive in and get under the skin of the intelligent, economical, and extravagant Mercedes-Benz E-Class to check out some specifications, prices, and how it stacks up against the competition.
On the Road
As you may well expect, an executive saloon like the Mercedes-Benz E-Class has only one thing in mind – the comfort and happiness of its occupants. These are traditionally cars that spend a lot of time out on the motorways, wafting from A to B in a never-ending cycle of business meeting after business meeting. Comfortable it most certainly is too – especially on the optional air-suspension our test car had – absorbing larger bumps with real poise and ironing out uneven road surfaces to give a beautifully composed ride.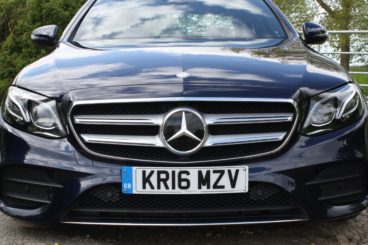 The E-Class also manages to match up the supremely comfortable ride with an ease of driving some smaller saloons don't have. Controlling the car is easy at all times, but it is particularly impressive at lower speeds and manoeuvring. The steering is light and visibility is very good, and those points can easily be overlooked in cars like this as manufacturers push for a better driving experience, often neglecting the fact we also drive at low speeds when moving in tight spaces – not here though.
Engine choices are limited to just two diesel units, but both are good in their own way. The 2-litre turbo diesel in the 'E220d' model is perfectly adequate for everyday use, if a little uninspiring. It has all the power and torque that you could need – 194ps and 400Nm. This equates do 0-62mph in 7.3s and a top speed of around 150mph. But when the car itself feels so special, the engine just doesn't quite do the rest of the car justice. There is another option – the 'E350d' – a powerful six-cylinder turbodiesel that produces 258ps and a rather large 620Nm of torque. This gets the car to 62mph in 5.9s on the way to 155mph. While a six-cylinder engine feels more fitting in a car as special as the Mercedes-Benz E-Class, it isn't as good as the engines in some of its rivals as it's just a little bit too noisy and lacking in smoothness.
Interior, Design, and Build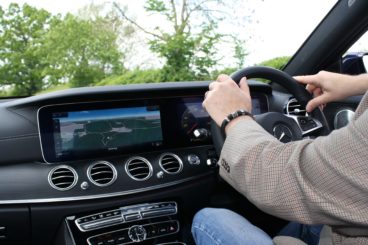 This is where the new Mercedes-Benz E-Class really steals the show. It has the finest interior in the segment, with beautiful electrically adjustable leather seating, glamorous ambient lighting and high-quality plastics and switchgear. It really is hard to fault the Mercedes-Benz E-Class inside, having done several hundred miles with the car over the period we had it there was very little we could find fault with.
Mercedes-Benz has really got the exterior design nailed down now too, with a beautifully shaped and stylish front-end, and detailing in the optional intelligent LED headlights that now gives the E-Class the sense of authority it deserves.
Towards the rear there's a nice swooping curve from the roof down onto the boot giving it somewhat of a coupe silhouette, but thankfully this doesn't compromise rear seating space.
Equipment
As we mentioned before, the technology in the Mercedes-Benz E-Class is staggering and there is a real abundance of the latest automotive tech available. Much of it on offer is optional, such as 'COMAND Online', a system that gives you some snazzy connectivity – but more crucially the spectacular 12.3inch cockpit display. The highlight of the interior is without a doubt the configurable dual screens ahead of the driver, the screen on the left providing information such as navigation, and the cockpit display providing the info on speed and revs, just as a car with standard dials does. 'Driver Assistance Plus' package is also a must-have, adding Active Brake Assist, Evasive Steering Assist, Active Blind Spot Assist, Active Lane Keeping Assist, plus 'PRE-SAFE' – a system that detects collisions and takes measures to protect you and any passengers in the E-Class.
Cost, pricing, and leasing rates for the Mercedes-Benz E-Class
Naturally, a car like the Mercedes-Benz E-Class doesn't come cheap. It's an executive saloon and it has a fairly executive price. For private buyers the most popular method to purchase a Mercedes-Benz E-Class will be on the Personal Contract Purchase ('PCP') method. At Mercedes-Benz, this finance method is called 'Agility'. You'll need around £6,500 of deposit to get an 'AMG Line' trim level E220 at under £400 a month. Obviously, this price can fluctuate depending on your annual mileage, but a better option for business users may be to lease the car or apply for a Mercedes-Benz E-Class via an online dealer.
A quick search online found that business users may be able to get a brand new Mercedes-Benz E-Class for as little as £226 a month with a £2,400 deposit. Go to the right places, state the offers and you may well find yourself picking up one for even less.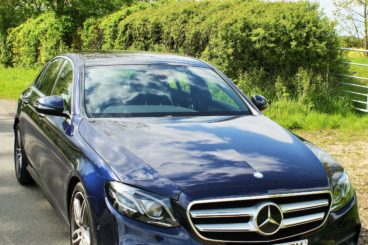 Our car, as tested, came in at over £50,000, but had around £12,000 worth of optional extras attached. While some of these extras may help with the residual value in years to come, you should only spec extras that you feel you want or need.
Pros and cons of the Mercedes-Benz E-Class
Pros:
It Has Style
Mercedes has really nailed the look of the E-Class, with beautiful lines across the body and a dramatic swooping roofline. The excellent styling continues inside too, with beautiful trim and elegant structure to the dash highlighted by the club-like ambient lighting.
It Has Impressive Technology
From the excellent 'multibeam' LED headlights – which consist of 84 individually controlled lights – to the intelligent cruise control that can identify speed limits and adjust the car accordingly, every part of the new Mercedes E-Class seems to be working with you. It makes driving long distances remarkably simple and enjoyable.
It's Comfortable
We admit it; there were more than a few options on our test car (over £12,000 worth) but riding along on the optional air-suspension system in seats wrapped in the Nappa leather was an absolute delight on a long journey. We covered over 500 miles in 48 hours with the Mercedes E-Class, and we loved every mile of it. The seating is just superb and the ride and body control on the air-suspension is as good as anything else at this price point.
Cons:
Optional Extras Pricing
You probably saw this coming, but with the price of the optional extras adding up to the sum it did, we just had to mark this down as a negative. As good as they are, the sheer price of the options is hard to swallow, especially if you're forking-out over £38k on a new Mercedes-Benz E-Class to begin with.
Nearly No Sporty Credentials
As hard as the Mercedes-Benz E-Class tries to offer some sporty options; it never quite manages to achieve the same excitement levels as some of its rivals. The BMW 5-series is better to drive harder, and the new Jaguar XF has some exciting petrol-powered models to choose from. It performs well enough, but its rivals can put a bigger smile on your face if you need to push the pedal down further than normal. Speaking of rivals, let's take a closer look at them.
Mercedes-Benz E-Class vs BMW 5-series vs Jaguar XF
This is a hotly contested segment of the market and the Mercedes-Benz E-Class has some very talented rivals to go up against in the shape of BMW's 5 series and Britain's own Jaguar XF. The segment moves quick in terms of design, comfort, and technology, and with Jaguar really catching up recently it's interesting to see how they stack up against each other.
Mercedes-Benz E-Class vs BMW 5-series
It is pretty difficult to compete with BMW when it comes to the art of vehicle dynamics. BMW is the industry leader in handling and control right across the car market, and things are not any different here. While the Mercedes-Benz E-Class is very easy to drive and the more relaxing ride, the BMW is much more interactive and sharper – especially when driving quickly. The Mercedes-Benz E-Class trumps the BMW 5-series for comfort and design though, with that superbly put together interior stealing the show from its Bavarian compatriot. Inside the 5-series things are starting to feel a little bit dated when stacked up against Mercedes' latest offering, even though the cabin is very high quality.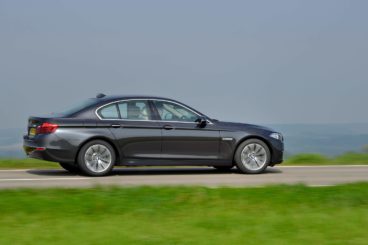 Practically speaking, the Mercedes-Benz E-Class also has a big edge on the BMW 5-series with its cavernous boot. 540 litres of load space in the Mercedes-Benz E-Class defeats the 375 litres BMW has to offer, and that's a rather substantial difference.
At least BMW can fall back on its 520d model though, an engine which has a strong track record of delivering performance with economy, one of the finest diesel engines on the market. It has proven over the years that it can comfortably deliver over 50mpg, and while the Mercedes-Benz E-Class claims it can deliver over 70mpg in the E220d model, this is hard to believe. We achieved just over 50mpg on a long run, and the engine just isn't as sweet as the one found in the BMW 520d.
Prices:
Mercedes-Benz – Between £34,870 – £86,525
BMW – Between £31,115 – £73,985.
Mercedes-Benz E-Class vs Jaguar XF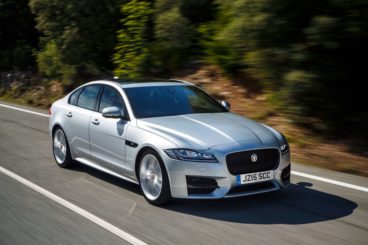 As a much newer car than the BMW 5-series, it could be argued that Jaguar should pose the biggest challenge to the Mercedes-Benz E-Class, but it falls down in some key areas.
For a start, the interior lacks the design flair and – in some trims at least – the high-quality materials found in the Mercedes-Benz E-Class. As people who buy these cars often spend a long time inside them, this is potentially a big issue for Jaguar. To get the interior that comes closest to rivalling the Mercedes-Benz E-Class on an XF, buyers will be forced into opting for the most expensive trim level. It isn't often that a boot space competition ends in a dead heat, but the XF has exactly the same amount of load area as the E-Class at 540 litres.
Out on the road the Jaguar XF really shines, delivering a striking balance between agility and comfort. It is sharp in the corners and full of feel, but never compromising the smooth ride. Pick the lowest powered diesel and you also have the most efficient car in the segment – according to the tests at least. Over 70mpg has been recorded and just 104g/km of CO2 is produced, meaning road tax is cheap and trips to the pumps aren't all that frequent. It is slightly down on power on both the BMW 5-series and the Mercedes-Benz E-Class though. One such engine that isn't down on power is the optional 3.0-litre supercharged V6 engine. This puts out 380ps of grunt in the XF, so if a smooth petrol purr is your cup of tea, the XF has something the E-Class just doesn't have.
Prices:
Mercedes-Benz – Between £34,870 – £86,525
Jaguar – £32,300 – £30,000 – £49,995
Verdict
Both the BMW 5-series and the Jaguar XF are more rewarding to drive fast than the Mercedes-Benz E-Class, but who really buys these cars to explore handling dynamics? The mandate of an executive saloon is to deliver maximum comfort for a driver and his/her passengers, and that is exactly what the Mercedes-Benz E-Class does. The interior space is one of the best out there, the technology is staggering, and the ease of which it can transport you across long distances is a real feather in its cap.
The BMW 5-series is a mighty car with fantastic engine options but is starting to show its age a little. Jaguar's XF is refreshed and possesses the most efficient option, but plays it far too safe on the styling front. Merc has nailed it with the Mercedes-Benz E-Class though, delivering a scintillating combination of style, technology, and pure unrivalled comfort. For our money, it's the best executive saloon on sale today.
Looking For A Price For The Mercedes-Benz E-Class Diesel Saloon?
Fill out the form below with your details, and one of our highly qualified specialists will be in contact within 24 hours.
When you lease a car with OSV there are no hidden costs, request a call back and we'll find you a finance, lease or purchasing deal designed just for you.