Review Of The Mercedes-Benz GLS Diesel Estate
The new Mercedes-Benz GLS diesel 4×4 is spacious, sizeable and luxurious. It can sit seven people, and still has oodles of room leftover for your luggage space, too.
While there are a few versions of the GLS-Class available in Europe, only two are on offer here – the GLS 350d diesel, which forms the core of this review, and the AMG GLS 63. One is efficient; the other is blisteringly quick. We'll let you work out which is which!
This is an impressive car when viewed by itself. Compare it to rivals in this class, and you'll see that you're spoiled for choice. It's a good 4×4 7 seater – but is it the right one for you? OSV takes a closer look with our Mercedes-Benz GLS review.
The car is one of the biggest you'll see on the road today, but it's still remarkably refined and even relaxing. Body control is impressive, and the GLS feels stable, solid and composed through bends. You can't, however, throw it around. If you do, you will notice its huge weight. Twisting back roads are not its natural habitat, but get it out on the motorway and it will feel right at home.
Steering is progressive and smooth, but this is not a sporty car by any stretch of the imagination.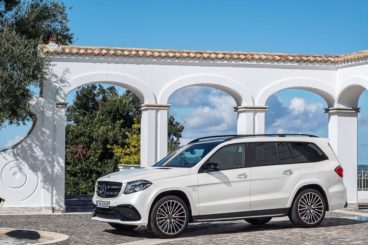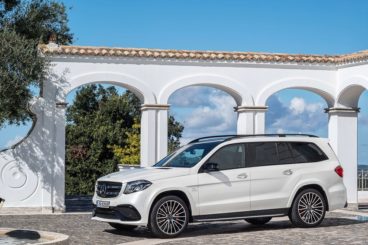 The 3.0-litre V6 diesel powers the GLS 350d, and it's tailor-made for this model's character. It's obviously not as fast or as performative as the AMG, but it isn't what you'd call sluggish, either. Backed by 255bhp, the unit can get you from rest to 62mph in 7.8 seconds, which is a respectable time for a car of this size.
Moreover, low-down pulling power is here in abundance, which ensures that the GLS works well as a very capable towing car. Also in this engine's favour is the fact that it's paired up with a 9-speed automatic 'box. The GLS 63, conversely, is mated to an ageing 7-speed transmission that lacks smoothness when you change gears.
A thrilling 5.5-litre V8 diesel unit powers the AMG GLS 63. Backed up by 580bhp, it can rocket you from rest to 62mph in just 4.6 seconds. This makes it faster than some sports cars, despite its obvious weight deficiencies.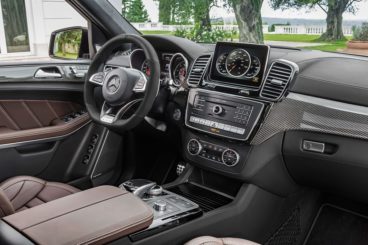 It makes for a good motorway cruiser. Quiet and refined, you'll barely hear any exterior noise inside the cabin. Air suspension improves ride quality and does a fantastic job at minimising the impact of some of our lumpiest roads. There is a caveat, though, and it comes in the shape of the large wheels. At low speeds, they have a negative impact on ride quality, but not enough to be a deal-breaker.
You'd be a brave person to ever accuse Mercedes of cost-cutting, but this interior definitely lacks the quality of some of its rivals. Sure, it's well built, but things are beginning to look their age. For a slicker, more contemporary cabin and dash, you'd be better looking elsewhere. It is, however, cleaner and more polished than last time around, but it just doesn't feel as special as a Mercedes should.
There are some positives, though, and the new 8" screen is one, as is the tidy digital instrument cluster. The multifunction steering wheel is also worth praise, while most of the dash is forged from top quality materials.
It is big, though. Longer than a Range Rover, it's a spacious seven-seater that can accommodate five adults and two children on the third row. Despite all these people, there is room for a 295-litre boot. Drop the third row of seats and you can extend it to 680-litres. You can also drop the second row, which would increase the space to 2,300-litres. The lip, though, is too high and can make loading luggage more awkward than it should be.
Standard equipment across the range is good, and all models get treated to Bluetooth connectivity, satellite navigation, heated leather seats (first two rows only) a DAB digital radio, and three-zone climate control.
The top of the range model adds a heated steering wheel, better leather trim, as well as four-zone climate control.
Costs Of The Mercedes-Benz GLS Diesel Estate
Prices for the new car start out from around £61,500  and rise to just ove r £100,000. Starting prices, then, are hardly competitive and you'll pay more for an entry-level GLS than you would for the same version of one of its rivals. If you want to lease one, you can pay as little as £700 + VAT per month the GLS 350d model, or as much as £2,300 + VAT per month for an AMG model.
Whichever variant you opt for, you shouldn't expect good fuel economy. This is a hefty machine, and even the entry-level GLS 350d can only achieve returns of 37.2mpg. Opt for the AMG model, and you'll be lucky to achieve returns of 23mpg.
Resale values are not expected to be fantastic, and the car is likely to find it  harder to  hold onto its value than some of its rivals.
Euro NCAP is still to crash-test the car, but we can tell you that it features plenty of safety kit, including anti-lock brakes, airbags, lane departure warning, and electronic stability control. And we can use its predecessor, the GL, to gauge that this one will be fairly reliable.
Pros and Cons Of The Mercedes-Benz GLS Diesel Estate
Massive Amount Of Space
You want your seven-seater 4×4 to be spacious, but you don't always expect them to be as big as this. It's a whopping 110m lengthier than the Range Rover, which puts it at a huge advantage. And even with all seven seats in place, you still get access to a very usable 295-litres of luggage space.
Very Safe
Although it has yet to be tested by Euro NCAP, we expect it to be handed a five-star rating. Mercedes as a brand has one of the best reputations for safety around, while this vehicle is stuffed with all kinds of awesome safety equipment. LED lighting and advance collision warnings are just some of the goodies that will help to keep you and your family safer on the road.
Luxurious – But Practical
It's not easy for car manufacturers to strike the right balance between luxury and practicality, but Mercedes do it so well here. This is a beautiful beast.
Feels A Bit Unwieldy In The City
It's not a car that could ever look awkward, but thanks to its massive weight, it can feel unwieldy when you're in town. It just isn't built for tight corners and sharp turns. Get it out on the motorway and its happy days.
Very Expensive
This is easily one of the most expensive cars in its class, and while you definitely get what you pay for, you might think twice when you consider that its entry level is priced a lot higher than its rivals' counterparts.
Mercedes-Benz GLS Diesel Estate vs Volvo XC90 vs Audi Q7
So, this car is more expensive than a lot of its competitors. Is that simply because it's a lot better? Let's take a look at how it measures up against them in the comparison section of our Mercedes-Benz GLS diesel 4×4 review.
Mercedes-Benz GLS Diesel Estate vs Volvo XC90 7 seater
The new Volvo XC90 4×4 7 seater is a very good all-rounder. It's got a lot of space, is very comfortable,  and is as safe as houses.
To look at the Volvo, you might be forgiven for expecting it to be a very capable off-roader. But the reality is that it's more road-based than anything else. It offers lots of grip, sound ride quality, but will lean a bit if you tackle bends with too much gusto. The steering, moreover, is a bit too light for our tastes.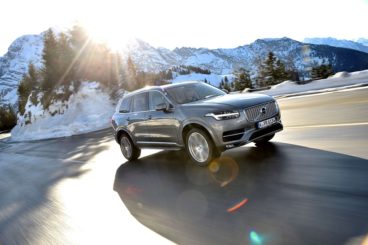 Unlike the Mercedes, this here Volvo offers a petrol option. Its T6 320bhp is surprisingly economical, and it can get you from rest to 62mph in a very impressive  6.5 seconds. Unfortunately, it makes a lot of noise while doing so, and will, therefore, be a non-starter for a lot of buyers.
There is a hybrid model available, as well as a 225bhp D5 diesel unit, which will be the best-seller. It's smooth and quiet, but it's not as fun to drive as the petrol. There is also a D4 diesel available, which is the cheapest to run in the range; it can achieve fuel economy returns of  54.3mpg. The hybrid, meanwhile, boasts returns of 134.5mpg.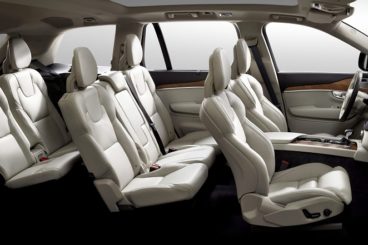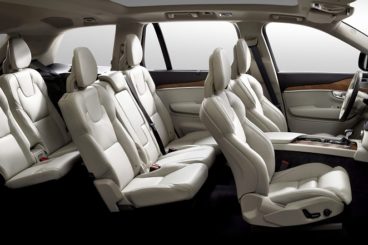 The interior is slick and stylish to look at and feel and comes with plenty of advanced tech that is user-friendly. In fact, in terms of being a pleasant place to be, this Volvo's cabin is arguably class-leading. There is a hint of exterior noise that sweeps into the cabin, but it's minimal, while there is plenty of airiness to keep things fresh when you've got a full load.
The car is also super practical. With more interior room than its predecessor, you could even squeeze adult into the third row of seats which are usually reserved for kids in these sort of cars. And for once, opting for the hybrid version won't negatively impact the car's practicality. Head and legroom is awesome, and the 451-litre boot puts the GLS's in the shade.
Price:
Mercedes – £61,500 – £100,000
Volvo – £47,000 – £65,000
Mercedes-Benz GLS Diesel Estate vs. Audi Q7
The new Audi Q7 4×4 7 seater is rapid, comfy, and gorgeously designed.
The engineers have done well to shave some kerb weight off the new Audi, and the result is more pace and better handling. Agility is also boosted by the introduction of a four-wheel steering system that is new and optional. At speed, the car performs well, and the less weight has resulted in quicker changes in direction. Unlike the Mercedes, you won't have to worry about throwing the Q7 4×4 7 seater into bends.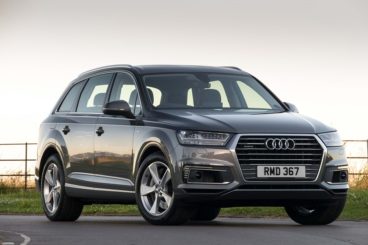 There is a strong arsenal of engines available, with a 3.0-litre 215bhp diesel engine kicking things off. It can get you from rest to 62mph in 7.3 seconds and packs a lot of pulling power. A 268bhp variant of the same unit covers the 0-62mph dash in 6.5 seconds, while a twin-turbocharged 4.0-litre diesel V8 unit does it in just 4.9 seconds. It's ferocious.
A hybrid model is also available, and while it isn't a champion performer, it is economical and achieves fuel economy returns of 156.9mpg. The rest of the engine line-up doesn't fare quite so well, with entry-level diesel struggling to return fuel economy better than 48.7mpg.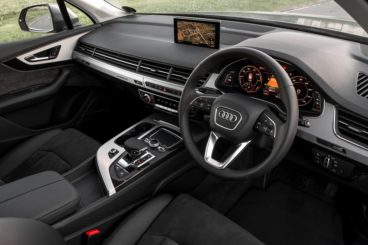 Audi always excels when it comes to interiors, and this one is no different. The inside of the car is adorned with high-quality materials, and the minimalist dash design gives the cabin a slick, contemporary feel that the dated GLS 4×4 7 seater is missing. All models are relatively quiet, but none so much as the hybrid variant, while standard equipment is good across the range.
Like the GLS, this Audi Q7 is a seven-seater. It's actually smaller outside than its predecessor, but Audi have thinned the seats so that you get a bit more head and legroom. Interior storage space is decent if not class-leading, and the 7-seat layout is fully configurable. The third row of seats is primarily for children, while the boot is measured at  295-litres – the same as the GLS.
Price:
Audi – £49,000 – £70,000
Verdict Of The Mercedes-Benz GLS Diesel Estate
Size and practicality used to count for everything in this class, but things have changed. Thankfully, the GLS has got with the times. It's big and it's practical, but it's also stylish, comfortable and very relaxing. It has its flaws – such as a dated cabin and a bloated listing price – but when it comes to your family cruising in style, it's hard to find a better car than the Mercedes GLS diesel 4×4 7 seater.
Interested In the Mercedes-Benz GLS Diesel Estate? 
Fill out the form below with your details, including whether you're looking to lease or buy and we'll give you a quote within 24 hours.
When you lease a car with OSV there are no hidden costs, request a call back and we'll find you a finance, lease or purchasing deal designed just for you.