Fast Facts: MINI Cooper S Convertible
Engine: 2.0-litre 4-cylinder turbo
Price: £22,430
Power: 192hp
Torque: 280 Nm
0-62mph: 7.2secs
Top speed: 143mph
Fuel economy: 46.3mpg
CO2 emissions: 139g/km
Premium is a word MINI likes – especially when it comes to the brand's fresh Convertible. The BMW owned marque claims it has the only 'premium' drop-top in the small car market, and it says the latest MINI Convertible guarantees to both delight current owners and be better positioned to entice Johnny-come-latelies. We went to Lisbon in Portugal to test drive the car.
The Cowley-assembled MINI is now in its third generation and has been around for a few years in hatchback guise, but it's a first for the Convertible to be constructed using the third-gen platform. In theory, the car looks like a winner. It can now seat four, it has a larger boot, its electrically folding roof is better and it houses state-of-the-art tech. Obtainable as a Cooper, Cooper D, Cooper S and John Cooper Works, the price-tags commence at £18,475 and climb to £28,205. The Cooper S, on test here, is £22,430, or £24,055 with the smooth-shifting six-speed automatic gearbox.
The Mini Cooper S Convertible Drive
The 192hp 2.0-litre turbocharged Cooper S delivers fistfuls of fun. Yes, it is fast, but not manically so. The classic zero to 62mph sprint is achieved in a smidgen more than 7 seconds, which is rapid on one hand, but it is not the thrill seeking projectile some purists will demand. It just never feels as speedy off the starting blocks as you anticipate.
MINI's Cooper S is more inspiring when you become conscious of its pinpoint accurate steering and when you take advantage of its turbo-charging. This gives the in-gear pace a spicy shot in the arm. The manual gearbox is easy-going and swift, but it's difficult not to be charmed by the automatic transmission. Here, there are numerous settings to amuse yourself with, as well as paddles to shift gear with. It all makes the MINI Cooper S a genuinely enjoyable car on twisty roads that require lots of dancing through the gears.
This up-to-the-minute model has a sports mode that makes the suspension stiffer and perks up throttle reaction. Yet you end up pondering if there is much purpose if not you are not racing around a dedicated circuit.
In its place, the benchmark suspension set-up creates a ride that is a nice surprise. It is comfy and, although the rear of the car does skip a little over irregular road surfaces, it grips well in the main and sops up bumps and potholes agreeably. It also provides the dexterity you would envisage from any sprightly MINI.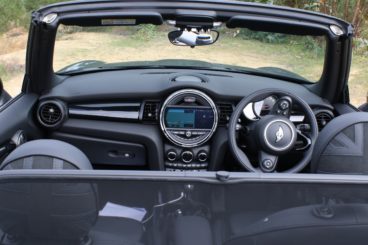 Inside The MINI Cooper S Convertible
There is an authentic feeling of BMW about the way the MINI's interior has been screwed together. It's all very well finished, with upmarket trim and hip-hugging sports seats, and it's a pleasant place to be.
The front seats offer respectable adjustment, as does the thick, sporty, easy-to-grip steering wheel. The car has obviously been constructed so that the long-legged, as well as petite people can be seated just as happily.
As standard, there is now a reversing camera. This is in reply to the car's poor rear visibility with the roof raised or, indeed, with it lowered. And there is more space for belongings – up 25 per cent – with some extra levers to flick up the back of the MINI's hood to gain better access to the boot and make full use of the room available.
The most noticeable step-up for the new MINI Convertible is the additional space in the back seats. You can now, just about, get four adults into the drop-top – but a quartet of six foot, broad shouldered men might struggle.
The electrically-operated roof now concludes its movements in 18 seconds, and it will go up or down when driving at sensibly restrained speeds too.
Mini Cooper S Convertible Running Costs
The cost of going roofless with a MINI is expensive, compared with the Hatch. For example, a Cooper S Convertible costs £3,590 more than its equivalent tin-roofed sibling. That said, £22,430 is still not an arm and a leg to pay for a fashionable small car. Especially considering the MINI has a long British heritage and an injection of modernity, courtesy of Germany's Bavarian Motor Works.
The potent all-new MINI Cooper S' fuel economy is 46.3mpg, or 48.7 when mated to the automatic gearbox. The CO2 emissions figure for the Cooper S is 139g/km, or 131g/km for the auto transmission. The lowest CO2 figures for the latest MINI Convertible are for the 1.5-litre diesel, at 100 for the manual and 104g/km for the automatic.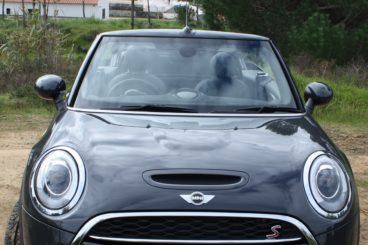 So, should you buy the MINI Cooper S Convertible?
Rationality isn't the overriding factor involved when buying or leasing a small convertible car, but expectations of quality are high when it comes to this segment. The all-new MINI Convertible definitely ticks that box. And even though no one ever goes for a convertible for space reasons, the fact that this MINI now offers room for two in the back and a bigger boot, can only help sway some towards it.
Above all else, though, the MINI steers like a go-kart and leaves a smile on your face, especially when behind the wheel of the Cooper S. Some may find it hard to differentiate the new car from earlier drop-top editions, but that's okay. The MINI's design is ageless.
Want a great deal on a MINI?
You could be driving away with your new car in no time. Fill in your details below and one of our vehicle experts will be in touch within one working day.
When you lease a car with OSV there are no hidden costs, request a call back and we'll find you a finance, lease or purchasing deal designed just for you.