IS NOW THE RIGHT TIME TO THINK ABOUT YOUR NEXT VEHICLE?
Over the last few weeks we've had quite a few questions about the motoring industry and how Covid-19 (Coronavirus) is affecting it.
The truth is that the the global Coronavirus pandemic has forced vehicle factories throughout the world to close their doors for an extended period, with many unable to provide an accurate date for reopening. It can be both frustrating and disappointing to realise that the pandemic is causing this sort of issue if you are considering starting the search for a new vehicle.
Are all car dealerships closed due to Covid-19?
The quick answer to this is 'Yes'.
Following the government-ordered lockdown, only businesses providing essential services (like food, medicine, fuel and vehicle servicing) closed their doors. As a car dealership does not provide an essential service to the public, and relies on a lot of foot traffic in a place where social distancing can be difficult, they were also required to close.
At the moment, most, if not all, factories across Europe are closed. Some have already provided dates when they plan to reopen, however, none of these dates is set in stone.
However, as a purely online business, OSV has remained open, so if you have any questions about vehicle supply, we are available to talk on 01903 538835.
How has Covid-19 affected car delivery dates?
Given all the information above, it may seem like a less than ideal time to be thinking about looking at vehicles. However, while the majority of dealerships and brokers are closed, not as many people will be looking at vehicles and this means that once factories re-open, all those vehicles that are ordered while the factories are shut for the health and welfare of their staff (as well as a shortage of supplies) will be near to the beginning of the production queue.
According to research from CarWow, the average time between order and delivery of a vehicle (also referred to as lead time) is 13 weeks. This timeline assumes that the factory is open, delivery of components is reliable and the full workforce is available.
At the moment, things are far from normal. With factories around the world forced to close to ensure the health and safety of their staff, additional weeks are unavoidably being added to the expected lead times.
As an example; the average time a BMW takes from order to delivery is between 8 to 12 weeks (2-3 months) when the factories and supply chain are running efficiently.
On the 23 March, BMW announced that their plants in Europe would be closed until the 17 April, though this date will be continually reviewed.
Once the factories in the BMW production line are reopened, it will take a few weeks for them to return to their normal schedule and ensure that all the required components are where they are needed. This adds further weeks to the expected lead time.
So, while the factory may have only been closed for 4 weeks, getting it up and running will take an additional 3-4 weeks, adding a total of 8 weeks to the original 8-12 week lead time.  This makes the total time between order and delivery an estimated 16-20 weeks (4-5 months), rather than the initial usual 8-12 weeks (2-3 months).
It's often a surprise, when you start to think about a new vehicle, exactly how long it can take between order and delivery. This time is referred to by factories as 'Lead Time' and it is affected by the efficiency of the Supply Chain.
We have had many questions about the Supply Chain, what it is and how it can effect the delays in delivery of a vehicle (or anything else that is manufacturered with multiple parts.
When it comes to the manufacture of a vehicle there are so many moving parts (no pun intended), in fact it's estimated that there are around 30,000 in a single car.
If just one of these parts is not in the right geographical location (i.e. the factory) when the vehicle goes into production, then the whole process has to stop until it arrives.
The Supply Chain is pretty much exactly what it sounds like. When you manufacture a car, or anything else that could be considered complicated (like a telephone or a computer), parts are rarely, if ever, produced at the same plant. In fact, you'll likely find that the wires come from one place, the computer chips from somewhere else, the doors from another factory and the engine and gearbox from two more.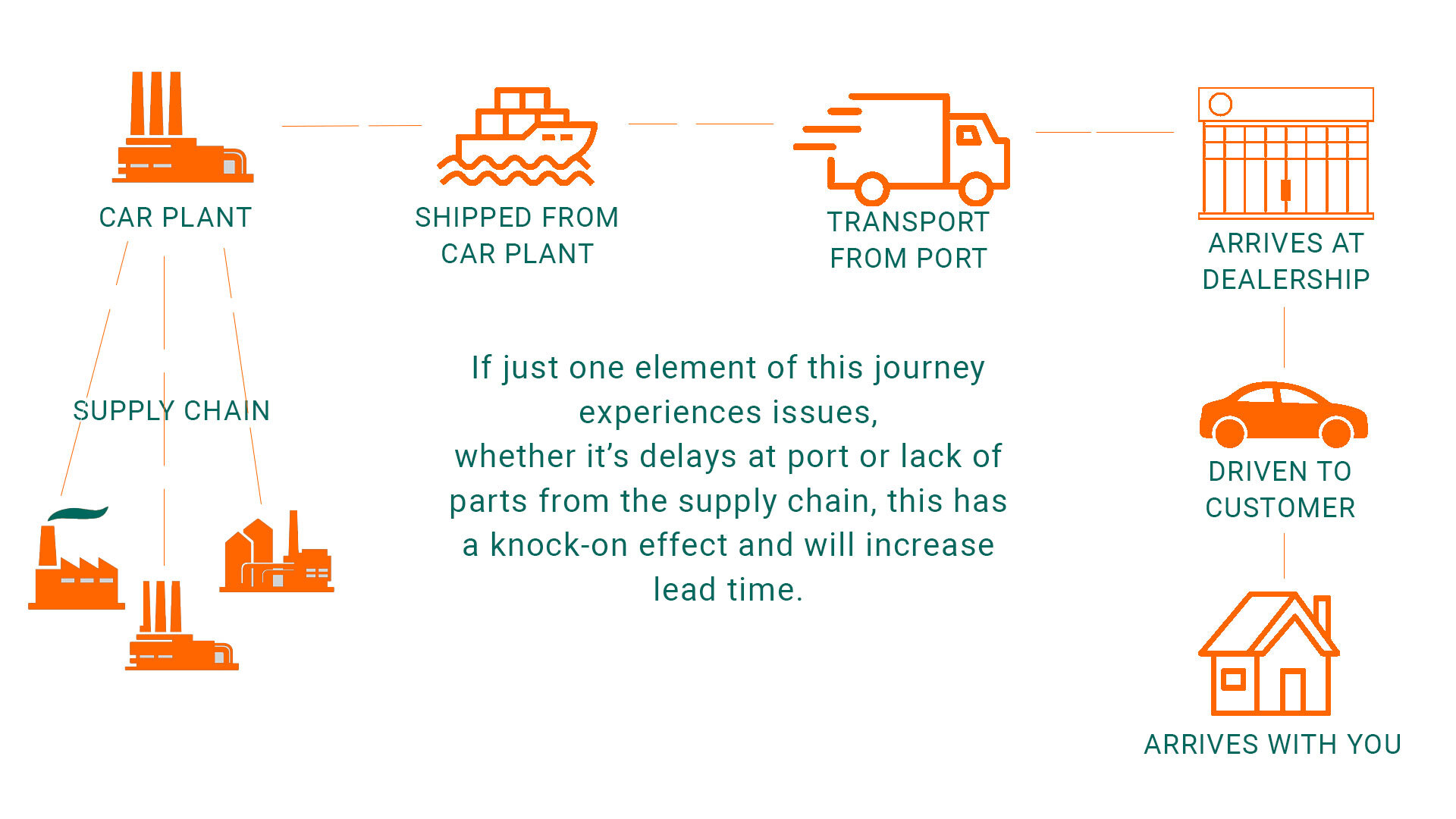 It's incredibly likely that all of these plants are in different countries and, as you are no doubt aware, at the moment, non-essential travel across borders has been completely stopped. This could easily mean that even if a factory has reopened its doors, the parts that it requires in order to restart production could be stuck on a ship in the middle of the ocean that is unable to dock due to borders being closed to prevent the Coronavirus from spreading further.
We go into further detail about how a car is manufactured and how many different factories contribute different parts to the production of a single vehicle in our article Where's my new car coming from?.
So, the Supply Chain itself is actually the 'chain' of different factories that 'supply' the factory where the vehicle is actually put together with the thousands of parts needed to manufacture the end product (be it a car, van or anything else).
No factory will start to manufacture a vehicle if they have yet to receive all the components required to make it, so a single delay in the supply chain (the other factories) will mean that work is unavoidably halted.
While many factories are now releasing their open dates, production of the vehicles depends greatly on whether the other plants in their supply chain are also going to be opening and starting work on producing the components needed to make the vehicles in their order queue. It will also depend greatly on whether the country borders are going to be open so that any finished components can be delivered to where they're needed.
Is it safe to get a new vehicle during the Coronavirus pandemic?
Believe it or not, now is actually a really good time to start thinking about a new vehicle, whether it's a renewal or something completely new, and this is for many reasons.
As we have already mentioned above, factory production is currently on hold. When things start-up again, there will be a backlog of orders that were placed prior to the factory closures that are waiting to be manufactured. These will, rightfully, be given priority.
However, the next orders off the production line will be those that are placed while the factory is closed.
So, the sooner you place an order for your next vehicle, the sooner after the factories reopen your vehicle will be manufactured.
Again, using the lead times provided by BMW as an example, the current expected delivery for a vehicle that is already in their system is August/September. So, if your lease is due for renewal in August or September, or you are thinking about getting a new vehicle in the next 4 or 5 months, then now is the ideal time to place your order.
Once your vehicle is added to the manufacturer's order system it will be in line to be built when the factory reopens and their supply chain returns to normal.
What are the next steps to getting a car during the Covid-19 outbreak?
Taking all of this information into account, if you have a vehicle to renew or you need a new one in the next 7 months, now would be a really good time for you to start your search for a new vehicle, while you're at home and have the opportunity to do the sort of research that is often rushed.
If you want to talk, OSV is open and ready to help you with your search.
If you're looking for more information to help you make an informed decision, or just help you decide between a few different models then we have a number of resources available that will be able to help.
On our website we have detailed reliability reviews that look at 40 manufacturers, including BMW, Mercedes, Jaguar, Land Rover, Citroen and many more. If reliability is something you would like to research in more detail then there's no better place to look than our Reliability Library.
We have a large library of car reviews for you to watch on our YouTube channel, so if you're looking for entertainment, or would like to find out more about a vehicle, it's a really good place to start.
Thinking about your next vehicle? OSV is still open and available to talk about your needs
The OSV vehicle specialists are available to talk on the phone on 01903 538835 or Skype, or you can…