IS NOW THE RIGHT TIME TO THINK ABOUT YOUR NEXT VEHICLE?
There's no escaping it, though lockdown has now eased and the majority of industries have reopened, the automotive industry is still seeing the effects of factory closures, something that will likely continue for some time.
The recent pandemic – which continues to affect many things, including import and export of products – has caused a reduction in the number of vehicles produced. Social distancing in the workplace means that workforces have been unavoidably reduced.
If you're looking for a new vehicle it's important to be aware that there has been a knock-on effect and vehicle supply is not as great as it would have been if it weren't for the closures we experienced between February and June.
In 2019, 74.2 million passenger vehicles were produced globally, with 25% (18.6 million) of that total produced in Europe.
Many manufacturers have already acknowledged that, due to reductions in staff and unavoidable temporary closure of factories, production figures for 2020 will be lower.
In April 2020, the European Automobile Manufacturers' Association (ACEA) calculated that the initial shut down of European factories would cause a drop in production of 2,068,832 vehicles. This is 11% of the total anticipated production for the region in 2020.
LMC Automotive (a global automotive forecasting business) has predicted that global vehicle production will fall by an estimated 20% (19 million vehicles).
How will this affect my vehicle order?
Now that most (if not all) factories have re-opened, orders that were placed and not completed and those that were placed during lockdown will have been produced (and possibly already delivered).
While factories have now commenced production, the number of vehicles that they are able to manufacture will have been reduced due to the necessity to ensure social distancing regulations are followed.
Taking reduced staff and fewer shifts into account, it's easy to see why vehicle production figures for 2020 will be lower than in previous years, even without considering the number of weeks that factories were closed at the height of the pandemic.
According to research from CarWow, the average time between order and delivery of a vehicle (also referred to as lead time) is 13 weeks. This timeline assumes that the factory is open, delivery of components is reliable and the full workforce is available.
At the moment things are far from normal. With factories around the world forced to close to ensure the health and safety of their staff, additional weeks are unavoidably being added to the expected lead times.
As an example; the average time a BMW takes from order to delivery is between 8 to 12 weeks (2-3 months) when the factories and supply chain are running efficiently.
Following on from the lockdown, the average time from order to delivery is between 12 to 20 weeks, so almost double the length of time it was taking before the pandemic.
Audi is another manufacturer that has experienced increased lead times, for a new vehicle the average time is now 13 to 18 weeks.
If you're considering ordering a brand new Ford, the time you may have to wait between finalising your order and getting delivery is anywhere from 9 weeks to 43 weeks (that's almost 11 months) depending on the vehicle you order.
It's often a surprise, when you start thinking about a new vehicle, exactly how long it can take between order and delivery. This time is referred to by factories as 'Lead Time' and it is affected by the efficiency of the Supply Chain.
We have had many questions about the Supply Chain, what it is and how it can affect the delays in delivery of a vehicle (or anything else that is manufactured with multiple parts).
When it comes to the manufacture of a vehicle there are so many moving parts (no pun intended), in fact, it's estimated that around 30,000 are used to make one car.
If just one of these parts is not in the right geographical location (i.e. the factory) when the vehicle goes into production, then the whole process has to stop until it arrives.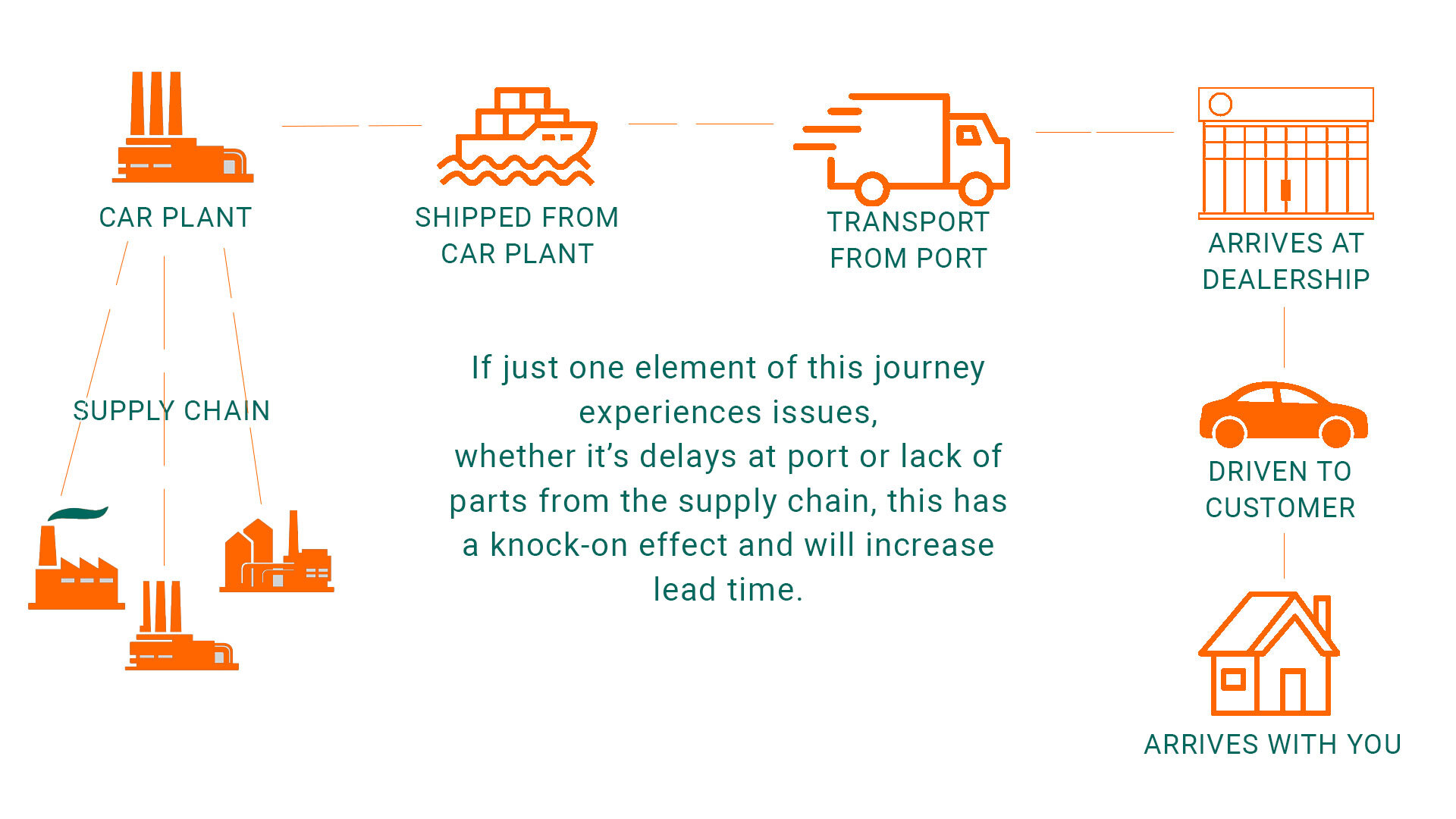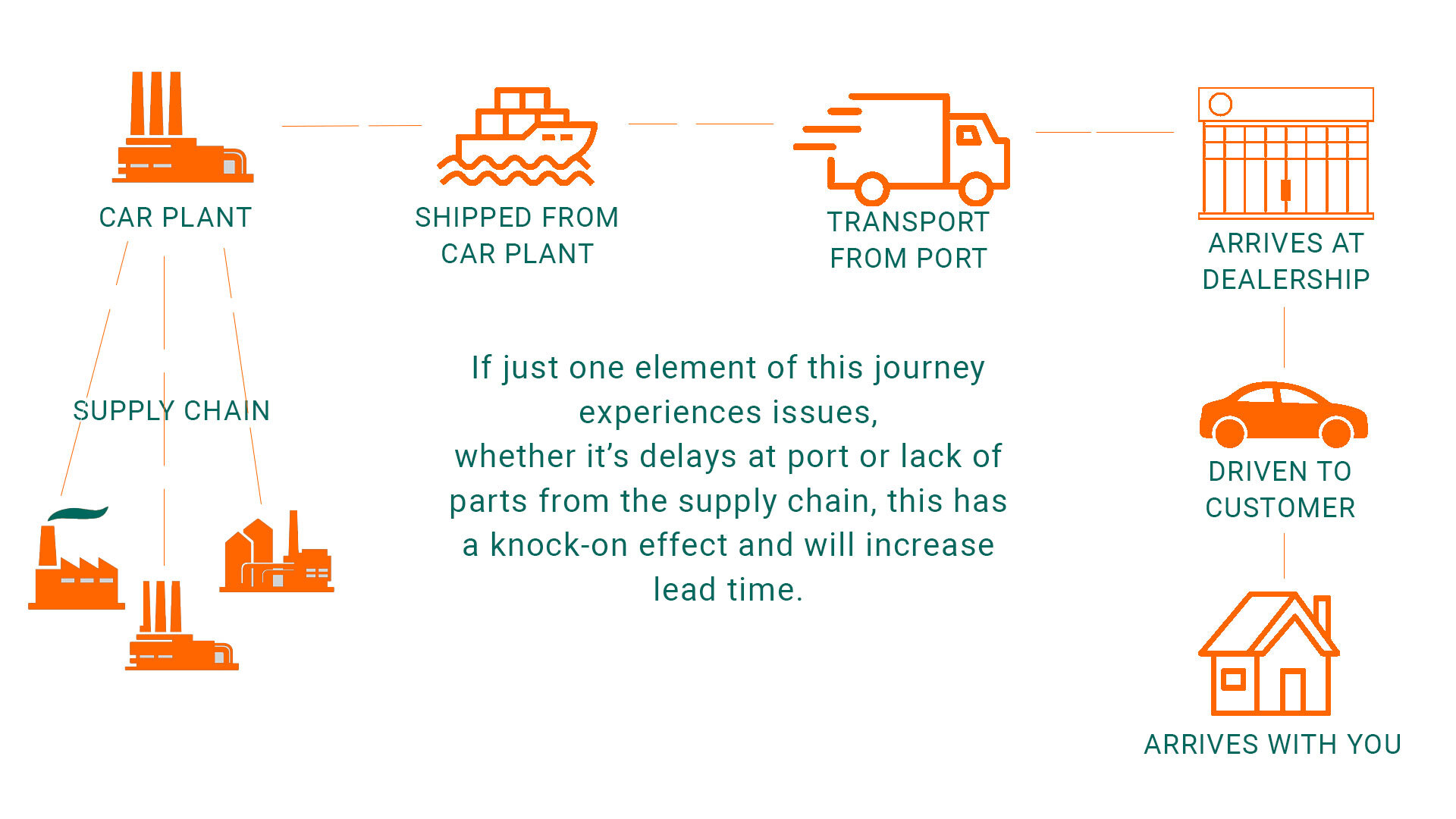 The Supply Chain is pretty much exactly what it sounds like. When you manufacture a car, or anything else that could be considered complicated (like a telephone or a computer), parts are rarely, if ever, produced at the same plant. In fact, you'll likely find that the wires come from one place, the computer chips from somewhere else, the doors from another factory and the engine and gearbox from two more.
We go into further detail about how a car is manufactured and how many different factories contribute components used in the production of a single vehicle in our article Where's my new car coming from?
So, the Supply Chain itself is actually the 'chain' of different factories that 'supply' the factory where the vehicle is actually put together with the thousands of parts needed to manufacture the end product (be it a car, van or anything else).
No factory will start to manufacture a vehicle if they have yet to receive all the components required to make it, so a single delay in the supply chain (the other factories) will mean that work is unavoidably halted.
Factories across Europe get a considerable number of their vehicle components from the Asian market – including China and Japan, two countries that have announced they are reducing output in an effort to reduce costs. This means that the supply of these necessary parts is lower than the amount required by vehicle manufacturers.
Should I be looking for a new vehicle now?
If you're looking for a new vehicle, whether because your current lease is coming to an end, or you are looking to replace a vehicle, then now is a really good time to start your search.
There are several reasons why ordering your new vehicle now is a logical step and we have listed them below:
Reduced staff in factories meaning lower output
Closures earlier in the year leading to an overall reduction in annual output
Demand for new vehicles is not going down
Again, this is a situation where demand will outstrip supply and waiting too long to place an order for a vehicle could mean that your lead time is much longer than you originally anticipated.
What are the next steps I need to take to get a car?
Taking all of this information into account, if you have a vehicle to renew or you need a new one in the next 7 months, now would be a really good time for you to start your search for a new vehicle, while you're at home and have the opportunity to do the sort of research that is often rushed.
If you want to talk, OSV is open and ready to help you with your search.
If you're looking for more information to help you make an informed decision, or just help you decide between a few different models then we have a number of resources available that will be able to help.
On our website, we have detailed reliability reviews that look at 40 manufacturers, including BMW, Mercedes, Jaguar, Land Rover, Citroen and many more. If reliability is something you would like to research in more detail then there's no better place to look than our Reliability Library.
We have a large library of car reviews for you to watch on our YouTube channel, so if you're looking for entertainment, or would like to find out more about a vehicle, it's a really good place to start.
Thinking about your next vehicle?
The OSV vehicle specialists are available to talk on the phone on 01903 538835 or Skype, or you can…