Top cars for driving instructors
Top cars for driving instructors
Driving instructors are vital to the ongoing safety of our roads. Training new drivers to be responsible and to abide by rules of the road helps us all to remain safe. They spend most of their time in their car, and it acts as their office space as well as their tool for teaching. Let's first take a look at a day in the life of a driving instructor.
A brief day in the life of a driving instructor
A driving instructors day starts by checking the diary for all of the lessons they have booked. Starting as early as 8am the instructor must make their way to their first appointment. Heading into the boot for their instructor school signage and placing it neatly on top of the car.
The majority of their customers are young people learning to drive. Listening to the radio keeps our instructor up to date with all of the important issues for young people. This helps them keep the conversation flowing and makes the young driver feel at ease. Finding new customers pick up addresses can be confusing so an on-board SatNav is a very useful tool for our instructor.
The first lesson
The first customer is a brand new driver aged 17 years old. Naturally, safety features need to be at the forefront of the driving instructor's vehicle needs for obvious reasons. But more than this, the car needs to be easy to drive. It should offer superior visibility, responsive steering and excellent suspension to help new drivers feel comfortable and confident behind the wheel. Equally, the car shouldn't have too much power because new drivers won't be well equipped to handle the torque on a powerful vehicle.
After the two-hour first driving lesson, our instructor must take a break. In order to ensure our instructor is alert for their next client it's important they are not experiencing driver fatigue. You can read more about the symptoms of driver fatigue here. Then it's on to lesson number two. As our instructor covers a lot of miles, an economical vehicle is an essential requirement. The next client is a more experienced learner and today's agenda is to practice manoeuvres. Learning to drive is stressful and a good instructor will want to make it as easy as possible to learn the way of the roads. Opting for a compact vehicle helps learners to manage their manoeuvres more easily.
Our instructor has a full day of lessons, taking regular breaks to stretch their legs and rest their brain. Safety is very important and ensuring they are alert during lessons means safer roads for all of us.
As a roundup, let's take a look at some of the most important vehicle features to driving instructors.
Important features
Compact vehicle
Economic to run
Low servicing costs
Comfortable interior
Excellent safety features
Power steering
Adjustable steering/seat height
Limited horse power
DAB radio
SATNAV
Large enough boot space for storing the car signage
With this in mind, we have collated the top 5 cars for driving instructors to consider.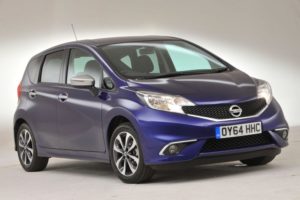 Super spacious and looks the part. It's upgraded exterior design means you get all of the space without the old bulky design. In terms of engine size, it has the perfect amount of power from its neat 1.5 DCi diesel engine. Not too much for our learners, but enough for our instructor to enjoy the car in down time. We love the Tekna trim which features reversing parking sensors, Bluetooth, climate control, auto wipers and even a front and reversing camera to name but a few! Perfect to help new drivers become accustomed to the road. It's not about making it too easy for the learner, it's about making them safety conscious and
We love the Tekna trim which features reversing parking sensors, Bluetooth, climate control, auto wipers and even a front and reversing camera to name but a few! Perfect to help new drivers become accustomed to the road. It's not about making it too easy for the learner, it's about making them safety conscious and ensuring they are familiar with the features of most modern cars.
On the topic of safety, the Note features ESP, ABS with brake assist and airbags to the front and side it's a sturdy drive that envelops its passengers to feel secure. A top pick for Driving Instructors.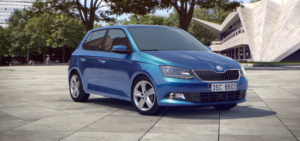 The Skoda Fabia is more than a credible contestant in this top 5. As one of the most well respected small cars on the market, the Fabia gives big personality in a small package. The more powerful versions of the model are worth investigating for people who do a lot of miles, like our driving instructor. They offer exceptional fuel economy.
The Fabia is sturdy so provides a more comfortable ride at higher speeds, such as motorways. As for ease to drive the steering is well weighted and responsive making it easier to manoeuvre at low speeds. Perfect for nervous first drivers with an aversion to the throttle. The SE model boasts a brilliant infotainment system which really is all singing and dancing for a car in this price range.
The touchscreen design is built with ease of use in mind. standard features include Bluetooth and a DAB radio. Skoda's Smartlink technology allows you to use certain mobile phone apps, such as sat-nav, via the car's touchscreen.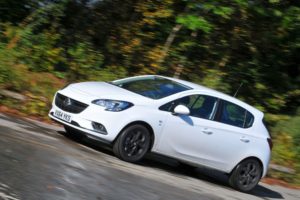 A firm favourite with driving schools for many years, the Corsa is a smart choice for anyone needing an economical small car which offers a great drive. Comfortable ergonomic controls make the Corsa a dream for new drivers and the cool exterior look will keep young drivers happy.
The Corsa comes with a host of safety features including ABS, EBA, ESC, tyre pressure monitoring and dual stage driver/passenger airbags. All of this meant the Corsa scored the max 5* rating for adult occupant safety in European NCAP testing.
Opting for the Excite trim or higher means you get Vauxhall's Intellilink system with a 7.0in colour touchscreen. The system includes DAB radio, Bluetooth and USB. This system essentially acts as an extension of your Apple or Android Smartphone making for a connected experience.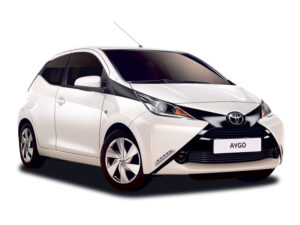 As recommended by Honest John as a serious consideration for driving instructors seeking new wheels. The Aygo comes only in a 1-litre engine option making it great for new drivers. It's nippy too! The funky design and wealth of colour choices mean that the Aygo is a fun small runaround which young drivers will enjoy and it's an enjoyable drive for our instructor's downtime. The Aygo is easy to manoeuvre at low speeds and has light steering which makes parking in tight spots a breeze. Learners will be grateful for the help on test day. The nippy small engine can dart well in and out of traffic if needed too.
Again, the Aygo offers one of the highest ranked infotainment systems in upgraded trims. The icons are bold and the touchscreen is responsive showing it has been designed well. The menu functions are easy to understand and connecting via Bluetooth to your phone is particularly simple. The Aygo is one of the smaller cars in our shortlist so boot space isn't huge. Depending on the driving school signage, our instructor may need to store their signs elsewhere when using the car for personal mileage.
Available in three small petrol engines the Picanto is a practical choice for the City driving instructor. While compact, the Picanto is only available in 5 door making it practical and comfortable for passengers. The steering handles very well and it feels composed around sharp corners which is important for new drivers. Kia's have always offered a good driving position making the driver feel supported and secure. Visibility is excellent in all but the rear window which is comparatively small. Rear passengers shouldn't feel claustrophobic though as there is still plenty of light. It isn't as comfortable as others on the list, but it makes up for it in style. The interior of the Picanto is undeniably stylish which will please young learners and its compact size will make those tricky manoeuvres much easier.
Similarly, the boot space in the Picanto is by no means large. However, it is ample for signage. Our instructor may need to take it out of the boot if they want to do their weekly shop.
Happy car hunting!
Fed up with looking for your next vehicle?
Need advice from an experienced Vehicle Specialist on what vehicle is right for you?
Book your FREE consultation now