Review Of The Volkswagen Sharan Estate
The new Volkswagen Sharan Estate is a sensible and practical seven-seater that, though it might be a tad on the expensive side, offers plenty of bang for your buck. Sliding doors make life super easy while you can go for a six-seater variant and get more space for your passengers.
Then there's the versatile seating arrangement that provides the ideal solution for modern families, while the fact that it's so easy to drive is a huge plus. It's also comfortable, refined and robust.
OSV takes a closer look at what it's all about with our 2017 Volkswagen Sharan Estate review.
There are few cars of this type that are better to drive than the Sharan. It might be large and it might fit seven people, but it's agile, light and easy to manoeuvre. The steering is weighty enough on the motorway, body lean isn't an issue, and the range of engines are strong and, for the most part, economical.
It doesn't handle quite like a Hatchback, drivers won't have much, if any hassle once out on the road. We also wouldn't go as far as saying that it's terrifically engaging, but it's competent, smooth and stress-free, which is exactly what buyers in this sector are looking for.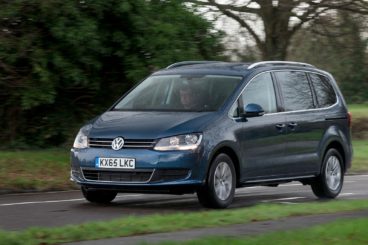 Adaptive suspension is available, and it lets you switch between three different driving settings at the push of a button. Comfort is the sweet spot if you want a smooth and refined driving experience, while Sport ups the ante, making the Sharan feel heavier.
In terms of its engines, a 2.0-litre TDI diesel is available in three separate power guises. The 113bhp variant kick things off, and it takes 12.6 seconds to cover the 0-62 sprint. It feels a bit underwhelming and might be worth overlooking.
We prefer the mid-range 148bhp variant with its 0-62 time of 10.3 seconds. It copes well with a full load and doesn't demand too much of your money at the pumps.
A 181bhp variant rounds things off. While it slashes the 0-62 time down to 8.9 seconds, it also knocks fuel costs up.
There is also the option of a 1.4-litre TSI petrol engine that develops 148bhp. It suits the Sharan Estate well, and has enough power to get you from rest to 62mph in just under 10.0 seconds.
Inside, Volkswagen have gone for the sensible approach. There isn't much by the way of design flair, but the cabin is quiet and comfortable. Ride quality is good even on poorer surfaces, and the dashboard is a simple, straightforward and clean affair.
The simple design is in keeping with the car's practical image. While there's nothing to get excited about, there's also nothing to take umbrage with. Build quality is excellent and everything is easy to locate. That said, there are rivals that are equally practical but better looking.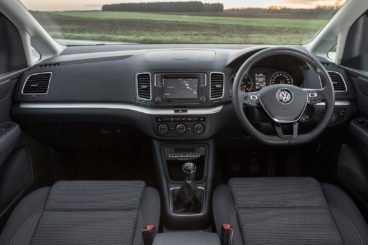 In terms of how practical the car is, it's both well-thought out and large. And by large, we mean massive. All you need to do is take one glance of the car to know there's going to be ample space inside, and there is certainly no shortage of head or legroom for all passengers.
There is the option of either a six or seven seater model, and we recommend going for the former if you'll be transporting six adults around frequently as it offers more knee room.
The VW Sharan Estate offers plenty of smart storage solutions, including armrest storage, footwell storage, a pair of coat hooks, a pair of cup holders, door bins, dashboard storage and a cooled glovebox.
The boot, meanwhile, measures 375-litres with all seven seats in place, which is very impressive. Fold all the rear and middle seats, and you can boost that capacity to a maximum of 2,297-litres.
The third row of seats can also collapse into the boot floor, which allows you to travel as a five-seater whenever you want.
Standard kit is pretty generous across the range. The entry-level model gets the likes of a digital radio, a rake and reaches adjustable steering wheel, a height-adjustable driver's seat, electric windows, climate control and cloth upholstery included in its listing price.
The SE model adds chrome exterior trim, alloys, a leather steering wheel, roof rails, Bluetooth, cruise control and an auto-dimming rearview mirror.
The SE Nav throws sat-nav into the mix, while the SEL model finishes up with heated sports seats, a panoramic sunroof, front fog lights and 17" alloys.
Is the Volkswagen Sharan Estate safe? It was awarded all five stars when Euro NCAP crash-tested it, while its extensive standard safety kit includes seven airbag's, electronic stability control, antilock brakes, a seatbelt warning buzzer, tyre pressure monitoring and ISOFIX child seat mounts.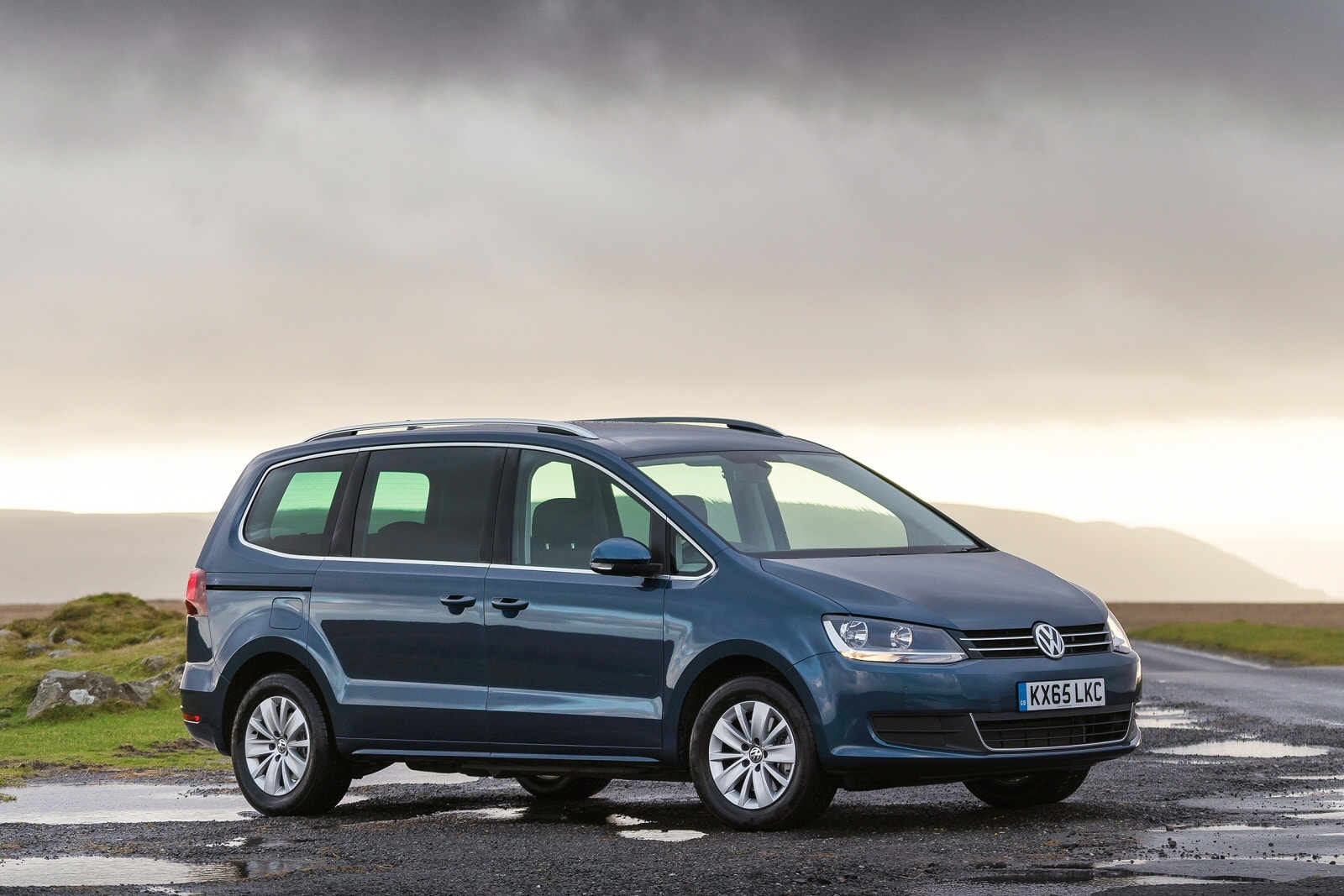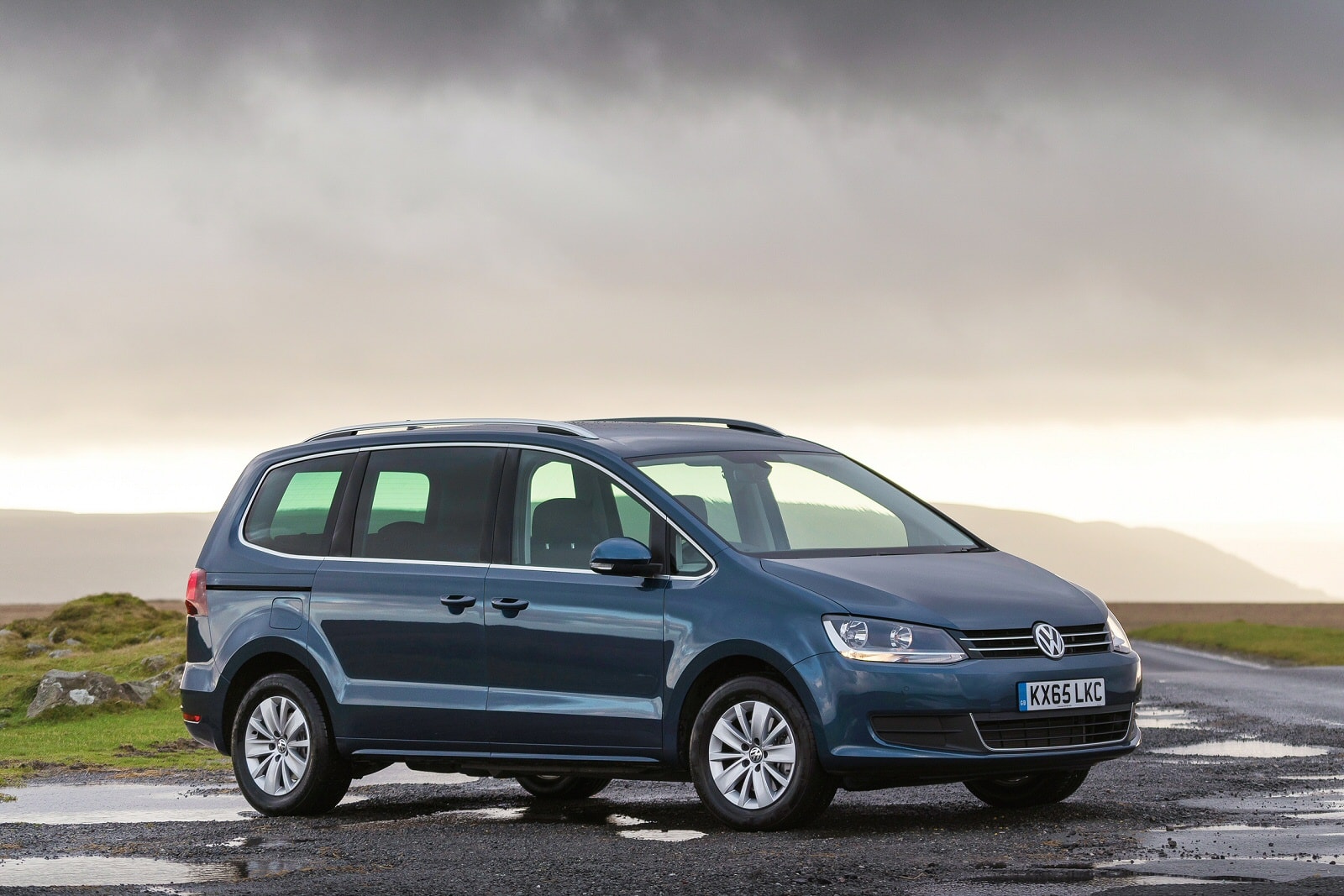 Costs Of The Volkswagen Sharan Estate
Prices for the new car start out from £27,355 and rise to £37,335. If you prefer to lease, you can pick up a deal from £254 + VAT per month. For more information on our leasing deals, check out our page here.
In terms of its running costs, there's not a lot of difference between the engines. The least powerful and middle most powerful diesels both return 56.5mpg and emit 130g/km of CO2, while the bigger 2.0-litre 181bhp diesel returns 53.3mpg and emits 138g/km.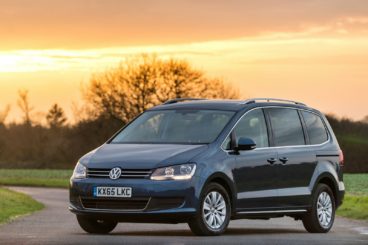 The differences between them all are to be found in the listing price instead.
The 1.4-litre petrol demands more to run, and returns 43.5mpg at best while emitting 150g/km of CO2. For a petrol, though, that's not too bad at all.
Pros and Cons Of The Volkswagen Sharan Estate
Cheap To Run
It's certainly affordable for a car of this type, with all diesels able to return better than 53mpg.
Sliding Doors
They'll make your life SO much easier.
Seats Too Small In 7 Seater Version
They're not all too small, but the third row is for children only.
Dated
It's an ageing model that's showing signs of its age.
Volkswagen Sharan Estate vs SEAT Alhambra Estate vs Nissan X-Trail Station Wagon
Let's see how the car fares against its rivals in the comparison section of our 2017 Volkswagen Sharan Estate review.
Volkswagen Sharan Estate vs SEAT Alhambra Estate
The new SEAT Alhambra Estate is spacious, well-equipped and has room for seven seats.
Like all SEAT's, it's also entertaining to drive and handles more like a Hatchback. That's good news for drivers, as hauling weighty cars like this around can often be a hassle, but thanks to precise steering, minimal body lean and lots of grip, the Alhambra is a pleasure.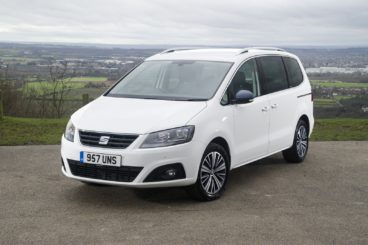 The suspension is a bit on the firm side but passengers won't be complaining too much. Moreover, adaptive dampers can be added for just under £1,000, and they let you tweak the suspension setup.
In terms of the engines, a 2.0-litre TDI is available with either 148 or 182bhp. There isn't much to choose between the two where performance is concerned, but the smaller variant offers better fuel economy.
A 1.4-litre petrol engine is also available, but it can only be paired up with the S and SE models. It's economical, copes well on a full load and comes with either a 6-speed manual or a DSG dual-clutch automatic 'box.
Where running costs are concerned, all models are helped by stop-start tech. The 2.0-litre 148bhp diesel engine is the most frugal. Fit it with a 6-speed manual gearbox and it can return 56.5mpg while emitting 130g/km of CO2. The bigger 181bhp diesel returns 53.3mpg at best, which is impressive for such a big car.
Inside, the SEAT Alhambra Estate is as well-built as the Volkswagen and benefits from a spacious and comfortable cabin. Insulation is good, the driver's seat offers plenty of movement, while the steering wheel adjusts for reach and height.
The dash is as straightforward as the Sharan, with large buttons and clear dials the order of the day. Soft touch plastics are everywhere and the car feels very classy to be inside.
Is it practical? It gets 5/5 from us because it's simply one of the most usable cars on the market. A standout choice if you want a flexible seating layout, sliding side doors and lots of room for all, the Alhambra makes it easy for seven people to get out and about without any hassle. Shoulder room is good, while storage space is excellent.
The boot, meanwhile, measures 267-litres with all seats up. Fold the rear row into the boot, and the five-seater Alhambra has a load capacity of 658-litres. With a low load lip, flat floor and wide opening, it's an easily accessible and usable boot.
Price:
Volkswagen – £27,355 – £37,335
SEAT – £25,690 – £36,320
Volkswagen Sharan Estate vs Nissan X-Trail Station Wagon
The new Nissan X-Trail Station Wagon is another solid choice that gets plenty of interior space, efficient engines and a handsome design.
On the road, it feels a lot like the bigger brother of the Nissan Qashqai. It handles well, there is plenty of grip, and the steering is nicely weighted. Chassis Control is standard on all models, and this arms the car with Active Ride Control and Active Trace Control.
The soft suspension does a good job of absorbing lumps and bumps but it does cause excess body lean in bends. Stick to 17" alloys, though, and the X-Trail is super comfortable.
In terms of the engines, a 1.6-litre 128bhp diesel engine will feel overwhelmed on a full compliment of seven passengers, and takes a leisurely 10.5 seconds to complete the 0-62 dash if you go for two-wheel-drive. Add grippy four-wheel-drive and that number drops to 11.0 seconds.
We like the punchy 2.0-litre 175bhp diesel that does 0-62 in 9.4 seconds and which copes well on a full load. It feels like a safe and secure engine, though it is noisier.
A 1.6-litre petrol engine rounds things off with a 0-62 time of 9.7 seconds. It's quiet at low revs, feels good on the motorway but does need to be worked hard. It's also just two-wheel-drive only, can't be specified with an automatic gearbox and returns 45.6mpg at best.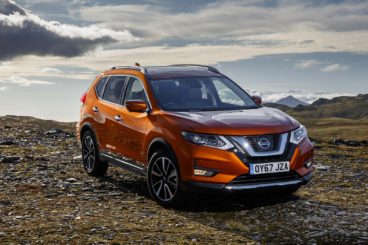 That figure isn't bad, but the cheapest diesel returns 55.4mpg, while the 2.0-litre 175bhp diesel returns 50.4mpg economy.
Inside, the X-Trail looks vastly different inside than last time. Standard kit is superb, with all models getting the likes of Bluetooth, air conditioning and a digital radio, while the design is smart, elegant and corporate.
The restrained dashboard gets a 5" colour screen if you opt for the entry-level model, while soft-touch materials have replaced harsher ones and there are now a lot less buttons than last time.
Indeed, the X-Trail looks neat and tidy, but it's also robust and practical. The theatre-style seats means each row is raised higher than the one in front, parking sensors are standard, and there is more legroom in this car than all its rivals. Headroom is also good, even if you get the panoramic sunroof, while a third row of seats is optional.
The boot, meanwhile, measures 445-litres if you do order the third row of seats and 565-litres if you stick to the five seater. Fold all seats and it measures 1,996-litres.
Price:
Nissan – £23,385 – £37,410
Verdict of our 2017 Volkswagen Sharan Estate Review
Capable, efficient, practical, spacious and suitable for modern families, the Sharan has so much to offer. It might not have any glamour, but few cars of this mould do. Moreover, it's hardly unattractive. With low running costs, easy going handling and a maximum 2,297-litres boot, the new Volkswagen Sharan Estate is hard to ignore.
Request a call back from one of our Vehicle Experts
When you lease a car with OSV there are no hidden costs, request a call back and we'll find you a finance, lease or purchasing deal designed just for you.