Review of the Audi A3 Convertible
Audi has breathed new life into the Audi A3 Cabriolet, with the 2016 variant using the longer wheelbase chassis last seen in the Audi A3 Saloon as its basis – which is a huge plus.
It's still the soft-topped two-door convertible that many of you know and love, but the It's now a firm piece of the family furniture.
OSV take a closer look at what this fun, friendly, quick – and now more practical convertible – is all about in 2016, including pricing, spec's, and comparisons of similar vehicles.
On the Road
Convertibles generally suffer on the road, even at normal speeds. Audi masks this car's shortfalls well, and although it isn't a barrel of laughs, it's not an entirely cagey affair, either. Body lean is well resisted, while the grip is decent.
In terms of engines, few people will be looking at the base-level 1.4-litre petrol and 1.6-litre diesel units. Instead, this pair will likely be overlooked in favour of more obvious choices for the new soft-top.
The most popular engine of choice, if you want something a bit racy, will no doubt be the poky 2.0-litre TDI diesel that offers 150PS. This engine is impressive on all fronts: It has solid pulling power, and can get from 0 to 62mph in 8.9 seconds before maxing out at 139mph. This ought to be enough for the car's core demographic who want a cabriolet that comes with a sunny and fun disposition, but which doesn't pack a monstrous punch.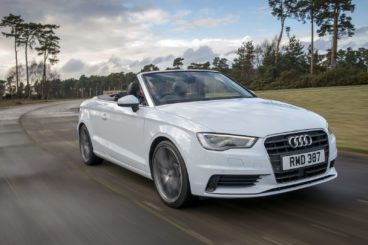 Interior, Design and Build
The new Audi A3 convertible essentially uses a tweaked version of the saloon's chassis, which means that it's lost its puppy fat and now sports a more mature, almost elegant look. It's all down to the extended wheelbase which gives it a slicker profile, while providing the capacity for soft-top concealment when you opt for an open mode.
In comparison to its predecessor, the length has been extended from 4.24 metres to 4.42. This means you get a bigger boot, as well as a wider pad, which makes it easier to dump your bags. In terms of overall practicality, shoulder room is good in the back but knee room continues to be a problem.
Inside, the car is as luxurious as all modern-day Audi's are. The sports seats aren't quite as accommodating as the ones found in the rival BMW 2 Series, but the minimalist look that Audi has gone for here really strikes a chord, as it ensures a super contemporary feel. It already comes with turbine-style air vents by default, but you can add neck-warming vents for an extra £350. Practicality is decent, and the boot offers 275-litres of space with the roof down, and 320 if the roof is up.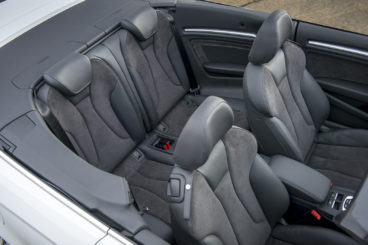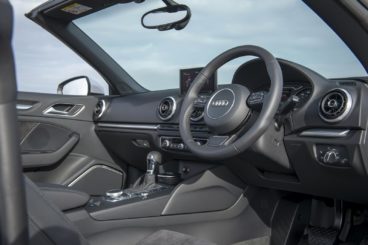 Equipment
The new Audi A3 convertible is quite pricey, but standard equipment is fairly generous. Even if you opt for the base-level trim, you'll still benefit from an 8-speaker stereo, a DAB digital radio, air conditioning, and a leather-trimmed steering wheel.
If you plump for a sport model, you also get bigger alloys and climate control, while the S-line chucks in a bodykit and brighter xenon headlights. The range-topping S3 trim spoils you with even bigger alloys, S3 badges and an overall sportier feel.
Cost, Pricing, & Leasing Rates for the Audi A3 Convertible
Providing your finances are in order, this is the fun bit.
Most buyers will be individuals rather than businesses looking for a new fleet – for obvious reasons. Prices for the new A3 Cabriolet start out from around £29,000 and rise to up to £40,000, which makes it one of the priciest cars in its sector by a long shot.
With a bit of hard bargaining though, you might be able to get a 6% discount at a dealership for a cash purchase, but it really depends on who you're talking to and how much stock they've got.
It all comes down to the deposit and how many miles you do, but if you're looking at leasing this car over 3 years on a business or personal contract hire, prices usually start from around £250 + VAT for a standard car. If you want the range-topper, you'll be looking at around £500 + VAT. This represents good value for money.
Getting the cheapest price for any convertible is near impossible in the summer, so it's best to seek out a dealer during the winter when sales are slow. To make life a bit easier, you can give us a call whenever you want; OSV has access to dealers across the country, and we know who's got what – and who has the best terms.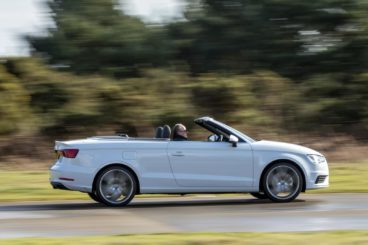 Pros and Cons of the Audi A3 Convertible
Pros:
It looks great
At first glance, this new cabriolet from Audi is a handsome devil. But it's the work behind the looks that is worth mentioning, too. For a convertible, the A3 is quite small. As mentioned, weight has been shaved. Coupled with the smaller size, it makes for a smarter look than last time around.
In fact, it's downright glamorous.
It handles well
This car doesn't offer as much entertainment on the road as a rival BMW, but thanks to an increase in size and a loss of weight, it handles a lot better than its predecessor.
It's easy to drive, is more precise in a straight line, and offers competent performance. If you want more engagement from your handling, you might be better off looking at a BMW, but its behind-the-wheel performance should be enough to satisfy most consumers.
It's efficient
The car comes with a few incremental benefits in terms of emissions and economy. For example, the car weighs less than last time around (the engine weighs less, as does the bonnet), and this has a slight, but noticeable, impact on running costs.
Altogether, the engine improves fuel economy by around 12%. The 1.4 TFSI variant, in particular, returns good numbers: 114g/km of CO2 and 56.5mpg.
The 1.8-litre TFSI unit comes with 7-speed S-Tronic twin-clutch gearbox and averages 48.7mpg while emitting 133g/km of CO2. The 2.0 TDI 150PS power plant, meanwhile, emits 110g/km of CO2 and emits 67.3mpg.
Cons:
Lack of comfort
Without wanting to sound like a broken record, it's worth mentioning (once again) that Audis can sometimes be too stiff to drive, which in turn can diminish comfort when you're out on the road – especially on those longer journeys.
The further up the trim line you go, the firmer the suspension – which means the worse the comfort. There are three different suspension setups available:
We recommend talking to your dealer about tweaking the suspension for max comfort if you do opt for a more expensive trim. Also, consider opting for smaller alloys as this will also aide ride enjoyment.
Roof eats into the boot space
Convertibles can live or die by how much their roof creates other problems, and folding fabric roofs definitely come with more than one teething problem – and eating into luggage space is right up there. The good news is that, although you do lose 45-litres of space when the roof is down, it isn't that much of a dent to be such a big problem.
With the roof up, the boot is sized at 320-litres.
Cost
Where prices for this car start out (£29,000), prices for some of its rivals end. The new convertible from the A3 range is certainly a pricey proposition, and you might find it hard to be sweetened if it wasn't for a good amount of standard equipment, a luxurious interior, as well as the improved economy.
Audi A3 Cabriolet vs BMW 2 Series Convertible vs Volkswagen Golf Cabriolet
There are a few top cars in the affordable convertible market all fighting for your cash. The nearest rivals to the Audi A3 convertible are the BMW 2 Series and the Volkswagen Golf. Quite an intimidating group of cabriolets for any automotive manufacturer. But how do the other two measure up?
Audi A3 Cabriolet vs BMW 2 Series Convertible
When you're up against the ultimate driving machine in any class, the odds of you coming out on top in terms of handling are always dead against you.
Solid handling is actually one of Audi's pros that weigh heavily in its favour, but if it's exemplary handling you're looking for, the BMW will be your best bet. Whichever variant you opt for, the 2 Series convertible drives like a dream, and offers more fun on the road than any other car in this sector. While the Audi fares competently enough, it never feels like an out and out sports car. It's more measured than anything else, and it isn't what you'd call exciting.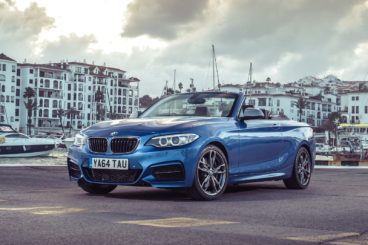 The BMW can also offer a bigger boot – 15-litres more with the roof up and 5-litres more with the roof down, while there isn't much between the two cars in terms of their interiors. Audi has saturated all their A3's with luxury, and the convertible is no different, but their Munich rivals have done the same, and their cabriolet comes with a high-quality interior that offers buyers lots of comforts, an adjustable, lowered driving seat and admirable refinement.
The Audi A3 though, is a better-looking proposition. The BMW is based on the outgoing 1 Series that never quite looked like the part, and although it looks sharper in 2016, it still seems to be torn between a coupe and a convertible. The Audi is also more efficient and has a higher resale value.
Prices:
Audi – Between £29,000 – £39,000
BMW – Between £29,000 and £32,000.
Audi A3 Convertible vs Volkswagen Golf Convertible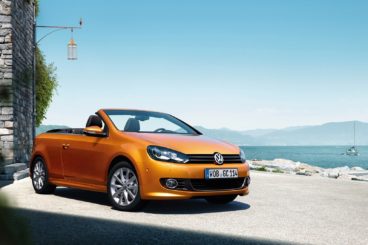 In the convertible sector, engineers don't find it easy to nail their car's handling – except BMW's, of course. Volkswagen's team don't even try particularly hard, claiming instead that buyers aren't too fussed about handling; as long as the car doesn't fall apart as soon as it hits a pothole, we're going to roll with it. As such, the Audi offers a more enjoyable on-the-road experience. While the Golf isn't dreadful, its steering is not as precise or as responsive (or as fun) as its German rival.
But the problem is that VW doesn't even try to mask its cabriolets' handling shortfalls, even at normal speeds. Audi does – and they do it very well.
In terms of practicality, there isn't much to separate the two cars; the A3 convertible is more of a squeeze for passengers than its hatchback stablemate, while head and legroom for backseat passengers in the Golf are at a premium. VW has gone for a fabric roof instead of a tin one, which should suggest more boot space – only, it fails to deliver on this promise and offers just 250-litres with the roof down, which is way off the Audi's 275. Moreover, the boot is a little bit too awkward to open for our tastes.
The Golf does offer a pleasant interior; it can't meet Audi's classy standards, but few cars can. What you get is a cabin composed of upmarket interiors, a tasteful dash, comfortable seats, and plenty of refinement.  Both cars offer good running costs, while the Golf is much more affordable, though the standard equipment is a little bit lacking.
Prices:
Audi – Between £29,000 – £39,000
Volkswagen – £22,800 – £30,000.
Click here to find out more about the Volkswagen Golf Convertible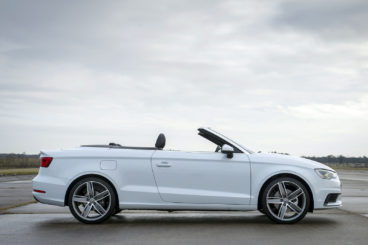 Verdict of our Audi A3 Cabriolet Review:
The Audi A3 convertible is for anyone who wants their cabriolets to be fun and friendly without being menacing. It's always been lively and sunny, but it's now improved dramatically in terms of practicality, too. Modelling it on the A3 saloon's chassis was a smart move; it served to grace the car with better, sleeker looks, and ensured that headroom was better while extending the size of the boot.
The only problem Audi might have is that the changes might make it appear nothing like an A3 Cabriolet at all. Whether that matters to you or not is a different story. The A3 has entered a new world – and it's got all the Vorsprung durch Technik you could have asked for.
Get in touch with Vehicle Specialist
Fill out the form below with your details, and one of our highly qualified specialists will be in contact within 24 hours
Get in touch to have a chat about your new car
Give one of our helpful team a call to find your perfect vehicle.
ARE YOU INTERESTED IN GETTING A
Convertible
?
Get in touch with us on 01903 538835 or request a call back. We look forward to hearing from you.