Review Of The Audi A3 Diesel Sportback
The new Audi A3 Diesel Sportback is big on space and desirability, making it the ideal option for buyers who love four rings at the front of their car, but who need a degree of family friendliness, too.
Stylish, its interior is suited and booted, while the diesel engines help to keep costs down despite offering thrilling performance.
OSV takes a closer look at what it's all about with our 2018 Audi A3 Diesel Sportback review.
On the road, the Audi isn't the most fun car around but its predictable handling and a smooth ride will appeal to buyers. It's also comfortable and its engines deliver a lot of punch. For a car of this type, there's not a lot more you can ask for.
And despite the increase in its wheelbase, the Sportback is still easy to drive, too. In the towns and cities, negotiating tight turns is a cinch. There are cars out there that are better suited for enthusiasts, and if we have a niggling gripe it's that the steering here lacks enough feedback. Overall, though, the Sportback gets our thumbs up.
In terms of the engines, there isn't a great deal to choose from on the diesel front, with just two available. However, they're both excellent engines and can both offer an almost unmatched mix of economy and power.
That said, if you're a low mileage driver, it's a good idea to weigh up your options properly by taking a look at the Audi A3 Petrol Sportback, too.
The 1.6-litre TDI diesel sits at the bottom of the range. It develops over 100bhp, which is enough to get it from rest to 62mph in 10.4 seconds. But the 2.0-litre 148bhp diesel arguably has more about it. It develops a gutsy 148bhp, which is enough to see it get you from a standstill to 62mph in just 8.6 seconds.
It's our top pick, but there's also the option of a 2.0-litre 181bhp variant. This diesel brings four-wheel-drive to the party and covers the 0-62 dash in 6.8 seconds. It's a thrilling engine that's well worth a punt if your coffers stretch that far.
Audi A3 Diesel Sportback Interior, Design & Build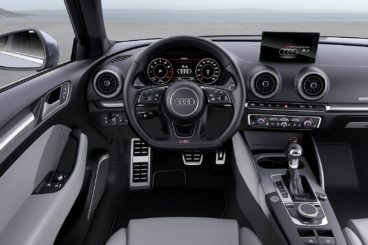 The Audi A3 Diesel Sportback costs a lot of money, but anyone who's owned an Audi in recent years or at least sat inside one will know that their cabins are well worth the outlay. The A3 Sportback's interior is absolutely top-notch, with Audi using the best materials available and sparing no expenses. This is a premium cabin for a premium buyer.
The styling is good, too – restrained and tasteful. Meanwhile, the dashboard is neat and tidy, while the optional Virtual Cockpit dispenses with more "needless" controls, replacing them with a high-res 12.3" TFT screen. It will bump up the price of the car but it's well worth it.
If your budget goes far enough, the higher-spec model gets lashings of aluminium detailing. That said, there's nothing radical about the A3. Instead, the order of the day is conservative, so if that doesn't suit you-you'll have to take your wallet elsewhere.
The entry-level models get a 5.8" colour infotainment screen, which comes with a few buttons and a responsive control wheel. The steering wheel and driver's seat are fully adjustable, and this makes it easy to get into your preferred position.
In terms of how practical it is, the A3 Sportback is the most spacious car in this sector. Its wheelbase is even longer than last time, and it also feels like one of the most durable cars in this class. There's lots of storage space, while the fact that it's a five-door is also part of its appeal.
That said, it will still be a struggle to get five adults inside. Two adults in the back will be just fine, but three is pushing it. Access is awkward thanks to how low the car is sat, but the boot measures 30-litres more than its predecessor. Boot capacity is up to 380-litres, which expands to 1,220 when you fold the rear seats.
Equipment & Safety Of The Audi A3 Diesel Sportback
Standard kit is good across the range, with the entry-level model getting the likes of alloys, Bluetooth, an infotainment screen, cruise control, xenon headlights and air conditioning. The SE and SE Technik models add 16" alloys, as well as dual-zone air conditioning, leather trim, and sports seats.
Is the Audi A3 Diesel Sportback safe? It was awarded all five stars by Euro NCAP for its crash test, while its standard safety kit includes an adaptive brake light, front seatbelt pre-tensioners and airbags. The brands Traffic Jam Assist system is optional, as is rear cross-traffic alert.
Costs Of The Audi A3 Diesel Sportback
Prices for the new car start out from £21,805 and rise to £34,330. For more information on our leasing deals, check out our page here.
In terms of its running costs, the 1.6-litre diesel engine is the cheapest to run. It can return 70.6mpg at best and emits 106g/km of CO2. That said, we reckon the 2.0-litre 148bhp TDI diesel is a better all-rounder. It returns 67.3mpg and emits 109g/km.
All models demand £140 per year in road tax, while the cheapest A3 sits in insurance group 13.
Pros and Cons Of The Audi A3 Diesel Sportback
Classy Interior
Who can doubt Audi when it comes to interiors? Once again, this is a premium, 5-star interior that outdoes most rivals.
Reasonable Boot
It's not the biggest boot in this class, but it's 30-litres larger than last time and now measures 380-litres.
Hushed
The diesels are quiet and refinement is excellent.
Lacks the Style of a Three Door
It's stylish for a five-door model but those extra doors always bring a compromise.
Expensive
For a family car, it doesn't come cheap, and its list of optional extras are also on the pricey side.
Audi A3 Diesel Sportback vs Alfa Romeo Giulietta Diesel Hatchback vs Mercedes B-Class Diesel Hatchback
Let's see how the car fares against its rivals in the comparison section of our Audi A3 Diesel Sportback review.
Audi A3 Diesel Sportback vs Alfa Romeo Giulietta Diesel Hatchback
The new Alfa Romeo Giulietta Diesel Hatchback is a decent if not spectacular car to drive. Its handling is average, there's minimal body lean and a good amount of grip. The suspension will be a bit on the harsher side for some, and it gets worse as you move up the trims to the models with the bigger wheels.
That said, the Giulietta feels smooth on most roads and ride comfort isn't an issue.
In terms of the engines, a 1.6-litre diesel kicks things off. If you rev it and change down gears, it tends to make a bit of a gruff noise, while 0-62 can be done away within 10.0 seconds flat.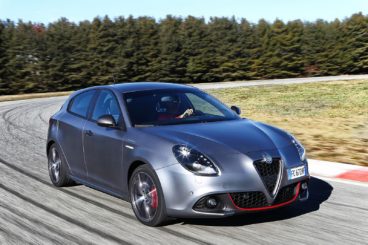 That's a bit underwhelming for an Alfa Romeo, but the bigger 2.0-litre 148bhp diesel does the same 0-62 dash in 8.8 seconds. There's also the option of a 173bhp variant of this 2.0-litre diesel, which does 0-62 in 7.8 seconds.
That sounds attractive enough, but it's paired up with an automatic 'box that gets our thumbs down for how it dents performance. it's an economic engine, however, that returns as much as 65.7mpg. The 148bhp variant returns 67.3mpg, while the 1.6-litre diesel is good for returns of a 74.3mpg economy.
Inside, the Alfa Romeo Giulietta can't compete with the Audi when it comes to quality. There are just too many cheaper plastics dotted around the place, despite the brand new leather upholstery that's reserved for higher spec models. The air vents look flimsy, while some of the fixtures and fittings are decidedly low rent.
And while it's a quiet interior, the seats are as uncomfortable as last time.
Is the Alfa Romeo Giulietta Diesel Hatchback practical? It's hit and miss. It's got more length than most of its rivals, but there are certain issues that prevent people from getting comfortable. For example, the pedal box is so cramped that the driver will find it hard to squeeze their feet in there.
The roofline is low, rear legroom is tight, but access is good. All models come with five doors, there are plenty of storage spaces (though the glovebox is largely useless), and the boot measures 350-litres, which is fairly unremarkable.
Price:
Audi – £21,805 – £34,330
Alfa Romeo – £19,620 – £29,950
Audi A3 Diesel Sportback vs Mercedes B-Class Diesel Hatchback
The new Mercedes B-Class Hatchback is hardly Mercedes' most stylish cars, but it's super safe, super strong and was one of the first ever cars in this particular niche.
Its predecessor was a bit, shall we say, on the boring side and never felt truly engaging. This new version is a bit different. It's still just as composed and safe, but a better stability control system and a brand new suspension and chassis setup mean it drives better.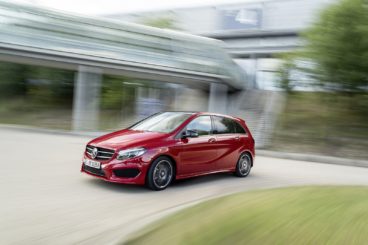 There's lots of grip on offer but it's not quite as comfortable as last time. Rear suspension is firm and you'll really feel it when you hit a pothole.
That said, it makes for a good cruiser. Just watch out for bumps.
In terms of its engines, the diesels are stronger than the petrols. OSV's top pick is the B200d model. It's almost as affordable to run as the smaller 180d but really benefits from its extra power.
There's also the option of the even bigger B220d model, which is both smooth and quick. It's also a tad expensive and takes a while to wake up when you're cruising at low speed. However, it can be specified with 4MATIC four-wheel-drive.
Running costs? The B200d returns an impressive 67.3mpg, a number which can be bumped up to 70.6mpg if you pair the engine up with the 7G 7-speed automatic transmission. That's hardly worse than the 180d model and it also emits just 104g/km of CO2.
Inside, the first thing that really strikes you about the B-Class Hatchback's cabin is just how much room you have. It's also super comfortable, and all trim levels are well-equipped and boast a top-notch, premium interior.
Comfort for the driver is particularly excellent. There's plenty of seat adjustability and visibility is good. Go for the AMG model and comfort diminishes, but other than that most models have decent ride quality.
The dashboard is embellished with classy metal air vents, while the steering wheel has been redesigned to great effect.
Is the Mercedes B-Class Hatchback Diesel practical? It's got more space than last time, there's more airiness to it, while its 488-litre boot completely kicks the Audi into touch. It can extend to a massive 1,545-litres by folding the rear seats.
Price:
Mercedes – £23,195 – £32,265
Verdict Of Our 2017 Audi A3 Diesel Sportback Review
Audi knew they had to up their game, as the last A3 Sportback was average. This time around, they've increased the length of the wheelbase, added more rear seat space and boosted the size of the boot.
On the other hand, you're also paying more for two extra doors despite this five-door model losing style points over the three-door. It's all about priorities. If you need space and usability, the new Audi A3 Diesel Sportback is a very good shout.
When you lease a car with OSV there are no hidden costs, request a call back and we'll find you a finance, lease or purchasing deal designed just for you.