Review Of The Alfa Romeo Giulietta Diesel Hatchback
The evocatively named new Alfa Romeo Giulietta Hatchback is one of the best ways for growing families with a relatively sensible budget to own an Alfa Romeo. It's stylish, looks fantastic and boasts a smart cabin.
However, despite its obvious Italian flair and heritage, the big question is whether it stands up to seasoned rivals in this sector. Moreover, it's starting to show signs of its age.
OSV takes a closer look at what it's all about with our 2018 Alfa Romeo Giulietta Diesel Hatchback review.
Overview of the Alfa Romeo Giulietta Diesel Hatchback
The Giulietta is a fairly nippy car, whichever engine you go for. Indeed, it's in Alfa Romeo's DNA to produce exciting cars, and that ethos, by and large, extends to the family car sector.
Speaking of DNA, the Giulietta comes with a gadget called a DNA control switch. This allows you to adjust the way the car is setup so that the weight of the steering alters. The accelerator pedal can also be adjusted so that it's less or more sensitive, but it's a far from a perfect feature. For example, if you switch to Dynamic mode, the steering becomes overly heavy.
That said, the way the car handles is fine. Body lean is minimal and there's lots of grip available. The suspension is a bit harsh and gets harsher as you move up the trim levels, but ride comfort is perfectly fine most of the time.
In terms of its engines, a 1.6-litre diesel unit kicks things off. It takes 10.0 seconds to cover the 0-62 sprint, which is on the average side of things. At low revs it's quiet enough, but it does get more vocal as you pick up the pace.
A 2.0-litre 148bhp diesel engine is a more respectable choice. It covers the 0-62 dash in 8.8 seconds, but the bigger 173bhp variant does it in just 7.8 seconds.
This is a review of the diesel version of the Giulietta. However, it's worth mentioning the petrols. A 1.4-litre petrol unit kicks things off. It's a bit timid and takes 9.4 seconds to cover the 0-62 dash, but a bigger 168bhp variant covers the same distance in just 7.6 seconds. Even better, it's also cheaper to run.
The Veloce model is the one with the most personality. It's backed by a fiery 1.75-litre turbo petrol engine, which develops 237bhp. On the downside, it doesn't come with the option of a manual gearbox. Instead, you have to settle for a fairly underwhelming dual-clutch auto 'box.
Alfa Romeo Giulietta Diesel Hatchback Interior, Design & Build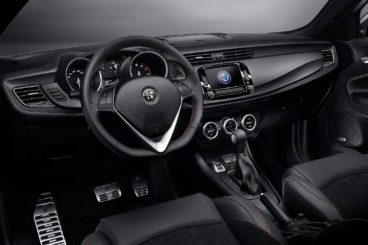 On the outside, the Giulietta looks impressive enough. It's stylish and sexy and will look great in anyone's driveway. Inside, however, it's a different story.
Sure, this is a quiet cabin, but there are a few flaws. For one thing, it looks cheap at times. It's better than last time, but in terms of actual quality, it's a long way off rivals. Worse still, the leather upholstery that really lifts proceedings isn't available with entry-level models.
Hard plastics are easy to spot, while the air vents look scarily flimsy. The trim for the dash is pleasant, and we like the smart 6.5" touchscreen (although it doesn't come with all models). On the other hand, despite ride quality is decent, the seats aren't very comfortable.
Is the Alfa Romeo Giulietta Hatchback practical? It's longer than its direct rivals, which means it can offer a bit more interior space. However, there are lots of issues. Rear visibility is poor, the car is awkward to park, and the tight pedal box makes it hard for the driver to get into the right position. And if you raise the driver's seat too much, you'll hit the roof.
Access is good, though, and it's pleasing that all models come with five doors. Head and legroom are a bit tight in the rear, but the 350-litre boot is competitive for this class. Fold the rear seats and that can extend to 1,045-litres but a large lip will frustrate.
Equipment & Safety Of The Alfa Romeo Giulietta Diesel Hatchback
Standard kit across the range is decent. The entry-level model gets Bluetooth, a leather multi-function steering wheel, DNA driving modes, air conditioning and alloys. It's all the stuff you'd expect in a car at this price point, while the Supermodel adds fog lights, front armrest, rear parking sensors, cruise control and dual-zone climate control.
The Technica trim gets leather upholstery, metallic paint finishes, folding door mirrors, a 6.5" display, front parking sensors, automatic lights and wipes and sat-nav. The Speciale trim adds a sports steering wheel, aluminium pedals, suede-effect seats and 18" alloys, while the Veloce model rounds things off with larger tailpipes, the 1.75-litre turbocharged petrol engine and revised sports suspension.
Costs Of The Alfa Romeo Giulietta Diesel Hatchback
Prices for the new car start out from £19,620 and rise to £29,950. If you prefer to lease, you can pick up a deal from £249 + VAT per month. For more information on our leasing deals, check out our page here.
In terms of its running costs, the most frugal diesel is the 1.6-litre engine that's good for returns of a 74.3mpg economy, and which has a BiK rating of just 21%. The 2.0-litre diesel is available with either 148 or 173bhp, with the former averaging 67.3mpg and the latter averaging 65.7mpg economy.
Where insurance is concerned, the Giulietta sits between groups 15 and 22.
Pros and Cons Of The Alfa Romeo Giulietta Diesel Hatchback
Stylish Looks
If you were buying a car based purely on its looks, the Giulietta is unbeatable.
Snazzy Handling
On the road it feels genuinely sporty at times, even if the DNA system won't satisfy the most enthusiastic of drivers.
Affordable Running Costs
The cheapest diesel's economy returns are in the mid-seventies.
Poor Ride Quality
The engines are strong but they're weakened by harsh ride quality.
The interior could be better.
Alfa Romeo Giulietta Diesel Hatchback vs BMW 1 Series Diesel Hatchback vs Audi A3 Sportback Diesel
Alfa Romeo Giulietta Diesel Hatchback vs BMW 1 Series Diesel Hatchback vs Audi A3 Sportback Diesel
Let's see how the car fares against its rivals in the comparison section of our 2018 Alfa Romeo Giulietta Diesel Hatchback review.
Alfa Romeo Giulietta Diesel Hatchback vs BMW 1 Series Diesel Hatchback
The new BMW 1 Series Diesel Hatchback costs a bit more than the Alfa Romeo to buy, but it's got an image, oozes class and is a dream to drive.
Indeed, the 1 Series is the best car to drive in this class. Like the Alfa Romeo, its rear-wheel-drive setup ensures lots of agility. The Giulietta does well to compete with its blend of ride quality and handling ability, but we'd say the 1 Series just edges it.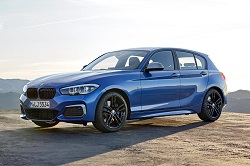 If you opt for the explosive M Sport model, the harsher suspension and larger alloys will ruin ride comfort somewhat, but optional adaptive dampers will help to ease things.
In terms of its diesel engines, a 118d model is nice and smooth, but most buyers who want a bit more oomph will be tempted by either the 120d or the 125d model. A 2.0-litre diesel engine powers the latter, developing 190bhp and racing from rest to 62mph in just 6.8 seconds.
The 125d model, on the other hand, cuts that time down to 6.3 seconds. All models are paired up with a 6-speed manual 'box as standard, but there's the option of an 8-speed automatic.
Where running costs are concerned, the 118d and 120d models lead the way, with BMW claiming returns of over 60mpg. All models under £40,000 will cost £140 a year in tax, while those over £40,000 will cost £450 per year.
Inside, the sheer handling prowess of the 1 Series means you have to sacrifice some comfort. It's not quite as comfortable as some rivals, but thanks to the Alfa Romeo's uncomfortable seats, there's not much difference between the two cars.
Where there is a difference is in terms of overall quality. Like the Giulietta, the 1 Series was let down by harder plastics last time around. This time, cabin quality is much improved and the car looks and feels better.
Visibility is also better here than in the Giulietta, even if the rear window is a bit too narrow.
Is the BMW 1 Series practical? Not quite. Space is limited for backseat passengers, even if the car is bigger than last time. Unlike the Alfa Romeo, there's the option of a three-door model, but choosing it means rear access will be poor.
A tall transmission tunnel blights both the three and five-door models, while the wheel arches in the five-door model eat into rear seat space. The boot, meanwhile, measures 360-litres, which can be extended to 1,200 by folding down the rear seats.
Price:
Alfa Romeo – £19,620 – £29,950
BMW – £21,840 – £35,015
Alfa Romeo Giulietta Diesel Hatchback vs Audi A3 Sportback Diesel
The new Audi A3 Sportback Diesel is a smart-looking family car that's got more interior space than the Alfa Romeo. It also boasts a better interior but it's more expensive to buy.
On the road, the Sportback drives with a maturity that probably makes it less exciting than the Giulietta. It's handling is predictable and its ride is quiet and comfortable. Performance, meanwhile, is effortless.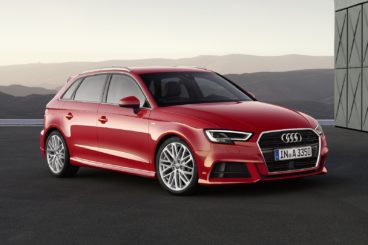 There's not much to separate the engines in terms of power delivery. A 1.6-litre TDI diesel can get you from a standstill to 62mph in 10.7 seconds and develops a respectable 109bhp. A 2.0-litre TDI delivers 148bhp and does 0-62 in 8.3 seconds if you opt for the S Tronic automatic transmission, but adding Quattro four-wheel-drive will see that figure take a slight hit.
Both diesels are remarkably quiet when cruising and both have good pulling power. Their biggest differences lie with the economy. The 1.6-litre TDI engine returns a very impressive 74.3mpg and emits less than 100g/km of CO2, while the bigger diesel returns just over 70mpg at best and emits 105g/km of CO2.
Inside, it's a cinch for the driver to find the ideal driving position, thanks to a steering wheel and seat that adjusts loads. Comfort is assured for all the passengers too, while the quality of the materials and tastefulness of the design mean the A3 is a pleasant place to spend time on the road.
If your budget allows, it's well worth adding the brands Virtual Cockpit as it means there's no need for traditional dashboard controls. Even without it though, the entry-level model gets a smart, easy to use 5.8" colour screen.
Is the Audi A3 Sportback practical? It's strong enough to double up as a tow car, while an increased wheelbase means it's now the most spacious car in this class. It's also super durable and should stand up well to family life.
Storage spaces are plentiful but access is a bit of an issue, thanks to how low the car sits. Moreover, while it's a spacious car, it's much better suited to four adults than five. The boot, meanwhile, measures 380-litres, which is slightly bigger than the Giulietta.
Price:
Audi – £21,380 – £33,905
Verdict Of Our 2017 Alfa Romeo Giulietta Diesel Hatchback Review
There's no doubting that this is a seriously stylish car. If looks alone guarantee a winner, there's no competition. However, there are compromises. The engine line-up is strong but while the car has clear sporty intentions, its DNA system fails to wow. Ride quality is average, as is its interior.
Still, if it's Italian charisma, style and affordability you're looking for, the Alfa Romeo Giulietta Diesel Hatchback still has a lot going for it.
When you lease a car with OSV there are no hidden costs, request a call back and we'll find you a finance, lease or purchasing deal designed just for you.