Review Of The BMW 1 Series Diesel Hatchback
For a relatively small family car, the new BMW 1 Series Diesel Hatchback might look a bit expensive, but you're essentially paying for its top-notch interior, its powerful engines, and its class-leading handling. It's also sportier than your average Hatch and can race from 0-62 in almost 6.0 seconds flat.
Moreover, while its purchase price might be on the wrong side of £20,000, its running costs are attractive, with its most frugal diesel engine able to return up to a 78mpg economy.
OSV takes a closer look at what it's all about with our 2018 BMW 1 Series Diesel Hatchback review.
This is the best car to drive in its sector and keener drivers won't be disappointed. This is down to a combination of good ride quality, excellent handling, strong engines and a rear-wheel-drive layout. Rivals need to up their game once again.
If you opt for one of the sportier trims, you'll have to put up with stiffer suspension and this is something your family won't thank you for. That said, adaptive dampers are available as an optional extra and they can take the sting out of lumps and bumps a tad.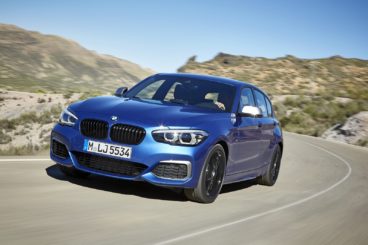 At low speeds, the speed-sensitive steering is nice and light, but once you put your foot down the 1 Series gets heavier and starts to feel composed and stable. This gives you more confidence to approach bends with pace.
An 8-speed automatic transmission is available as an optional extra. We like it; its changes are instant and smooth but there's also nothing wrong with the standard 6-speed manual that most buyers will probably stick to.
In terms of the engines, a 116d diesel model kicks things off. It's probably going to be too small to feel as powerful as this 1 Series can, but it's pretty refined and worth settling for if your budget isn't too big.
The 120d model puts a bit more meat on the bone. It's powered by a 2.0-litre diesel engine that develops 190bhp, and which can get you from rest to 62mph in 6.8 seconds. If you prefer, you can select this model with the brands xDrive system, which essentially turns its real-wheel-drive layout into four-wheel-drive. It works well and there's plenty of grip on offer when conditions get a bit dicey.
Next up is the 125d model which covers the same sprint in 6.3 seconds. That's damn fast for a Hatchback and indeed it will feel more like a Hot Hatch. If you want it to feel even faster, specify the 8-speed automatic transmission.
BMW 1 Series Diesel Hatchback Interior, Design & Build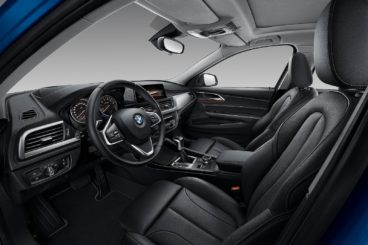 BMW's template when it comes to their interiors is very much "driver-focused," and that's what we have here. Last time around, the 1 Series cabin was let down by harder plastics, but BMW has made improvements and added more quality. The air conditioning controls certainly look a lot better, as do the new dials.
There's also now a more premium feel behind the wheel, which helps to make this Hatchback feel rather special. The low-mounted front seats give the car a sporty accent and visibility is good, despite the driver sitting so low. The seats are supportive and offer lots of adjustment, so it won't take long for you to find the optimal driving position.
That said, the dark, black plastics might be a bit dreary for some buyers.
The dashboard is clearly laid out and feels built to last, but it misses out on the kind of advanced technology that rivals like the SEAT Leon and Volkswagen Golf already have. It gets a 6.5" colour screen that can be upgraded to an 8.8" screen, however, and upgrading means you'll get the likes of a better stereo, 3D navigation and a hard-drive.
Is the BMW 1 Series Diesel Hatchback practical? It's a bit too sexy to be massively useful, and rear-seated passengers will be a bit cramped for space. There's a three and five-door version available, and if you'll regularly be filling up the rear seats, we definitely suggest you go for the latter. The long doors are hard to open at the best of times.
Even the five-door models aren't hugely practical, with the wheel arches eating up back seat space. Headroom back there is decent but legroom is questionable. Those upfront will have no such concerns, however, while a deep glovebox makes up some of the rather excellent storage space on offer.
The boot, meanwhile, measures 360-litres and can be extended to 1,200 by folding the rear seats.
Equipment & Safety Of The BMW 1 Series Diesel Hatchback
Standard kit is decent across the range, with the entry-level model getting a digital radio, sat-nav, a leather-trimmed steering wheel, LED lights, alloys and air conditioning.
But it's in the list of optional extras where most of the interesting stuff is, such as bright xenon headlights and heated seats. A heads-up display will complement the standard infotainment system, while other optional extras worth considering include a reversing camera and a small electric sunroof.
In terms of safety, the BMW was awarded all five stars by Euro NCAP for its crash test performance. Its standard safety kit includes electronic stability control, anti-lock brakes, ISOFIX child-seat mounts, numerous airbags and traction control.
Costs Of The BMW 1 Series Diesel Hatchback
Prices for the new car start out from £22,405 and rise to £35,810. For more information on our leasing deals, check out our page here.
In terms of its running costs, all models benefit from stop-start technology which helps to keep costs down. The 118d returns as much as 70.6mpg, but it's outdone by the less powerful 116d non-EfficientDynamics 3-pot diesel that manages 78.4mpg on a good day.
The 120d and 125d are faster and more powerful, but the latter – returns 61.4mpg at best when paired up with the automatic 'box. That might price it out of some peoples budgets, but its emissions of 121g/km of CO2 are respectable.
Insurance-wise, the entry-level diesel sits in group 15 out of 50, while the 120d sits in group 25.
Pros and Cons Of The BMW 1 Series Diesel Hatchback
Economical
The smallest diesel returns over 78mpg, which is hugely impressive.
Entertaining
It might be a much more sedate, family-oriented BMW than we're used to, but it's still got a keen sense of fun.
Quality Interior
It's as premium as they come, with BMW adding more quality than last time.
Expensive
Mainstream rivals are noticeably cheaper and offer just as much value for money.
Awkward Looks
It's not the best-looking BMW ever, and it's definitely not the best-looking Hatchback.
BMW 1 Series Diesel Hatchback vs Alfa Romeo Giulietta Diesel Hatchback vs Mercedes B Class Diesel Hatchback
Let's see how the car fares against its rivals in the comparison section of our 2018 BMW 1 Series Diesel Hatchback review.
BMW 1 Series Diesel Hatchback vs Alfa Romeo Giulietta Diesel Hatchback
The new Alfa Romeo Giulietta Diesel Hatchback is cheaper to buy than the BMW but, despite a lot of character and heart, feels a bit aged.
The Giulietta provides a good turn of pace and all models get the brands DNA control switch. This lets you change the way the car is set up – for example, you can alter how sensitive the accelerator is, as well as how much weight the steering has.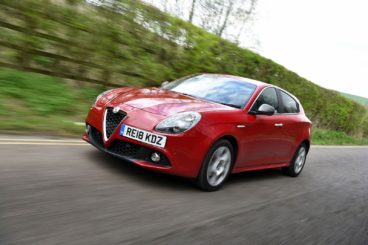 Overall, the Giulietta handles well enough but can't compete with the BMW (few cars can). Body lean is all controlled and there's more than enough grip available. Ride quality, for the most part, is good.
In terms of the engines, there are two diesels to choose from. A 1.6-litre engine opens the range up but takes 10.0 seconds to complete the 0-62 sprint. It's a bit noisy when you rev it and might be worth overlooking.
Next up is a livelier 2.0-litre diesel that develops 148bhp, and which covers the 0-62 sprint in 8.8 seconds. A 173bhp variant of the same engine is also available, and this one covers the same dash in 7.8 seconds. It's a powerful, solid engine but it does come paired up with a frustrating automatic 'box.
Running costs? We have no complaints with the diesels, none of which slip beneath the 65mpg mark. The 1.6-litre diesel engine returns 74.3mpg economy, while the smallest of the 2.0-litre diesels returns 67.3mpg. The bigger variant is good for 65.7mpg, which is impressive.
Inside, there are a few things we like about the Giulietta. It's quiet, well-equipped and the dashboard trim is more attractive than ever. We also like the 6.5" touchscreen.
On the other hand, it can't match the BMW for interior quality and there are harder plastics here and there. The seats aren't comfortable either.
Is the Alfa Romeo Giulietta Diesel Hatchback practical? Its 350-litre boot is average for this class but competes well with the BMW. Fold the rear seats and you can extend it to 1,045-litres. A large lip will frustrate, though.
Other than that, the glovebox is way too small, a cramped pedal box will make life difficult for the driver, while the fact that the Giulietta is actually one of the longest cars in this market means parking will be tricky.
Price:
BMW – £22,405 – £35,810
Alfa Romeo – £19,620 – £29,950
BMW 1 Series Diesel Hatchback vs Mercedes B Class Diesel Hatchback
The new Mercedes B Class Diesel Hatchback costs a bit more than the already-expensive BMW but does a great job of combining everyday usability with its unique sense of luxury.
On the road, the diesels are pleasantly smooth and, if you opt for the range-topping B220d model, you also benefit from four-wheel-drive which arms the car with a reassuring amount of grip. That said, you can stick to two-wheel-drive if you wish, and doing so will keep fuel costs down a bit. Moreover, it really doesn't offer that much of an advantage.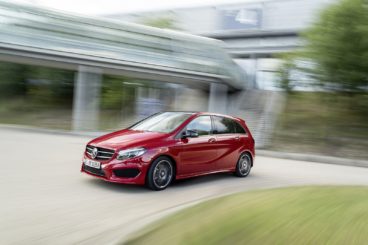 We prefer the B200d. It's the mid-range model, offers more power than the 180d and feels very relaxing to drive.
All models get a 6-speed manual 'box as standard, but you can specify a 7-speed automatic if you wish. It's even smoother but can be a tad unresponsive.
Running costs? The B200d is almost as fuel-efficient as the B180d and can return 67.3mpg at best while emitting 109g/km of CO2. That means it's not quite as cost-effective as the BMW but in isolation those numbers are still good. Moreover, if you specify the automatic transmission, its economy goes up to 70.6mpg.
The four-wheel-drive B220d model, meanwhile, returns 56.5mpg.
Inside, the Mercedes has plenty of class, space and comfort to offer buyers. The driver's seat is adjustable in numerous ways, all-round visibility is excellent and the car is easy enough to park.
Ride quality and comfort are fantastic thanks to the soft suspension setup, although the diesel engines do make a fair bit of noise that is at odds with the car's otherwise relaxed demeanour.
Is the Mercedes B Class Diesel Hatchback practical? It sure is, and the B-Class is able to offer more room than ever. Its flexible seating arrangement gives it lots of versatility, access is easy and headroom is better than last time.
The glovebox is a bit on the small side but the centre console houses two big cubbies. Then there's the boot, which measures 488-litres. That's a lot bigger than the BMW's, and it can be extended to 1,545-litres by folding the rear seats.
Price:
Mercedes – £23,195 – £32,265
Verdict Of Our 2018 BMW 1 Series Diesel Hatchback Review
Entertaining, family friendly and upmarket, the new 1 Series is a winner. It's got its flaws – it's not all that sexy and there are cheaper, roomier rivals – but if you want a premium car for your everyday chores and want to have some fun on the side, the new BMW 1 Series Diesel Hatchback is well worth a test drive.
When you lease a car with OSV there are no hidden costs, request a call back and we'll find you a finance, lease or purchasing deal designed just for you.