Review Of The Audi A5 Diesel Sportback
The new Audi A5 Diesel Sportback is a beautifully designed large premium hatchback that's comfortable, quiet and fairly priced.
For modern families, the A5 Sportback should be hugely desirable. As well as the innate badge appeal, it's also got lots of usability and fares well compared to rivals in the looks department.
OSV takes a closer look at what it's all about with our 2018 Audi A5 Diesel Sportback review.
Audi isn't really known for producing hatchbacks and saloons that are fun to drive, but the new A5 Sportback is quick, quiet and agile. Its steering is well weighted but lacks feel, and overall this is an enjoyable car to drive.
Moreover, the car doesn't suffer from the same overly firm ride quality issues that plague a lot of modern Audi's. Over really poor surfaces, you will feel it, but for the most part the ride is smooth and comfortable.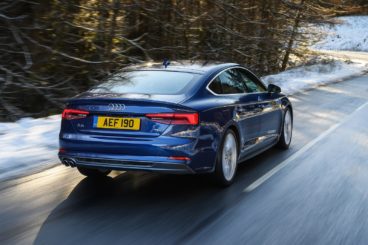 Body lean is kept to a minimum and there's lots of grip, which means drivers can tackle bends at pace with confidence. Four-wheel-drive is available on some models and standard on others, but we don't feel as though it makes that much of a difference.
We like the 7-speed dual-clutch automatic transmission. It lets you take charge whenever you want using the steering-wheel-mounted paddles, and the changes are near instant. In the fully automatic mode, however, it is a bit slower to react.
In terms of the engines, the 2.0-litre 187bhp diesel is expected to be the biggest seller. It's found up and down Audi's range, and is both performative and economical. 0-62 is dispensed within just under 8.0 seconds and there's plenty of pulling power available at all times.
If you need more power, a 3.0-litre V6 diesel engine sits at the top of the range. It's available with 215bhp, but a 282bhp variant is expected soon. The 215bhp covers the 0-62 dash in around 6.5 seconds and it's still impressively affordable to run.
Audi A5 Diesel Sportback Interior, Design & Build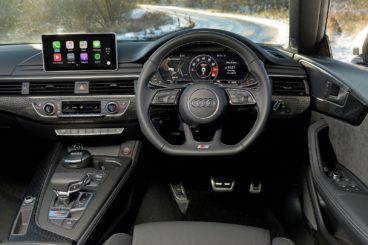 Few cars at any price point can match Audi when it comes to their interiors and that's the case once again. The cabin is vintage Audi and gets 5/5 from us with the only criticism we have is that the infotainment screen can't retract. And that's a minor criticism.
Other than that, insulation is excellent and you'll barely hear a peep from the engine. The tyres are a bit noisier but not enough to be annoying, while ride quality is also very good.
The materials used are – as ever – of a very high quality and the dashboard sports a minimalist design that looks good. The brand's much-praised Virtual Cockpit system is available as an optional extra, and we'd definitely suggest adding it if your budget extends far enough (it's just £250). It's full of useful driving info and the sat-nav is hugely detailed.
In terms of how practical the car is, there are one or two compromises. For one thing, the sloping roofline means that rear headroom isn't as good as it could have been. Kids will be fine but even teenagers will struggle. It's definitely a case of testing with the whole family before you buy.
A transmission tunnel hump will make things even more awkward for anyone sat in the middle.
On the other hand, that upfront will be just fine. The door bins are a source of frustration but there's plenty of room for the passengers to stretch out.
The boot is also a bit hit and miss. It measures a reasonable 480-litres which makes it competitive in this class, but it comes with a pronounced load lip. Moreover, there's no under-boot storage area.
The diesels are your best bet if you want a tow car, with the 2.0-litre engine able to tow 1,900kg and the 2.0-litre able to tow 2,000kg.
Equipment & Safety Of The Audi A5 Diesel Sportback
Standard kit is good across the range, with the entry-level model getting the likes of a powered boot lip, heated front seats, Android Auto and Apple CarPlay connectivity, three-zone climate control and part-leather seats.
The Sport model adds LED running lights, bright xenon headlights, interior ambient lighting, power-adjustable front seats and sat-nav. The S Line, meanwhile, gets full leather seats, full LED headlights, sports suspension, 18" alloys and a sports body kit.
Is the Audi A5 Diesel Sportback safe? It was awarded all five stars when crash tested by Euro NCAP, while its standard safety kit includes autonomous emergency braking, all-round parking sensors and lane-keeping assistance.
The Driver Assistance Pack costs an extra £1,200, and it gets you adaptive cruise control, lane-departure warning and traffic-sign recognition.
Costs Of The Audi A5 Diesel Sportback
Prices for the new car start out from £31,940 and rise to £48,850. For more information on our leasing deals, check out our page here.
In terms of its running costs, the 2.0-litre 187bhp diesel returns around 64mpg, which doesn't seem bad for a car of this size. However, you can nudge that figure up to 64.2mpg by choosing the Ultra version, which also improves its emissions to 106g/km of CO2. If you specify four-wheel-drive, those numbers will change again – for the worse.
All models cost £140 a year in road tax, while the 2.0-litre diesel occupies insurance group 30. The bigger 3.0-litre diesel occupies group 36, while a major servicing check-up will cost you around £330.
Pros and Cons Of The Audi A5 Diesel Sportback
Performative and Economical Engines
The diesels aren't short of power but they're also remarkably frugal, with the Ultra version of the 2.0-litre diesel not far off returning 69mpg.
Classy Interior
It's not stretching things to say that this is one of the best cabins out there at the moment.
Stylish
It's better looking than ever.
Cramped Rear
The sloping roofline will hardly make sitting back there an enjoyable experience for your passengers.
Not Massively Fun To Drive
Once again, Audi has put the focus on comfort before entertainment behind the wheel.
Audi A5 Diesel Sportback vs Mercedes B-Class Diesel Hatchback vs Infiniti Q30 Diesel Hatchback
Let's see how the car compares against its rivals in the comparison section of our 2018 Audi A5 Diesel Sportback review.
Audi A5 Diesel Sportback vs Mercedes B-Class Diesel Hatchback
The new Mercedes B-Class Diesel Hatchback is a strong, well-built and safe premium hatchback that's capable of giving the Audi a run for its money.
Its predecessor was known for its safe, predictable and composed handling, but Mercedes decided to sex things up a bit this time around. The suspension and chassis are new, while the steering has also been tweaked to make it feel more involved. However, while it is a bit more engaging, there's still a real lack of steering feel.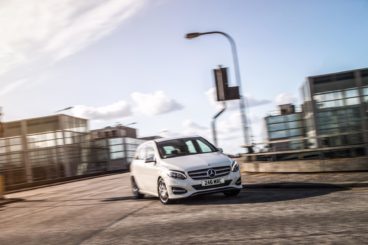 There's plenty of grip available, but ride quality is surprisingly harsh. Watch out for potholes because the B-Class will crash into them like an inferior product.
It's decent to cruise in, however, and there are three diesels to choose from. The B180d sits at the bottom of the range but it's hard to recommend because the bigger B200d offers more power and is almost just as cheap to run.
The B220d sits at the top of the range but it's pricey. It's quick though, and four-wheel-drive is available if you want it.
In terms of running costs, there's barely anything to separate the engines. The B180d returns 70.6mpg at best, while the B200d can return 70.6mpg if you pair it up with the automatic 'box. Stick with the manual and it's good for 67.3mpg.
The B220d, meanwhile, reruns an impressive 67.3mpg but if you add four-wheel-drive, that number drops to 56.5mpg.
Inside, the Mercedes boasts a top-class interior but it can't quite match the standards of the Audi. The driver will be very comfortable, visibility is good, and the dashboard benefits from few revisions, including redesigned instrument dials and a revamped steering wheel.
Is the Mercedes B-Class Diesel Hatchback practical? It offers more space than last time and there's a real airy feel about its cabin. There's more headroom than last time, legroom is good, and accessing the rear seats should be easy.
Storage spaces are on the whole excellent, although we'd have preferred a bigger glovebox. The boot, meanwhile, measures 488-litres and has a wider opening than the Audi. Fold the rear seats and you can extend that to 1,545-litres
Price:
Audi – £31,940 – £48,850
Mercedes – £23,195 – £32,265
Porsche Panamera Saloon vs Audi A8 Diesel Saloon
The new Infiniti Q30 Diesel Hatchback is the left-field choice. It's uniquely styled, has a lot of kit on board and offers competitive costs.
It's also very comfortable on the road. Even at speed, the Infiniti is quiet, smooth and relaxed, and it handles potholes well. There's lots of grip available, four-wheel-drive is available if you need even more grip, while there are also two chassis on offer – Premium or Sports. We'd recommend avoiding the Sports chassis as it's not really what the Q30 is about.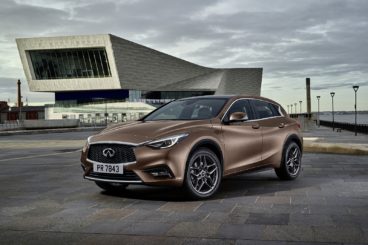 The Premium chassis, on the other hand, is supremely comfortable and is more than a match for the likes of anything Audi and Mercedes have produced.
In terms of the engines, the diesels work well with this car. There are two on offer, starting out with a 1.5-litre unit that develops 108bhp. It's a bit on the dawdling side and takes 12.0 seconds to cover the 0-62 dash, but it's refined, smooth and affordable to run.
The 2.1-litre diesel is your other option but it's harder to recommend. It's dated, makes a noise and feels its age. And while it can complete the 0-62 dash in 8.3 seconds with four-wheel-drive, it doesn't cope with speed very well.
Running costs? The 1.5-litre diesel can return an impressive 72.4mpg while emitting 103g/km of CO2, but it's worth noting that the economy figures are official ones only and might be hard to replicate in the real world.
The bigger diesel is almost as frugal and emits 116g/km of CO2 at the most.
Inside, the Infiniti boasts a gorgeous, well-appointed and even luxurious interior. Ride quality and insulation are both excellent and the design is nice to look at. It's based on the Mercedes A-Class – which is no bad thing, of course – though you will notice some harder plastics here and there, which ultimately means it can never compete with Audi's cabin.
Is the Infiniti Q30 Diesel Hatchback practical? Its 430-litre boot is the smallest in this review, but interior space, on the whole, is decent. The sloping roofline, however, will restrict headroom for rear seated passengers, while chunky rear window pillars can make things feel a bit claustrophobic back there.
Price:
Infiniti – £20,850 – £33,865
Verdict Of Our 2018 Audi A5 Diesel Sportback Review
As far as upmarket coupes go, there are few better than this one at the moment. Our biggest criticism is the lack of rear seat space, but apart from that it's a beautiful car that boasts strong but affordable diesel engines, a classy interior and four-wheel-drive for all models should you want it. The new Audi A5 Diesel Sportback has charm, four rings, power, a premium image and usability. What's not to like?
When you lease a car with OSV there are no hidden costs, request a call back and we'll find you a finance, lease or purchasing deal designed just for you.