Review Of The Audi TT RS Coupe
The new Audi TT RS Coupe is essentially the standard TT but with supercar powers. It's got a massive amount of performance, lots of grip, and – as ever with an Audi – an interior that sparkles.
And while Audi has added more muscle this time around, they've also added more sharpness to the steering. As a result, the RS Coupe has never been this much fun to drive.
OSV takes a closer look at what it's all about with our 2018 Audi TT RS Coupe review.
Grabbing all the headlines will be the turbocharged 2.5-litre five-pot petrol engine that powers the TT RS Coupe. It develops as much as 395bhp, which is enough to launch you from rest to 62mph in 3.7 seconds.
And because its power is distributed so widely, in-gear acceleration is incredible. Its distinctive growl will be a huge attraction to a lot of buyers, and the TT RS Coupe sounds and feels every inch like the monster that it's clearly got pretension's to be.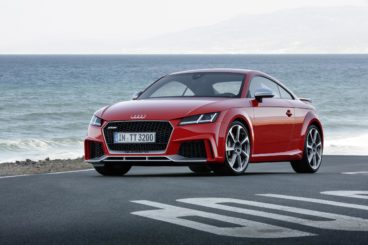 Max speed is 155mph but if you want to keep going until 174mph, you'll need to pay a bit extra for the Dynamic Package Plus.
The engine is paired up with a 7-speed dual-clutch auto 'box that will be familiar to Audi buyers. Under hard braking and acceleration, it complements the TT fantastically, as does the Quattro four-wheel drive system, which provides a reassuring amount of grip.
The steering, meanwhile, is precise and fast, and the car feels more agile than last time. It's also sharper, although it's still not the sharpest in this market. Once again, that particular title goes to the Porsche 718 Cayman, which we'll be reviewing below.
Buyers can't stick to the standard suspension setup or upgrade to the RS sports suspension. This will set you back an extra £1,000 but it comes with adjustable suspension and a very stiff setting. It does a good job of limiting body lean but the softest setting is a lot more ideal for when you just want to chill.
We must mention that the TT is a lot smoother than its predecessors. Audi has never been the most comfortable over Britain's broken roads, but the TT RS Coupe does a very good job of ironing out lumps and bumps.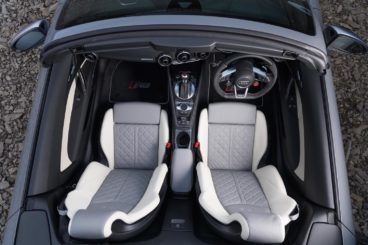 Audi simply doesn't do average interiors, and once again they've excelled themselves with a cabin that's one of the best around. It looks a lot like the standard TT Coupe – but that's not exactly a bad thing, as it means you get a simple but elegant design, the brands useful Virtual Cockpit as standard (which brings together driving data, infotainment and sat-nav into one place), and excellent build quality.
Are there things that set the TT RS Coupe apart from the standard TT Coupe? This one gets Nappa leather super sports seats thrown in, as well as an Alcantara trimmed steering wheel. The steering wheel also features a stop-start button.
It's also worth mentioning the various exterior touches that set the RS version apart from the standard TT. This upgraded variant gets a rear spoiler, a front splitter, twin exhaust tailpipes, carbon finish mirrors, while drivers get to pick from nine different paint colours.
Is the Audi TT RS Coupe practical? It's as usable as the regular TT Coupe. It boasts four seats and a 305-litre boot which expands to 712-litres when you fold the rear seats. That should be enough for most buyers.
Equipment & Safety Of The Audi TT RS Coupe
Standard kit ought to be good for a car that costs £52,000, and it is. The brands excellent Virtual Cockpit is included with the purchase price, which means that as well as getting access to all kinds of using driving info in one place, the driver is able to enjoy a clutter-free dashboard.
The car also gets bright xenon headlamps, a digital radio, Nappa leather seats, LED daytime running lights and climate control.
Among the list of optional extras are a Bang & Olufsen stereo, an Audi phone box and a £1,000 sports exhaust that's worth avoiding as the standard exhaust already makes a fierce chorus that buyers will love.
In terms of how safe the car is, the standard Audi TT Coupe only scored 4/5 when it was crash-tested by Euro NCAP, which will be a concern for some buyers. However, it uses the same platform as the Skoda Octavia and the VW Golf, both of which scored 5/5.
Its standard safety kit includes anti-lock brakes, electronic stability control, tyre pressure monitoring and cruise control.
Costs Of The Audi TT RS Coupe
Prices for the new car start out from £52,450. For information on our leasing deals, check out our page here.
In terms of its running costs, the RS is less efficient than the standard TT Coupe and returns 34.4mpg. That seems reasonable for such a powerful car while its emissions are at 187g/km of CO2.
Road tax per year is £450 after the first year, which will set you back a whopping £800. Meanwhile, the RS Coupe has a BiK rating of 34%.
Pros and Cons Of The Audi TT RS Coupe
The Most Powerful TT RS So Far
It produces almost 400bhp, which turns this relatively small car into an absolute firecracker.
A Baby Super Car
If you don't want a beastly, pumped-up supercar, the compact TT RS will suit you down to the ground.
Sounds Amazing
The 718 Cayman sounds good, but this one sounds even more glorious. Stick to the standard exhaust and it will still sound amazing.
Expensive
It costs over £50,000 which will cause a few of you to nervously rack up your incomings and outgoings before making a final decision.
Heavy Noise
Head into a bend with too much enthusiasm and you might have a big test on your hands. In corners, it's not that much fun.
Audi TT RS Coupe vs Alfa Romeo 4C Coupe vs Porsche 718 Cayman
Let's see how the car fares against its rivals in the comparison section of our 2018 Dacia Logan MCV Stepway Diesel Estate review.
Audi TT RS Coupe vs Alfa Romeo 4C Coupe
Unlike the Audi, the new Alfa Romeo 4C Coupe gets just the two seats. It also looks more aggressive, is a massive amount of fun to drive – but can be a nightmare to handle.
Judging by the way it looks, you'll be hoping and praying that the Alfa Romeo is the most fun you'll ever have while keeping your clothes on. Unfortunately, it's a bit of a maniac that's going to be too much to handle for some.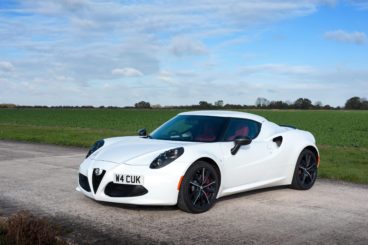 The driving position is perfect, with Alfa Romeo pulling out all the stops to make sure the driver feels like they're ready to go racing. The car weighs in at 895kg, which is super light, and there's no denying its agility.
But because it lacks power steering, the 4C is going to be a handful in towns and cities.
That said, experienced enthusiasts will get a lot out of it. The steering feels good when you put your foot down, there's plenty of grip on offer, and its soundtrack is suitably dramatic.
And boy is it fast. Its turbocharged 1.75-litre engine develops 237bhp and can get you from rest to 62mph in just 4.9 seconds.
Running costs? Not as bad as you might think. The 4C Coupe certainly benefits from its turbochargers here and can return 41.5mpg while emitting 157g/km of CO2. Of course, you'll struggle to receive that economy but the car is still fuel-efficient.
Inside, Alfa Romeo has gone for a minimalist aesthetic, as well as a very driver-focused cabin. The dash is angled towards you while the flat-bottomed steering wheel, aluminium pedals, carbon-fibre finish and leather door pulls are highlights.
On the other hand, the Alfa Romeo can't compete with the Audi for overall quality. Because it's borrowed some of its switchgear from Fiat, there is evidence of cheaper materials here and there.
Is the Alfa Romeo 4C Coupe practical? Its 110-litre boot is a lot smaller than the Audi's, and because it's located next to the engine, you'll run the risk of your frozen goods thawing out.
There are no rear seats and space for the driver and their passenger is a bit cramped, while storage spaces are few and far between. The 4C Coupe doesn't even come with a glovebox.
Price:
Audi – £52,450
Alfa Romeo – £52,820
Audi TT RS Coupe vs Porsche 718 Cayman
The new Porsche 718 Cayman is super fast, a joy to drive and sports a gorgeous interior.
The way the Cayman drives is special. Despite coming with stiff suspension, ride quality is pretty damn amazing. Add to that minimal body lean and accurate handling, and this is almost the perfect car to drive. Performance is sensational, its exhaust is still characterful (though not as characterful as before) and there's nothing to fault about the way it steers.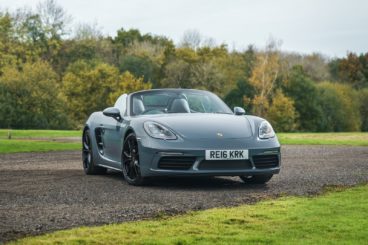 Buyers get to choose between a 7-speed automatic 'box and a 6-speed manual and we like them both. They're slick and fast, but the manual will be one for the enthusiasts because it's hyper-accurate. On the other hand, the automatic transmission improves both performance and economy.
In terms of the engines, there are three to choose from. The entry-level model is powered by a 2.0-litre petrol engine that develops 296bhp and which can launch you from a standstill to 62mph in 4.9 seconds if you specify the automatic 'box.
Upgrading to the Cayman S will cost you another £9,000, but its turbocharged 2.5-litre 345bhp will be just the ticket for those who have eyes bigger than their wallets. Pair it up with the automatic gearbox and it can cover the 0-62 sprint in 4.4 seconds.
Topping the range is the GTS. Its engine develops 360bhp and it has a 0-62 time of 4.2 seconds.
Running costs? If you want to keep costs down as much as possible, you'll need to stick to the entry-level model, which returns 38.2mpg. The Cayman S is good for returns of a 38.7mpg economy if you specify the automatic 'box, while the GTS is good for 34.4mpg at best.
Inside, the 718 Cayman looks a lot like the standard Cayman. The air vents are a bit different and the modern infotainment system is new but other than that it's largely as you were.
This means you get a fab driving position, supportive seats, and slick-looking dials that look great and which are easy to get to grips with.
However, it's disappointing that you have to pay extra for full real leather seats.
Is the Porsche 718 Cayman practical? Because the engine is located between the passenger compartment and the rear wheels, the 718 Cayman's boot is split into two. Total boot capacity is 405-litres, which sounds impressive. The problem is that it's going to be hard to load bulky, longer items into one of the boots because, individually, they're not huge.
Accessing the front seats is a tad tricky thanks to the lower ride height but there's plenty of leg and headroom inside. A huge glovebox is all present and correct, as are two cup holders and a handy central storage compartment.
Price:
Porsche – £42,897 – £51,853
Verdict Of Our 2018 Audi TT RS Coupe Review
Noisy, fast and savage: If those three words don't get you salivating at the prospect of owning a TT RS Coupe, we're not sure what will. Everything about it is primed for pure hedonism on the road. It's sexy, it's insanely powerful and it's a heap of fun on country roads. If you've got over 50 grand to spare, we can't think of a single reason not to indulge in an Audi TT RS Coupe.
When you lease a car with OSV there are no hidden costs, request a call back and we'll find you a finance, lease or purchasing deal designed just for you.