Review Of The BMW 2 Series Convertible
The new BMW 2 Series Convertible is going to be hard for you to ignore. It's smart, stylish, fantastic to drive and handles better than most of its rivals.
Is the sun in your face, the wind rushing through your hair and an unforgettable driving experience too much to ask for? Absolutely not. For keen drivers who love top-down motoring, this offering from BMW is compelling.
OSV takes a closer look at what it's all about with our 2018 BMW 2 Series Convertible review.
The 2 Series isn't short of rivals, but it outdoes them all on the driving front. Put simply, it's just marvellous to drive. All models offer tidy handling and the strong body that more than makeup for the absence of a metal roof. As such, the BMW feels solid and strong, and there'll barely be a vibration or a wobble in sight.
The well-weighted steering is communicative and you always know what's happening with the front tyres. There's also plenty of grip on offer.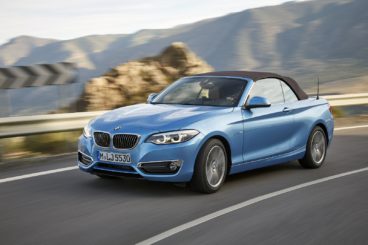 A new 8-speed dual-clutch PDK automatic transmission has been introduced for the new model, and it replaces the conventional stick that had already become dated. It shifts quickly, but the Panamera will jerk occasionally when the gearbox has trouble finding the right gear in traffic.
In terms of the engines, even the basic petrol model can do 0-62 in 5.7 seconds. This is a turbocharged 2.9-litre six-pot engine that produces up to 325bhp, and which can be got with either two or four-wheel-drive.
The 4S variant knocks power up to a mighty 434bhp, and increases the Panamera's 0-62 time to 4.4 seconds. Want even more speed? The Turbo model complies, with a 4.0-litre petrol engine that develops 542bhp, and which is able to gallop from rest to 62mph in just 3.8 seconds.
Remarkably, you can go 0.2 seconds faster whichever engine you choose by adding the brand's Sport Chrono package that comes complete with launch control.
There is also the option of a diesel engine that's arguably one of the quickest diesels you'll ever drive. It develops 416hp, and is able to complete the 0-62 sprint in 4.5 seconds. It actually feels even faster, and emits a joyous sound that enthusiasts will love.
Rounding off the range is the Porsche Panamera 4 E-Hybrid model that does 0-62 only fractionally longer than the diesel. Despite all that heavyweight performance, it has an official economy figure of 113mpg, and would have cost nothing in tax if registered before April 2017. It can run for 31 miles on a single charge at speeds topping 87mph.
BMW 2 Series Convertible Interior, Design & Build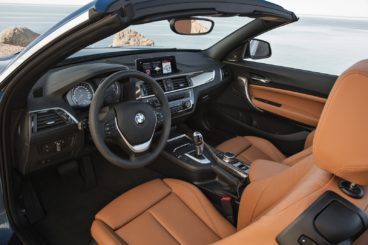 As expected, the interior is pretty sporty. The drive sits down low in a seat that offers lots of adjustability, while – as ever with a BMW – the dashboard is driver-focused. The steering wheel has a racy flavour, but one thing that's missing is a raised transmission tunnel which would have given the cabin more of a cocooned feel.
Build quality is impressive, refinement is good and we like the way the dashboard is laid out. It's logical if not as special as some rivals. Each model gets the brands iDrive infotainment system, a system that comes with 8 "hot" buttons that control the phone, stereo, sat nav etc.
BMW has installed a new roof design. Pleasingly, it's cut interior noise by half, while paying extra for a wind deflector will make the cabin even quieter.
Is the BMW 2 Series Convertible practical? Reasonably. It gets just as much space up front as the 2 Series Coupe, which means taller adults will be just fine. However, rear legroom is less impressive, as is rear access.
Worse still, if you pay extra for the wind deflector, you won't be able to access the rear seats at all.
The boot, meanwhile, measures 390-litres, which we think is very generous. That said, it shrinks to 280-litres when the roof is down.
Equipment & Safety Of The BMW 2 Series Convertible
Standard kit is good across the range, with the SE model getting the likes of sports seats, a multifunction leather steering wheel, rear parking sensors, LED headlights, a driving mode selector, a digital radio, a USB port, Bluetooth, a front armrest, sat-nav, air conditioning, a 6.5" display screen and 17 alloys.
The Sport model adds leather seats and 18" alloys, while the M Sport model gets unique dials, sportier suspension, an M Sport steering wheel, body kit and gear level, as well as Alcantara upholstery.
In terms of how safe the car is, we don't have any concerns, despite the fact that it hasn't been crash tested yet. It's based on the 1 Series Hatchback, a car that scored all 5 stars when tested by Euro NCAP, and its standard safety kit includes all the equipment that the standard 2 Series gets (such as tyre pressure monitoring, run-flat tyres, the brands Emergency Call system, electronic stability control, emergency braking assistance and anti-lock brakes) as well as pop-up rollover hoops.
Costs Of The BMW 2 Series Convertible
Prices for the new car start out from around £28,255 and rise to £40,560. For more information on our leasing deals, check out our page here.
In terms of its running costs, BMW has used advanced turbocharging technology in their latest petrol engines, which means they're cheaper to run than ever. The 218i petrol model is good for returns of 50.4mpg if you pair it up with the automatic 'box, while the faster 220i model can manage 46.3mpg if you again specify the automatic.
Specifying the manual transmission will make all models more expensive to run. For example, the 230i manual returns 41.5mpg, while the automatic version is good for 45.6mpg.
Rounding off the range is the dazzling M240i model, which returns 38.2mpg if you choose the automatic variant.
Pros and Cons Of The BMW 2 Series Convertible
Stylish
We know how important style is to buyers in this sector, and clearly so do BMW.
Well Built
It hasn't been crash tested by Euro NCAP but solid build quality is very reassuring.
It's Fun
Lots of feel, comfort and grip ensure an entertaining driving experience.
Small Rear Seats
Adults won't have the convertible experience of a lifetime back there.
Expensive
There are definitely cheaper rivals out there that can offer just as good drop-top thrills on sunny days.
BMW 2 Series Convertible vs Audi A3 Cabriolet vs Abarth 695C Convertible
Let's see how the car fares against its rivals in the comparison section of our 2018 BMW 2 Series Convertible review.
BMW 2 Series Convertible vs Audi A3 Cabriolet
The new Audi A3 Cabriolet actually looks a lot like the BMW but isn't as fun to drive.
In fact, the best way to describe the A3's driving experience is "competent", which, is hardly what you want to hear for a convertible. It behaves a lot like the standard A3 Hatchback, which again is not what enthusiast will want to hear. The BMW is a lot more fun to drive.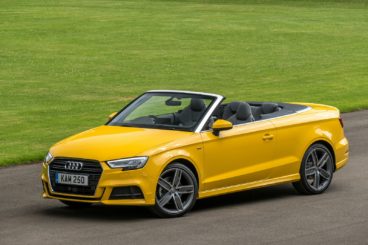 That said, there's plenty of grip on offer here and the A3 keeps body lean to a minimum. Quattro four-wheel-drive is optional and some buyers will be perfectly satisfied with the way the car drives.
In terms of its engines, there's not a lot to choose from. A 1.4-litre petrol unit kicks things off with its 148bhp and a 0-62 time of 8.9 seconds. It feels fast enough but most buyers will probably prefer to look at the mid-range 2.0-litre petrol engine that develops 187bhp and has a 0-62 time of 7.3 seconds.
The S3 model rounds the range off with a 296bhp engine that can launch you from a standstill to 62mph in 5.4 seconds before maxing out at 155mp.
Running costs? One of the things counting in Audi's favour is that its engines are fairly new and benefit from sophisticated engineering, which has resulted in the decent economy. The 1.4-litre petrol engine is able to return a respectable 55.4mpg and emits just 118g/km of CO2.
The 2.0-litre is a better shout and can still return 49.6mpg on a good day, while the S3 model is good for a 39.8mpg economy at best.
Inside, the Audi A3 mixes the best and the worst of what Audi interiors are known for. This means you get lots of quality and luxury, but it also means that you have to put up with a stiff ride. It's very hard to get comfortable, but Audi does at least offer 3 suspension setups, with the SE setup the one to go for if comfort is important to you.
Other than that, we can't fault the quality of the materials used, the trim finishes or the dashboard design.
Is the Audi A3 Cabriolet practical? Its boot has grown since last time and now measures 320-litres. Folding the roof doesn't eat into boot space too much either, and you're still left with 275-litres when the roof is down.
Rear legroom is a bit tight but there's plenty of room up front for the driver and their passenger. Access to the rear seats is poor, but getting out is difficult for everyone, thanks to the low-set seating positions.
Storage spaces include a lidded central storage cubby, a pair of cup holders and some fairly deep door pockets.
Price:
BMW – £28,255 – £40,560
Audi – £29,680 – £42,080
BMW 2 Series Convertible vs Abarth 695C Convertible
The new Abarth 695C Convertible shares its base with the happy-go-lucky Fiat 500, which means you can expect plenty of driving fun. However, it isn't a full convertible.
What does this mean? Drivers still get to experience a proper open-top drive, but because it sits on top of the boot, the side pillars, windows and overall structure stays in place.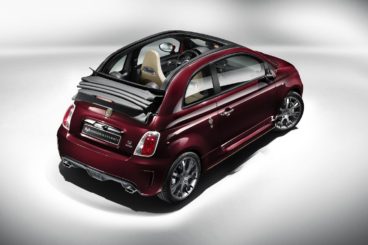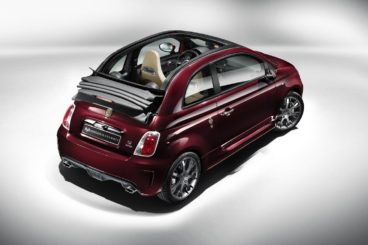 That might be a deal breaker for some, but we see no reason why it should be. Moreover, the car is a pleasure to drive. The 695 model is actually the range-topping version and is available in two separate guises. The standard 695 model can get you from rest to 62mph in 7.3 seconds, while the 695 XSR model completes the same sprint in 7.3 seconds.
Running costs? According to Abarth, the 695 models are as affordable to run as the less powerful 595 models, which means you can expect returns of around 47mpg whichever engine you go for. Emissions, meanwhile, stand at a respectable 134g/km of CO2, which means all models cost £140 a year to tax. That's not bad.
Inside, the Abarth is less of a treasure trove than the BMW but it does get Fiat's 7" Uconnect infotainment screen as standard. It also benefits from racy bucket seats that give it a sportier personality, but these are offset by a raised seating position that makes you feel like you're in a family Hatchback.
Insulation is a bit of an issue, as is ride quality, and it might be hard to relax on longer journeys.
Is the Abarth 695C Convertible practical? Not especially. It gets three doors, it's small inside, and accessing the rear seats is difficult. Two adults will feel a bit cramped back there but legroom is decent.
The boot, meanwhile, measures just 185-litres, but fortunately the roof doesn't eat into it. Fold the rear seats and you can increase it to 550-litres but the narrow opening and high boot lip will make things awkward.
Rear visibility is poor but all models get rear parking sensors as standard.
Price:
Abarth – £17,510 – £28,045
Verdict Of Our 2018 BMW 2 Series Convertible Review
Tis the season to wind your windows, fold your roof and let your hair down. Sexy, well-appointed and great fun to drive, the new 2 Series Cabriolet is a fantastic all-rounder that's going to tempt a lot of buyers this year. Fun in the sun? It's not the same unless you've tried it in the BMW 2 Series Convertible.
When you lease a car with OSV there are no hidden costs, request a call back and we'll find you a finance, lease or purchasing deal designed just for you.