Review Of The BMW 2 Series Diesel Active Tourer
If you want a premium alternative to the usual mainstream MPVs, the new BMW 2 Series Diesel Active Tourer is a great place to start your search. It boasts an upmarket interior, it's comfortable and it doesn't cost a lot to run. For families with a bigger budget, it's got lots of appeal.
That said, its diesel engines are a tad noisy and it's not as fun as a typical BMW. Will families care about that? OSV takes a closer look at what it's all about with our 2018 BMW 2 Series Diesel Active Tourer review.
If there's one thing that families probably won't care about it's that this is BMW's first-ever front-wheel-drive model. For BMW aficionados, that's significant news, as it means it's not going to be as entertaining as a BMW usually is. However, we think families are hardly likely to care about that.
That said, the brands engineers have worked hard to make sure that this relatively large car feels nimble in towns and cities and agile in bends. It always feels stable and nicely planted, even at high speeds.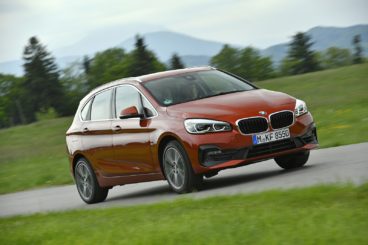 Moreover, while it's not as fun as, say, a 2 Series Coupe, the Active Tourer is one of the best to drive in this class and can give the likes of a Ford a run for its money.
In terms of its engines, the diesels are more suitable for families. There is plenty of pulling power on offer and running costs are good. If you're a high mileage driver, this should be music to your ears.
There are three diesel models on offer, starting with a 216d. It can get you from rest to 62mph in 10.6 seconds, and while that doesn't exactly sound jet-heeled, it's an engine that's easy to live with. There's enough power available to make overtaking a cinch and it won't let you down when your Active Tourer is fully loaded.
Move up to the 218d model and you'll benefit from a bigger 2.0-litre diesel engine that's already been seen in the MINI Cooper D. It's got enough power in its tank to cover the 0-62 dash in 8.9 seconds, which is pretty damn fast for a car in this sector. It's a bit noisy but on a full-load, it copes admirably.
Rounding off the range is a powerful 220d model that gets xDrive four-wheel-drive. If you're thinking of buying it purely for that system, we'd suggest saving your cash and sticking to the 218d model instead.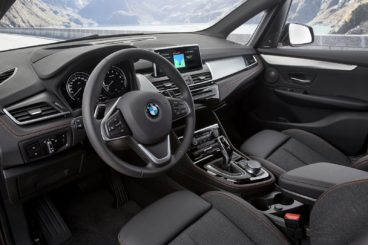 Inside, the Active Tourer boasts a much more upmarket interior than its mainstream rivals. If you want your MPV to come with top-notch materials and touches of luxury, this is the one to go for.
It's also comfortable but the diesels will make a fair bit of noise, which is out of character with the car's relaxed nature and premium image.
The dashboard is smartly designed and looks expensive, with the controls easy to find and operate. It's finished with some robust materials that both look good and look built to last. Opt for a higher-spec model and you'll get treated to some lovely wood effect.
Is the BMW 2 Series Diesel Active Tourer practical? This is BMW's first foray into the MPV market and there are definitely rivals that are more usable. It's not as spacious as some but if you really want a BMW, it's bigger than the 1 Series Hatchback.
Rear space is okay, but where some rivals have individually movable chairs, BMW has gone with a fixed rear bench, which means you probably won't be able to fit 3 child seats. Headroom is good all-round, though, and there are lots of handy storage spaces dotted around the place.
The boot measures 468-litres, comes with power-folding rear seats and can be extended to 1,510-litres by folding said rear seats. A movable boot floor gives you scope to increase its capacity even further (though only by a bit).
Equipment & Safety Of The BMW 2 Series Diesel Active Tourer
This car will set you back considerably more than a mainstream alternative will, so it's important that it's well-equipped. It is, with all models getting the likes of alloys, a digital radio, Bluetooth connectivity, a 6.5" monitor, a dual-zone climate control system, air conditioning, front electric windows, parking sensors and a USB interface.
The Sport model adds 17" alloys, LED ambient lighting and sports seats, while the Luxury model adds unique alloys and unique cabin materials.
The M Sport model rounds things off with racier interior detailing, bigger alloys, lowered suspension and a sports body kit.
In terms of how safe the car is, the new model hasn't been crash tested by Euro NCAP since 2014, when it was awarded all five stars. Were it to be crash tested again anytime soon, we'd expect it to score the same.
Its standard safety kit includes a city-braking function, pedestrian warning, traction control, ABS, as well as BMW Emergency Call.
Costs Of The BMW 2 Series Diesel Active Tourer
Prices for the new car start out from £24,905 and rise to £34,885. For more information on our leasing deals, you can check out our page here.
In terms of its running costs, the most frugal engine is the 216d diesel, which is capable of returning as much as 74.3mpg while emitting less than 100g/km of CO2. The bigger 218d model is good for 68.9mpg, while the even bigger 220d model averages 64.2mpg.
Insurance-wise, the Active Tourer sits between insurance groups 11 and 23.
Pros and Cons Of The BMW 2 Series Diesel Active Tourer
Classy Interior
As for as MPVs go, you won't find many that are this luxurious indoors.
Economical Engines
All diesels return over 64mpg.
Solidly Built
It's a car that's going to cope well with whatever your family can throw at it.
Not The Most Fun BMW
It's good to drive but it's a lot less fun than your average BMW.
Engines Are Noisy
These diesels are not exactly the quietest.
Not As Practical As Some Rivals
There are definitely mainstream rivals that can offer more practicality.
BMW 2 Series Diesel Active Tourer vs Honda Civic Diesel Hatchback vs Infiniti Q30 Diesel Hatchback
Let's see how the car fares against its rivals in the comparison section of our 2018 BMW 2 Series Diesel Active Tourer review.
BMW 2 Series Diesel Active Tourer vs Honda Civic Diesel Hatchback
The new Honda Civic Diesel Hatchback is one of the raciest, most aggressively styled "family" Hatchback's there is. It looks exciting but is it exciting?
As ever, the Civic is fun to drive. We'd appreciate it if the steering had a bit more feel, but this is the case right across this sector these days now that manufacturers are switching from hydraulic to electric power steering.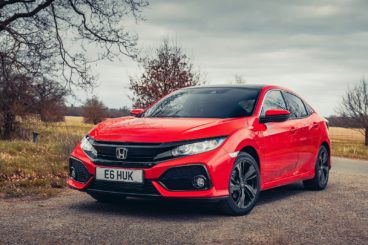 In bends, there's plenty of grip available and it's an overall responsive car. Adaptive damping is available if you want it, and it (in theory) lets you stiffen things up so that body lean isn't too much of an issue. That said, nothing much seems to change and we'd overlook it.
The engines can be paired up with a manual or a CVT automatic 'box, but like the adaptive damping system, we'd recommend that you avoid the auto transmission as it's too unruly.
In terms of the engines, there's only one diesel available and it still hasn't arrived yet. It's a 1.6-litre unit that we saw in the Civic's predecessor, which means it's destined to be both punchy and quiet. It should be easy enough to drive, too.
Running costs? The sole diesel will likely return around 76.3mpg while emitting under 100g/km of CO2. That means it's destined to be a bit more expensive to run than the outgoing Civic diesel, while it will probably occupy insurance group 19.
Inside, there's a lot to like about the Civic. The design is fine and the quality of the materials used is high.
One of the biggest improvements is in how much more user-friendly the Civic's cabin is now. That said, its 7" Connect infotainment system can't compete with the BMW's iDrive for ease of use.
Build quality is good, the seats are comfy and although the dashboard is hardly exciting or inspiring, it's still nice to look at. Soft-touch plastics abound too.
Is the Honda Civic Diesel Hatchback practical? Some buyers will grumble that the Civic's "Magic" rear seats have been removed, with Honda claiming most people weren't using them. This is a shame as they made the load area a lot easier to access.
Even without that touch of magic, the Civic is still usable. Headroom is the biggest problem but legroom is good up front and in the back, there are plenty of storage spaces and other neat touches, while the boot measures a respectable 420-litres. Fold the rear seat and you can increase it to 1,580-litres.
Price:
BMW – £24,905 – £34,885
Honda – £18,890 – £27,965
BMW 2 Series Diesel Active Tourer vs Infiniti Q30 Diesel Hatchback
The new Infiniti Q30 Diesel Hatchback is uniquely styled but might be a bit too left field for some.
The Infiniti can't match the BMW for handling prowess, with the brand focusing very much on making the Q30 as comfortable as possible. They've largely succeeded but if you go for the entry-level diesel engine, its modest 108bhp means it needs to be worked too hard to be enjoyed. It just doesn't suit the car's relaxed character.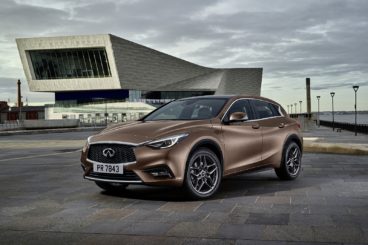 A bigger 2.2-litre diesel that develops 168bhp is a much better shout. It's quieter and less demanding but it doesn't improve the Infiniti's rather dour handling.
Adding four-wheel-drive boosts grip but not agility, and you can choose between a Mercedes A-Class-derived 6-speed manual 'box and a 7-speed dual-clutch automatic.
Running costs? The 1.5-litre 108bhp diesel returns as much as 72.4mpg and emits just 104g/km of CO2. It has a BiK rating of 22% which does make it pretty tempting. Our preferred 2.2-litre diesel doesn't actually cost much more to run and can emit 115/km of CO2 if you stick to two-wheel-drive. Adding four-wheel-drive knocks that up to 127g/km.
Inside, the Q30 looks quite plush and feels genuinely luxurious. It's smooth even at speed and insulation is good.
Design-wise, there's not much to argue with. It's based on the A-Class and it really shows. We love the quality of the switchgear while the suede-effect roof lining is a highlight. However, there is evidence of harder plastics, too.
Is the Infiniti Q30 Diesel Hatchback practical? Infiniti has definitely put the onus on style here and the Q30 isn't as big as some rivals. Headroom is a bit tight no matter where you sit, while chunky rear window pillars can make people feel hemmed in.
The boot is a good size, though, and measures 430-litres.
Price:
Infiniti – £20,850 – £33,865
Verdict Of Our 2018 BMW 2 Series Diesel Active Tourer Review
If you're a BMW enthusiast, it might seem strange to get behind the wheel of a front-wheel-drive, MPV BMW. But that's what we have here – and it's a decent effort from the brand. It's not as practical as some mainstream rivals, but it's not useful either. Moreover, the new BMW 2 Series Diesel Active Tourer handles well, boasts a luxurious cabin and is super affordable to run.
When you lease a car with OSV there are no hidden costs, request a call back and we'll find you a finance, lease or purchasing deal designed just for you.