Review Of The BMW 4 Series Diesel Convertible
The new BMW 4 Series Diesel Convertible might be a drop-top but it's almost as usable as the Coupe variant. That's excellent news for buyers who want a thrilling wind-in-the-hair experience but don't wish to sacrifice any practicality for it.
Not that being practical means this Cabriolet isn't sexy. A big air intake at the front, LED light clusters and the roof itself give it plenty of style, while a possible 0-62 time of 5.2 seconds from the fastest diesel should whet appetites.
OSV takes a closer look at what it's all about with our 2018 BMW 4 Series Diesel Convertible review.
The roof system means that the 4 Series Convertible is heavier than the Coupe variant and this means its handling and performance is stunted somewhat. Instead of an out-and-out sports car, this Cabriolet is more of a comfortable cruiser. If you're okay with that, keep reading.
Body lean isn't exactly excessive but it's noticeable and acceleration isn't as urgent as it is in the Coupe variant. However, despite all these hiccups, the 4 Series Convertible still manages to be the most fun car in this class.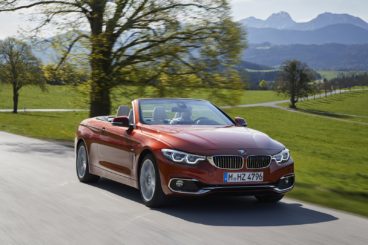 Moreover, BMW reckon they've improved rigidity by 30%. That's an impressive feat and it means that, despite body lean, it's better through corners.
Furthermore, it boasts a rear-wheel-drive layout which ensures good handling. There's plenty of feedback too, while adding Adaptive Suspension boosts its drivability even more by giving you the option of a few different driver settings, including Comfort and Sport+.
In terms of its engines, there's only one diesel available. It's a 2.0-litre engine that develops 181bhp and powers the 420d model. 0-62 is taken care of in 8.2 seconds and the unit has a top speed of 146mph.
It's a good enough engine that distributes its torque well. That said, it isn't the most enthusiastic of engines and you might be left frustrated if you want to get a move on.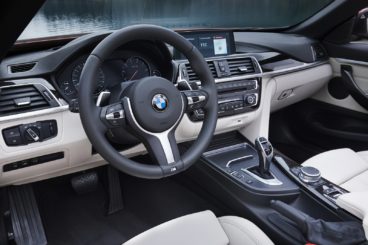 Once again, a BMW is a nice place to spend your time on the road. Its cabin might be a bit too conservatively styled for some buyers but it looks nice enough and the materials used are all of a good quality. As usual for a BMW, it's well-built, too.
A lot of what you'll find in here has been taken from the 4 Series Coupe, including a logically arranged dashboard and a driver's seat which offers lots of adjustability. BMW's iDrive infotainment system is present and correct as well, while controls on the steering wheel help to reduce button clutter.
The folding metal roof is a tough piece of machinery that makes it tough for thieves to break into the car, and it also improves insulation. An electroplated interior trim finish is new for 2018, and the steering wheel gets a brand new wrap.
Overall, though, there are more stylish interiors in this sector. However, there are plenty of buyers who will appreciate its smart and simple layout, as well as its undeniably upmarket feel. The controls are excellent, too, as is fit and finish, and there's very little to fault.
Is the BMW 4 Series Diesel Convertible practical? It's just as usable as the Coupe variant with the roof up, while legroom is good up front and decent in the rear.
A flexible seating system means the front seats slide and tip forwards and this boosts access to the rear seats. Rear headroom, however, gets the thumbs down, but while the driver's seating position is low, visibility is still good.
The boot, meanwhile, measures 370-litres which is an improvement of 20-litres on last time. Fold the roof and you get 220-litres of boot space.
Equipment & Safety Of The BMW 4 Series Diesel Convertible
Standard kit is good across the range, with all models getting Bluetooth, sat-nav, BMW's iDrive infotainment system, climate control, cruise control, heated leather front seats and front and rear parking sensors.
The M Sport version adds LED exterior lights, chrome tailpipes and a sports steering wheel.
Our top pick from the list of optional extras is the BMW Professional Plus media pack that gets you a head-up display and a better sat-nav. We also heartily recommend the BMW Air Collar which will prove its use on colder days.
In terms of how safe the car is, Euro NCAP has yet to crash test it. However, its sibling, the BMW 3 Series scored all five stars and we'd expect this one to follow suit. Its standard safety kit includes lots of airbags, stability control, braking assistance and ABS.
Costs Of The BMW 4 Series Diesel Convertible
Prices for the new car start out from £39,205 and rise to £52,665. For more information on our leasing deals, you can check out our page here.
In terms of its running costs, the 420d model is the most frugal. Its power comes from a 2.0-litre diesel engine that returns as much as 55.4mpg and emits 134g/km of CO2. Ultimately, there are cheaper rivals in this sector, including the Mercedes below.
The 430d model, meanwhile, returns 51mpg, and the 435d model is good for returns of around 48mpg.
All models cost £140 a year in road tax, but if yours costs over £40,000 to buy, there'll be an additional yearly surcharge slapped on top for years 2 to 6.
Pros and Cons Of The BMW 4 Series Diesel Convertible
Looks Great
It's not always easy for car makers to remove the roof and still make a car look gorgeous but BMW has made a good fist of it here.
Sound Engines
The diesels are fairly powerful and reasonably economical – though there are rivals that are more frugal.
Fun
It's not as fun as the coupe but it's the most entertaining coupe in its class.
Limited Boot Space
With the roof up, the boot measures just 220-litres. That fares poorly compared to rivals.
The Coupe Handles Better
If you're not dying to get your hands on a drop top and want a top driving experience, the 4 Series Coupe is much sharper.
BMW 4 Series Diesel Convertible vs Mercedes C Class Diesel Cabriolet vs Audi A5 Diesel Cabriolet
Let's see how the car fares against its rivals in the comparison section of our 2018 BMW 4 Series Diesel Convertible review.
BMW 4 Series Diesel Convertible vs Mercedes C Class Diesel Cabriolet
The new four-seater Mercedes C Class Diesel Cabriolet is classy, refined and the showpiece in Mercedes' compact exec range.
On the road, the car isn't what we'd call engaging, but then again that was never the brands intention, nor has it ever been. Instead – as ever – the C Class is a comfortable cruiser. Mercifully, despite adding a roof mechanism, the car has even managed to hold onto its excellent ride quality.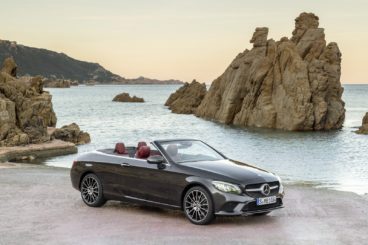 The Dynamic Select system helps with comfort, but if you want to leave your comfort zone you can dial things up to Sport+ and make the car a bit more engaging.
In terms of the engines, there are two diesels available. A C220d model is your entry-level option; it develops 168bhp, comes with either a 6-speed manual or a 9-speed automatic 'box and can do 0-62 in 8.1 seconds if you choose the latter.
The bigger C250d model shares the same 2.1-litre four-pot engine as the C220d model and clocks 0-62 in 7.2 seconds. That's an impressively quick time but the engine is uncharacteristically loud and doesn't suit the otherwise easygoing nature of the C Class.
Running costs? There's not a huge difference between the two diesels, with the C220d model able to return 62.8mpg at best (and 56.5mpg if you specify four-wheel-drive), and the C250d model is able to return 61mpg economy with rear wheel drive and an automatic transmission.
Inside, the Mercedes excels as most Mercedes' do. The design is modern, the materials used are of a high quality and there are lots of nods to tradition. Meanwhile, aluminium, leather and wood add more than a touch of class to proceedings.
The 7" infotainment screen on the dashboard is easy to get used to, the circular vents are the same ones also found in the S Class saloon, and all models get AIRCAP and AIRSCARF systems which will warm you up when the breeze gets too chilly.
Is the Mercedes C Class Diesel Cabriolet practical? It was never going to be Mercedes' most practical car but it stands up well when compared to rivals in this class. In fact, it's just as usable as the saloon variant upfront and there are plenty of handy storage spaces dotted around the place.
The doors are a bit long and this makes access tricky, both to the front and rear seats. Access to the rear is made even harder by the fact that the front seats don't slide forward enough.
The boot, meanwhile, measures 355-litre with all the seats up and 260-litres with the rear seats folded down.
Price:
BMW – £39,205 – £52,665
Mercedes – £36,945 – £51,880
BMW 4 Series Diesel Convertible vs Audi A5 Diesel Cabriolet
The new Audi A5 Diesel Cabriolet is sleek-looking that comes with a racy image. But is it as racy as it looks?
It's certainly not short on power and the fact that it weighs 55kg less than its predecessor means it handles almost as well as the coupe variant. The steering is super accurate too, but we wish it had a bit more life to it.
Body lean is minimal and there's lots of grip on offer, too.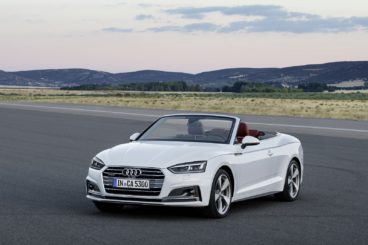 However, the body could do with being a bit stiffer. As it is, the A5 will shimmy and shake when you take trickier corners.
In terms of the engines, the 2.0-litre TDI diesel kicks things off with its 187bhp. It comes with four cylinders that do get a bit noisy in colder weather but the engine soon dies down once you're up and running.
It's a satisfying enough engine and its S-Tronic automatic transmission provides rapid gear changes, but enthusiasts will be more inclined to take a look at the six-cylinder 3.0-litre TDI diesel that develops 215bhp and has a 0-62 time of 6.8 seconds.
Running costs? The 2.0-litre diesel engine is able to return just over 60mpg economy and emits 124g/km of CO2 at the most. The bigger 3.0-litre diesel is barely any less economical and can return 57.56mpg while emitting 128g/km of CO2.
Inside, the A5 just follows on from all other recent Audi models, which means its interior is comfortable, well-built and sparkles with top-notch materials and surfaces. The triple-layered fabric roof gives insulation a boost, and when it's up the car is warm, comfortable and quiet.
Meanwhile, the wind deflector ensures you can still have a conversation on the motorway when the roof is down.
The dashboard is smartly designed but the car's modern Virtual Cockpit makes the console-mounted infotainment display look its age!
Is the Audi A5 Diesel Cabriolet practical? It makes a decent fist of things on this front, with Audi improving rear seat space so that two adults will be more comfortable than last time. Headroom is still tight but anyone sat in the front will be just fine.
The boot is awkwardly shaped but it measures 380-litres, which makes it the biggest in this class. Drop the roof and it still measures an impressive 320-litres.
Price:
Audi – £38,080 – £52,510
Verdict Of Our 2018 BMW 4 Series Diesel Convertible Review
This car has always been an excellent cruiser, and although BMW has improved its driving dynamics, it's still a great car to chill in. The 4 Series Coupe's sister, doesn't handle as well as its sibling but it provides the open-top thrills that the Coupe variant can't. The BMW 4 Series Diesel Convertible also looks fantastic and makes for a very satisfying choice.