The Ford Focus Estate is one of a raft of cars that are vying for your cash in a sector that doesn't shift huge numbers. For any car to standout, it's got to be the absolute bees knees. One clear thing the Focus has going for it is that it's a lot more fun to drive than its rivals, and with buyers wanting more style and entertainment from their compact Estate's these days, this could be a really useful selling point.
But an Estate also has to wow you with its boot space and overall practicality. This car might be one of the most fun to drive cars in its class, but how big is its boot? OSV takes a closer look with our Ford Focus Estate review, including prices, spec's and comparisons with similar cars – including the Volkswagen Golf Estate.
Overview Of The Ford Focus Estate
The Ford Focus hatchback is a great source of pleasure behind the wheel, and because Ford seemingly aim to make every car they produce the most fun to drive in their respective classes, the expectations were high here. Thankfully, it doesn't disappoint. Great handling and direct steering contributes to a fairly entertaining on-the-road experience, while the brakes are fantastic and gear change is mostly smooth.
Naturally, it doesn't handle quite as well as the hatch; this is an Estate after all, and handling is never going to be the absolute priority. But even driving enthusiasts will be able to appreciate what's on offer here, with the only criticisms being a little too much body lean on tighter corners and minimal feedback through the wheel. Other than that, there are few complaints here.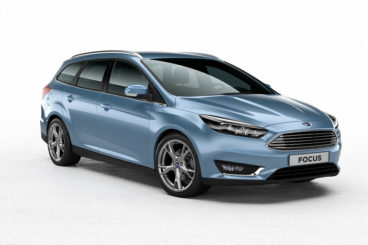 In terms of engines, there are three diesels to choose from, starting with the 1.6-litre TDCi and moving up to the newer 1.5-litre TDCi. There is also a 2.0-litre TDCi unit available, but you can only get it if you opt for the Titanium or Titanium X variants.
The fresh 1.5-litre TDCi engine is a competent enough unit that comes in either 94 or 118bhp guise. There is no variation in fuel economy, so the smart money is on the most powerful of the pair. It's also better to drive. The 1.6-litre unit is cheaper than the 1.5, but it's also older and less refined – and it costs more to run.
There are a few petrol engines to choose from, including a nippy 1.0-litre 125bhp EcoBoost unit that emits only 110g/km of CO2. You can pair it up with a 6-speed manual transmission for some solid performance, while the more powerful 1.5-litre 180bhp EcoBoost is an attractive proposition for anyone who wants to turn their Estate into something of a sports car.
Interior, Build And Design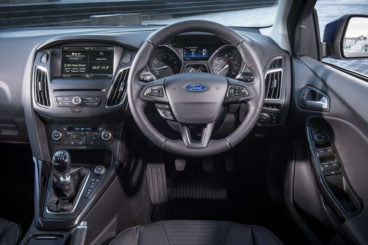 Ford already knew their hatch was a great driver's car, which freed up their time to give the interior and exterior a facelift. On the outside, the car comes complete with a modified bonnet, a fresh front bumper that comes with a chrome grille, while the back benefits from the introduction of sick LED tail lights.
Inside, the fit and finish can't really complete with, say, the Volkswagen Golf Estate, but this is still a well built machine. The dash is much better than its predecessor's, which was a far too messy affair for most peoples' liking. This time around, the complex arrangement has been replaced by a user friendly colour touchscreen, while the dash has been given completely new buttons and dials that are simpler – and sparser.
In terms of practicality, the Focus Estate is so-so. It's probably going to be spacious enough for some buyers, but it won't satisfy everyone – and it's far from being class leading. For one thing, it's lacking a few intelligent touches that its rivals have focused on, such as underfloor storage areas or seat folding levels. It's easy to get the impression that little care and thought has been given, though the amount of room for passengers is good. Those up front will be comfortable, enough, while three adults can squeeze into the back.
The boot is sized at  476-litres with the rear seats folded down, which is miles away from the 624-litres that the Honda Civic Tourer can offer. Again, some buyers will find the boot is big enough, but many won't.
The hatchback's entry-level Studio trim is missing here, with the range instead kicking off with the Style variant. Opt for this and you get 16" alloys as standard, as well as air conditioning, electronic stability control, a DAB radio and hill-start assistance. It's a pleasing level of standard equipment.
Move up to the Zetec range and you get bigger alloys, heated door mirrors and a leather steering wheel, while the Zetec S throws in sports suspension and a stylish body kit. The Titanium line offers a whole wealth of advanced safety features including automatic headlights and active city breaking, and the range-topping Titanium X trim boasts heated front seats, enhanced parking assistance, and a power-operated driver's seat. However, this trim depreciates quickly.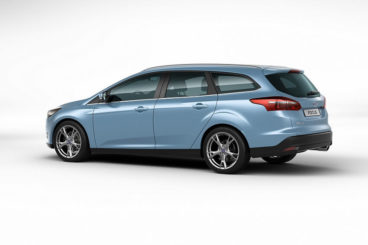 Costs Of The Ford Focus Estate
Prices for the Ford Focus Estate start out from around  £17,000 and rise to just over £27,000 which make it one of the cheapest in its class.
Running costs for the petrols ware enhanced by EcoBoost technology. Although still a long way off the numbers achieved by the diesels, the 58.9mpg returned by the 1.0-litre unit and the 50.4mpg returned by the 1.5-litre engine are respectable enough, and better than what a lot of rivals in this sector can achieve with their petrol power plants.
But it's really the diesels that catch the eye once again. The cheapest engine to run is the 1.5-litre TDCi diesel which returns 74.3mpg in whichever guise you choose (94 or 118bhp). Choosing this engine will also mean you don't have to pay any road tax. The 2.0-litre TDCi engine, meanwhile, is available only with the Titanium or Titanium X models and can return a very impressive 70.6mpg.
Pros and Cons Of The Ford Focus Estate
Fun To Drive
Being fun to drive shouldn't be any Estate's priority, but once all the other boxes have been ticked, there's nothing wrong with fixing up a car's system so that it offers decent on the road entertainment.
For Ford, there wasn't much work to do; the Focus hatchback was already the most amusing to drive in its class, so it was a matter of transferring all the good stuff over here. The brand have modified things slightly so that the Estate isn't as fun as its cousin, but it's still more frivolous than any other car in this class.
Looks Great
Estate's are not generally known for their good looks, either. Once again, Ford already had a handsome car on their hands, and just needed to transfer the Focus' winning smile onto their Estate – and they've done it superbly.
Far from being an awkward Estate, the Focus is easy on the eye. It boasts some similarities to the hatch, but a new bonnet and reshaped headlamps are enough too make it distinct.
Great Choice of Engines
Thanks to the introduction of EcoBoost technology, the petrol engines not only perform well and work as great motorway cruisers, but they also offer impressive running costs.
The diesel range is full of excellent choices, too and mirrors the hatch. The 1.6-litre 113bhp diesel is expected to be the most popular with buyers; it comes wedded to a 6-speed manual transmission, and feels just right for this compact Estate. Overtaking on a motorway has never seemed easier in this type of car.
Lacks Practicality
This could be a deal breaker for some. While a number of buyers have already admitted they're perfectly happy with the boot, others will need more than the 476-litres on offer. This is an Estate, after all, and these types of cars can live or die by the size of their boot. If you want to get the very most out of your Estate, you might want to look elsewhere.
Although it's not got the last word on practicality, the Focus still has a few clever touches that will satisfy some of you. The driver and front seat passenger are nicely accommodated upfront, while the middle passenger in the rear should be comfortable enough, thanks to the fact that the seat isn't raised up.
Questionable Residual Values
Ford can do handling really well, but they struggle with depreciation time and time again. The range-topping Titanium X trim depreciates quickly and heavily, while residual values should be alarming to buyers of any model. Whichever trim you opt for will struggle to hold onto around 40% of its new value after 3 years.
Ford Focus Estate vs Volkswagen Golf Estate vs Honda Civic Tourer
Cars in this unpopular sector struggle to sell – but it's still crammed with lots of pedigree. Let's see how the Focus measures up to its nearest rivals in the comparison section of our Ford Focus Estate review.
Ford Focus Estate vs Volkswagen Golf Estate
The Volkswagen Golf Estate is more expensive than the Focus Estate to buy outright, but it's arguably a better all-rounder. It doesn't offer as much fun behind the wheel, and it's really difficult for buyers to hit the bullseye when choosing a trim (the entry-level model is way too basic and the others are expensive), but it's got a lot going for it besides.
Let's look at its pros: The VW Golf Estate is a bigger, roomier car than the Focus. It has a much bigger boot (605-litres of space), and is both longer and wider. It also comes with the sort of quirks of intelligent design that are absent from the Focus; it has an adjustable boot floor, and its rear seats are super easy to fold.
The Golf can offer a more attractive interior, too. A lot of the brand's budget has been lavished on the cabin, ensuring this is a compact, relatively affordable Estate that feels like a premium saloon indoors. You've got space and luxury.
The VW Golf Estate will, however, ask for a £3,000 premium over the Focus, but it's just as cheap to run and has better residual values.
Ford Focus Estate vs Honda Civic Tourer Estate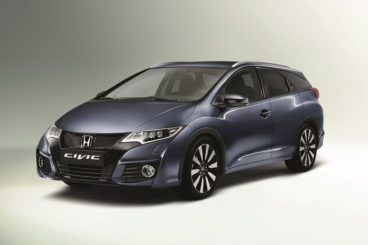 With prices starting from £18,500 and rising to £25,000, the Honda Civic Tourer competes directly with the Ford Focus Estate. Getting straight to business, the Honda completely wipes the Focus out of the water when it comes to practicality. Its marquee 624-litre boot is its raison d'être that the modest Focus just can't compete with.
Of course, it's not all about the size of your boot. But the Honda is one of the most flexible family cars in this class, thanks to a clever rear seating system that lets you flip the base of the seats up, unfathomable length and width, and rear doors that can be opened to angles of almost 90 degrees. Astonishing and great for access.
The Honda Civic Type-R, of course, is a driving enthusiasts dream. It's pure fantasy out on the road. Rather dismally, Honda have concentrated more on comfort instead of handling here, and it's only when you opt for the range-topping variant that you really get the best out of this car. Otherwise, the Civic Estate is without much feedback, and is not very smooth on the whole.
Like the Focus, the Civic Tourer Estate doesn't hold its value very well. Maintenance shouldn't be an issue, though, while the most frugal engine in the range is the 1.6-litre i-DTEC diesel unit that is good for 74.3mpg, and is free to tax at the current tax rate. This is on par with the cheapest engine to run in the Ford's line-up. Something of a niggling issue is the fact that there is only one diesel unit available, and the only petrol is costly to run – but quicker and more performative.
Verdict Of Our Ford Focus Estate Review
Does the Focus Estate standout in a crowded by under-selling sector? Not really. But then again, no cars do. Like most of the best vehicles in the compact-Estate class, the Focus has got a few strengths and a few weaknesses. It's arguably the most fun to drive, it looks handsome enough, but it's got a relatively small boot and few clever practical touches.
Your buying decision is going to come down to what your priorities are. The Ford Focus Estate represents a good decision if you want a slick handler and don't need too much space.
Want to learn more? Click below to view the review for the competitors in this article…
Looking for a price?
You could be driving away with your new car in no time. Fill in your details below and one of our vehicle experts will be in touch within one working day.

Latest posts by Will Titterington
(see all)