Review Of The Hyundai i30 Tourer Estate
If you're looking for a spacious, durable and affordable family car, the new Hyundai i30 Tourer Estate is easily one of the best on the market in terms of value for money. It might lack a bit of celebrity and stardust, but if you're a buyer who is looking to put practicality before anything else, you'll probably feel that it's got a lot of star appeal in its own right.
Derived from the popular Hyundai i30 hatch, the Tourer Estate has already wowed lots of buyers with a boot the size of a whales's stomach, and now it's competing directly with the Volkswagen Golf Estate and the Ford Focus Estate. Has it got enough going for it to convince you to opt for something a bit left-field? OSV takes a closer look with our Hyundai i30 Tourer Estate review.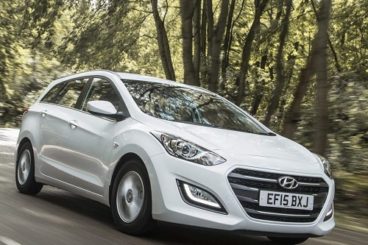 There are some Estate derivates that have done very well to retain the hot handling of their stablemates. The Mazda 6 Estate and the Ford Focus Estate are both good examples. The Hyundai i30 Tourer Estate, however, is not one of them. Exciting behind the wheel, this car isn't. In fact, there is only one engine in the range that can get from rest to 62mph in less than 11 seconds, and that's the i30 Premium variant which does it in 10.2 seconds.
Bless them, Hyundai have made sterling attempts to make this Estate more fun to drive but even the introduction of their Flex Steer System hasn't had any effect. It comes with a few driving modes, but even if you select the "racier" Sport mode you won't feel much of a difference, and each mode is similar to one another. The system is not available with the entry-level trim.
It's not all that comfortable either, with all passengers suffering as a collective whenever you rough it over some of Britain's worst roads. The car also grips a little bit too much through corners.
There is only one petrol engine in the range, and it doesn't offer much in the way of entertainment. It lacks both efficiency and power, and is not going to be ideal for anyone who will be making longer journeys. If, however, you're only to be using this car for shorter travels, it doesn't represent a bad choice.
There is a pair of diesels on offer, the aforementioned Premium and the regular 1.6-litre unit. The premium is the quickest of the two, but it isn't what you'd call fast. Both engines allow for overtaking and are better equipped for dealing with longer journeys.
This Estate is relatively inexpensive, and this means that expectations are always going to be low when it comes to the interior. True enough, the materials used here to furnish the cabin can't compete with more expensive models. But there is still an improvement on previous models: Past incarnations were so budget-like that we were surprised we never came across a Hyundai Estate in a bargain bin at a motorway service station.
This time around, the interior is a much more pleasant place to be, but it's still a far cry from a VW or a Ford.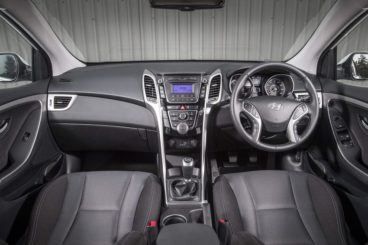 It's comfortable, without being glamorous or particularly pretty. You wouldn't ask it out to the prom, but you'd probably introduce it to your grandmother.
The dash meanwhile is kitted out in soft-touch plastic which does a good job at disguising the fact that this is a low-cost Estate. The design team have also installed some lighting wizardry, elevating the interior above what it really is. It's when you really look for hard plastics that you find them, and once you find one piece you'll find lots of pieces.
The new Estate is longer than the previous model by 10mm, and a whopping 185mm longer than its hatch counterpart. What this means is more interior space, and a much larger boot. With all the seats folded up, there is 528-litres of space on offer here, which is more than a lot of its rivals in this sector can offer. The boot really is the feather in this car's cap, and when you fold the rear seats down you can extend its load space to 1,642-litres.
There are three trim levels available:
Standard equipment across the range is good, with even the Classic trim getting air conditioning, Bluetooth connectivity, LED daytime running lights, a multi-function steering wheel and electric front windows. The Active model tosses in the Flex Steer System that is supposed to improve drivability, as well as 15" alloys, rear parking sensors and a leather steering wheel.
The Style model nets you automatically activate headlights, twin-zone climate control and 16" alloys, while the range-topping Style Nav spoils you with a 7" touchscreen, and a rear view parking camera and guidance system.
There are plenty of optional extras available too, including keyless entry, heated front seats and an engine stop/start button.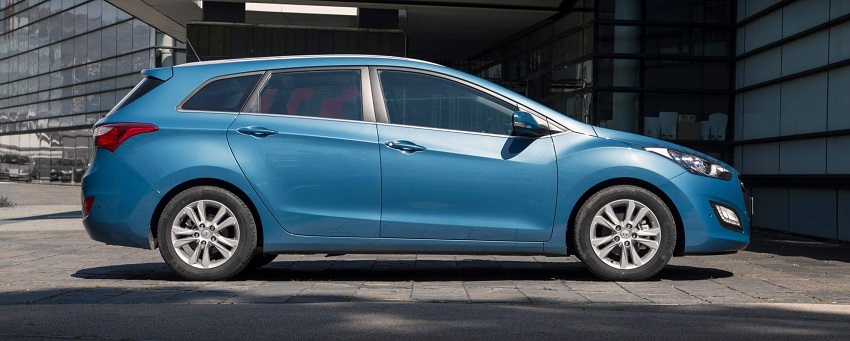 Costs Of The Hyundai i30 Tourer Estate
The Hyundai i30 Tourer Estate is the quintessential affordable family Estate. You can pick up a range-topper for less than £24,740, and you won't spend too much on running it either. Prices start out from just £16,705, while you can lease it from just £160 + VAT. Expect to pay over £500 + VAT for the higher end model.
The projected fuel economy ranges from 40 – 72mpg, and while no models are free to tax, the most frugal unit is only going to cost you £20 a year in road tax. This 1.6-litre 109bhp diesel can return 72mpg from a sensible drive, and it emits just over 100g/km of CO2. But this is only if you wed it to a manual gearbox. Pair it up with an automatic, and your tax bill will increase, while fuel costs go up to 67mpg. There is another caveat: You can't get this engine with the Premium trim.
There is a lucrative 5-year, unlimited mileage warranty available too, which is practically unheard of in this sector.
Pros and Cons Of The Hyundai i30 Tourer Estate
Pros:
Cheap To Run
Not only is this car cheap to buy outright, but it's also inexpensive to run. A range-topping model has a list price of around £21,500 and if you pair it up with the 1.6-litre 109bhp diesel engine, you can see returns of a very respectable 72mpg while emitting just 102g/km of CO2.
The Hyundai i30 Tourer Estate is the quintessential affordable family Estate. You can pick up a range-topper for less than £25,000, and you won't spend too much on running it either.
The range-topping model will cost you more to run because it can't be wedded to the 1.6-litre power plant.
A Large Boot
As mentioned earlier, the boot here is the size of whale's stomach, and it's going to swallow your luggage whole if you let it. With 528-litres of space on offer with the rear seats folded up, it's one of the biggest in its class and comes complete with a storage tray underneath. There are also useful hooks and fixtures for holding down your luggage.
Storage is overall class leading, with extra spaces including huge door pockets and various cubbyholes dotted here and there.
Great 5-year Warranty
There are fewer more affordable cars in this sector than the Hyundai Estate, and its excellent 5-year warranty is a further reason to take a closer look if you're operating on a budget. You also get unlimited mileage included in the warranty, which is better than most other cars out on the road today.
Indeed, the only vehicle that can really compete is the Kia Cee'd, which has a 7-year, 100,000-mile warranty.
Cons:
No Fun To Drive
For an Estate to be this affordable and practical, there had to be a few conditions, right? The old saying goes that a chain is never stronger than its weakest link, and the i30 Estate's weakest link is arguably behind the wheel.
Estate's in general struggle to be much fun to drive, but this one really struggles. It's probably not helped by the fact that Hyundai have for a long time been a budget brand and are only really starting to compete with the bigger boys, but not only does it offer little engagement, it also offers little comfort. Take your family for a ride over potholes and cracks, and you might feel as though you're all on a big dipper.
Unimpressive Looks
We know, we know: All Estates are unattractive, right?
They used to be, but brands in 2016 are working harder than ever to make better-looking family Estates. The Mazda 6 Estate and Ford Focus Estate are good examples of handsome cars in this sector.
The Hyundai i30 Estate, however, is not especially pleasant to look at. Coated in grey, it's one of the most unassuming cars out on the road today.
Hyundai i30 Tourer Estate vs Volkswagen Golf Estate vs Ford Focus Estate
 The Hyundai is hugely affordable, but if you want to check out what it's slightly more expensive rivals are offering, let's see how it measures up in the comparison section of our Hyundai i30 Tourer Estate review.
Hyundai i30 Tourer Estate vs Volkswagen Golf Estate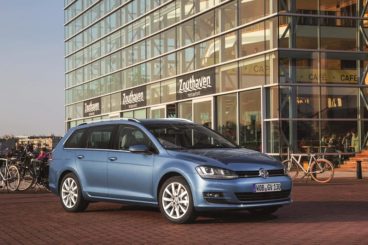 The Volkswagen Golf Estate is a very good all-rounder that costs more than the Hyundai. Although it's not the most fun to drive in this sector, it is more comfortable than the i30 Estate. Nimble and light, it's a great companion for tours around the city.
There are a good selection of engines to choose from, with most of them offering more speed and performance than anything in the Hyundai canon. While only 1 engine in the i30 range covers the 0-62mph sprint in less than 11 seconds, the most rapid unit in the VW range covers the same distance in just 7.9 seconds before maxing out at 143mph.
Inside, the VW edges things. Benefiting from a much bigger budget, there are no signs of cost-cutting anywhere. Insulation is fantastic, and the dash is tasteful. Everything feels slick and upmarket.
But how about practicality? The Hyundai has a much bigger boot, but overall the VW Golf Estate matches it cubbyhole for cubbyhole. Both cars are of a similar size, and both offer plenty of room for rear seated passengers. There is no clear winner in terms of running costs either, with the VW's most frugal engine mirroring the 72mpg fuel costs achieved by its Hyundai counterpart.
Prices:
Hyundai i30 Tourer Estate – £17,000 – £24,700
Volkswagen Golf Estate – £19,000 – £30,000
Hyundai i30 Tourer Estate vs Ford Focus Estate
The Ford Focus has a seductive USP for buyers who want some style to go with their Estate's substance: It's fun to drive and it looks great. Although it isn't as entertaining as the hatch, it's a whole lot more engaging than the Hyundai. Handling is fab, steering is direct and the brakes are excellent. It's also pretty comfortable too, while there is a good selection of powerful and performative engines in the range.
On the outside, it looks the part. Inside, its fit and finish is only slightly better than that found in the Hyundai. Still recovering from a messy interior last time around, the 2016 Focus Estate is tidier but still nothing to shout out about.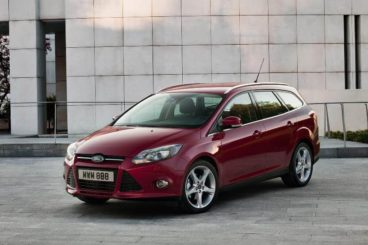 In terms of practicality, Hyundai's massive boot is going to be a huge pull for families who need plenty of luggage space. The Focuses' 476-litre boot will be enough for smaller families, but it certainly won't satisfy everyone. The i30 also has more practical touches, such as storage tray underneath the boot.
The Focus is not going to cost you much to run if you opt for the 1.5-litre TDCi diesel unit which can return 74.3mpg and is free to tax. It comes in either 94 or 118bhp, but they both return the same fuel economy. The car has questionable residual values, though, and will depreciate quickly and severely.
Prices:
Hyundai i30 Tourer Estate – £17,000 – £24,700
Ford Focus Estate – £17,000 – £27,000
Verdict Of The Hyundai i30 Tourer Estate
Hyundai have been building plenty of momentum in recent years, and the i30 Estate is going to keep that going. It isn't going to be to everyone's tastes, and buyers who want a bit more style and prestige will shop elsewhere. But if it's outright practicality, space, and affordability that you want, you don't have to look too much further than the Hyundai i30 Tourer Estate.
Get in touch with a Vehicle Specialist today! 
Fill out the form below with your details, and one of our highly qualified specialists will be in contact within 24 hours.
When you lease a car with OSV there are no hidden costs, request a call back and we'll find you a finance, lease or purchasing deal designed just for you.