Review Of The Hyundai Ioniq Hatchback
The new Hyundai Ioniq Hatchback is the brands first ever eco-friendly family car. It might look a bit generic, but it's not to be under-estimated. It's available as either a hybrid, a plug-in or a fully electric car. For the purpose of this review, we're focusing on the hybrid model.
It comes with five seats, has a BiK rating of just 17% and goes head to head with the likes of the popular Renault Zoe. It's super cheap to run and does its bit for the environment, but how is it otherwise?
OSV takes a closer look at what it's all about with our 2018 Hyundai Ioniq Hatchback review.
Hybrids of this size aren't exactly known for their scintillating performance, and there isn't much to excite you here either. However, its driving manners are perfectly acceptable.
A firm ride and a low weight contribute to an eagerness, and while it can't rival the likes of a Ford Focus for pure driving fun, it's really not a bad car to drive at all. That said, it lacks the composure and stability of the EV version because its centre of gravity isn't as low. It's also not as responsive.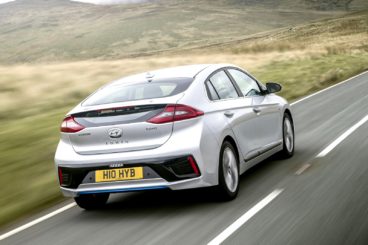 If you think its steering is too light, you can add some weight to it by switching to the Sport mode.
Its suspension setup, meanwhile, does an okay job of ironing out rougher road surfaces but the really harsh ones will cause issues and the car is a bit bumpier than we'd like.
But perhaps the most glaring problem is that it's hard to keep the car in electric-only mode. According to the brand, the Ioniq can survive on pure electric power at speeds of up to 75mph, but you'll struggle to keep the petrol at bay after 40mph.
In terms of its hybrid engine, it's super quiet until the 1.6-litre petrol engine joins the party. Its intervention is noticeable, and when it works in tandem with the electric motor, power output is 138bhp, which is enough to get you from a standstill to 62mph in 10.8 seconds.
The engine is mated to a 6-speed twin-clutch automatic transmission of the kind that's typically paired up with diesel or petrol power plants. It's quiet but it's also sluggish and sometimes "surges" (for want of a better way to describe it) on the motorway.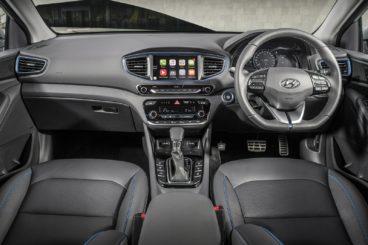 This might be a hybrid car but it looks and feels a lot like a conventional car inside, and this will please certain buyers. It's not as sci-fi as, say, the Nissan Leaf.
For the Ioniq, Hyundai has introduced their first ever all-digital instrument cluster, but a greyish-brown colour for the plastics is a bit of a sombre choice. Still, this is a user-friendly cabin first and foremost, and a Tom-Tom sat nav is a really useful addition that enhances the interior. Moreover, all those browns and greys are broken up now and then by stripes of electric blue that surround the start button, upholstery, touchscreen and air vents.
The centre console sweeps on down from the dash and it comes with a foot-operated parking brake and a traditional automatic gear selector.
Meanwhile, all models come with a TFT screen that varies in size according to the model. The entry-level gets a modest 4.2" screen but the higher spec models get a 7" screen.
Is the Hyundai Ioniq Hatchback practical? Because Hyundai has placed the car's batteries under the seats, Hyundai claims that the Ioniq has the biggest boot in this class. It measures 443-litres and none of that room is taken up by a charging cable.
Other than that, this car is a bit longer than the Ford Focus Hatchback and four adults can sit in comfort. Five can squeeze in, but the middle seated passenger will find that space for them is restricted. All in all, rear passenger space isn't the best in this class and a sloping roofline means headroom is limited for taller adults.
Equipment & Safety Of The Hyundai Ioniq Hatchback
The entry-level model comes with a reversing camera, rear parking sensors, cruise control, Bluetooth, a digital radio and 15" alloys. The Premium trim adds sat-nav, a better stereo, LED rear lights, bi-xenon headlights, a heated steering wheel, heated front seats, keyless entry and wireless phone charging.
The Premium SE model rounds things off with ventilated leather front seats, automatic wipers and headlights and 17" alloys.
In terms of how safe the car is, the Ioniq was awarded all five stars by Euro NCAP for its crash test performance. Standard safety kit on all models includes tyre pressure monitoring, lane-keeping assistance, rear-cross traffic alert, blind spot monitoring, adaptive cruise control and autonomous emergency braking.
Costs Of The Hyundai Ioniq Hatchback
Prices for the new car start out from £20,885 and rise to £24,485. For more information on our leasing deals, you can check out our page here.
In terms of its running costs, the hybrid variant emits just 79g/km of CO2. As impressive as that is, it isn't enough to make the car exempt from the London Congestion Charge. Moreover, there are rivals that are even cleaner.
Where fuel consumption is concerned, the Ioniq returns 83mpg at best, which again isn't class-leading. All models come with the brands ECO-DAS system that works out the most frugal route for you to take.
Pros and Cons Of The Hyundai Ioniq Hatchback
Cheap to Run
Its returns of 83mpg might not be class leading – but they're still impressive.
Affordable
For a sophisticated car of this type with a good amount of tech on-board, a starting price of just over £20,000 is very reasonable.
Lots of Kit
The entry-level model is packed with standard kit which reinforces the idea that the Ioniq is a value for money car.
Question Marks Will Linger Over Claimed Economy Returns
Whether you'll return 83mpg on a day to day basis is questionable.
Suspect Cabin Quality
There are harder plastics here and there and the colour scheme is dull.
Hyundai Ioniq Hatchback vs Renault Zoe vs Peugeot Ion
Let's see how the car fares against its rivals in the comparison section of our 2018 Hyundai Ioniq Hatchback review.
Hyundai Ioniq Hatchback vs Renault Zoe vs Peugeot Ion
The new Renault Zoe is stylish, well kitted out, and has a 250-mile range.
The Zoe is perfectly suited to the towns and cities thanks to its light, precise steering. It's also quiet and offers a genuinely relaxed driving experience.
It's pretty nippy too and covers the 0-30 dash in a matter of 4.0 seconds. It skips away from traffic easily but body roll is a bit of an issue because of how heavy it is.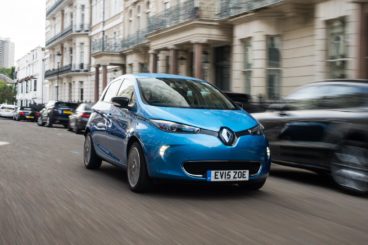 A brand new R110 electric motor has added an extra 16bhp, and it's now a lot quicker than its predecessor. It develops 106bhp, which is enough to whizz you from a standstill to 62mph in 11.9 seconds.
Buyers can also opt for the original engine, too. It develops 88bhp, recharges quickly and has a 0-62 time of 13.5 seconds.
Running costs? If you buy the Zoe and lease the batteries, you'll pay as little as £60 a month if your annual mileage is less than 4,500 miles per year. If you cover over 10,000 miles, expect to pay £100 per month.  Stick to the towns and cities and the battery has good longevity. Take the Zoe out onto the motorway, however, and power falls away pretty fast.
Inside, insulation is helped by the whisper-quiet nature of the car's electric motor – it barely makes a peep. The cabin is also smooth and refined.
Its dashboard is a lot more space-age than the Hyundai and this cabin feels and looks like a proper EV. A central large screen controls most of the functions but the most disappointing aspect of the dashboard is how grey it is.
Standard kit is good and all models come with voice-activated TomTom sat-nav and the brand's R-Link multimedia system.
Is the Renault Zoe practical? At 338-litres, its boot is considerably smaller than the Ioniq's, but it's bigger than the Clio and very reasonable for this class. It also comes with a low loading lip, but while seats do fold to increase capacity they can't be folded totally flat.
Other than that, Renault has placed the batteries under the seats (like the Ioniq) and this has freed up interior space. It's a comfortable cabin on the whole that's fairly long and wide for a car of this type, and leg and headroom are both perfectly acceptable.
Price:
Hyundai – £20,885 – £24,485.
Renault – £22,670 – £30,520
Hyundai Ioniq Hatchback vs Peugeot Ion
The new Peugeot Ion is an all-electric car that's right at home in the towns and cities, but its limited range means that it's less impressive elsewhere.
It's based on the Mitsubishi i-MiEV, a car that was tailor-made for congested cities like Tokyo. As a result, the Ion is much the same. It excels in urban settings and weaves in and out of traffic with ease. It's also dead simple to park and feels nice and fast off the mark.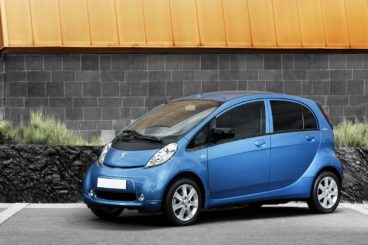 Body roll is kept to a minimum and its regenerating brakes are strong and powerful. It also comes with just the one gear, and the bonus of this is that it's smoother to drive than practically any automatic transmission.
Running costs? Peugeot reckon the Ion can keep going on a single charge for 93 miles. A single charge will cost you just £2, and if you use a Peugeot dealer, you can take advantage of their fast chargers that restore 80% of a batteries power in just half an hour.
There are no fuel charges to pay, the Ion comes with an 8-year warranty, and road tax and London Congestion Charge are both free.
Inside, the Ion isn't what you'd call big, with Peugeot anticipating that it will be used mainly by a single person or – at the most – a driver and their passenger. That said, rear seats are present and two adults will be perfectly comfortable back there on shorter trips.
Insulation is good, and the Ion's electric motor barely makes a peep. The driving position is excellent, and a large windscreen ensures that visibility is good.
It's a car that, for the most part, is lacking in creature comforts, but if you specify the oddly-named cold package, you can add heated wing mirrors and a heated driver's seat that will come in handy in the winter months.
The boot, meanwhile, is the biggest disappointment. It measures just 166-litres, which makes it by far and away the smallest in this review. However, it's fairly user-friendly and comes without a parcel shelf. Moreover, you can fold the rear seats flat to increase its capacity.
All in all, however, it's hard to recommend the Ion over the Ioniq due to its practical flaws.
Price:
Peugeot – £20,495
Verdict Of Our 2018 Hyundai Ioniq Hatchback Review
If you're on the lookout for a clean, economical family car, this eco-friendly effort from Hyundai is a very good shout. It's practical, affordable and comes well kitted out. That said, as a hybrid car, there are better options on the market in terms of how well the electric motor and petrol engine work together. However, if a family car that's good for the environment is your main priority, the new Hyundai Ioniq Hatchback is tough to beat.
When you lease a car with OSV there are no hidden costs, request a call back and we'll find you a finance, lease or purchasing deal designed just for you.