Review Of The Hyundai Santa Fe Diesel Estate
The Hyundai Santa Fe Diesel Estate is the most exotically named estate car on the market. It backs that up with a buff exterior and smart interior, as well as keen drivability. It also comes with seven seats, a five-year warranty and easy-peasy third-row access.
It's not hard to see why it's become Hyundai's flagship model. Customers just love it. And although the price is on the high side, it means you get touches of luxury.
OSV take a look at what this desirable SUV is all about with our 2017 Hyundai Santa Fe Diesel Estate review.
As drivable as the Santa Fe is, we wouldn't go so far as to say that it's fun. It's more capable than anything else, and it also won't let you down.
The most disappointing aspect is that Hyundai has put all their efforts on one engine. It's a turbocharged 2.2-litre 197bhp that Hyundai clearly thinks a lot of. They think so much of it that they decided there was no need to offer buyers an alternative.
Its got plenty of power, and can do 0-62mph in just 9.0 seconds when partnered with the manual 'box. Pair it with the automatic, and that time increases to 9.6 seconds.
That's still decent when you consider its size. Moreover, it feels quick most of the time. It's only at low revs that it will feel slow, and this is thanks to turbo lag.
This means that if you've got a manual transmission, you will need to be extra careful when approaching bends. Enter a bend in the wrong gear, and acceleration will be sluggish.
In fact, you still need to be watchful even if you have the automatic 'box. It doesn't cut out this quirk completely.
The suspension setup has been tweaked by Hyundai, especially for our gruff roads. At times it will feel a bit firm, but we wouldn't go as far as saying it feels uncomfortable. There will be body lean at times, particularly if you weave your way down country roads at speed.
We like the fact that Hyundai has included their Flex Steer system as standard across the range. It means you can easily flick between driving modes, which range from Comfort to Sport. Sport is a tad artificial, while Normal is the sweet spot.
Off-road, the Santa Fe isn't all that accomplished. Just look at it – it's too busy preening and looking pretty to be a Rambo. For off-road talent, you'd have to look elsewhere. It comes with a four-wheel-drive system, though, which tightens up security.
Hyundai Santa Fe Diesel Estate Interior, Design & Build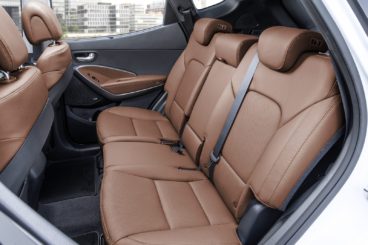 The Santa Fe's interior is smart, and even stylish at times. It's not quite got the jaw-dropping style of a German exec saloon, but for an SUV it's right up there.
The dashboard is simple and pleasant to look at, but it's a shame Hyundai included a few harder plastics. The Santa Fe SUV really would have benefited a lot more without them. Ah well.
The driver's seat and steering wheel are adjustable, and it's easy to get comfy at the helm. Insulation could be better, and there is some diesel clatter that gets into the cabin.
However, the worst of the noise comes at start-up. Once you're cruising, the engine simmers down and the cabin is reasonably quiet.
It's a bonafide practical car, with seven seats being chief among its USP's. It comes with five as standard, with the extra two being strictly for kids. They're also for small children – teenagers will certainly not be happy if you stick them back there!
Storage spaces are good, and include lots of cup holders, some big door bins, and a huge glove box. The middle row of seats offers good headroom. And if you slide these seats back, legroom is excellent. The boot measures 585-litres if you stick to five seats. Add the extra seats, and it drops down to 516. That's still very good.
Equipment & Safety Of The Hyundai Santa Fe Diesel Estate
There's just one engine and two trim levels to choose from. Not much choice, but the standard kit is good. The Premium trim kicks things off with heated leather seats, Bluetooth and air conditioning. It also comes with useful split-folding rear seats, chrome trim and a handsome leather steering wheel.
The Premium SE adds 19" alloys, rear and front parking sensors, and keyless entry. It also gets a panoramic sunroof, and xenon headlights.
We need our SUV's to keep us safe, and it's reassuring that the Santa Fe bagged all 5 stars when it was crash tested by EuroNCAP. It scored especially well in both the child and adult occupation protection categories.
Standard safety kit includes anti-lock brakes, an active bonnet system, 7 airbus, and a tyre pressure monitoring system.
Costs Of The Hyundai Santa Fe Diesel Estate
Prices for the new car start out from £32,500 and rise to £40,000. For more information on our leasing deals, check out our page here.
In terms of its running costs, being four-wheel-drive automatically means the diesel Santa Fe will be fairly costly to keep on the road. However, thanks to the addition of Torque On Demand, the car is able to save fuel. It does this by sending power to each of the 4 wheels only when there isn't much grip. As such, it runs on two-wheel-drive mode most of the time.
The transmission you choose will decide your exact running costs, however. While the 6-speed manual is good for returns around 46.3mpg, the 6-speed automatic averages 42.2mpg.
Neither of these returns are competitive. Worse still, the automatic model costs £230 a year to tax, which is expensive.
Pros and Cons Of The Hyundai Santa Fe Diesel Estate
Has Up To Seven Seats
Not many cars in this price range offer the option of seven seats. The Santa Fe, moreover, is one of the most spacious ones to do so.
Good Standard Kit
The entry level trim – which is called Premium – gets Bluetooth and heated leather seats. It also gets air con, in what is a very generous kit.
Drives Well
Just one engine, but it has plenty of power and can do 0-62 in 9.0 seconds.
Expensive To Run
The solitary engine returns 46.3mpg economy at best. Many rivals, meanwhile, are in the fifties.
Limited Choices
Just one engine, and no option of two-wheel-drive. Moreover, the top-spec model doesn't come with five seats.
Hyundai Santa Fe Diesel Estate vs Nissan X-Trail vs Honda CR-V
Let's see how the car fares against its rivals in the comparison section of our 2017 Hyundai Santa Fe Diesel Estate review.
Hyundai Santa Fe Diesel Estate vs Nissan X-Trail
The new Nissan X-Trail looks like a larger, more capable Qashqai. It's big, it's brawny, and it's got plenty of meat on the bone. Pleasingly, it's also rather stylish.
Nissan has limited the tools that the X-Trail has to work with – but boy does it work with what it's got. It's not quite there in terms of performance. But it handles well, grips well, and takes corners with confidence.
Chassis Control comes as standard across the range too. This bolsters safety when you take bends, and also improves ride quality.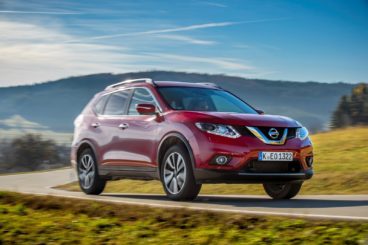 Four-wheel-drive is optional, and it's super flexible. It allows you to switch between 3 modes, starting with two-wheel drive, and ending with full-on four-wheel-drive.
In terms of the engines, the entry-level 1.6-litre 128bhp diesel doesn't cut it. It lacks the power needed to haul a 1,500kg SUV along the motorway, and feels knackered when all seven seats are taken!
If you want speed and an easy driving experience, the 2.0-litre 174bhp diesel is worth a look. It does 0-62 in 9.4 seconds, has plenty of punch – but does make more noise.
This is a big car, but are emissions better than the Hyundai? Because there are more engines, the answer is an easy Yes. While the Santa Fe is handicapped by having just the one inefficient engine, the X-Trail can offer a series of more frugal units. The 1.6-litre 128bhp diesel, for example, returns 57.6mpg. However, it's miles off the performance offered by the Hyundai.
The more powerful 2.0-litre 174bhp diesel engine returns 48.7mpg, while emitting 153g/km of CO2. That's competitive with the Hyundai. In between these two is a diesel X-tronic that returns 55.4mpg.
Inside, the X-Trail is much changed from last time. The design Nissan has opted for is business-like and smart, with a restrained dash being a case in point. It's nicely organised, and comes with a neat 5" colour screen. Go for a more expensive model, and you get a 7" screen.
The X-Trail gets a smaller boot than the Santa Fe. Measuring 550-litres with five seats up, it's still reasonably sized, and can be extended to 1,982 with the rear seats folded. If you want seven seats, the boot measures 445-litres with all seats up.
Interior space is the best in the class. The X-Trail boasts more legroom than the Hyundai – as well as all other rivals.
Price:
Hyundai – £32,500 – £40,000
Nissan – £22,800 – £36,000
Hyundai Santa Fe Diesel Estate vs Honda CR-V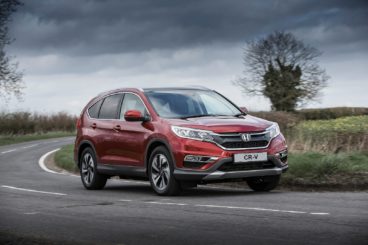 The new Honda CR-V is a solid, dependable family car. It's less showy than many rivals, but offers good build quality and plenty of standard safety kit.
As you may have already guessed from that brief summary, the CR-V isn't an entertainer. Designed to be comfortable and easy to drive, that's exactly what it is. Grip is plentiful, the car is agile and nimble, and the suspension is nice and soft.
In terms of the engines, our top pick is a 1.6-litre 118bhp diesel engine. It's hushed on startup, does 0-62 in 11.2 seconds, and makes financial sense. It's not as powerful as the Santa Fe, but it does what you need it to.
Moreover, it's barely any different to the most powerful CR-V 158bhp diesel. This one can do 0-62 in 9.6 seconds, but that added performance is truly the only difference between the two models in terms of drivability.
In terms of economy, it's a different story – the 1.6-litre 118bhp diesel engine wins hands down. It returns 64.2mpg, which is a massive saving over the Santa Fe. The 158bhp diesel, meanwhile, is capable of returning 55.4mpg.
Inside the Honda CR-V, you'll notice two things – a well-built cabin, and a number of cheap plastics. These harder plastics let the side down somewhat, but the smartly designed dashboard means you won't get too disheartened.
It's also worth mentioning that some buyers will enjoy the CR-V's functional, back to basics feel. Better yet, it's super practical, and its 589-litre boot just shades the Hyundai's. It's a well-shaped boot that's tall, and which comes with a flat lip. It also benefits from the brands Magic Seats, which let you fold the rear bench flat with one simple movement of a lever.
Price:
Honda – £24,000 – £37,300
Verdict Of Our 2017 Hyundai Santa Fe Diesel Estate Review

If you're on the lookout for a top quality, family-friendly Estate car and don't mind splashing out a bit, the new Santa Fe is a good place to start looking. It's now in its third generation, which means Hyundai have had plenty of time to get things right. Even still, we're surprised at just how much it's evolved in the last few years. It's come a long way and easily rivals the most seasoned family Estate's in this sector.
It's spacious, good to drive, handsome, and comes with the option of seven seats. And with just one engine and no option of two-wheel drive, your life is made easy when it comes to deciding what you want from the new Hyundai Santa Fe Diesel Estate.
Request a call back from one of our Vehicle Experts
When you lease a car with OSV there are no hidden costs, request a call back and we'll find you a finance, lease or purchasing deal designed just for you.