Review Of The Kia Soul Diesel Hatchback
The new Kia Soul Diesel Hatchback is as beefy as a compact off-roader, much better looking than last time, and comes with a more standard kit. It's got a bigger interior as well in a revised version that Kia expects to sell well.
The car has sold okay in the past, but it's never been what you'd call a contender in this class. It's been in UK showrooms since 2008, but to say it's "graced" showrooms would be pushing it. Fortunately, Kia has loosened the purse strings in recent years, which means they're employing better design language and more upmarket interiors now. The Soul benefits from both.
OSV takes a closer look at what the car is all about with our 2017 Kia Soul Diesel Hatchback review.
The new Kia Soul Diesel has lots of grip and power. But it suffers from the same drawbacks of old – vague steering and noisy engines.
Still, despite being such a tall car, body lean is well controlled. And in a bid to generate a bit of steering feel, Kia have added three driver settings. Rather dismally, it doesn't matter how heavy you make the steering, there is never much feedback. However, the more rigid you make the steering, the less body roll there is. So that's a positive.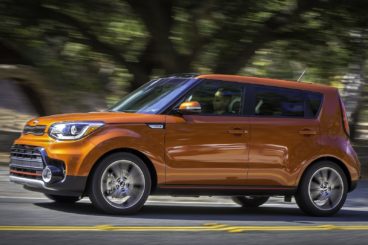 The suspension setup has been improved. In its previous incarnations, the Soul offered a bumpy ride. Now, it suits our broken roads a lot better, absorbing the surfaces like a sponge so that you're relatively comfortable. Make sudden changes, and you'll annoy the car. It starts to fidget!
Opt for the Sport model, and you'll be in for a rough ride as usual. This is largely down to its bigger 18" alloys.
The engine is paired up with a 6-speed manual transmission. It's easy enough to use, but if you don't like it you can add a seven-speed automatic dual-clutch instead. Note that this is only available with the Connect Plus models and higher.
There is only one diesel engine available. It's a 1.6-litre unit that's noisy on start-up, and which doesn't really settle down. It's got that typical diesel clatter that many drivers want to avoid these days.
So it's a bit dubious, but a 0-62 time of 10.8 seconds is good. It's easy to overtake in, and accelerates well. And with 134bhp, it has more power than last time, and more power than a number of rivals.
Kia Soul Diesel Hatchback Interior, Design & Build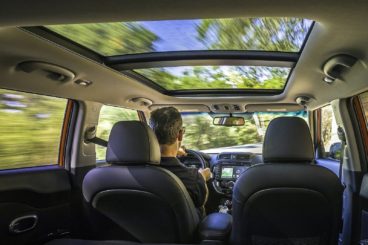 Kia are working hard to improve their brand image. And most of their fleet now looks much, much better. The Soul looks better than last time, but that's not to say it looks amazing. It still retains its unusual cube-like shape and boxy silhouette.
Adding sharper angles has given it a bit of an edge this time around, while the bulky wheel-arches even make it look buff.
Inside, black plastic abounds as is Kia's want. The honeycomb seat patterns look great, and we like the contrast stitching. It lifts things in what is otherwise a neutrally-decorated interior.
Build quality is good, and Kia have used more soft touch materials than ever. The switches and dials are robust and large, and you get the impression that this is a car built to last. Connect Plus models and higher get a classy 8" touchscreen infotainment system which comes with eight speakers. It also comes with European mapping, and sat-nav.
It's a practical cabin, too. Being bigger than last time means there is more interior room now. Indeed headroom is excellent in the rear, something that's helped by the high roofline. The transmission tunnel is small, which means five adults can easily fit into the Soul Hatchback.
The boot is an impressive 354-litres. That's pretty much the same size as it's always been, and competitive for this class. You can't fold the rear seats totally flat, but folding them extends luggage capacity to 1,367-litres. And because it's such a tall car, you can load stuff right to its roof.
Equipment & Safety Of The Kia Soul Diesel Hatchback
Standard kit is good across the four trim levels. The entry-level '1' model gets Bluetooth, a DAB radio, as well as MP3 and USB connections. The '2' trim gets 17" alloys, cruise control, Apple CarPlay, and a 7" sat nav.
The '3' trim adds an 8" screen, 18" alloys, a JBL stereo, front parking sensors and keyless entry. Meanwhile, the range-topping Soul Sport model comes with an enhanced exterior, twin-exhaust pipes, and its own unique 18" alloys. It also gets part leather upholstery, and different cabin colours.
If you've got enough money left over for some optional extras, the £270 rear parking sensors are the handiest. You can also add a £370 detachable tow bar, but there isn't much else to choose from.
Safety-wise, Kia will be disappointed that the Soul only scored 4/5 when crash tested by Euro NCAP. Most rivals scored all five stars. However, Kia has reacted fast, since adding more standard safety kit. The Soul now gets a blind-spot detection system to go alongside electronic stability control, anti-lock brakes, a tyre pressure monitoring system, and side and front airbags.
Costs Of The Kia Soul Diesel Hatchback
Prices for the new car start out from £14,300 and rise to £30,000. For more information on our leasing deals, check out our page here.
In terms of its running costs, the diesel engines are certainly cheaper to run than the petrols. But that isn't really saying a lot, as both are far from frugal in this class. The 1.6-litre 134bhp diesel engine returns 58.8mpg economy at best, and emits 127g/km of CO2. That's a long way away from the class-leading models.
Moreover, if you swap the manual gearbox for the automatic, economy falls to 56.6mpg.
Tax is £140 after the first year, while the car occupies insurance groups 10 and 11.
Pros and Cons Of The Kia Soul Diesel Hatchback
Useful Shape
It's tall, somewhat boxy, somewhat Jeep-esque shape means it's a highly practical car.
Seven-Year Warranty
Kia's might be better getting, but their seven-year warranties are going nowhere.
Not Much Engine Choice
There is only one diesel engine. It's not super economical, but a 0-62 time of 10.8 seconds is decent.
Bumpy
If you opt for the bigger wheels, you beef things up a bit – but pay a price with a bumpier ride.
Kia Soul Diesel Hatchback vs Citroen C4 Cactus Diesel vs Fiat 500L Diesel
Let's see how the fares against its rivals in the comparison section of our 2017 Kia Soul Diesel Hatchback review.
Kia Soul Diesel Hatchback vs Citroen C4 Cactus Diesel
If the Citroen C4 Cactus Diesel Hatchback has one obvious advantage over the Kia Soul it stands out even more. True, both cars are distinctive. But the C4 looks better. In fact, it's positively flamboyant.
Citroen have always been known for their unique take on family cars, often going against the grain in terms of design. When it comes to how it performs on the road, the Cactus is decidedly less individual – it's comfortable and easy to drive, though.
It leans a fair bit in bends, but that was always going to be the price of such pillowy soft suspension. On winding lanes, it's jolly good fun to drive, and its steering is nice and light
We're not too keen on the manual transmission, though, as the gears are set too far apart.
There is only one diesel engine available. It's a BlueHDi 100 that does 0-62 in 10.6 seconds, and which has plenty of oomph for a quick overtake. It's faster than every single petrol option in the range except the PureTech 110.
It's the most frugal engine in the C4 Cactus' range, too. Crucially, it's way more economical than the Soul. Where the Soul can't return over 60mpg, the C4 Diesel returns over 90mpg if you choose the 15" wheels. Wow.
We'll give you a minute to think those numbers over.
Onto the interior, which is defined by an eye-catching design that's dented ever so slightly by some cheap plastics. Not too much to be a deal breaker we reckon, but look hard enough and you'll spot them.
The rear pop-out windows are a trendy if a useless and annoying feature, while the simple but gorgeously crafted dashboard is something to treasure. It looks premium, even though you know it isn't. You can get the look you want, too, with Citroen offering up a selection of colours.
The C4 Cactus does well on the practicality front. It's almost the biggest in this class, and you'll find it easy to get comfy up front in the armchair-like seats.
The lack of a reach-adjustable steering wheel will irk, but Citroen have missed it out to keep the price down. Head and legroom is mostly good, but adding the panoramic sunroof reduces the former.
The boot measures 358-litres, which just shades the Soul. And that's kinda our overall verdict here – the C4 Cactus just shades the Kia.
Price:
Kia – £14,300 – £30,000
Citroen – £13,400 – £20,900
Kia Soul Diesel Hatchback vs Fiat 500L Diesel
The new Fiat 500L Diesel is another derivative of the popular Fiat 500 city car. It's more useful than its fun-loving sibling, but looks just as distinctive.
The biggest problem it has is that, although it's derived from the smiley 500, its driving dynamics are taken from the bland Fiat Punto. That car was never fun to drive, and it's outstayed its welcome. So quite why Fiat decided to transfer the way it drives to the 500L is anyone's guess!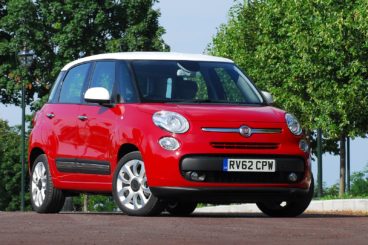 As a result, the 500L has light steering, vague grip (you never know how much you have), and too much body lean. So although it's billed as an MPV, it feels like an SUV.
The 1.6-litre diesel engine is the power plant best suited to the car. It's not got much character, but has some reasonable mid-range oomph that gets you up to speed quickly. It also does 0-62 in 10.7 seconds, which is respectable. Whisper it, but it even manages to feel faster than that.
There is also the option of a 1.3-litre diesel, which is the cheapest to run, returning 72.4mpg. That's very good, but even the bigger 1.6-litre engine returns 67.3mpg, which is miles better than the Soul.
Inside, the dashboard shares a similar retro design with the standard 500. However, while it looks fab, the cheaper choice of plastics is a bit of a letdown.
That said, the cabin is, on the whole, a comfortable place to be for the family. The suspension absorbs bumps and lumps well, while the power-steering system further ensures a pleasant ride.
The biggest caveat is the sheer amount of diesel engine noise, especially at speed.
In terms of practicality, the Fiat 500L Diesel Hatchback is hit and miss. A raised ride height means decent visibility, while the 400-litre boot is the biggest in this review by some margin. It comes with a floor that can be lowered or raised, while the rear seats easily slide back and forth for more space.
Remarkably, the 500L has 1,500 seating combinations, with the front passenger seat able to transform into a picnic table. We can't wait for when Fiat allow us to turn it into a bar.
A transformer MPV anyone?
Price:
Fiat – £16,200 – £21,300
Verdict Of Our 2017 Kia Soul Diesel Hatchback Review
The last Soul was a dubious piece of machinery that polarised opinion. In 2017, it's a much better proposition. However, it's hard to look past its rivals if you want something a bit sexier that doesn't cost as much to run.
The Soul still has its faults (economy is largely poor), but it does look more presentable, handles better, moves quicker and boasts a nicer interior. The Kia Soul Diesel Hatchback won't set your world alight, but it's a practical, sensible and affordable choice.
Get in touch to have a chat about your new car
Give one of our helpful team a call to find your perfect vehicle.
ARE YOU INTERESTED IN GETTING A
Hatchback
?
Get in touch with us on 01903 538835 or request a call back. We look forward to hearing from you.