Review Of The Mercedes Benz C-Class Coupe
The new Mercedes Benz C-Class Coupe just gets better with age: Better looking, better to drive, and better running costs. It's an upmarket way to travel in style.
It won't get your blood pumping like a fast and furious V12 sports car, with Mercedes aiming for elegance, poise, comfort and relaxation instead. The best thing is, all of this luxurious goodness comes with a price tag that starts out from just £32,000.
OSV takes a closer look at what it's all about with our 2017 Mercedes Benz C-Class Coupe review.
A bit more weight has been added to the steering so that it's heavier than last time. It's also quicker, which makes it a good car to drive. There is plenty of feedback, and you feel involved at all times. It's a proper driver's car.
If you add the Airmatic Agility package you can improve its drivability even more. Adaptive dampers and air suspension are included in this package, as is Agility Select. This feature lets you flick between four different driving modes:
Eco
Comfort
Sport
Sport+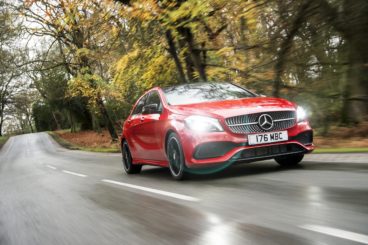 Depending on your mood, you can glide over broken roads or go pedal to the metal.
In terms of the engines, a 2.1-litre diesel engine is worth a look. It powers the C250d model, and develops up to 201bhp. It's noisy and needs to be worked hard, but a 0-62 time of 6.7 seconds is respectable. It's also got plenty of pulling power in its tank.
The other diesel in the range is the smaller 167bhp variant that powers the C220d model. It does 0-62 in 7.5 seconds, and is worth a shot if you're on a budget.
However, it's the petrol engines that capture the imagination. The 2.0-litre 181bhp unit kicks things off, but its 0-62 time of 7.3 seconds might be too slow for most of you. The C300 model is much quicker, with its 241bhp engine covering the same dash in just 6.0 seconds.
It's got a good turn of pace, but its vocal note won't get your hairs standing on end. Fit it with the sports exhaust, and it produces a racket that's more annoying than exciting.
The powerful AMG models round the range off, with the C43 doing 0-62 in 4.7 seconds. If you want even more speed, the C63 model covers the same sprint in 3.9 seconds. Both models come with four-wheel-drive, but only the former is what we'd call accessible. Unless you've got experience with high-performance sports Coupe's, we'd slap a "hands-off" warning on the volatile AMG C63.
Mercedes Benz C-Class Coupe Interior, Design & Build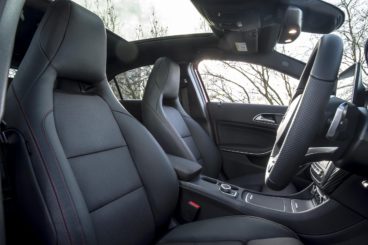 Inside, the cabin is superbly crafted and feels exactly like the premium product you expect it to be. The dashboard is well presented, with the dials and buttons nicely laid out, and the materials are of a good – though not excellent – standard.
The design is a bit contentious, as it's too conservative for our liking. Some buyers will be happy enough with it, but you expect Mercedes to push the boat out a bit more. There are certainly less glamorous rivals in this sector that have more imaginative interior designs.
In terms of its usability, losing the two rear doors hasn't done the car many favours. Worse still, the sloping roofline impinges on backseat headroom. As you can imagine, it's hardly a car that endears itself to rear-seated passengers.
That said, interior space is excellent upfront, while the boot measures 400-litres for the standard models. That's not bad, even if its rivals offer more space. Go for the range-topping C63, though, and your boot will measure just 355-litres.
Equipment & Safety Of The Mercedes Benz C-Class Coupe
There are only two trim levels to choose from, with the Sport models getting a good amount of standard kit all of their own. They come with LED headlights, 17" alloys, sat nav, heated front sports seats, and parking sensors. A reversing camera is also helpful.
The AMG line adds 18" alloys, a body-kit, black ash wood trim, as well as 15mm lower sports suspension. It also gets a flat-bottomed sports steering wheel.
Out of the list of options, the Premium Package is the one we'd suggest going for. It costs £1,700 and adds a panoramic sunroof, ambient lighting and keyless go.
Euro NCAP gave the car a safety seal of approval when it awarded the C-Class Coupe 5/5 for its crash test. Its standard safety kit includes automatic headlights, cruise control, and a tyre-pressure monitoring system.
Costs Of The Mercedes Benz C-Class Coupe
Prices for the new car start out from around £32,300 and rise to £70,400. For more information on our leasing deals, check out our page here.
In terms of its running costs, the C220d diesel model is the cheapest in the range. It returns 68.9mpg, and emits just 106g/km of CO2. The C250d diesel model isn't much more expensive, returning 64.2mpg and emitting 115g/km. However, adding bigger alloys and four-wheel-drive bumps up the costs.
The petrol engines cost more to run, with the C200 returning 53.5mpg economy, and the C300 returning 44.8mpg. Move up to the C43 AMG model, and 35.3mpg is the best economy you'll return – and only if you drive like a saint. And with emissions of 200g/km of CO2, it's going to cost a fair bit to tax.
Pros and Cons of the Of The Mercedes Benz C-Class Coupe
Elegant Looks
It's Mercedes' smallest Coupe, but the brand has been able to recreate their usual elegance.
Smooth
There are lots of engines available, but a smooth ride is ensured across the range.
Affordable
Affordably priced, and with its diesels able to return around 68mpg, the C-Class Coupe is budget-friendly.
Diesel Clatter
The noisy diesels invade the cabin, taking something away from its sense of occasion.
Vague Steering
It lacks the sharpness of rivals, with things only improving once you splash out on the AMG models.
Mercedes Benz C-Class Coupe vs BMW 4 Series Coupe vs Lexus RC Coupe
Let's see how the car fares against its rivals in the comparison section of our Mercedes Benz C-Class Coupe review.
Mercedes Benz C-Class Coupe vs BMW 4 Series Coupe
The new BMW 4 Series Coupe is another stylish exec Coupe that's ideal for keener drivers.
The 4 Series takes its cues from the popular 3 Series – but it's even better to drive. It has its own suspension settings, a super-low centre of gravity, and the steering is alert and sharp. In corners, there is hardly any noticeable body lean.
In terms of the engines, the entry-level 420i petrol unit takes 7.3 seconds to cover the 0-62 dash. The bigger 430i model does it in 5.9, and both benefit from turbochargers to keep running costs down.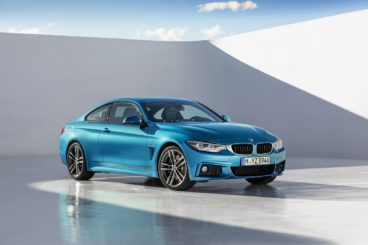 For the smoothest engine in the range, we recommend the 440i petrol unit. It's got six-cylinders, powers the M Sport model, and delivers up to 322bhp. That's enough to power its way from rest to 62mph in just 5.1 seconds.
The diesels are easy to recommend, thanks to their winning combination of good running costs and decent acceleration. The 420d model is already selling well; it does 0-62 in 7.3 seconds, feels smooth, doesn't emit too much diesel clatter, and returns 65.7mpg when paired up with an 8-speed automatic 'box.
The 430d is a lot faster, though, covering the same sprint in 5.5 seconds. It returns a respectable 55.4mpg when also paired up with the automatic transmission. Opting for the manual stick will reduce economy whichever engine you plump for.
The petrols are thirstier, but the 420i returns as much as 48.7mpg economy, while the 430i is good for returns of 46.3mpg.
Inside, the cabin is classy, well-insulated, and comfortable. It's based on the 3 Series, which means you get plenty of moments of high quality. The ride quality is a bit firm the higher up the trims you go, but adding Adaptive Suspension will improve things.
The dash has been updated for 2017, with BMW adding a few more gloss-black and chrome trim elements. It looks more sophisticated than the Mercedes. As usual, BMW's iDrive Control is present. Entry and mid-level models get a 6.5" screen, while M Sport models benefit from an 8.8" screen.
In terms of practicality, the 3 Series does okay. Four adults will have plenty of room to get comfortable, and headroom is especially good up front. Visibility is also excellent, while storage compartments include a good-sized glovebox, thin door pockets, and a covered tray that you'll find near the gear lever.
The boot measures 445-litres, which is considerably bigger than the Mercedes C-Class. It comes with a wide opening, but a fairly prominent lip.
Price:
Mercedes – £32,300 – £70,400
BMW – £33,100 – £47,300
Mercedes Benz C-Class Coupe vs Lexus RC Coupe
The new Lexus RC Coupe is a gorgeous luxury Coupe that represents an interesting alternative to the Mercedes.
Performance is good, but it's prevented from unleashing its potential by the sheer size of the RC Coupe. As a result, it's not as much fun as the BMW.
That said, it's a highly capable motorway cruiser. There is no option of a manual gearbox, with standard versions getting a tried and tested 8-speed automatic. The hybrid variant gets a more frustrating CVT automatic.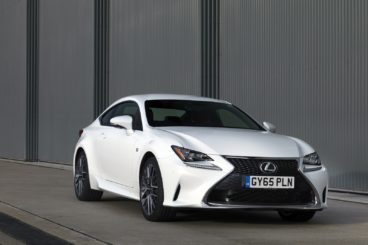 This hybrid variant takes 8.6 seconds to do the 0-62mph sprint, before maxing out at 118mpg. The standard RC 200t model, meanwhile, covers the same sprint in 7.5 seconds, and maxes out at 143mph.
The steering on both models is direct, but with the car weighing 170kg, we can't get past the fact that it could have been a much better handler.
Without a diesel engine in sight, it's left to the hybrid model to be the most frugal in the range. It returns a claimed 57.6mpg, and emits 113g/km of CO2. However, we reckon you'd do well to return 40mpg on an average drive. The standard model, meanwhile, is likely to return around 30mpg economy.
We have few complaints with the Lexus RC Coupe's interior. It's all very similar to the impressive and luxurious IS Saloon, which means it's reassuringly well-built, solid, and can boast superb fit and finish. The quality of the materials used is also excellent.
Neat touches include interior lights that are controlled by swiping your finger, a 7" infotainment screen and the supremely comfortable seats. The driver gets special treatment, with the driver's seat cocooning them and making them feel nice and cosy. Ride quality is good, too.
The rear seats, though comfortable, are small and this might cause issues. Access is tricky as well. The boot in the standard model measures 374-litres, while the hybrid's boot measures 366. That's not too bad, as it's typical for hybrid batteries to shrink boots much more than that.
However, both boots are significantly smaller than the Mercedes and the BMW.
Price:
Lexus – £37,150 – £42,650
Verdict Of Our 2017 Mercedes Benz C-Class Coupe
There is a lot to choose from here, including six engines and a whole host of specifications. All models are well-made, all look great, and all boast Mercedes' usual elegance. It's a well-rounded car that should sell well.
However, one thing it lacks is dynamic driving. If this matters to you, it might be worth checking out the BMW. If not, the stylish new Mercedes Benz C-Class Coupe is a very satisfying product.
When you lease a car with OSV there are no hidden costs, request a call back and we'll find you a finance, lease or purchasing deal designed just for you.