Review Of The 2017 Mercedes-Benz CLS AMG Coupe
A helter-skelter of a car, the new Mercedes-Benz CLS AMG Coupe is actually a saloon-come-coupe that has room for five people, a 590-litre boot, and a massive V8 engine. It whirs, it fizzes and excites like few other things in life.
It's a car for enthusiasts who love their engines to be hand-crafted, to be sized 5.5-litres, and their 0-62 times to be in the region of 4.3 seconds. Totally unnecessary, though? Not a chance. This is a Coupe with Saloon practicalities. In fact, from the start, t was Mercedes' mission to make it as practical as possible.
OSV takes a closer look at what it's all about with our 2017 Mercedes-Benz CLS AMG Coupe review.
Get your hands on this car, and you can be sure that a sole worker built your 5.5-litre twin-turbo V8 petrol engine with their own bare hands. They had the good grace to inject it with 518bhp in its "standard" guise (we use that word very loosely), which can propel the car from rest to 62mph in just 4.3 seconds.
And just in case you're curious to know who the dude is that crafted your engine, lift the bonnet and you'll find his personalised plaque. It'll be a beautiful moment the first time you see it. Thank you, (insert name here)!
0-62 in 4.3 seconds is fast, and we're pleased to report that the car feels as quick as those numbers hint at. The incredible speeds are made possible by the 700Nm of torque on offer. That and the 7-speed automatic 'box. And in case you were wondering, yes, the V8 engine is all storm and tempest – in plain English, it's thrillingly noisy.
You can flick through three modes for the gearbox, starting with Sport, moving up to Sport+ and ending with Manual. The latter allows for total manual control of the automatic transmission – nothing unusual, most sports cars have them nowadays (except maybe the Aston Martin's).
However, the Manual mode is a bit hit and miss; unless you change gear swiftly, you might find that the car becomes a bit jumpy as you cruise in full-throttle upshifts. It's a tad unpleasant.
If you want to take over the world with even more performance, you can add the Performance Package Plus. It contributes a further 32bhp, as well as 100Nm more torque. Totally unnecessary? Yes. Totally ridiculous? Yes. Totally brilliant? Yes! Come on, we only live once.
In terms of how it handles, we have no complaints. It's a big car, but it hides its weight well. The steering is light, nimble and direct, and there is a lot of grip on offer. There isn't much body roll, either.
Mercedes-Benz CLS AMG Coupe Interior, Design & Build
Mercedes are developing a reputation for falling behind their premium rivals when it comes to their interiors. And they've fallen a bit further behind with this one. It's just not as inspiring as, say, an Audi.
The best bits are the suede steering wheel (well, partially suede anyway), stitched leather, carbon fibre touches, and AMG instruments. That aside, nothing really sets it apart from the rather bland CLS models.
The switch gear is the same and is hardly becoming such an expensive sports Coupe. Worse is the Command System, which will take some time getting used to. It isn't as good as BMW's iDrive system. Not a chance.
There are things to like, of course. Everything is logically arranged and easy to locate, and the 7" central display screen is at least simple enough to operate. The multi-adjustable seats are a win, and make it really easy for you to get into the right driving position.
In fact, comfort overall is good – which is a bit of a surprise for a high-performance car. Despite having 19" alloys and sports suspension, the luxurious heated leather seats are perfectly fine, and it's easy to feel relaxed when you just want to cruise.
If you were worried about practicality, worry not. Mercedes purposely put together a Coupe that has Saloon sensibilities. This means you get four doors, a large 520-litre boot that can be extended to 1,550-litres, and lots of storage spaces.
There is no getting away from the fact that this is a Coupe, though. As a result, rear headroom is impacted by a sloping roofline, and small rear windows can create an atmosphere of claustrophobia back there.
Equipment & Safety Of The Mercedes-Benz CLS AMG Coupe
Standard equipment is often a bit hit and miss for a car as pricey as this one, but we think the CLS AMG Coupe does well in this area. All models come with an AMG body kit, 19" alloys, Bluetooth, a DAB radio, a rear diffuser, LED headlamps and an AMG instrument cluster.
Euro NCAP still hasn't crash-tested it, so we can't make a 5/5 case for its safety credentials. However, Mercedes have a reputation for making solid cars that are stuffed with hi-tech safety kits – and this is the case here. You get adaptive brake lights, Attention Assist, Brake Assist, and six airbag's as standard. ISOFIX child seat mounts are also part of the deal, but Carbon Ceramic brakes are optional.
Costs Of The Mercedes-Benz CLS AMG Coupe
Prices for the new car start out from £88,700 and go as high as £89,200. If you want to lease the car, you can pick up a deal from as little as £460 + VAT per month. For more information on our leasing deals, you can check out our page here.
In terms of its running costs, Mercedes claim the AMG Coupe can return 28mpg. However, we think this number is a tad optimistic, and wouldn't expect returns to top 20mpg – at least on average. Compared to rivals, it's on the expensive side.
Road tax, meanwhile, will be as much as £520 a year, while insurance is as high as it comes, with the car occupying insurance group 50.
Pros and Cons Of The Mercedes-Benz CLS AMG Coupe
Incredible Performance
With 518bhp in its armoury and a 0-62 time of 4.3 seconds, this car has some serious muscle.
Looks Great
Rock star looks are the perfect match to its rock star performance.
Engines Are Hand-Built And Signed
This car has clearly been a labour of love for Mercedes. Who wouldn't want their own signed, totally unique engine? The sense of prestige and specialness is breathtaking.
Pricey To Run
Pricey to buy and very pricey to run – don't expect to return more than 20mpg economy on average.
Uninspiring Interior
Mercedes have shot themselves in the foot with an interior that's barely distinguishable from the standard CLS.
Mercedes-Benz CLS AMG Coupe vs BMW 650i M Sport 4dr Auto vs Audi RS7
Let's take a look at how the car matches up against its rivals in the comparison section of our 2017 Mercedes-Benz CLS AMG Coupe.
Mercedes-Benz CLS AMG Coupe vs BMW 650i M Sport 4dr Auto
The new BMW 6 Series is a big, bold, brash and luxurious Coupe that can more than hold its own against the AMG. For the purpose of this comparison, we're focusing on its high performance 650i M Sport model.
It tops the range, and comes powered by a 4.4-litre V8 engine that produces up to 450bhp. It gets a sports exhaust system as standard, comes with an 8-speed automatic transmission, and does 0-62 in less than 5.0 seconds. We reckon you'll also be very appreciative of its engine bark.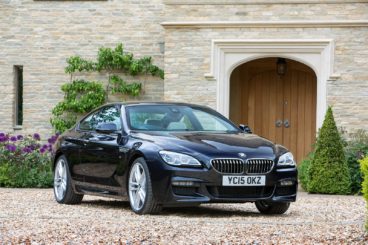 On the whole it's a characterful power plant that suits the car well. The car itself, meanwhile, is typically entertaining fare from BMW. Adding Dynamic Drive further reduces body roll in bends, but even without it there is a lot to love about the way the BMW 6 Series involves you in the driving experience
As expected, the 650i is not cheap in the slightest to run. It might power the same car as the sensible 3.0-litre diesel engine that returns 52.3mpg, but it's an engine that will appeal to those who want to spice up their on-the-road life. It returns less than 30mpg, and will cost £265 a year to tax.
It isn't cheap to insure either, sitting as it does in insurance group 50 – the highest one.
Inside, money was clearly no object for BMW, as they've lavished the 6 Series in all kinds of expensive materials and features. These include alloy and leather finishes, a 10.2" infotainment system, sat-nav, and a multifunction steering wheel that's covered in more leather,
However, the M Sport model isn't all that comfortable, thanks to its stiff suspension and large alloys. On coarse surfaces, it will fidget. Worse still, tyre noise is an issue.
It's not massively practical, either. Accommodation for rear seated passengers is particularly bad. There just isn't that much space on offer, despite it sporting a 2+2 layout. Those in the front will have no grievances whatsoever, however.
Its boot, meanwhile, measures 460-litres, which is good for this class. The rear seats can't be folded for more space, but that's often par for the course with Coupe's.
Price:
Mercedes – £88,700 – £89,200
BMW – £61,100 – £83,600
Mercedes-Benz CLS AMG Coupe vs Audi RS7
The new Audi RS7 is a sensation. It packs a 552bhp punch, does 0-62 in less than 4.0 seconds – but doesn't come cheap.
It's the car that dreams are made of, the kind the kids pose in front of for a Facebook profile picture. Its meaty 4.0-litre V8 petrol engine delivers 552bhp in standard guise, but guess what? If you're in the mood, you can extend that to almost 600bhp if you wish. If you do, its 0-62 time of 3.9 seconds drops to a science-defying 3.7 seconds.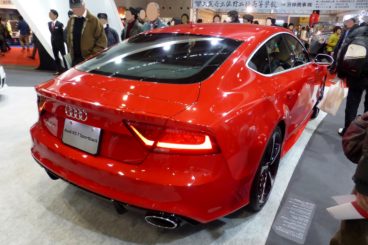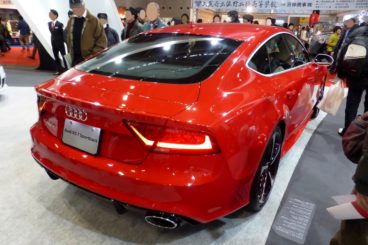 There is a chunk of pulling power available low down in its rev range, which makes both cruising and overtaking easy. The V8 engine – an increasing rarity in today's diluted world – sounds gloriously on song, but we do have our criticisms.
For one thing, the steering doesn't have much feel. The ride, as ever with an Audi, is unsettled, while you won't get the very best out of the RS7 until you add the £10,000 Dynamic Package Plus.
Then there is the small matter of the poor running costs. Audi reckon this wild beast can return 29.7mpg economy, but the reality is that you'll struggle to return 25mpg. Meanwhile, it emits a planet-hurting 221g/km of CO2.
Inside, Audi have delivered yet another top-quality interior. We love the heated, quilted leather Super Sports seats, while the stitched leather flat-bottomed steering wheel is another racy highlight.
Somehow, the cabin manages to be hush-quiet, too.
Practicality is good. It's now strictly a four-seater, with Audi removing the middle seat altogether, and legroom is good upfront and in the rear. All models benefit from a heat-insulating windscreen, while privacy glass is the reserve of the Performance model.
The boot, meanwhile, measures 535-litres, which is more-than reasonable in this class. It edges out the Mercedes, and it's way bigger than the BMW. It can be extended to 1,390-litres by folding down the back seats, too.
Price:
Audi – £87,600 – £94,200
Verdict Of Our 2017 Mercedes-Benz CLS AMG Coupe Review
There was always a worry that Mercedes would get carried away with their saloon-come-coupe and forget the Saloon bit. Especially when you consider that its 5.5-litre V8 engine does 0-62 in 4.3 seconds and develops 518bhp.
So that's the Coupe extravaganza all sorted.
However, with a boot nudging 600-litres, a ride quality to match a limo, five seats and debonair looks, the Mercedes-Benz CLS AMG Coupe has the Saloon bit sorted, too. Wonderful.
When you lease a car with OSV there are no hidden costs, request a call back and we'll find you a finance, lease or purchasing deal designed just for you.