Overview Of The BMW 5 Series
The BMW 5 Series is King of all it surveys. From atop the executive car castle, it might be feeling a little bit worried, though. Pretenders to its throne have strengthened and gathered at the gates to compete, so the 5 Series has had to up its game in a bid to stay on top. The question is, has it done enough to fight off the likes of the Mercedes-Benz E-Class and Audi A6? Has BMW managed to build yet another fantastic saloon?
How does the BMW 5 series perform?
The biggest changes to be found with the 2017 BMW 5 Series won't be under the bonnet. BMW has an established range of engines encompassing petrol, diesel, and hybrid power, and though there are some minor tweaks, the most popular lump will almost certainly remain as the '520d'. This 190PS four-cylinder turbo diesel unit can get the 5 Series to 62mph in 7.5-seconds, but it also returns strong efficiency figures of up to 68.9mpg.
Mated to the eight-speed automatic gearbox, the 520d is one of the most accomplished diesel powertrains on the market, but if you really want to treat yourself, then BMW has a superb six-cylinder unit with various levels of power available, too. The 265PS '530d' is as smooth as diesel engines come, and thanks to the new and improved insulation, it's as quiet as it is fast, and that means it feels very luxurious indeed.
For those living in rougher climates, BMW offers its 'xDrive' all-wheel drive system, which should make you feel safer when the going gets rough. However, it also makes the car slightly quicker to accelerate. This can be combined with a fancy four-wheel steering system for extra dynamic response, but this is already a fine handling car – in keeping with BMW saloon DNA.
There will be a choice of suspensions, but unlike its rivals, there's no air-suspension offered. An expensive option with the likes of Mercedes-Benz, BMW believes its sprung suspensions can offer a perfectly good ride without the need for a fancy air-based alternative. BMW is right, because the ride in the new 5 Series is exceptional, and with the optional adaptive dampers, it's also flexible. Soft and supple in the more comfort-orientated modes, yet firming up to give athletic performance in sport mode. Most importantly, though – it's never uncomfortable or tiresome.
BMW 5 series interior, design & build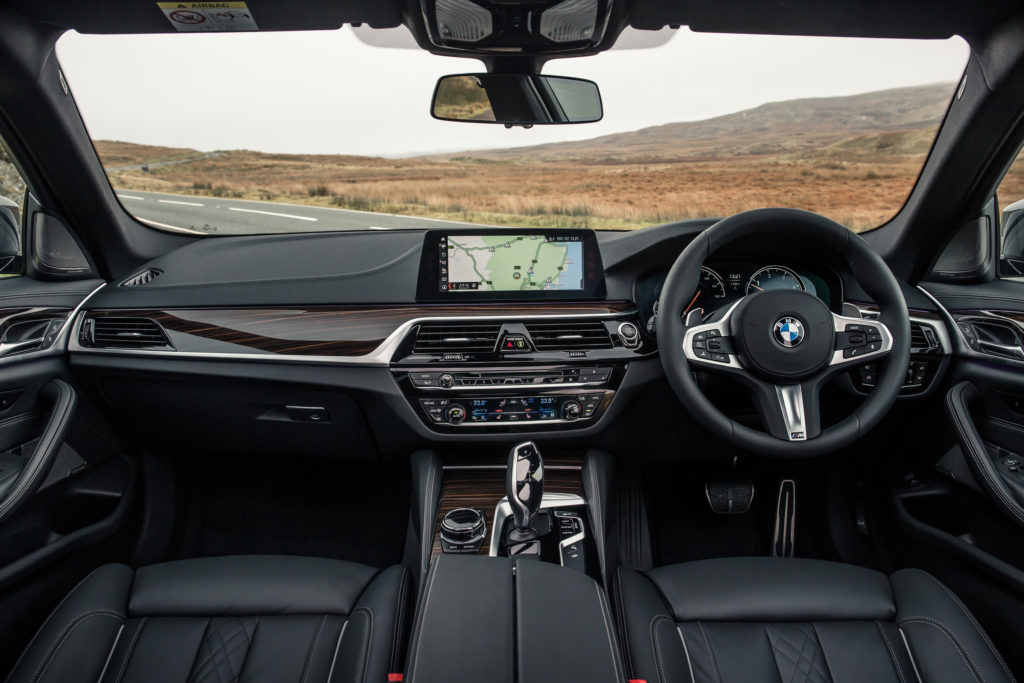 This is such a hugely important area for executive saloons. The 2017 BMW 5 Series hasn't undergone any drastic styling changes but it now looks smarter and tidier than the outgoing generation. It also looks a little bit more like its bigger brother, the ultra-luxurious 7 Series. It's no bad thing that the changes have been restrained, it just looks as if the 2017 BMW 5 Series has gone to a personal shopper and come out with a snazzy new outfit now. It could perhaps be perceived as conservative and unambitious by BMW, but the company has tried to make bolder shapes before and it just hasn't worked. Looking like a smaller 7 Series is no bad thing at all.
Inside is visually very like the outgoing 5 Series. Anyone who's owned or driven a recent BMW will recognise the layout and positioning of the controls, but there's now an extra focus on quality. While the last generation of 5 Series had a perfectly good interior, it had fallen behind the Mercedes-Benz E-Class in terms of style and overall finish – it simply didn't feel as special. From a design point of view, some may still feel that's the case, but at least now the quality is bang on par with its compatriot's offerings.
Overall build quality feels better than ever, the 2017 BMW 5 Series is beautifully finished and the Bavarian marque has really stepped up in delivering the premium, classy feel the last 5 Series was starting to lose a little. We challenge anyone to feel disappointed with the overall finish of this new car.
The BMW 5 Series specification
Executive saloons, like the BMW 5 Series, are always loaded with fancy toys and gadgets to make your life easier – and BMW has gone all-out for this new generation of the 5.
Of course, the iDrive system is back and upgraded for the next generation and now features a touchscreen to go along with the rotary controls it had before – the menu screen can now be customised, too. Navigation is standard and we'd recommend going for the larger professional system with the better screen that's just over 10-inches in size. If you enjoy a bit of a tech gimmick, the 2017 5 Series also comes with gesture control, but it's easier to just press a button most of the time.
Technology has moved on now to the point where semi-autonomous technologies are being filtered into new cars. This new generation of 5 Series is capable of accelerating, braking, and steering around objects – perfect for long-distance motorway driving. It can also park itself without you even being in the vehicle – a system that uses BMW's new key to operate. The technology is seriously impressive, but you must learn to trust it.
Out in the boot there's 530-litres of load space available, perfect for some golf bags or a very large trip to the shopping centre, though it's a little awkward to load comfortably because of the shape.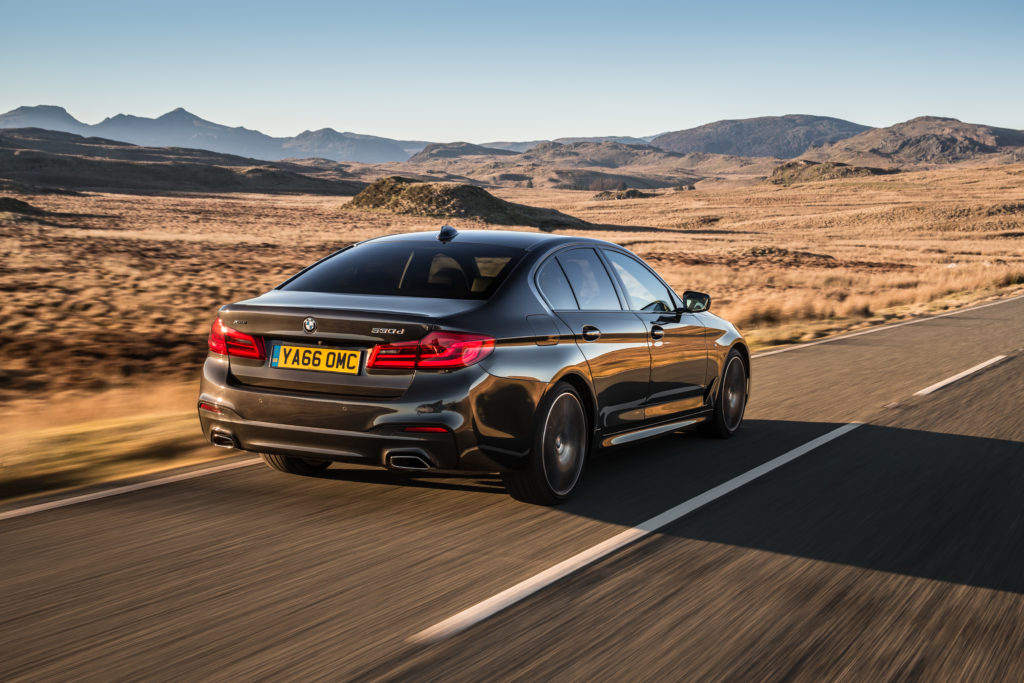 2017 BMW 5 Series: Cost, Pricing, and Leasing Rates
You'll need at least £36,000 to get yourself into a 2017 5 Series, and this can shoot up to over £50,000 if you go for the high-spec, large engined models. For many, though, the frugal and accomplished '520d SE' will be the one to have – especially with business customers. If your annual business mileage is low (under 10k) then it's possible to find a 2017 BMW 520d for under £250 a month with around six to nine months of deposit.
Personal use customers will find it enormously difficult to get a deal as good as that, with monthly payments coming out at around £100 a month more than the business customers deal. Simply put, if you are a personal-use customer you'll need to put down a much larger deposit to secure a lower monthly payment.
Pros and Cons Of The 2017 BMW 5 Series
Great diesel engines
We think the 2017 BMW 5 Series probably has the best diesel engines on offer in this segment. They are already established as very efficient, strong performing units and even the very powerful 265PS '530d' can still return over 50mpg.
Great to drive – at any speed
Whether you're cruising down a long motorway or blasting through some twisty roads, you'll be delighted with how the 2017 BMW 5 Series performs. It's always comfortable, no matter which mode you choose, but the flexibility in set-ups for the engine, suspension, and gearbox makes it a fantastic all-rounder.
Extensive technology
If you're the type of driver who loves the latest technology and gadgets, you'll be delighted with what the all-new 5-series has on offer.
Extensive technology comes at a price
It's a BMW, so the options list is quite expensive. In its most basic form, the 2017 5 Series is far from under-equipped but you'll need to fork out plenty of extra cash to get the full toy box.
Uninspiring overall design
While some people will undoubtedly love the design of the new generation of 5 Series – especially existing BMW customers – it is a bit of a missed opportunity to drop some jaws. We can't help but feel the fresh car is missing something design-wise, and the interior – though a big improvement in quality – is a a copy/paste job from the last car.
No hybrid power on launch
It's on the way, but there are no hybrid engines available from launch. This hands an advantage to both Lexus and Mercedes-Benz, who already offer hybrid units for customers seeking something extra-economical.
2017 BMW 5 Series vs Mercedes-Benz E-Class vs Audi A6
All-new BMW 5-series vs Mercedes-Benz E-Class
The Mercedes-Benz E-Class is a fabulous executive saloon that has one key advantage over the 2017 BMW 5 Series – it feels more special. This is quite possibly the only ace the Merc now holds over its Bavarian rival, as the 2017 5 Series possesses better engines and a better driving experience if you like to go fast.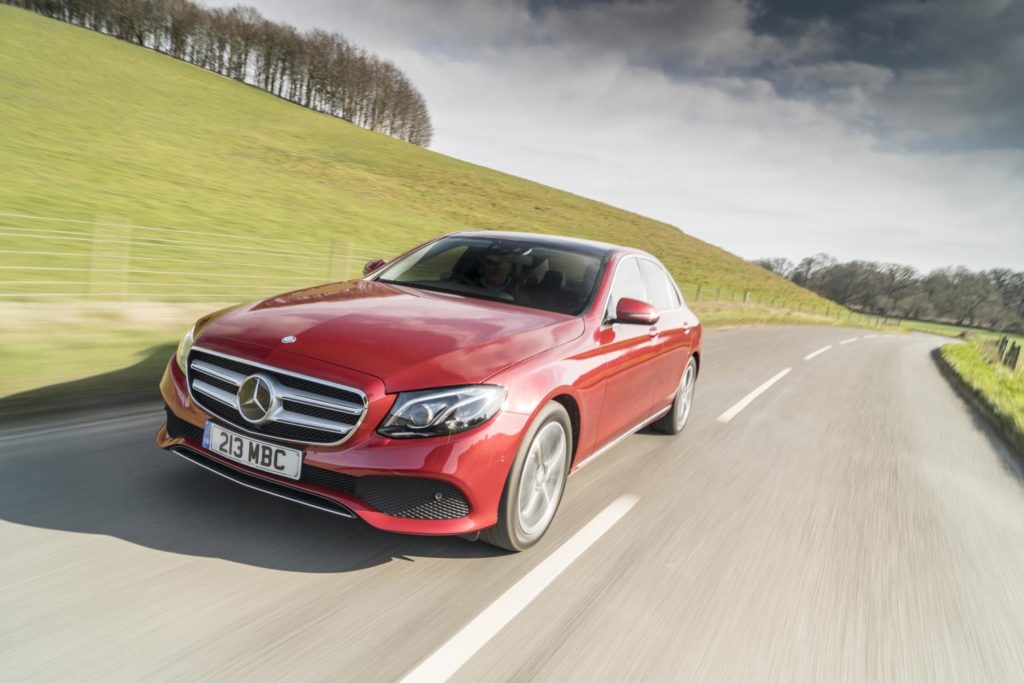 So, why does the E-Class feel more special? The key is in the interior design. It is modern, stylish, comforting, and beautiful. While the 2017 BMW 5 Series has a fantastic interior, it doesn't make you feel as superior as the Mercedes E-Class does –  and let's not forget, we spend a lot of time inside our cars. On the optional air suspension and with a large diesel engine, the E-Class feels like a car you could quite happily drive across Europe in and get out on the other side feeling just as fresh as when you started.
There's a huge difference in behaviour between these cars on the road. Whilst the 2017 5 Series is a brilliant all-rounder, the E-Class struggles to perform in a fun and engaging way. It's more suited to cruising along in comfort than it is attacking a B-road. This will not bother the many drivers who do exactly that and don't have a desire to drive fast from time-to-time, but it also underlines just how well set up the 2017 5 Series really is.
Prices
2017 BMW 5 Series – £36,025 to £52,260
Mercedes-Benz E-Class – £37,020 to £103,440
2017 BMW 5 Series vs Audi A6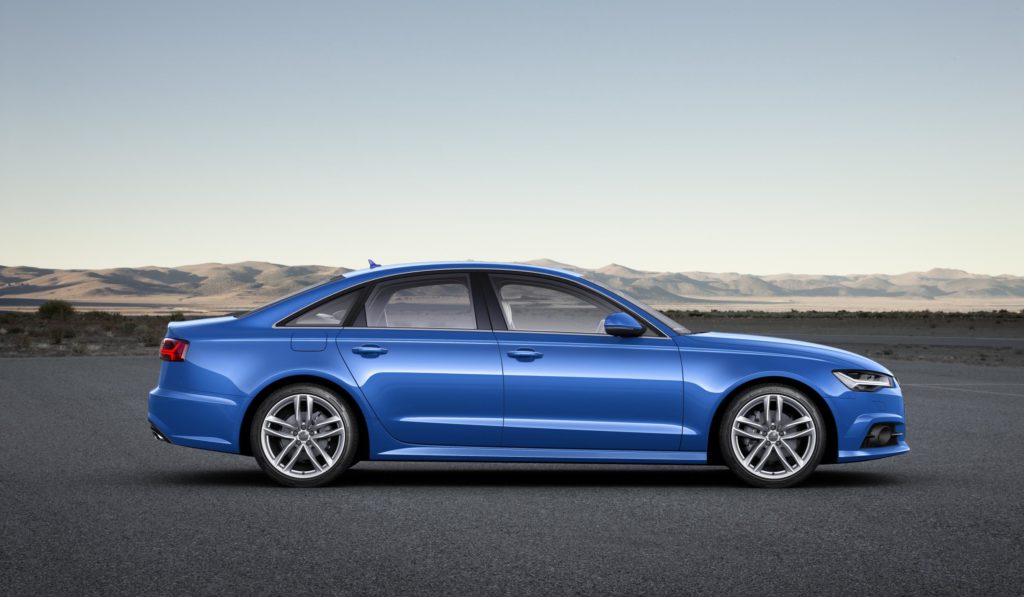 We could have chosen a couple of cars to fill the last place in this comparison test – cars like the Jaguar XF, Maserati Ghibli or Lexus GS. We selected the Audi A6, not only because, in terms of volume sales, it will prove to be the biggest rival to the 5 Series and the E-Class, but because it represents an interesting middle-ground in terms of the driving experience.
While the 2017 BMW 5 Series is the sportiest and most exciting executive saloon, the Mercedes-Benz E-Class is the most special and best to cruise around in. So, that might leave you wanting something in the middle – that car is the Audi A6.
It has a selection of diesel engines that can go toe-to-toe with BMW's offerings – the 3.0-litre six-cylinder turbo diesel is a peach – and you can have the famous 'Quattro' all-wheel drive system, so you're not going to be lacking performance. It isn't quite as sharp or as fun as the 2017 BMW 5 Series, but it's certainly not far off.
As a soft, relaxing cruiser it is seriously good. Ride comfort is fantastic and it's boosted by the plush Audi interior. They are amongst the best on the market, especially with the more simplistic design, though we're still not sure it delivers a sense of occasion quite like the Mercedes-Benz E-Class.
Prices
2017 BMW 5 Series – £36,025 to £52,260
Audi A6 – £36,880 to £57,400
Verdict of the 2017 BMW 5 Series
With this latest generation 5 Series, BMW has really cemented its place as the King of the executive saloons, fighting off the noticeably resurgent models from Mercedes-Benz, Audi, and Jaguar. It could be argued that it's a bit of a safe choice for buyers, with strong performing and more quirky rivals out there from Lexus and Maserati, but it makes plenty of sense to remain behind the wheel of the Bavarian monarch. While the type of executive car that's good for you may depend on how you personally like to drive, there's no doubting that the 2017 BMW 5 Series is the most capable car in the segment.
Interested?
You could be driving away with your new car in no time. Fill in your details below and one of our vehicle experts will be in touch within 48 hours to talk you through the leasing process.

Latest posts by Rachel Richardson
(see all)