Overview Of The Ford Focus ST-Line
It's common knowledge that the Ford Focus is a great car to drive. Sharp handling and great driver feedback make for a fun experience behind the wheel – at 'ST' level, it's an absolute riot. The problem is, not everybody wants to drive fast and use up lots of fuel, and not everyone wants a firm suspension. Ford has recognised this, and as a result, is now offering the 'ST-Line' trim level, so your car can look like an ST, but drink fuel slowly, and with small sips.
How does the Ford Focus ST-Line perform?
The Ford Focus ST-Line is available with three different engine options, but you won't find anything that's particularly high-performance here. The aim of the ST-Line is to offer sporty looks with lower cost. Two petrol engines can be chosen with power outputs of 125 or 150PS, and both are 'Ecoboost' units, which are excitable, engaging, and eager to drive. The smaller 1.0-litre Ecoboost petrol engine is a lot of fun, but the 25 extra PS that the 1.5-litre Ecoboost provides is just enough to have a bit more fun with. There's also a 1.5-litre diesel engine that puts out 120PS if you have to cover more miles, or just prefer diesel power. For us, though, the best units are those chirpy little petrols, they're just so much fun to use.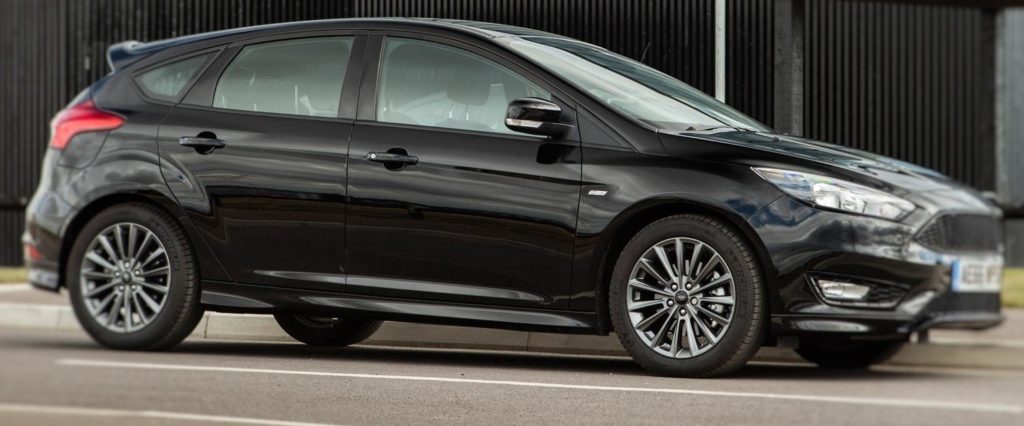 All the engines can be specified with either a manual gearbox or an automatic transmission, but we'd go for the former because, while the automatic gearbox is a bit disappointing, the manual gearbox is great fun to use. Ford tends to make excellent manual 'boxes, and this is another one for the scrapbook.
Being a sensible hatchback in a hot-hatch body, the Focus ST-Line doesn't have the same firm suspension as the spicier 'ST', but it does sit a little lower than a standard Focus. The benefit of that is you get that sporty look but without the harsher ride quality, and the Focus is already a fine handling car, so it feels like a good setup for the power that this car has.
Ford Focus ST-Line interior, design & build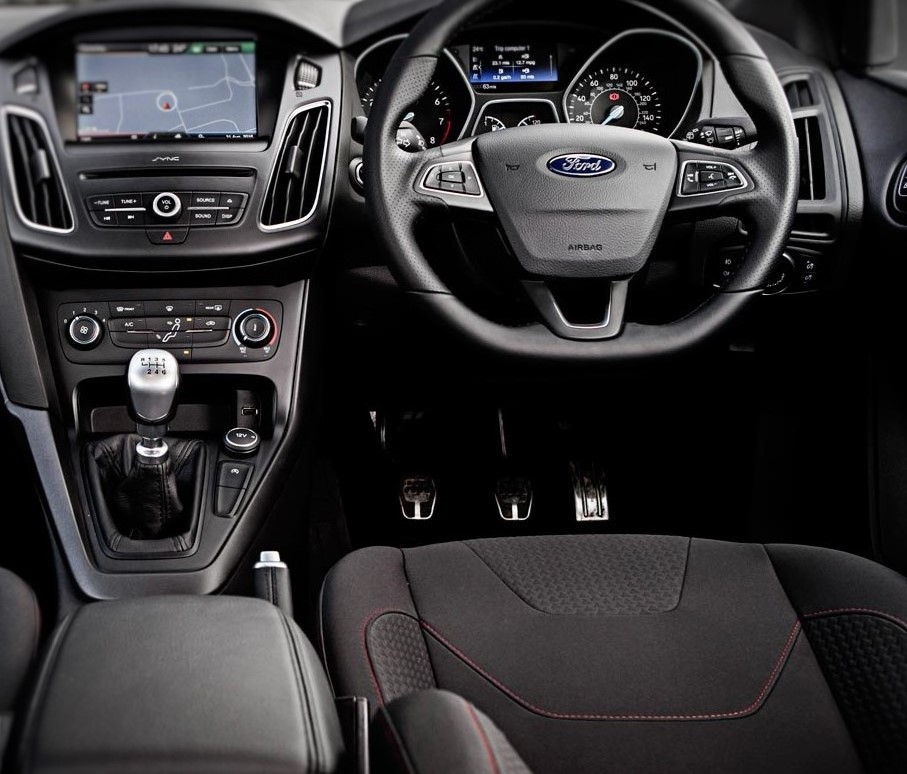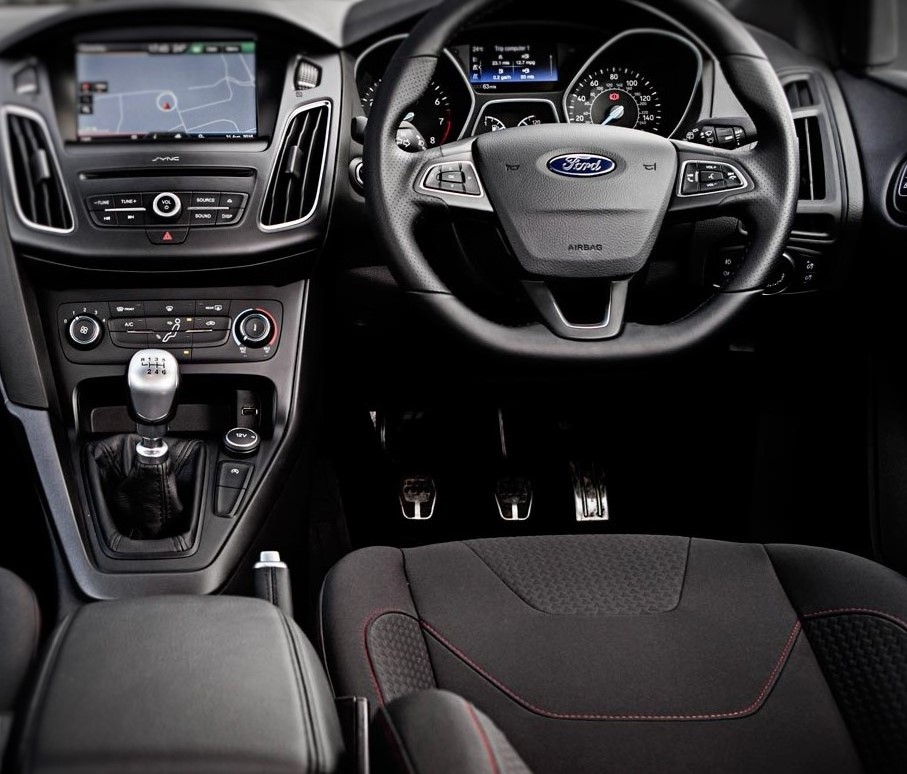 Now, just because the Ford Focus ST-Line promises to look sporty, it doesn't mean it's brash and in-your-face. The body kit which makes the car look ever so slightly more aggressive is quite subtle and, instead of making the car look sporty, it makes it look smarter and crisper. You might notice there's some nice smaller touches, like the little 'ST-Line' badges near to the wing mirrors on the side of the car, and the tasteful rear boot mounted spoiler. There are the more obvious exterior touches, too, like the dark metallic finished alloy-wheels that mimic the colour of the wheels on the full-fat ST.
The ST-Line touches continue inside, too; you climb into the car over special ST-Line branded door sills, and sit in comfortable red-trimmed sport seats. The main controls you use to operate the car are all ST-Line additions too. You've got smart alloy pedals, a sportier 3-spoke steering wheel, and a manual gear knob taken straight from the ST models.
If we're being honest, we'd like the interior of the Ford Focus to be a little bit brighter, as there are a lot of dark plastic across the dash, but we like the subtle additions that the ST-Line trim adds to the car, it certainly makes it more special, it just needs lightening up a little.
The Ford Focus ST-Line specification
Equipment levels aren't all that impressive, there are no parking sensors or electric rear windows – normally standard on many production cars in this day and age; and little luxury items you'd expect in a car that costs over £20,000 are missing – cruise control for example. You can't even get automatic wipers and headlights or heated seats and a heated steering wheel – all gadgets the full-strength ST does have.
Most buyers will want to spend an extra £300 to upgrade the infotainment system to the latest 'SYNC3' system, which is a big improvement on the SYNC2 and can make the car feel newer for not much more money.
In the boot, you have 316-litres of space, which is decent enough for a hatchback of this size, but not exactly world-beating. With the rear seats folded down you can squeeze a lot more in though, up to 1,216-litres worth.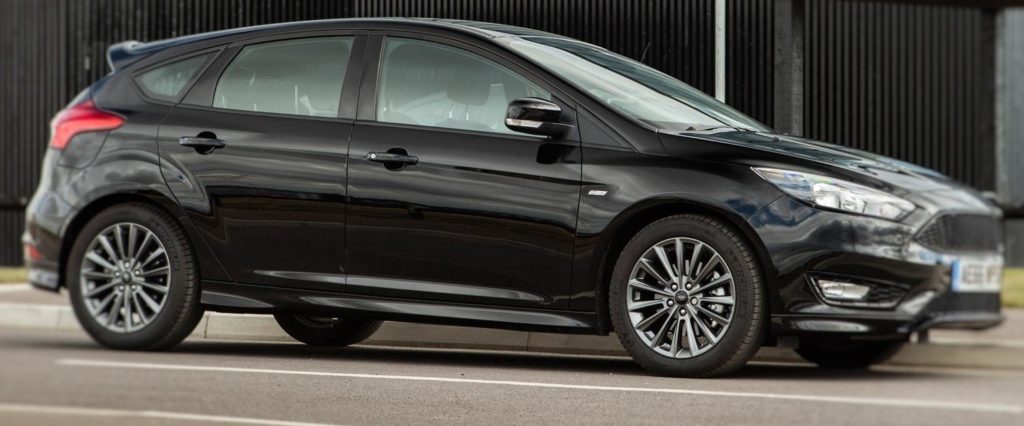 Ford Focus ST-Line: Cost, Pricing, and Leasing Rates
The Ford Focus ST-Line starts from £21,145 for the 1.0-litre Ecoboost hatchback and can reach up to a few quid over £24,000 if you specify the 1.5-litre Ecoboost with an automatic 'box and the larger estate-style body.
We managed to find some very good looking lease deals out there for business customers, with lots of 1.5-litre Ecoboost models available for under £150 a month and nine months of deposit upfront. Those deals are for low annual mileages, but that suits a nippy little petrol engine down to the ground.
For personal use customers, there are also some good deals to be had, with our Ford Focus ST-Line 1.5-litre Ecoboost hatchback available for around £190 with six months of advance deposit. Again, low annual mileages, but a good deal, nonetheless.
Want a great deal on a Ford Focus ST-Line?
Whether you're looking to buy, lease or finance your new car, we can help. Fill in your details below and one of our vehicle experts will be in touch within one working day.
Pros and Cons Of The Ford Focus ST-Line
The looks
There's a lot to like about the design of the Focus ST-Line, and all ST-Line models for that matter. They are athletic-ish looking but not overly aggressive, meaning they end up appearing more like a well-dressed Focus than an out-and-out hot hatchback.
The petrol engines
The 1.0-litre Ecoboost engine is a multi-award winning engine that puts out a very impressive 125PS for its size. We prefer the extra punch the 1.5-litre 150PS unit gives out, as it suits the Focus a bit better and makes it feel a little brighter – but it's a safe bet you'll be happy with either engine.
Great to drive
Just because this isn't a full-blooded hot hatch, it doesn't mean that it can't be fun to drive. The steering, body control, pedal feel, manual gearbox and overall responsiveness of the car to your inputs make this an enjoyable motor to drive fast or slow.
Poorly equipped
Ford could do better and make this car much better value by throwing in some equipment that we think it's fair to expect. Cruise control, rear electric windows, and parking sensors are bread and butter for most car manufacturers. It's rather odd Ford has left them out.
Dark interior
The extra ST-Line goodies inside the Focus are much appreciated, but we're surprised that Ford didn't take this as an opportunity to add some colour to the interior space. It's a fun car, so it deserves a brighter interior ambience.
Automatic gearbox not the best
The automatic gearbox is a little slow and clumsy, and it's also totally out performed by the excellent six-speed manual gearbox. For that reason, unless you absolutely have to, we'd recommend saving some cash and sticking with the manual. It's more engaging and you'll have more fun, as well as saving over £1,000.
Ford Focus ST-Line vs Peugeot 308 GT-Line vs Audi A3 S-Line
This might become a common scene in car parks across Great Britain soon. A sport-trim showdown between three companies, each with their own sporty trim levels. This ST/GT/S-Line-off is an intriguing battle, and Ford, Peugeot, and Audi all offering this trim level on other models – Fiesta, Kuga, and Mondeo for example with Ford – then there could be extra fights breaking out, too. Let's see who the likely winner is going to be.
Ford Focus ST-Line vs Peugeot 308 GT-Line
We need to get something off our chest right away here – the Peugeot 308 GT-Line is the least enjoyable car to drive in this comparison test. However, that doesn't mean you should rule it out completely, as we're about to explain.
One of the criticisms we've levelled at the Ford Focus ST-Line is it poor equipment levels and dark, slightly gloomy interior design. The Peugeot 308 GT-Line is the remedy to that, featuring a strong line-up of equipment that includes LED headlights, satellite navigation, automatic wipers, and a rear facing camera for reversing. The interior space is also a much better design than that of the Focus, and the 308 GT-Line also gets upgraded seating, but with Alcantara and leather, again a step up from the Focus. It is slightly more expensive than the Ford, but we think the extra equipment and luxury is worth it.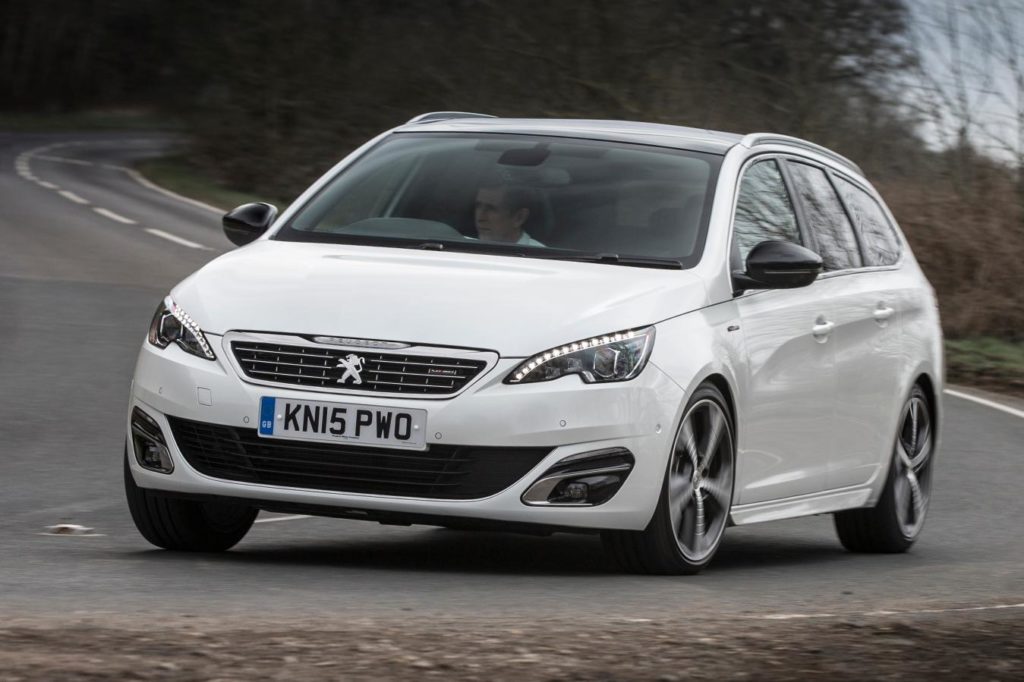 So, while we know which car we'd like to take for a spirited drive, we're less certain about which car we'd like to live with long term. The 308 GT-Line is a more expensive feeling product, even if the prices are quite similar. The seating position can be a bit difficult for taller drivers in the 308, with Peugeot's deliberate philosophy in mounting the dials and steering wheel lower to the legs of the driver just proving to be awkward for people with long legs.
It's going to be up to a lot of people, individually, what they prefer between these two, because the price point of these cars is similar, and some might see strengths, where others see weakness. The Peugeot 308's ability to make you feel a little bit more special is surely a blow the Ford Focus ST-Line will struggle to recover from, though.
Prices
Ford Focus ST-Line – £21,145 to £24,125
Peugeot 308 GT-Line – £22,825 to £25,875
Ford Focus ST-Line vs Audi A3 S-Line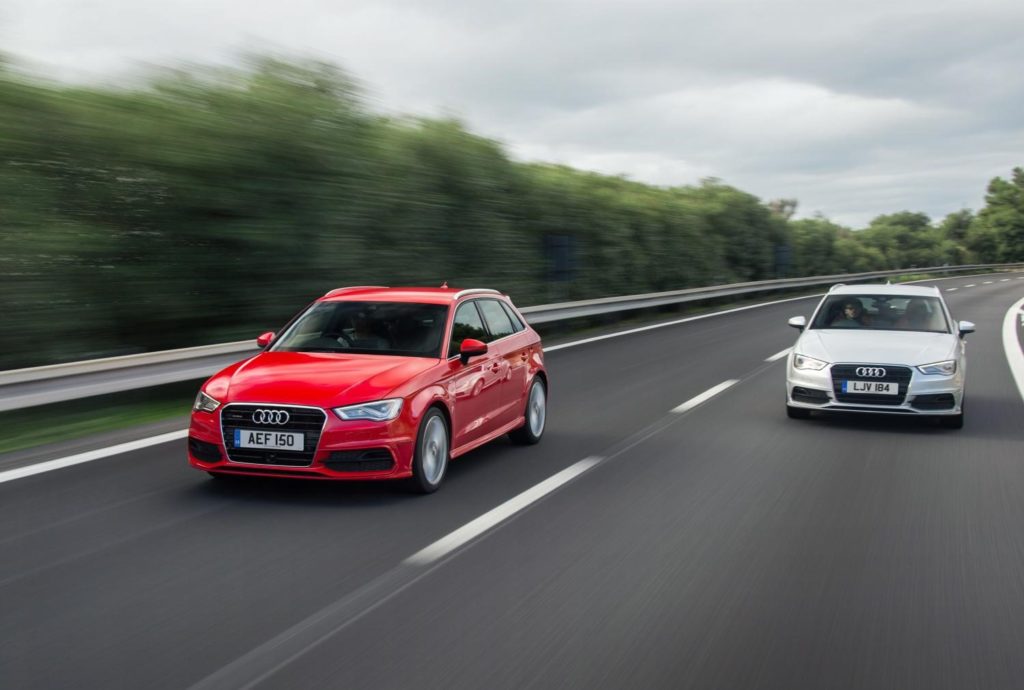 If you've got more money to play with, you may want to consider the Audi A3 S-Line as a strong alternative to the Focus ST-Line. You will, without a doubt, get a superior product, and a more luxurious car, but that jump to the next level will be costly.
Perhaps that jump won't be too much for you, and if so you'll find you've got access to the best automatic gearbox and best diesel engine available in this test. The 2.0-litre TDI diesel produces 184PS and can be teamed with the S-Tronic automatic, a very smooth gearbox indeed. This combination will be starting to approach £32,000 in list price, though.
Justifying that kind of price hike is difficult of course, but you don't have to choose that fine diesel unit, there are similar engines to what you find in the Focus ST-Line available for around £26,000, but it's the optional extras list where most buyers will get hit. Audi options are famously expensive and, as a rule, its cars are made to be optioned-up, allowing for better customisation – and profit.
Ultimately, the Audi A3 is a luxury product and one of the cushiest small hatchbacks on the market. Is it the best car of the three here? Yes, absolutely. It is just as much fun as the Focus to drive, but with twice the level of refinement and overall quality. However, unless you truly have the budget, it may not even be an option for you.
Prices
Ford Focus ST-Line – £21,145 to £24,125
Audi A3 S-Line – £25,675 to £36,925
Verdict of the Ford Focus ST-Line
Each 'line' we have competing in this comparison test offers something different and for that reason it's difficult to point at one and say "that's the best". If you want to make it that simple, we could just point right at the Audi A3, but this car is almost in a different league, and is certainly targeting more affluent buyers.
Peugeot has been very clever in making its 308 GT-Line just that little bit more special than Ford's ST-Line. The extra equipment and plush interior make the Focus ST-Line look a bit sparse, honestly. That said; it doesn't drive as well as the Focus, so the choice here is about what sort of driver you are. More relaxed? Buy the Peugeot – the toys and interior space will bring you more joy in the long run. More aggressive? Buy the Ford – its exciting handling and driver feedback is brilliant, and it is a genuinely fun car to drive.
Want help finding your perfect car?
Our team of experts are here to help! Based on your budget and lifestyle we can shortlist the perfect car for you. Fill in your details below and one of our vehicle specialists will be in touch within one working day.

Latest posts by Rachel Richardson
(see all)