Overview Of The Kia Optima
Go back 20 years or so, and the Kia stable looked much different to how it does today. Uninspiring, low-tech, poorly made machines seduced nobody in the car market, but everything's different now. The new Kia Optima PHEV shows how far Kia has moved on. A stylish, modern saloon rammed with all the gadgets you need and utilising a powertrain that is famously difficult to configure. It's very much the face of modern Kia, but is there a place for it on the motoring market?
How does the Kia Optima perform?
The Kia Optima PHEV used a combination of a petrol engine and an electric motor to propel it down the road. The petrol engine is a 2.0-litre four-cylinder unit that works alongside the battery pack to put out a total of 205PS. The petrol unit is good for roughly three-quarters of that figure, but numbers don't really explain how the hybrid feels and behaves.
The engine and the batteries work together side-by-side to provide a smooth experience from behind the wheel. The driving characteristic of the Optima is far more like a BMW hybrid than a Toyota Prius hybrid, as in it is a slicker overall experience from behind the wheel. This is aided by Kia's snubbing of the CVT automatic transmissions in favour of a 'normal' six-speed automatic box. This eliminates the whiny, droning 'qualities' of the CVT, and makes the Optima PHEV feel far more like a regular saloon car.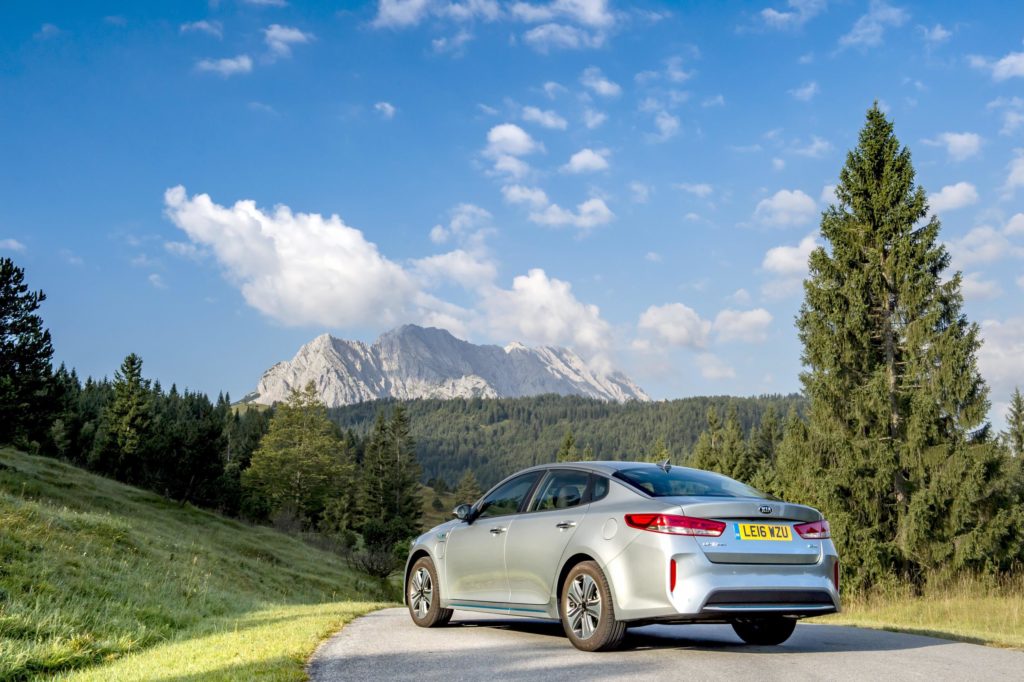 While it may feel like a typical saloon, it is a disappointingly numb car to drive. This isn't exclusive to the Kia Optima, though, as it is a trait that many hybrids possess. The lack of steering feel and general involvement with the car, feeling what it feels, sensing the road in corners, these sorts of things are sacrificed for a relaxing ride and improved fuel economy in hybrids.
Speaking of economy, the figures are exciting – 37g/km of CO2 means free road tax (for now), and Kia says the Optima PHEV is also capable of 176mpg. This, of course, is a dream for the likes of you and me. 176mpg was scored in a laboratory using the 33miles of the pure-electric range that the batteries provide. If you can hit 70mpg in the real world, we think you'll be doing rather well.
Kia Optima interior, design & build
Kia has done a top job with the exterior design of the Optima, and we think the South Korean brand should be praised for making a hybrid that doesn't shout "I'm a hybrid" at every passer-by. Whereas the Toyota Prius has become a bit of a symbol for green-thinking celebrities, the Kia Optima PHEV looks like a normal Kia Optima, give or take some subtle hints in the form of blue lines along the front and flanks. It's almost as if Kia deliberately wants its hybrid to blend in with the crowd, and take some of the attention away from the hybrid technology – which can come in for some stick.
There's little change to the design of the interior either; it possesses a smart saloon cabin space that's typically Kia in expression. By that, we mean it has the well-finished, but dark interior with quality materials used throughout. It's well capable of taking the fight in finish towards the German saloons, though it does fall short of Audi's incredibly high standards.
We've no concerns over the build of the Optima PHEV. Like all modern Kias it feels extremely well made and any doubts newcomers to the brand may have will be assisted by being able to fall back upon that huge seven-year 100,000- mile warranty that the brand offers.
The Kia Optima specification
Known for its generous offerings of gadgets and toys, Kia hasn't held back when equipping the Optima PHEV. There are no trim levels either, so if you're buying this model, then there isn't really much flexibility in choosing what you want – there aren't even any paint colours on offer. You can have the Kia Optima in any colour you want, as long as it's black, white, or some form of silver.
You get an eight-inch touchscreen infotainment system with navigation, a wireless phone charger, heated and electrically adjustable front seats, climate control, a heated steering wheel, and parking sensors with a useful reversing camera. What you don't get, however, is much in the way of load space.
Only 307-litres of boot space is available and that's small-ish for a large saloon. This is because the batteries that power the electric motor must go somewhere, and they eat into the load space. It gets worse too – the back seats don't fold down.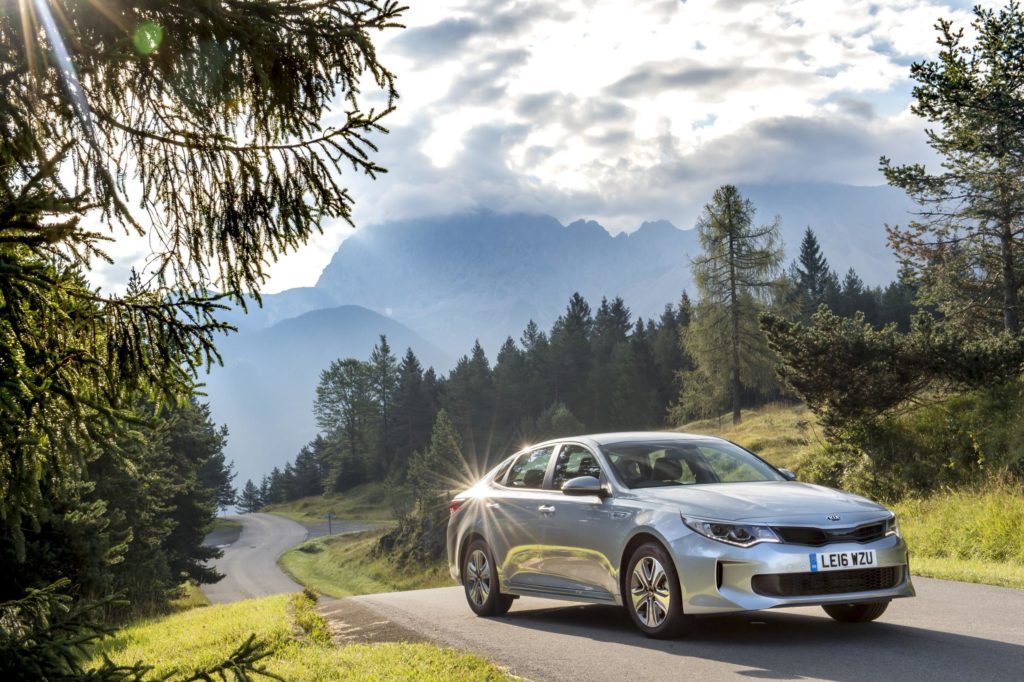 Kia Optima PHEV: Cost, Pricing, and Leasing Rates
The Kia Optima PHEV starts at a fiver under £34,000, which is about right for a hybrid car. The technology is still new and, thus, tends to be quite expensive. There's good news, though, because the government will give you a nice discount of £2,500 when you buy a plug-in car, meaning the actual price of the Optima PHEV is more like £31,500.
A search around the lease market doesn't really strike any bargains. On a personal contract, you'll be needing to put around six months of deposit down for a £350p/m deal. Many more contracts come out at over £400.
Business customers always get a better deal, and that's the case here, as business deals almost identical to the personal deal we sourced came in at around £280 a month.
Pros and Cons Of The Kia Optima PHEV
Unassuming hybrid style
It makes a change that a hybrid car isn't trying to be all "look at me, I'm saving the world". The Optima PHEV doesn't really have bold styling or a futuristic, edgy look, it looks just like a normal Optima, save for the subtle blue trim, and that's good for people who don't want to look like Eco-warriors.
Quality product
Long gone are the days of Kia's disappointing cars. The Kia Optima PHEV feels well put together and the interior space feels classy. Sure, most of the leather inside isn't genuine, but it looks great, feels good, and gives the car an upmarket feel.
The Warranty
Kind of hard to leave this out of the Pros. Kia offers an unbeatable seven-year, 100,000-mile warranty, which gives huge peace of mind if you're buying a car to keep long term. It's a demonstration of the pride and confidence Kia has in its products.
Uninvolving drive
Most hybrid cars don't set pulses going, especially those fitted with a CVT gearbox. So, we were expecting something a little better from the Optima PHEV. The steering is unnaturally light and so you don't ever feel involved with the car, it's also not great in corners. That said, it's a 2.2-ton hybrid, so maybe we're expecting too much.
No choices
We often criticise car manufacturers for offering too many options, and while we must praise Kia for offering strong levels of standard equipment – there are almost no options whatsoever – we must also criticise them for a lack of choice. No options, and not even a choice of a colour for the exterior.
Economy not what is advertised
176.6mpg is what Kia claims is possible in the Optima PHEV. Of course, what's possible in a lab is almost never achievable in real-life conditions. We doubt we could even reach three figures.
Kia Optima PHEV vs Toyota Prius vs Volkswagen Golf GTE
Competition in the plug-in hybrid market isn't exactly immense, as the technology is largely new and relatively expensive. There are options in the form of electric-only alternatives, such as the BMW i3 and Nissan Leaf, but today we're going to focus purely on plug-in hybrid rivals, so we've picked out the Toyota Prius and Volkswagen Golf GTE to compare with our Kia Optima PHEV.
Kia Optima PHEV vs Toyota Prius
The Toyota Prius is the world's most successful ever hybrid and led from the front when it came to popularising hybrid and eco cars. Numerous Hollywood celebrities went out and bought one, and you can kind of sense that there's a little bit of an aura around the Prius now. It's a little arrogant and showy in its styling and it's clearly trying to give people an opinion – even though most people already have one on the Toyota Prius.
Inside the new Prius plug-in is a modern and well laid out interior space, though we're not convinced it offers any extra quality over our Kia Optima PHEV. The Kia has the edge in terms of interior class.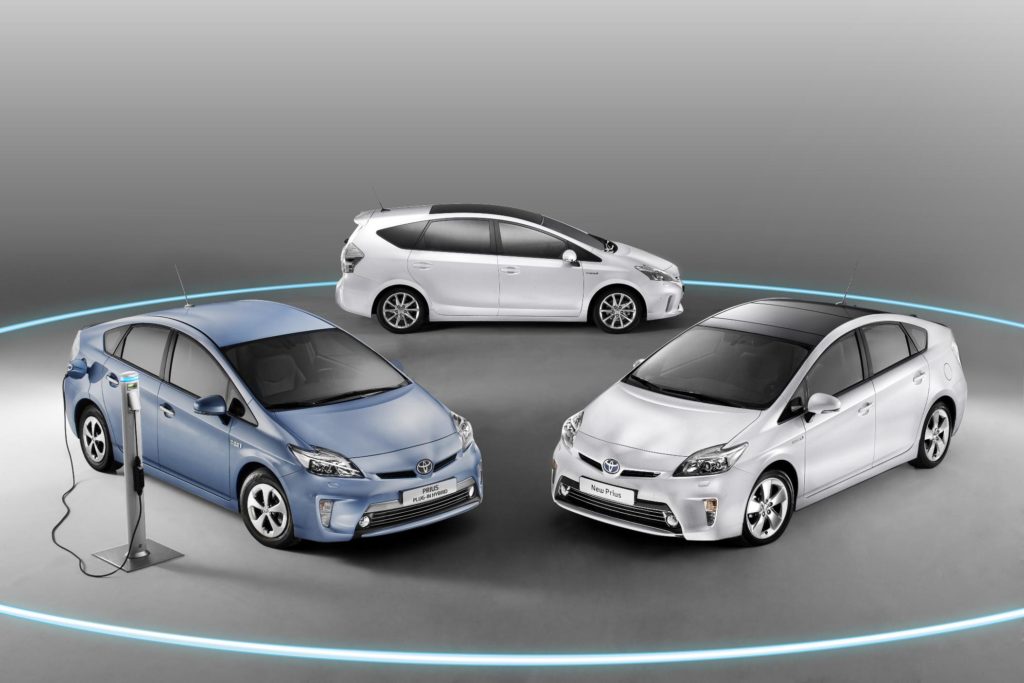 Fuel efficiency claims are equally as ludicrous with the Prius as they are with just about every other hybrid. Toyota says 282mpg is possible with the plug-in Prius, again we say if you managed to see 100mpg+ you've done incredibly well. More interesting is the clash between the Optima PHEV and Prius plug-in on the pure electric range. The Prius can only do a maximum of 30 miles on electric-only power, so it's down 2-3 miles in range on the Optima PHEV.
It does come with more space, though – there are 445-litres of space available and the rear seats fold down to boost that to 1,120-litres, so there's only one winner here if you need to carry larger loads from A to B.
There's very little to choose from in terms of driving enjoyment from these two, with both cars being uninvolving and rather numb to drive, but both delivering well on a comfortable cruiser, which is exactly what they're designed to do. Difficult to separate, but we'd probably take the keys to the Kia if we had both on our drive, as it's just fractionally quicker.
Prices
Kia Optima PHEV – £33,995
Toyota Prius – £33,950
Kia Optima PHEV vs Volkswagen Golf GTE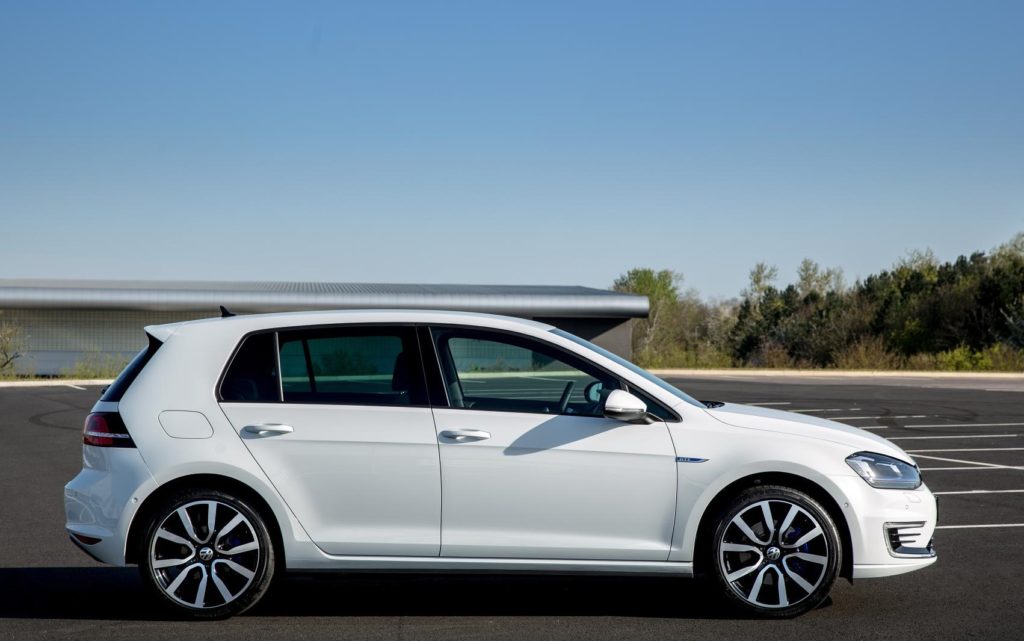 The Volkswagen Golf GTE is VW's plug-in hybrid version of the Volkswagen Golf, and not really anything like the sporty GTI from which it appears to be pinching its name from. It's not very Golf-esque at all really.
Powered by a 1.4-litre petrol engine and some batteries just like our Optima PHEV and the Toyota Prius, the Golf GTE looks like a Golf inside and out but doesn't drive like one. That's because of the batteries. Batteries in hybrid cars weigh a lot, and adding them to any car causes a drastic change in dynamics. So, if you're after for a Golf-like drive, this will probably be quite disappointing for you.
VW claims a potential 166mpg and 32-miles of all-electric range, and we'd expect it to achieve efficiency and range like that of its rivals here. It suffers a little in terms of room, with only 272-litres of load space in the boot, but the rear seats do fold down, meaning it shoots up to 1,162-litres occasionally. Therefore, this VW has the best loading potential of the three cars here.
Though the not-Golf handling is sure to put some people off, it is, in fact, cheaper than both rivals it's up against here today, and it has the most prestigious badge. For some, that's bound to prove a winning combination, though don't expect the same generous specifications as the Kia at entry level.
Prices
Kia Optima PHEV– £33,995
Volkswagen Golf GTE – £30,635 to £35,820.
Verdict of the Kia Optima
It's quite possible that you don't need a plug-in hybrid, but if you live 20-miles from your place of work then it might save you money as you could get to work and back on electric-only power, yet still be able to take long journeys when need be.
It's a happy medium between electric-only power and something like diesel power, which is great for long range trips but less so for short bursts. The problem is, nobody has really managed to make a plug-in hybrid to set pulses going yet, at least not at this price point. If you really want a plug-in hybrid that will impress, a Mercedes-Benz E-Class is the way to go, but be prepared to spend a lot of money.
From these three cars here, we prefer the Kia Optima. It's a subtly designed saloon with a lovely smooth ride and classy interior finish – and its automatic gearbox is much better than ones you find in a Toyota or Lexus. For the time being, it's our favourite plug-in hybrid at this price point.
Interested?
You could be driving away with your new car in no time. Fill in your details below and one of our vehicle experts will be in touch within 48 hours to talk you through the leasing process.

Latest posts by Rachel Richardson
(see all)