Review Of The all-new Skoda Fabia
There was a time when the best thing about a Skoda were the jokes told about them but the Skoda Fabia confirms how seriously we now take this brand. Back in 2000, you could have filled an entire joke book with Skoda one-liners, but all of a sudden, Skoda just isn't funny anymore. This is a good thing, of course, but naturally Skoda have to keep going if they're to stop the jokes coming back. Let's take a closer look at what the Skoda Fabia offers.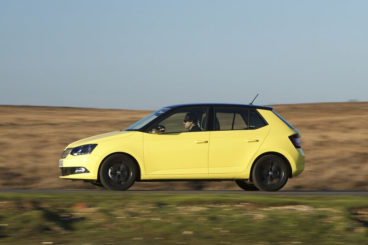 Lightweight
There a number of engines on offer, starting with the base-level three pot 1.2-litre 69bhp variant. Most consumers, though, will go for the four pot 1.4-litre 85bhp unit, which helps the Skoda Fabia to weigh in at 1134kg, somewhat different to Skoda's claimed weight of 1060kg. Hmm. Still, this is the lightest in the range, and it's lighter than the Skoda Fabia of 2000. This is helped by a lightweight structure. The engine itself at first seems to lack poke, but peak power comes earlier than most of the Skoda Fabia's rivals, and it can get to 60mph from rest in just 11.5 seconds. Again, there is a disparity here with what Skoda claim it can achieve – Skoda claim it's slower! Hmm again. There is also the option of a range topping Skoda Fabia 1.6 tdi.
The steering isn't perhaps as eager as its rivals, but it still feels good, whilst the standard five-speed transmission is accurate and easy to operate. A DSG automatic gearbox is available on some models in the range. If you take the Skoda Fabia estate out on the motorway, you'll be happy to hear little to no road or wind noise, whilst grip and handling are admirable and pretty effective.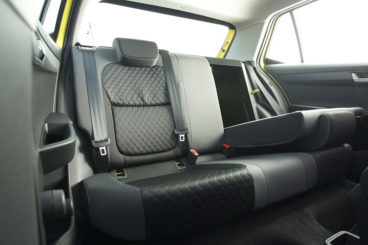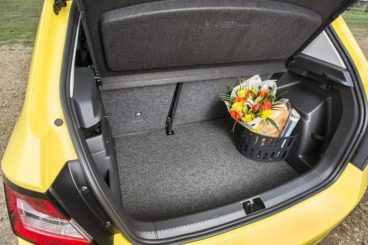 Inoffensive Looks
In terms of exterior looks, there are cues here from the original Fabia, as well as the Suzuki Swift, with its overall look fairly conventional. The Skoda Fabia dimensions are different though; it's taller, longer and narrower, but – strangely enough – it actually feels smaller. Visual sleight of hand? Perhaps, because inside, this car is more spacious than last time around. The design and engineering team have certainly done a good job here. Owing to 47mm more height, the obvious benefit is increased headroom, with passengers in the rear benefiting the most.
Indeed, five adults can be squeezed into the back, but we'd argue that whilst four will be comfortable, five will feel a bit cramped. The boot offers 40-litres more space than last time around, with 300-litres now on offer, making it top of the class. The boot comes with shopping bag hooks, as well as a parcel shelf and a basket. Step inside the cabin and you'll feel an air of familiarity if you've ever driven a Skoda Roomster. Everything is user friendly, with the overall design inoffensive, whilst aluminium touches pervade here and there.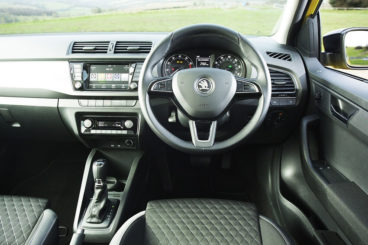 Facts and Figures
Skoda Fabia deals start out from around £9,380, whilst you'll be able to get hold of a used Skoda Fabia for a little less. Standard equipment across the range includes Bluetooth connectivity, six airbags, height adjustable steering wheel, electronic stability control and tyre pressure monitoring equipment. If you opt for one of the SE models, you'll also be treated to Arkamys surround sound with six speakers, a leather wrapped steering wheel, manual air conditioning and a Matrix Dot trip computer. And because this is a Skoda, running costs for the Skoda Fabia are overall good, averaging 53mpg. Emissions are also superb, with the 1.2 RDI CR Greenline II 5dr variant emitting just 88g/km of CO2.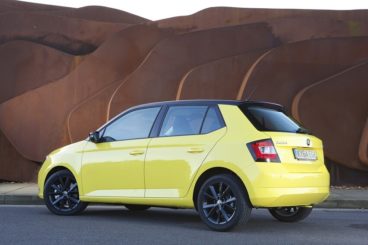 Final Thoughts
The problem that the new Skoda Fabia has is that the original Fabia was the car that stopped Skoda being the butt of jokes. That was the moment we started taking Skoda seriously, and it represented a huge watershed moment for the brand. So how do you top that? Unfortunately, Skoda haven't come up with the answer yet. But that's not a massive problem, because the Skoda Fabia continues the line that Skoda are now a serious brand that produces seriously good cars. This one has a lovely interior and offers up all the usual Skoda cues: Class-leading space, efficiency, affordability, reliability, durability and practicality.
If you want to get hold of the new Skoda Fabia don't hesitate to leave us a message on our contact page, or give us a call on 01903 538835 to find out more about our Skoda lease deals.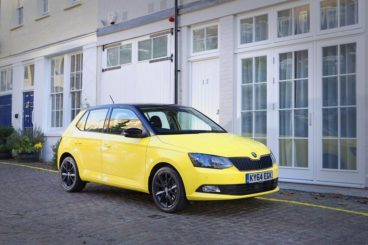 Latest posts by Will Titterington
(see all)