Review of the Subaru Impreza Hatchback
The Subaru Impreza Hatchback is a solid choice if you need a grippy four-wheel-drive, a comfortable ride and a dependable if conservatively styled family car.
Looking and feeling very different from the Impreza saloon that captured imaginations on rally tracks in the late nineties, the new variant is an entirely separate proposition. It's lost all its sex appeal, doesn't feel exciting to drive – but has retained its high running costs.
OSV takes a closer look at what it's all about with our 2017 Subaru Impreza Hatchback review.
Don't go into your test drive thinking this will drive the same way it did on those old racing car games. The 2017 model has nothing in common with its bad boy image of the nineties – it's like a rock star who's sobered up and donned an ill-fitting brown suit.
There is only one engine to choose from, a lifeless 1.6-litre petrol unit that does without turbochargers. That's already a major handicap, as it's up against modern, turbocharged rivals who rely on that extra oomph for more performance and better economy.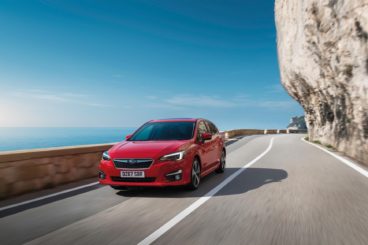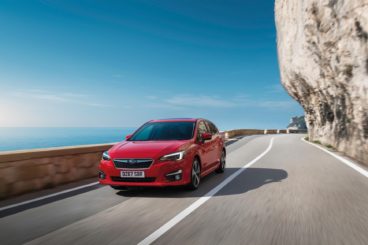 It doesn't even seem to make sense that Subaru overlooked turbochargers, especially when you consider how grippy the four-wheel-drive system is. If anything, this is a car that needs extra power.
The four-wheel-drive system has its obvious advantages, but it also has weaknesses. It bumps up running costs, and causes the Impreza to react slowly while feeling heavy.
At the same time, the steering is light which makes it fairly easy to drive in the city. However, it's offset by a lack of feedback, which will undermine your confidence if you try to drive at speed. And because there is no sixth gear, the Impreza gets a bit loud on the motorway.
Its solitary 1.6-litre petrol engine is not that fast. It takes 12.3 seconds to complete the 0-62 dash, which compares unfavourably to rivals.
All in all, it's on the road credentials are severely lacking. There are too many compromises, and it doesn't help that Subaru decided against adding a diesel engine. This is a car that should perform well on winding country lanes, but a slow engine and lack of communication from the wheel means it feels out of its depth.
And because four-wheel-drive makes it more expensive to run, it's going to be hard to take advantage of all that extra grip.
Subaru Impreza Hatchback Interior, Design and Build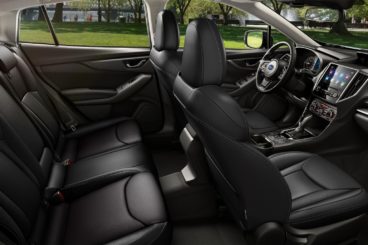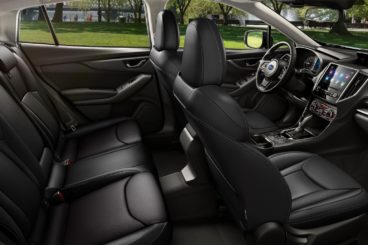 At first sight, the Imprezas cabin actually looks quite promising, and even upmarket. But it's on closer inspection that you realise it actually falls short of its rivals. There are cheap plastics here and there, and its central screen is too small, doesn't come with sat-nav, and feels and looks old fashioned.
The dashboard is at least smartly designed. It's neat and tidy, with the controls easy to reach and use. It's just a shame that Subaru has made errors of judgement in so many other areas.
Take the volume controls, for example. You'll find them on the stereo – but on the opposite sides that you'd usually find them. The display screen looks like a remnant of the Impreza's video game days of the nineties, while both sat nav and DAB are expensive extras. That said, standard kit is actually good.
In terms of how practical it is, the car fares reasonably well. There is a good amount of space for four adults to get comfortable, the boot measures a respectable 380-litres, and there is a good amount of storage space. This includes a few clever cubby holes, such as a place beneath the air conditioning controls for your wallets and phones.
As far as room for your passengers goes, the Subaru competes well with rivals. Access is easy, thanks to light doors that open wide, and head and legroom are decent.
Visibility is aided by a standard reversing camera, though parking sensors are not available. As mentioned, the boot is a good size, but the seats don't fold totally flat. Moreover, there are some mechanical bits and bobs that can make loading awkward.
Equipment and Safety of the Subaru Impreza Hatchback
Standard kit is one of the Subaru Imprezas strong points. It's well stocked, with all models getting Bluetooth, electric windows, cruise control, dual-zone climate control, heated seats, alloys, a leather-wrapped steering wheel and automatic rain-sensing wipers.
Sat-nav and leather upholstery are optional – but there isn't much else on the extras list.
Is the Subaru Impreza Hatchback safe? It's hard to make a confident assertion, as Euro NCAP is yet to crash-test it. Its predecessor scored just 4/5 back in 2009, but the test has become much more stringent since.
Its standard safety kit includes airbags, anti-lock brakes, ISOFIX child seat mounts, hill-start assist, seatbelt warning lights and a tyre pressure monitoring system.
Costs Of The Subaru Impreza Hatchback
Prices for the new car start out from £18,995 and rise to £20,295. If you prefer to lease, you can pick up a deal from £316 + VAT per month. For more information on our leasing deals, check out our page here.
In terms of its running costs, the fact that there are no two-wheel-drive models or diesel option means it's not going to be as cheap to run as its rivals. The sole 1.6-litre petrol engine returns 44.1mpg at best and emits almost 150g/km of CO2. This makes the Impreza a relatively expensive car to keep on the road.
When it comes to insurance, it sits in group 13.
Pros and Cons of the Subaru Impreza Hatchback
Lots of grip
It doesn't matter what the conditions are, the Imprezas grip won't let you down.
Comfortable
Ride quality is good, even over badly broken surfaces.
Good amount of standard kit
All models get the likes of electric windows, dual-zone climate control, cruise control, heated seats, a leather-wrapped steering wheel and alloys as standard.
Expensive to run
You won't see better returns than a 44mpg economy.
Bland looks
The Impreza is a throwback to the nineties, a time when hatchback's were as sexy as rain.
Subaru Impreza Hatchback vs Citroen C4 Hatchback vs Fiat 500L Hatchback
Let's see how the car measures up against its rivals in the comparison section of our 2017 Subaru Impreza Hatchback review.
Subaru Impreza Hatchback vs Citroen C4 Hatchback
The new Citroen C4 Hatchback might not be the most stylish car you'll ever own, but it offers a tremendous amount of value for money. Big car comfort and a big boot are just two things it's got going for it.
However, first things first – there is nothing fun about the way the new C4 Hatch drives. Like the Subaru, it's highly capable, comfortable and won't let you down. But if you love a bit of drama on the road, you'll need to look elsewhere.
There are other negatives too, including imprecise steering and too much body lean in bends.
In terms of the engines, a trio diesels comprise 98bhp, 118bhp and 150bhp power outputs. The 118bhp gets our thumbs up; it's a BlueHDi 120 model that's fairly nippy, economical and efficient. It's also quite smooth when revved, but comes paired up with a clunky manual 'box as standard.
There are two petrol models on offer, starting with a Pure Tech 110 that can do 0-62 in 10.9 seconds, and a PureTech 130, which develops 129bhp, and can get you from 0-62 in 10.8 seconds.
Not much difference between the two, then, but lots of difference between the diesels and petrols when it comes to running costs. Citroen claims the 1.6-litre BlueHDi 100 diesel can return as much as 85.6mpg when fitted with stop-start tech. This version also emits just – whisper it – 86g/km of CO2.
Both petrols, on the other hand, average 55mpg economy (which is still good) and emit up to 117g/km of CO2.
Inside, the Citroen C4 Hatchback looks sharper than it does on the outside. It's also super comfortable and refinement is excellent. The driver's seat is height adjustable, while the steering wheel adjusts in, out, down and up.
It's actually amazing how stylish the interior is, something the dull exterior doesn't prepare you for. Unfortunately, too many switches and buttons let things down a bit. Everything is clearly built to last, though, which means you needn't worry about longevity.
The C4 Hatchback is practical, too, and boasts a 408-litre boot that outsizes the Subaru by almost 30-litres. You can easily fold the rear seats to increase its capacity to 1,300-litres, but the seats don't fold entirely flat. The load lip is low, at least.
Interior space is just fine up front, but those in the rear will feel more restricted by a lack of legroom. Headroom is okay, while storage spaces include lots of cubbies, a fridge, and some reasonably-sized door pockets.
Price:
Subaru – £18,995 – £20,295
Citroen – £18,550 – £22,530
Subaru Impreza Hatchback vs Fiat 500L Hatchback
The new Fiat 500L Hatchback looks a lot dinkier on first sight than the Subaru, but it's a car that stands out from the crowd. It's more practical than you might think, too.
On the road, it suffers from the same problem as the Subaru – it's competent but no fun. Despite looking like the smaller Fiat 500 city car, its driving capabilities are actually based on the Punto, a car void of any personality whatsoever. This is a shame, and it affects its drivability.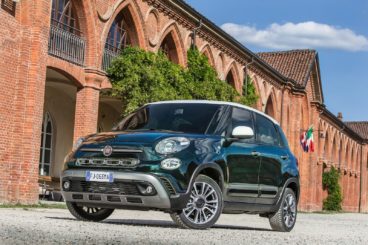 The steering is far too light and lacks feedback. There is lots of body lean, too, and thanks to the high seating position, you feel as though you're sitting in an SUV.
In terms of the engines, a 1.4-litre T-Jet petrol unit can zoom from rest to 62mph in 10.0 seconds flat, while a 1.4-litre power plant takes a more plodding 12.8 seconds.
The 1.6-litre diesel engine is better suited to the car. It's perhaps not got as much character as the petrols, but has the mid-range grunt this car needs. 0-62 in 10.7 seconds is also not bad, either.
The petrol engines, despite their relatively small size and the addition of a turbocharger to the T-Jet, are not all that cheap to run. The T-Jet returns 40.9mpg at best, while the entry-level 1.4-litre unit is good for 46.3mpg. The diesels are much more sensible, and all can return over 67mpg economy.
Inside? The Fiat 500L Hatchback has a bit of a noise problem, but comfort is decent – provided you avoid the more rugged Cross model that is, which fidgets more.
The dashboard takes its cues from the Fiat 500 family, which means it looks stylishly retro. However, while it's nice and cheerful to look at, some of the plastics are questionable.
Visibility is good, thanks to the raised ride height, and the entry level model gets a 5" touchscreen, as well as cruise control and air conditioning.
In terms of how practical it is, it's bigger inside than it looks. Five adults can sit in relative comfort, there is plenty of headroom for six-foot-plus passengers in the rear, and twenty-two cubbyholes is the claim from Fiat. These include a massive glovebox, as well as another compartment beneath it.
The 400-litre boot, meanwhile, just shades the Subaru in terms of size, and – thanks to a clever boot floor that you can lower or use – practicality.
Price:
Fiat – £16,195 – £21,320
Verdict of our 2017 Subaru Impreza Hatchback
The new Impreza is a strange one. It's nothing like the legendary saloon that turned the Impreza into a household name among racing enthusiasts in the nineties, and now presents itself as a bland-looking, bland-driving family hatchback.
That said, it has its positives. The new Subaru Impreza Hatchback is a sensible car that can boast excellently grippy four-wheel-drive, value for money, solid ride quality and decent levels of practicality.
When you lease a car with OSV there are no hidden costs, request a call back and we'll find you a finance, lease or purchasing deal designed just for you.