Review Of The Tesla Model X
The new Tesla Model X was the first ever all-electric SUV when it went on sale. It's big, bold, practical and outrageously fast.
The fact that it emits zero emissions and costs hardly anything to run also makes it absolutely necessary for anyone who needs seven-seater usability and craves 0-62 times of 3.1 seconds.
Appetite suitably whetted? OSV takes a closer look at what it's all about with our 2018 Tesla Model X review.
Electric cars have gotten a reputation in recent times for being a bit, well, slow. The modest output of cars like the Peugeot iOn isn't an exception to the rule – most EV's are slow.
However, the beefy Tesla model is the exception to the rule. It's a hefty machine that tips the scales at 2,300kg, but if you opt for the range-topping P100D model, you can complete the 0-62 sprint in – wait for it – 3.1 seconds, which makes it the quickest ever SUV so far. It has a range of 336 miles, but it is very expensive.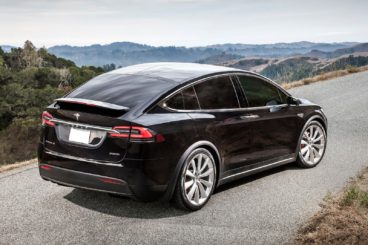 The entry-level 75D model, meanwhile, completes the same sprint in a more "respectable" 4.9 seconds, while the 100D – which has longer range – does it in 4.7 seconds.
The surge of acceleration you'll get in either model is fantastic, but it's worth mentioning that it soon dies out once you're cruising. In fact, on the motorway the entry-level model isn't any better at overtaking than a conventional diesel model.
In terms of how it drives, there's no denying this car's weight. That said, it still offers plenty of driver involvement and feels thoroughly satisfying. It's not agile as such, but neither does it roll around like a lot of SUV's of this size. Its batteries are positioned down low, and this gives the car more centre of gravity than most of its rivals, which helps with body lean.
All models get the brand's dual-motor, four-wheel-drive configuration as standard, no model is short of traction, and there's plenty of grip available. Tesla has added plenty of new tech too, such as "smart" air suspension that they've hooked up to the sat-nav.
One criticism we have is that the electrically assisted steering feels too artificial. Maybe that was the point, but at times it will feel as though you're playing a video game.
Tesla Model X Interior, Design & Build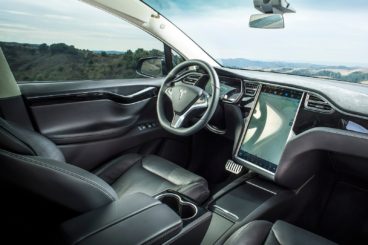 Inside, the Tesla Model X is surprisingly hit and miss. Don't get us wrong, it's comfortable and there's lots of tech, but build quality is an issue. More on that in a moment.
Insulation is excellent, and you'll be able to cruise serenely with very few disturbances. Wind rustling? It's a thing of the past, even at speed. Because external noises are so well suppressed, the stereo sounds brilliant.
In terms of its design and overall quality, we'd have to give the Tesla Model X the thumbs down. There's a real lack of imagination from Elon Musk's brand here, while the materials used aren't top notch. For a car that costs at least £75,000, buyers will expect better than dials and switches that are taken from old Mercedes'.
The central touchscreen, however, is impressively huge and strikes us as worthy of a 75k car. That said, it's going to take buyers longer to get used to the smaller screens. Moreover, it's easy to press the wrong button by mistake on bumpier roads.
Connectivity is another plus. Simply link up your smartphone and use an app to control loads of functions, such as climate control and the remote-opening doors.
Is the Tesla Model X practical? It's a bit more compact than your typical large SUV, but unlike a conventionally powered diesel or petrol SUV, it doesn't need to stick an engine under its bonnet. Instead, Tesla has used some of its bonnet as extra storage space (187 litres is available).
The car comes with five seats as standard, but you can upgrade to six or even seven seats. The first two rows are especially comfortable, visibility is fantastic, and the driver's seat and steering wheel offer lots of adjustability.
Access is easy too, but the falcon-wing rear doors take 15 seconds to open and close, which some will find frustrating.
Head and legroom are fine, while the boot measures 2,367-litres when all the rear seats are folded. It's easy to use, thanks to a low load lip.
Equipment & Safety Of The Tesla Model X
Standard kit is good, and goes some way to justify the car's high price. All models get as many as four ISOFIX child-seat points (if you opt for the seven-seater), sat-nav with up-to-date traffic info, keyless go, heated seats, a massive panoramic windscreen, falcon-wing rear doors and air suspension.
Optional extras include a £2,800 seventh seat or a £5,700 three-row, six-seater layout.
Safety-wise, Euro NCAP has yet to crash test the Model X. The Model S, which uses the same underpinnings, scored 5/5 for its crash test performance, and we'd expect the same from this car.
Its standard safety kit includes lots of advanced stuff, including an autonomous emergency braking system.
Costs Of The Tesla Model X
Prices for the new car start out from £75,435 and rise to £133,185. For more information on our leasing deals, check out our page here.
In terms of its running costs, the Tesla Model X can claim zero emissions and a BiK rating of 9%, which for such a powerful SUV is incredible.
However, despite emitting no CO2, buyers will still need to pay a £310 yearly surcharge from years 2 to 5 because it costs more than £40,000.
Range varies depending on the model. The entry-level 75D variant can last for 259 miles at the most on a single charge, while the mid-range 100D model has a range of 351 miles. The range-topping P100D model can do 336 miles on a single charge.
Overnight charging will cost about £2, and if you charge the batteries from one of Tesla's Supercharger's, you can add 170 miles of range in half an hour.
Pros and Cons Of The Tesla Model X
Incredible Performance
Tesla has saved their best for the range-topping P100D model, but with a 0-62 time of 4.9 seconds, the entry level 75D model is hardly a slouch.
Excellent Range
Tesla is making range anxiety a thing of the past, with all models able to go for more than 250 miles on a single charge.
Practical
Tesla's are not all power and glamour – with a 2,367-litre boot, the Model X is damn usable.
Poor Interior Quality
The biggest disappointment of this car is easily its cabin quality. The plastics aren't on par with premium rivals.
Expensive
Since when did SUVs start costing £75,000 – £133,000?
Tesla Model X vs Porsche Cayenne vs Jaguar i-Pace
Let's see how the car fares against its rivals in the comparison section of our 2018 Tesla Model X review.
Tesla Model X vs Jaguar i-Pace
The new Jaguar i-Pace is set to be launched this summer, with Jaguar positioning it as a direct rival to the Model X. To that end, it's big, gorgeous and very fast.
How do you compete with Tesla in the EV market, though? Well, Jaguar decided to power the i-Pace with not one electric motor but two. Combined, they have a power output of 395bhp and a range of 298 miles.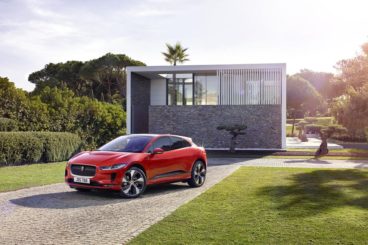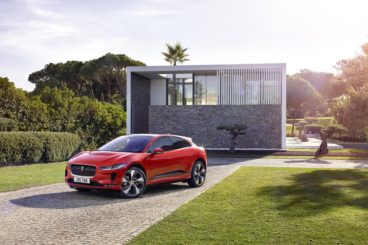 They also have a 0-62 time of 4.5 seconds, which puts it on par with the mid-range Model X.
Jaguar has also fitted the car with a brand new 90kW battery, which can be recharged to 80% in just 45 minutes if you use a DC 100kW charger. This gives it better day-to-day usability.
The i-Pace comes with four-wheel-drive, and although we haven't tested the car yet ourselves, hot-off-the-press images have shown it dazzling in -40 degree Celsius temperatures.
Because we haven't been able to test drive it yet, there's not much to say about the way it handles until later in the year. However, because it's built using weight-reducing aluminium and has 50:50 weight distribution, we expect it to handle superbly.
There's a long and a shorter wheelbase variant available, and the i-Pace is probably going to be marketed as slightly more practical than a big hatchback but smaller than a conventional SUV. It's also bigger than the Jaguar F-Pace, which means more interior room.
Jaguar themselves reckon there's more rear legroom in here than there is in a BMW 7 Series Saloon. The measurements back them up – rear seated passengers can enjoy as much as 890mm of legroom.
The boot, meanwhile, measures 656-litres. Fold the rear seats and you can increase this to 1,453-litres.
The interior itself is ultra modern and boasts more quality than the Tesla, with Jaguar offering buyers the chance to swap leather for sustainable textiles. Design-wise, the cabin looks clean and free from clutter, while the brand's Touch Duo Pro infotainment system dominates the dashboard.
Price:
Tesla – £75,435 – £133,185
Jaguar – £63,495
Tesla Model X vs Porsche Cayenne
The Porsche Cayenne drives like a Porsche and is very much a Porsche despite being bigger and more practical than usual.
It's incredible to think that this whirlwind Porsche SUV is already in its third generation. On the road, it's one of the best performing SUV's ever. In the past, it's handled like an SUV, but now it handles almost like a sports saloon.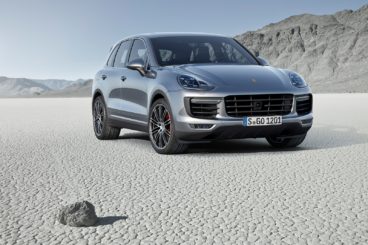 It shares its chassis with the Bentley Bentayga and the Audi Q7, while advanced tech – such as 4D chassis control – has further enhanced its drivability. It's highly capable off-road, while its 5 on-road driving models and optional rear-wheel steering improve the way it drives on the road.
Body lean is very minimal and grip is excellent.
In terms of the engines, a turbocharged 3.0-litre V6 petrol unit powers the entry-level model. Its 335bhp will probably be enough for most buyers, but the Cayenne S adds another turbocharger and develops a meatier 434bhp.
Rounding off the range is a 542bhp Porsche Cayenne Turbo model. It's powered by a 4.8-litre V8 petrol engine, weighs 2,175kg and can complete the 0-62 dash in 3.9 seconds.
Running costs? Without electric power, the Cayenne is naturally going to cost more to run than the Tesla. Its entry-level model returns 31.4mpg at best, while the Turbo model struggles to return 24.1mpg.
Inside, the Cayenne competes with the Tesla on the insulation front on the motorway. Its massive tyres should probably make more noise than they do, but the cabin conceals them well.
Comfort is assured thanks to the air suspension, while the cabin, on the whole, boasts more quality than the Tesla. It's classically Porsche, with the driver seated behind a big, central rev counter. It feels sportier too, thanks to the low seating position. Build quality is excellent.
Is the Porsche Cayenne practical? It's even more usable than last time, with the power-adjustable seats offering 18 different positions and the rear seats now having reclining ability. The bench, moreover, slides backwards and forwards.
The boot is huge too, and measures 741-litres. However, the Cayenne is strictly a five-seater.
Price:
Porsche – £57,220 – £101,346
Verdict Of Our 2018 Tesla Model X Review
Who said electric cars are boring, slow and weird looking?! The Model X destroys all pretensions in 3.1 seconds. Devastatingly powerful, quick and looking like a beast, the Tesla Model X is an all-star electric car that comes loaded with image, boot space and strength.
When you lease a car with OSV there are no hidden costs, request a call back and we'll find you a finance, lease or purchasing deal designed just for you.