Toyota Avensis review and test drive
The Toyota Avensis has a lot of stiff competition in the area it is placed, with the likes of the Ford Mondeo and Audi A4 being strong favourites in this class.  If you look past the out dated stigma of the Avensis being good but dull, you will find a high quality family car that should and could easily rival its competitors.
Firstly, the comfort of this vehicle is impeccable value for the cash you spend, with wind as well as tyre noise kept to a minimum. The amount of room you have is also more than adequate to accommodate 5 adults.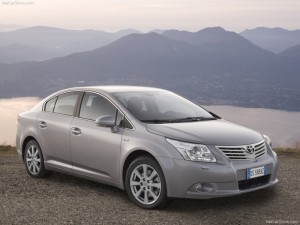 The practicality of this car is also fantastic, being able to carry more than other rivals such as the V/W Passat and Honda Accord.  With one touch rear folding seats and a boot capacity of 509 litres, this Avensis certainly does have space!
Facts and figures Toyota Avensis 2.0 D4D TR
MPG: 55
Co2's: 134g/km
0-60: 9.4s
BHP: 124
Top Speed: 124mph
This car would also be a great company car with the Co2's and MPG being low and is very accommodating for long journeys.
To sum up, the Toyota Avensis is an all rounder. Great for families and sales reps alike and with the many finance and hire methods available, it cannot fail to appeal whichever way you look at it.JTNDJTIxLS1IdWJTcG90JTIwQ2FsbC10by1BY3Rpb24lMjBDb2RlJTIwLS0lM0UlMEElM0NzcGFuJTIwY2xhc3MlM0QlMjJocy1jdGEtd3JhcHBlciUyMiUyMGlkJTNEJTIyaHMtY3RhLXdyYXBwZXItMDc4MjcyYzMtMTgyZC00YTY0LTlhYTUtZDMyNTVjNzYxYmRiJTIyJTNFJTBBJTIwJTIwJTIwJTIwJTNDc3BhbiUyMGNsYXNzJTNEJTIyaHMtY3RhLW5vZGUlMjBocy1jdGEtMDc4MjcyYzMtMTgyZC00YTY0LTlhYTUtZDMyNTVjNzYxYmRiJTIyJTIwaWQlM0QlMjJocy1jdGEtMDc4MjcyYzMtMTgyZC00YTY0LTlhYTUtZDMyNTVjNzYxYmRiJTIyJTNFJTBBJTIwJTIwJTIwJTIwJTIwJTIwJTIwJTIwJTNDJTIxLS0lNUJpZiUyMGx0ZSUyMElFJTIwOCU1RCUzRSUzQ2RpdiUyMGlkJTNEJTIyaHMtY3RhLWllLWVsZW1lbnQlMjIlM0UlM0MlMkZkaXYlM0UlM0MlMjElNUJlbmRpZiU1RC0tJTNFJTBBJTIwJTIwJTIwJTIwJTIwJTIwJTIwJTIwJTNDYSUyMGhyZWYlM0QlMjJodHRwJTNBJTJGJTJGY3RhLXJlZGlyZWN0Lmh1YnNwb3QuY29tJTJGY3RhJTJGcmVkaXJlY3QlMkYyMzgxNDkyJTJGMDc4MjcyYzMtMTgyZC00YTY0LTlhYTUtZDMyNTVjNzYxYmRiJTIyJTIwJTNFJTNDaW1nJTIwY2xhc3MlM0QlMjJocy1jdGEtaW1nJTIyJTIwaWQlM0QlMjJocy1jdGEtaW1nLTA3ODI3MmMzLTE4MmQtNGE2NC05YWE1LWQzMjU1Yzc2MWJkYiUyMiUyMHN0eWxlJTNEJTIyYm9yZGVyLXdpZHRoJTNBMHB4JTNCJTIyJTIwaGVpZ2h0JTNEJTIyMTEwJTIyJTIwd2lkdGglM0QlMjI4MDAlMjIlMjBzcmMlM0QlMjJodHRwcyUzQSUyRiUyRm5vLWNhY2hlLmh1YnNwb3QuY29tJTJGY3RhJTJGZGVmYXVsdCUyRjIzODE0OTIlMkYwNzgyNzJjMy0xODJkLTRhNjQtOWFhNS1kMzI1NWM3NjFiZGIucG5nJTIyJTIwJTIwYWx0JTNEJTIybGVhcm5pbmclMjBjZW50cmUlMjIlMkYlM0UlM0MlMkZhJTNFJTBBJTIwJTIwJTIwJTIwJTNDJTJGc3BhbiUzRSUwQSUyMCUyMCUyMCUyMCUzQ3NjcmlwdCUyMGNoYXJzZXQlM0QlMjJ1dGYtOCUyMiUyMHNyYyUzRCUyMmh0dHBzJTNBJTJGJTJGanMuaHNjdGEubmV0JTJGY3RhJTJGY3VycmVudC5qcyUyMiUzRSUzQyUyRnNjcmlwdCUzRSUwQSUyMCUyMCUyMCUyMCUzQ3NjcmlwdCUyMHR5cGUlM0QlMjJ0ZXh0JTJGamF2YXNjcmlwdCUyMiUzRSUwQSUyMCUyMCUyMCUyMCUyMCUyMCUyMCUyMGhic3B0LmN0YS5sb2FkJTI4MjM4MTQ5MiUyQyUyMCUyNzA3ODI3MmMzLTE4MmQtNGE2NC05YWE1LWQzMjU1Yzc2MWJkYiUyNyUyQyUyMCU3QiU3RCUyOSUzQiUwQSUyMCUyMCUyMCUyMCUzQyUyRnNjcmlwdCUzRSUwQSUzQyUyRnNwYW4lM0UlMEElM0MlMjEtLSUyMGVuZCUyMEh1YlNwb3QlMjBDYWxsLXRvLUFjdGlvbiUyMENvZGUlMjAtLSUzRSUwQQ==