Review Of The Toyota Prius Hatchback
If you can get past its awkward styling, the new Toyota Prius Hatchback is a practical and modern car that's super affordable to run and ideal for eco-conscious families. It's available as both a hybrid and a conventional car.
Having been around since 1997, Prius is a name that you can trust. Combine that with the fact that Toyota is one of the most reliable brands there is, and all is set for a safe, predictable, affordable and dependable way for you and your family to get out and about.
OSV takes a closer look at what it's all about with our 2017 Toyota Prius Hatchback review.
Because fuel efficiency is a priority for Toyota here, the Prius was never going to be the most dramatic car to drive. More competent than anything else, it does at least feel lively in the city.
Handling-wise, there is nothing to fault, provided you weren't expecting first-class entertainment. Its steering is more precise than last time, and there is less body roll.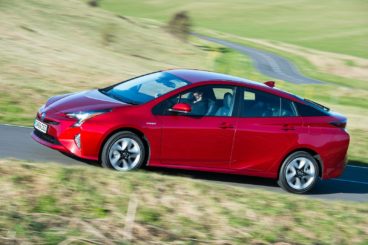 There are one or two criticisms, of course. The lack of sound when pulling away is still as odd as it ever was, and getting used to the way the Prius drives will take some time if you've never driven one before.
Also, the CVT automatic transmission creates a bit of a din when you put your foot down. Apart from that, though, the Toyota is a relaxing car.
The Prius combines a 71bhp electric motor with a 1.8-litre 97bhp petrol engine to haul the car from a standstill to 62mph in 10.6 seconds. At low speeds, it's pretty sprightly. Opt for the heavier plug-in model, and your 0-62 time will be cut back to 11.1 seconds.
The electric motor delivers all its power immediately, which ensures strong acceleration. The plug-in hybrid can keep going for 81mph on just electric power, but doing so will cause range to plummet. When you want to bring the petrol engine into play, you'll barely even notice it. Buyers will appreciate this seamless switchover, and the car does a good job of swapping between the petrol engine and the electric motor whatever speed you're at.
Toyota Prius Hatchback Interior, Design & Build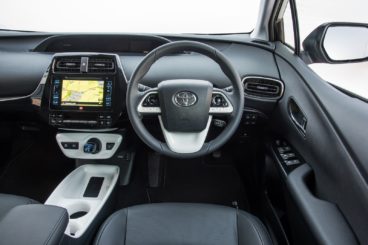 Okay, so it looks unsightly on the outside. But comfortable, smart and laden with technology, the Prius' cabin is a relaxing place to spend your time inside while on the road. Compared to its conventional petrol and diesel rivals, it barely makes a peep, too.
The ride is a bit harsher if you opt for the plug-in, but we wouldn't say that it's too much of an issue, but the plug-in also reduces the number of rear seats – you get two instead of three.
However, what we haven't mentioned so far is that the Prius' interior will be as unusual to some buyers as its distinctive (and not necessarily in a good way) exterior. There is a futuristic feel going on here, but because the Prius has been around for 20 years, it feels natural, with Toyota taking their time over the years to evolve the cabin.
There are soft-touch plastics here and there, but some buyers will be put off by the fact that the dashboard looks a bit like a spaceship. That's not necessarily a bad thing, because it's a tranquil spaceship at least! An upper screen relays all kinds of information to the driver, while a central touchscreen infotainment system is modern and very easy to get to grips with.
There are some smart touches inside here, including a passenger air vent and white inlays, and material quality, on the whole, is good. There is evidence of harder plastics here and there, but the Business Edition is a particularly classy and affordable affair.
In terms of how practical the car is, the regular Prius has a 502-litre boot, while the plug-in hybrid gets a 360-litre boot. Both are bigger than last time, thanks to the smaller batteries, and both extend to well over 1,100-litres when you fold the rear seats.
There is plenty of space inside here, as well as lots of storage spaces. These include a well-sized glovebox, huge door bins, and a big compartment beneath the front armrests.
Equipment & Safety Of The Toyota Prius Hatchback
There are four trim levels available, with the entry-level Active model getting a DAB radio, a touchscreen infotainment system, 15" alloys, dual-zone climate control, keyless go and LED headlights.
The Business Edition adds a leather steering wheel, a head-up display, heated front seats and wireless phone charging, while the Business Edition Plus model gets 17" alloys, a self-parking system and all-round parking sensors.
The Excel model rounds the range off with 17" alloys, rain-sensing windscreen wipers, a JBL stereo, sat-nav and leather seats.
Rest assured, the Prius is a safe car. It was awarded all five stars when it was crash tested by Euro NCAP, scoring impressively for child occupant protection and pedestrian safety.
In terms of its standard safety kit, all models get adaptive cruise control, auto-dipping headlights, road-sign recognition, lane-departure and autonomous emergency braking. A blind-spot monitoring system is unavailable on the entry-level trim.
Costs Of The Toyota Prius Hatchback
Prices for the new car start out from £24,115 and rise to £33,895. If you prefer to lease, you can pick up a deal from £245 + VAT per month. For more information on our leasing deals, check out our page here.
In terms of its running costs, the figures are impressive. The plug-in hybrid variant is the cheapest to run by a long shot, and returns a spectacular 282mpg. That number seems a bit wildly optimistic, but it's worth remembering that the car can run on just electric power for up to 30 miles. Even if the battery is empty, you could still return 60mpg economy.
The conventional Prius, meanwhile, is good for 94.1mpg at best, while all models cost £130 per year in road tax after the first year of ownership.
Pros and Cons Of The Toyota Prius Hatchback
Cheap To Run
Whether you go for the hybrid or the conventional Prius, both will save you a lot of pennies at the pumps.
Reliable
Toyota is one of the most reliable brands there is. If this is your first foray into the hybrid world, there are few better brands to take that first step with.
Five-year Warranty
It's comfortably reassuring.
Unattractive
Some buyers will like it, but the general consensus is that the Prius' misshapen silhouette is far too awkward.
Expensive To Buy
One of the biggest drawbacks to all hybrids is that they cost a pretty penny to buy in the first place.
Toyota Prius Hatchback vs Ford Focus Hatchback vs Vauxhall Astra
Let's see how the car fares against its rivals in the comparison section of our 2017 Toyota Prius Hatchback review.
Toyota Prius Hatchback vs Ford Focus Hatchback
The new Ford Focus Hatchback a mainstay in this sector, a shoo-in on most people's shortlists as they weigh up their options. But what's it like in 2017?
Now in its third generation, the Focus has held onto its title as "the most fun to drive car in this sector." Its dynamics have been watered down slightly this time around, but it still handles better than the Prius and all other contenders. Its controls are responsive and its steering is sharp as a tack.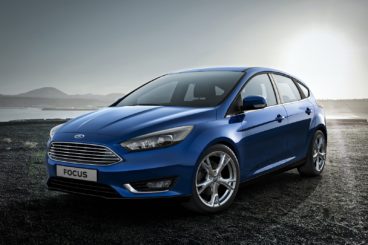 In terms of its engine range, the only one we'd overlook is the 1.6-litre 83bhp petrol. Apart from that, the 1.0-litre 123bhp petrol engine is a solid choice, while the 1.0-litre EcoBoost nicely compliments the driving dynamics. It's not super fast, but it's got lots of mid-range power in the bag.
There is also a good selection of diesel engines to choose from, starting with a trio of 1.5-litre TDCi units. The smallest develops 94bhp and the biggest develops 118bhp, while a pair of 2.0-litre TDCi diesels round the range off.
All the diesels are fairly fast and feel strong, but the 148bhp 2.0-litre TDCi is our top pick. Not only is it performative, but it returns over a 70mpg economy while emitting 105g/km of CO2.
That said, no engine is what you'd call expensive to run. The 1.0-litre EcoBoost petrol engine is good for 58.9mpg, while a much more powerful, four-pot 1.5-litre petrol engine returns 50.4mpg despite developing 179bhp.
Inside, the dashboard is tastefully designed. There is no excess of buttons, which means it looks neat and tidy, and we think the silver trim will be appreciated by buyers. It certainly livens things up in what is otherwise a grey cabin.
There is a bit of mix and match in terms of the quality; while there are softer touches here and there, you'll also find harder plastics, too. All cars are comfortable, but basic models miss out on heated leather seats. This is not that bad of a thing, as they're only slightly more comfortable.
In terms of how practical the Focus is, visibility could be better, with a reversing camera and front and rear parking sensors coming as standard. But our biggest criticism is that the 316-litre boot is much smaller than most rivals. In fact, it only just shades the Ford Fiesta.
That said, the floor is flat, the opening is wide, and it can be extended to 1,215-litres by folding the rear seats.
Interior space is fine up front, but legroom is poor in the rear. Overall, the Ford Focus Hatchback isn't the practical choice.
Price:
Toyota – £24,115 – £33,895
Ford – £19,635 – £26,845
Toyota Prius Hatchback vs Vauxhall Astra
The Vauxhall Astra has really come on strong over the years and has never been better.  It's efficient, looks slick, and is great to drive.
Vauxhall decided that things had to change this time around if their beloved Astra was to be a serious rival to the Focus, and perhaps the most dramatic change was the weight drop. Now, much lighter than its predecessor, the Astra handles better, ride and grips well, and is easy and even fun to drive.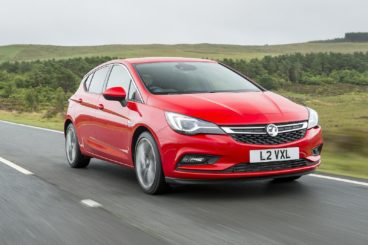 In terms of the engines, there are three 1.6-litre 'Whisper' diesels, starting with a mild-mannered 109bhp variant, moving up to a 134bhp variant and ending with a 158bhp variant. They're all relaxing, quiet for the most part, and pretty darn quick. The 109bhp does 0-62 in 10.3 seconds, the mid-range unit does it in 9.0 seconds, while the 158bhp variant completes the 0-62 dash in 8.0 seconds.
There are five petrol engines to choose from, but we'd recommend overlooking the 1.4i 98bhp power plant. The 1.0-litre turbo 104bhp is a much better choice, and blends a 0-62 time of 10.5 seconds with 64.2mpg fuel economy.
Meanwhile, a high-performance 1.6-litre Vauxhall Astra Hatchback tops the range, developing 197bhp and launching you from rest to 62mph in 6.6 seconds. It's not cheap to run, though, and returns 46.3mpg economy at best.
The diesels, on the other hand, return as much as 74.3mpg and as less as 68.9mpg.
Inside, the Astra's interior is stylish and has a high-quality feel. There are lots of soft-touch materials to make you feel welcome, all models get a touchscreen infotainment system that's compatible with Apple CarPlay, and buyers will appreciate the bright chrome and piano-black effects.
Standard kit is excellent, with the entry-level models getting Bluetooth, air conditioning, a digital radio and electric front and rear windows, while the car's usability can't be faulted. Its boot measures 370-litres, which just shades the Prius, while rear space is fine for your adult passengers. Knee room has been extended by 35mm, headroom is good, and access is easy.
Price:
Vauxhall – £16,535 – £25,240
Verdict Of Our 2017 Toyota Prius Hatchback Review
The Prius is a firm favourite with green-minded buyers who have witnessed its impressive evolution over the years. It's better than ever and nails all the family values we look for: affordable engines, practicality, reliability and safety. Now, if only the Toyota Prius Hatchback looked better …
When you lease a car with OSV there are no hidden costs, request a call back and we'll find you a finance, lease or purchasing deal designed just for you.