Review Of The Volkswagen Touran Estate
The new Volkswagen Touran Estate is a practical seven-seater that's decent to drive, well-built and which comes with a comfortable ride.
It's hardly the most exciting car in this sector, and that could count against it when there are so many other models to consider. But for families who need a hassle-free way of getting seven people from A to B, there isn't much that it does wrong.
OSV takes a closer look at what it's all about with our 2017 Volkswagen Touran Estate review.
The Touran offers an easy going driving experience. It's smooth and the fact that it weighs less than last time means that it's able to be more agile. It gets a bit loud out on the motorway, and that will annoy some buyers. But if you opt for the 7-speed DSG automatic gearbox, there aren't many hefty seven-seaters on the market that are this simple to manoeuvre.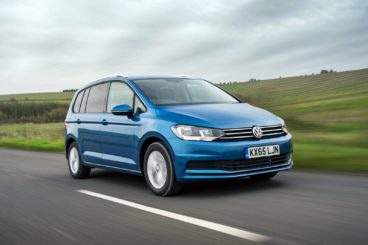 In terms of its engines, there is the usual line-up of solid diesels. A 1.6-litre unit kicks things off, developing 113bhp and getting you from rest to 62mph in 11.4 seconds before maxing out at 118mph.
That should be enough power for most buyers, but for anyone who feels they want a bit more oomph, a bigger 2.0-litre diesel is also available in either 148 or 187bhp guise. If you'll be regularly filling the Touran up with seven people, it's an engine that's well worth going for.
Either way, both diesels can be specified with a sweet DSG dual-clutch automatic transmission that we think is well worth adding. Its smooth and seamless, and it also improves running costs.
There never used to be petrol engines available with cars like this, but the times have changed and so has demand. A small 1.2-litre TSI petrol that develops 108bhp is now available, but you can't get it with the excellent DSG automatic 'box. That said, the 6-speed manual it's paired with is just fine.
The other petrol engine available is a 1.4-litre TSI unit that is available with the DSG automatic 'box. Pairing it up with this auto transmission helps to keep running costs respectable, and the engine delivers a respectable 148bhp.
Volkswagen Touran Estate Interior, Design & Build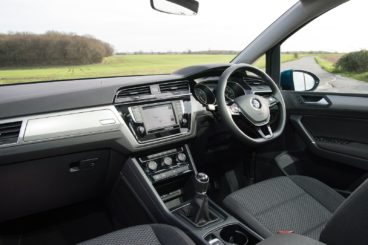 Inside, the Touran is a pleasant place to be for families. Its cabin is marked by high-quality materials, there's plenty of hi-tech compatibilities, and the seats are supportive and comfortable.
Splash out on the higher-spec models and you also get a massage function.
The dashboard is a bit brighter than the usual drab and grey interior's you get in this class. There are lighter colours on the dashboard, the fit and finish are excellent, and the Touran can easily be described as a premium product.
Each model comes with an intuitive infotainment system that offers smartphone connectivity on higher-trim models, the controls on the steering wheel are simple and easy to use, and overall the Touran is super user-friendly.
Is it practical, though? Totally. It's designed to be as practical and as accommodating to families as seven-seaters can be, which means lots of interior space for all and some intelligent practical touches.
The roofline is high enough to create lots of headroom even for taller passengers, while legroom is fine. The third row of seats isn't really for adults, but two can squeeze in there for a shorter trip. If needed, the second row of seats slides backwards and forwards with ease.
According to VW, there are 37 different cubbies in here, and these include a good-sized table. Neat practical touches include a fold-out table, while the boot measures a very impressive 743-litres with all seven seats up. It also comes with a flat lip and can be extended to 1,857-litres by folding the second and third rows.
Equipment & Safety Of The Volkswagen Touran Estate
There are five trim levels to choose from, and all models get the likes of roof rails, air conditioning and a touchscreen infotainment system as part of their standard kit.
Move up to the higher spec SEL and R-Line models and you get all kinds of neat extra features, including sat-nav, three-zone climate control, more roof rails, a panoramic sunroof, as well as Android Auto and Apple CarPlay compatibility with your touchscreen.
Among the optional extras is a feature called Cam Connect, which lets you fit a GoPro video camera that lets you keep an eye on your children in the back seats. It's super handy and helps parents to figure out who started the fight!
Is the Volkswagen Touran Estate safe? It hasn't been crash-tested by Euro NCAP just yet, but its standard safety kit is up-to-date. The car gets automatic post-collision as part of its standard kit, as well as pre-crash proactive protection and nine airbag's.
The likes of autonomous emergency braking and adaptive cruise control, meanwhile, are optional extras.
Costs Of The Volkswagen Touran Estate
Prices for the new car start out from £22,995 and rise to £32,220. If you prefer to lease, you can pick up a deal from £180 + VAT per month. For more information on our leasing deals, check out our page here.
In terms of its running costs, the Touran is economical across the board. The cheapest model to run is the 1.6-litre TDI DSG diesel that returns 65.7mpg and emits 111g/km of CO2. The most frugal petrol engine, meanwhile, is the 1.2-litre unit that returns 51.4mpg at best.
However, opting for the 7-speed DSG auto 'box will knock those numbers down. The 2.0-litre DSG 190bhp diesel returns 60.1mpg and emits 123g/km of CO2.
Pros and Cons Of The Volkswagen Touran Estate
Strong Build Quality
As usual with a Volkswagen product, build quality is excellent.
Spacious
A high roofline contributes to lots of cabin space for all.
Economical
Considering how heavy and large the car is, the economy is admirable across the range.
Noisy Engines
The diesels can get noisy under hard acceleration.
Third Row Suitable For Children Only
Adults can squeeze in there but it'll be cramped.
Volkswagen Touran Estate vs Vauxhall Zafira Tourer vs Renault Grand Scenic Estate
Let's see how the car fares against its rivals in the comparison section of our 2017 Volkswagen Touran Estate review.
Volkswagen Touran Estate vs Vauxhall Zafira Tourer
Handsome, affordable and good to drive, the new Vauxhall Zafira Tourer is a star.
Ensuring that large family cars like this are easy to drive is no mean feat, but Vauxhall has achieved it first and foremost by making the controls so user-friendly. Add to that good handling and minimal body roll, and the Zafira is just as hassle-free on the road as the Volkswagen.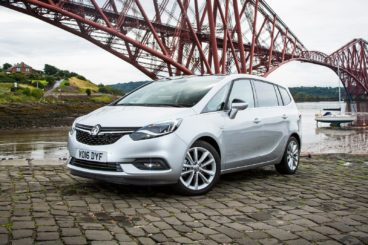 The engines are quiet, too, though there are just three engines on offer. A turbocharged 1.4-litre petrol is your only petrol option. It comes paired with a 6-speed manual 'box as standard, develops 140bhp, and can get you from rest to 62mph in just under 10.0 seconds.
A pair of diesel engines are your other options. A 1.6-litre unit develops 134bhp and completes the 0-62 dash in a reasonable 10.4 seconds, but the 2.0-litre CDTI is much quicker. It produces 134bhp, which is enough to haul the Zafira from a standstill to 62mph in just 9.1 seconds. It pulls a lot of its power from lower revs impressively and overtakes with ease. We like it.
However, it's more expensive to run than the smaller diesel and returns 57.7mpg at best. The 1.6-litre diesel returns 62.8mpg economy while emitting 119g/km of CO2, while the turbocharged petrol engine can only manage 42.2mpg.
Inside, the Vauxhall Zafira Tourer is a much more pleasant place to spend your time than its predecessor. A revision has improved the dashboard considerably, and there are now fewer confusing buttons. It looks a lot cleaner, and this has been helped by the introduction of a 7" infotainment touchscreen that takes care of most of the functions.
Overall, the cabin is comfortable, spacious and usable. It's a big car but front and rear parking sensors are standard on all models, but the third row of seats is really for children only. The first and second row, however, offer lots of room for all, and they fold super quickly to improve boot space.
With all seats in place, the boot measures less than the Touran. Even with the third row folded, the 710-litres of space on offer is less than the Touran can offer with all seven seats up. Still, that should be enough for most buyers, and if you opt for the 1.6-litre diesel engine, you can tow as much as 1,600kg of weight.
Volkswagen Touran Estate vs Renault Grand Scenic Estate
The new Renault Grand Scenic Estate boasts plenty of standard kit, good running costs, and as a bonus it's great to look at.
Like the VW and the Vauxhall, it's surprising how easy to drive this seven-seater is. There will be body lean in bends if you approach them with too much enthusiasm, but the car always feels so composed that you won't lose your nerve.
Our biggest gripe, however, is that the car only comes with huge 20" alloys. While they give the Grand Scenic striking road presence, they also worsen ride quality.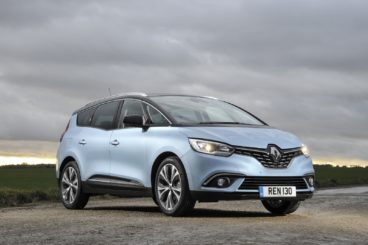 In terms of the engines, the 1.5-litre dCi 110 can do 0-62 in a leisurely 12.4 seconds which doesn't alter if you opt for the manual or automatic gearbox. That will likely be too sluggish for most buyers, but the 1.6-litre dCi 130 covers the same sprint in 11.4 seconds and feels quick but relaxed. It is, however, manual only.
A 1.6-litre 160bhp engine rounds the diesel range off with a 0-62 time of 10.7 seconds, and comes paired with a 6-speed automatic transmission as standard.
A 1.2-litre engine is your only petrol option but it's available in two power guises. Both are turbocharged, with the 113bhp variant able to tackle the 0-62 dash in a rather prolonged 13.0 seconds. The bigger of the two develops 128bhp, and does the same sprint in 11.9 seconds.
A hybrid is also available, but it's a "mild-hybrid" that tops up its battery and power supply by reusing wasted braking energy. With no performance figures yet available, we can't make a comment on it. It will, however, be the cheapest to run, with Renault claiming returns of an 80mpg economy.
Other than that, the 1.5-litre dCi 110 diesel engine returns almost 70mpg, while both the petrol engines average 46mpg.
Inside, the Renault is comfortable and attractively laid out. It's also well equipped, with even the entry-level model getting the likes of a 7" touchscreen, a digital radio, Bluetooth, dual-zone climate control and a leather steering wheel as standard.
Is the Renault Grand Scenic Estate practical? It is. There's lots of room inside for all, cubbies are here, there and everywhere, and the second row of seats easily slide back and forth to create more legroom or improve boot space.
As usual, the third row of seats is really for children only. If you splash out on the Dynamique Nav trim, you can fold these seats at the simple touch of a button. Doing so reveals a huge boot of van propitious, but with five seats up it measures 596-litres, which is way off the Volkswagen. That number drops dramatically when all seven seats are up.
Price:
Renault – £23,445 – £32,605
Verdict Of Our 2017 Volkswagen Touran Estate Review
The Touran won't capture the imagination but it will appeal to customers who appreciate functionality. Size and space are its strengths, but it does miss out on versatile touches, such as sliding doors. It's not perfect, but the Volkswagen Tiguan Estate is well worth a test drive.
When you lease a car with OSV there are no hidden costs, request a call back and we'll find you a finance, lease or purchasing deal designed just for you.