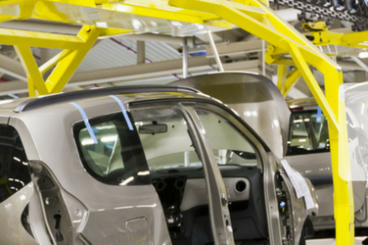 When you are getting a new car, it's always nice to know where it's being built and the journey it goes on to get to your drive.
But the automotive industry is so huge and, as of 2012, 165,000 cars were being built every day.That's a huge number and it can be hard to track down where your car is being built.
However, it would be nice to have a rough idea, wouldn't it?
Well, that's where we come in. In this article, we are going to go through some of the most well-known car manufacturers and take a look at where their most popular cars are built.
Where does Ford build their cars?
The embodiment of the American dream build their cars all over the world including;
Portugal
United States

The Ford Mustang is created in Michigan

Spain

The Ford Galaxy is built in Valencia

Thailand

Including the Ford Fiesta, Focus and Everest

India

The EcoSport is built in India.
Where are Vauxhalls built?
Vauxhall are a classic British brand, and it's reflected in the fact that one of their most iconic cars, the Astra, is built here in the UK at Ellesmere Port. Their other cars, though, are produced throughout Europe;
Germany

The Vectra, Corsa, Zafira and Insignia are all built in Germany
Spain

The Corsa is also built in Spain
Where does Jaguar build their cars?
Jaguar are another classic British brand and you will be pleased to know that each of the luxury cars are built here in the UK.
The Jaguar XE and F-Pace are built in Solihull  

The Jaguar XF is built in Castle Bromwich
Where do Mercedes build their cars?
Mercedes-Benz build their cars all over the world. But there are a number of them that are produced in Germany, including;
A Class

B Class

C Class

Including the Saloon, Estate, Coupe and Cabriolet

E Class Saloon

GLC

SLC

SL Class
And the rest?
The G-Class is made in Austria

The C-Class Saloon is also built in South Africa

The CLA Coupe and Shooting Brake are both built in Hungary

The GLE SUV and the GLS are built in the United States
And we can't forget the Smart Cars;
The Smart ForFour is built in Slovenia

And the ForTwo is built in France
Where does BMW build their cars?
Another classic German manufacturer, and a majority of BMW cars are built in Germany. However, they also have an American plant and the following are built in the USA;
Where are Toyota's built?
Did you know there are sixteen Toyota factories in Japan? And thirteen of those are located in Toyota City. It's was renamed Toyota City due to the ties the manufacturer had with the city previously known as Koromo. So a majority of Toyota's cars are built in Toyota City, and the rest in the other factories in Japan. But there are a few models that are built elsewhere;
The Avensis and Auris are both produced here in the UK in Derbyshire.

The Yaris Hatchback is built in France and Thailand

And the Camry is also built in Thailand
Unlike many other brands, including their parent company Toyota, all Lexus cars are built in Japan. Every single one.
Where does Nissan build their cars?
UK

The Note

Leaf

Juke

Qashqai

Japan
Spain

Pulsar
Navara
E-NV200
NV200/Combi
Cabster

France
Where does Volkswagen build their cars?
Many Volkswagen's build their cars in Germany. However, they also have factories around the world;
Portugal
South America

The 3dr Polo is also built in South America

Mexico

Jetta

This is because America
Where are Fiat cars built?
Due to their popularity across the world, Fiat build their cars all over, including;
Brazil
Japan

The Fiat Spider is built in Hiroshima

Mexico

The Fiat 500 is built in Toluca in Chrysler's assembly plant

Serbia

The Fiat 500L is built in Serbia, who knew?

Italy

The Fiat Punto and Panda are both built in Italy
Where does SEAT build their cars?
SEAT is another interesting one. SEAT have always been known to build their cars locally. Since their conception, they have developed the ability and infrastructure to develop their cars in Spain. 90% of SEAT cars are built in Barcelona with local materials and parts. They are the only Spanish manufacturer to do this.
The only exception is the SEAT Mii which is built in Poland.
Where does Peugeot build their cars?
Peugeot still builds many of their cars in France. But they have plants across the world;
Slovakia
Brazil
France

The 208, 308 and 508 are all built in France
Mini build most of their cars in the UK. These include;
The Mini Hatch

Clubman

Convertible

Roadster
However, the Countryman and Paceman are built in Austria.
What cars are built in the UK?
So here is a comprehensive list of the cars built in the UK;
Mini

Mini Clubman

Mini Countryman
Toyota

Auris (and hybrid)

Avensis

Honda
Aston Martin

DB9
Vantage
Rapide
Vanquish
DB11

Lotus
Bentley

Continental
Flying Spur
Mulsanne

Jaguar
Land Rover

Discovery Sport
Range Rover Evoque
Range Rover Sport
Defender

Rolls Royce
Vauxhall
So if you want to buy British, you know what cars to buy.
Hopefully, this has given you a good idea of where each car is built. If you're looking to buy British then you'll know which cars and brands you want to be looking at. And, it's always interesting to know where your car came from.

Latest posts by Holly Martin (see all)