Review of the Alfa Romeo Stelvio Estate
The new Alfa Romeo Stelvio Estate is a suited and booted mid-sized family car that mixes striking looks with a fun drive.
For the price, there's a lot to admire about the package on offer here. This is the Italian brand's first foray into this market but they haven't taken any time to settle in. Instead, this is instantly a potential winner that's taken everything that was so good about the smaller Giulia Saloon and super-sized it.
OSV takes a closer look at what it's all about with our 2018 Alfa Romeo Stelvio Estate review.
It's unusual for a compact Estate to have too much appeal to the enthusiastic driver, but the Stelvio manages to buck the trend. It's entertaining and capable, with its driving experience helped by the fact that it shares a lot of its fiddly bits with the Giulia Saloon. Despite being larger than its sibling, it drives a lot like it.
We have no complaints with its super responsive controls, while the ultra-light electrically assisted steering manages to be another positive by virtue of the fact that it's precise and direct.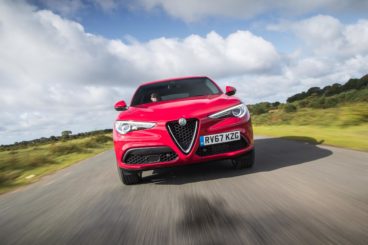 In another case of the Stelvio bucking the trend, body lean isn't an issue. Drivers can approach bends with pace and barely notice any roll, and this is despite the overly firm suspension
Of course, enthusiastic drivers will be disappointed by the lack of a manual gearbox, but OSV would argue that the presence of a smooth eight-speed automatic means any sense of disappointment won't be lasting. It comes with a manual mode that allows for almost instant control of the changes, but in automatic mode it's seamless and compliments the character of the car well.
The Stelvio Estate comes with the brands DNA system that allows you to alter its responses to suit your mood or driving style. Switch to the Dynamic mode and the steering becomes heavier, while the car eases off if you choose the Natural Mode. The Advanced Efficiency mode, meanwhile, will save on fuel.
At the top of the range is a four-wheel-drive high-performance Quadrifoglio model that's sharp, precise and very agile. In fact, it hardly feels like a big car at all and takes to the road like a Saloon. Indeed, the only thing that sets it apart from a Saloon is more body lean.
It's powered by a twin-turbocharged V6 engine that develops a crushing 503bhp. That's enough to haul the car from rest to 62mph in less than 4.0 seconds. It's an expensive model, however, and most buyers will look at the only other petrol engine in the Stelvio range, a 2.0-litre unit that delivers 276bhp. That's a little more than half the power that the Quadrifoglio model produces, but it's enough to cover the 0-62 dash in 5.7 seconds.
It's not a perfect engine by any means, and some buyers might get frustrated by the artificial sound generator. It's meant to give the engine a bit of charisma because without it, it sounds kinda dull.
Alfa Romeo Stelvio Estate Interior, Design & Build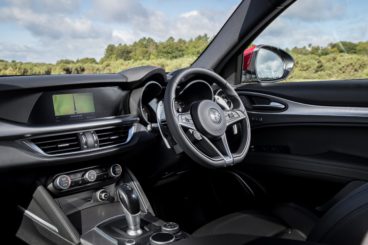 There's a lot to like about the Stelvio's cabin. It looks fine, feels fine, and everything works seamlessly. Its overall quality has improved too, with Alfa Romeo choosing better materials than they have in the past for this particular car. Indeed, in terms of style we could even compare it favourably with a Maserati – and that's saying something!
The driving position is loftier than it is in the Giulia Saloon, and visibility is good. The dashboard has pretty much been lifted from its sibling, while the instruments are a nod to the brands sporting heritage. They're also easy to read and use. It looks like Alfa Romeo won't be adopting an all-electronic dashboard, however.
How practical is the Stelvio Estate? It comes up a bit short here. It doesn't boast as much interior space as rivals, though four adults can sit in relative comfort. There's not much room for rear seated passengers to stretch out, while the Quadrifoglio model compromises even more on space, thanks to its carbon-fibre bucket seats.
Figures for the boot have yet to be released but it promises to be usable and comes with a tailgate that opens as high as the bumper.
Equipment and Safety of the Alfa Romeo Stelvio Estate
Standard kit is good across the range, with entry-level models getting the likes of 8 speakers, Bluetooth, a digital radio, an 8.8" infotainment system, dual-zone climate control and 17" alloys. The Super trim adds 18" alloys, a two-tone leather dash, part-leather seats, sat-nav and front parking sensors.
The Speciale trim gets bigger 19" alloys, gear change paddles, aluminium trim, leather seats, heated front seats and xenon headlights. The Quadrifoglio model, meanwhile, gets carbon-backed bucket seats, red decorative stitching and a carbon-fibre steering wheel.
Is the Alfa Romeo Stelvio Estate safe? It was awarded all five stars by Euro NCAP for its crash test, while its standard safety kit includes active cruise control, forward collision warning and blind spot warning.
Costs of the Alfa Romeo Stelvio Estate
Prices for the new car start out from £33,990 and rise to £45,390. If you prefer to lease, you can pick up a deal from £356 + VAT per month. For more information on our leasing deals, check out our page here.
In terms of its running costs, the 2.0-litre petrol engine is the most economical, returning 40mpg while emitting 161g/km of CO2. That's competitive for this class but the four-wheel-drive Quadrifoglio model can only return 31.4mpg economy at best.
Alfa Romeo doesn't have the best reliability record around and depreciation will be an issue.
Pros and Cons of the Alfa Romeo Stelvio Estate
Stylish
This might be bigger than your typical Alfa Romeo, but it's no less desirable.
It's Fun
Even if you don't break the bank and go for the Quadrifoglio model, the Stelvio is still one of the most entertaining, surefooted cars of this type.
Fine Cabin
Alfa Romeo cabins are hit and miss. Fortunately, this one is a hit.
Bit Impractical
This is an area the Stelvio falls short in, which for an SUV is disappointing.
Lack of a Manual Gearbox
This might be a deal breaker for some enthusiasts.
Alfa Romeo Stelvio Estate vs Hyundai Kona vs SEAT Arona
Let's see how the car fares against its rivals in the comparison section of our 2018 Alfa Romeo Stelvio Estate review.
Alfa Romeo Stelvio Estate vs Hyundai Kona
The new Hyundai Kona is handsomely designed and comes stuffed with standard kit and an eye-catching warranty.
A couple of years back it would have been unthinkable to climb down from an Alfa Romeo and opt for a Hyundai instead. Times have changed and it's a measure of the Korean brand's recent success that they're now being pitted against Alfa Romeo's.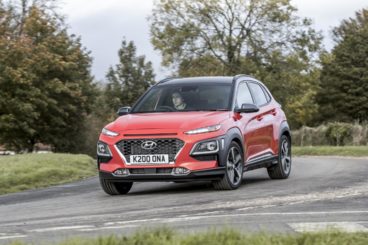 The Kona isn't as engaging as the Stelvio. On the road, it lacks finesse but it is at least competent. Performance is average while its handling is best described as safe and predictable. That's no bad thing, of course, but if you're on the lookout for an involving driving experience you won't find it here.
In terms of its engines, there are a pair of petrols available. A three-cylinder 1.0-litre engine will be the most popular. It develops a gutsy 118bhp and can get you from a standstill to 62mph in 12.0 seconds flat. That's enough for most driving situations, but there'll be times when you need more power.
The 1.6-litre petrol engine gives you that extra power. It develops 175bhp, which is enough to haul you from a standstill to 62mph in 7.9 seconds. That's impressive and, unlike the 1.0-litre engine, it comes with an automatic transmission and four-wheel drive. It also comes with bigger 18" alloys but this all serves to knock its economy down to 42.2mpg.
The smaller engine, on the other hand, returns 52.3mpg.
There's a big difference in ride quality between the two engines. The 1.0-litre engine benefits from smaller alloys, not only when it comes to fuel costs but also comfort, while the bigger engine's larger alloys make the ride too firm and brittle. Both cars are fairly hushed, however, and insulation is good.
The dashboard makes up for usability what it lacks in style, with all the controls and dials logically arranged. The infotainment system is compatible with Apple CarPlay and Android Auto, while all models get a digital radio, Bluetooth and air conditioning.
Is the Hyundai Kona practical? This is where the Stelvio falls apart a bit and it's a similar story with the Kona. The boot measures 361-litres, and while we can't yet compare that with the Stelvio, it's below average for this class.
That said, although the car looks compact from the outside, rear headroom is decent. There are more spacious cars in this sector, however, while the Kona has a max towing weight of 1,200kg.
Price:
Hyundai – £16,195 – £24,995
Alfa Romeo Stelvio Estate vs SEAT Arona
The new SEAT Arona is another assured product from SEAT, a manufacturer who does sharp-looking cars like they were born for this.
Unusually for SEAT, though, the Arona isn't one of the most entertaining cars to drive in its class. It's agile and performative, but it doesn't offer as much fun as the Stelvio. Moreover, none of its models come with four-wheel-drive.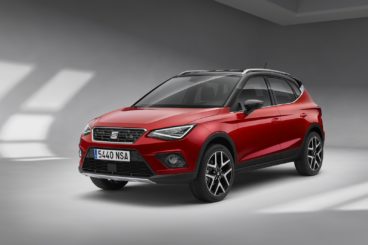 In the towns and cities, it's perfectly at home. The steering is well weighted and accurate but the lack of communication can be unnerving. Body lean is well resisted and overall the car handles like a bigger, more mature SEAT Ibiza.
In terms of its engines, there's a few to choose from. A 1.0-litre three-cylinder TSI unit kicks things off, developing 94bhp. That won't be enough for most buyers, who might prefer a 113bhp variant instead. It comes with a 6-speed manual 'box as standard and a DSG auto as an option. It's zippy and can get you from rest to 62mph in around 9.9 seconds.
A four-pot 1.5-litre petrol engine is the sporty option and is only available with the FR or FR sport trims. It develops 148bhp, gets sportier looks, makes a lot of noise but never feels as fast as you'd like.
Where running costs are concerned, the small 94bhp petrol returns 57.6mpg at best, while the 113bhp variant doesn't fare much worse. The 1.5-litre engine is hardly expensive to run either, returning an impressive 55.4mpg.
Inside, the Arona doesn't feel as luxurious as one might hope based on its exterior looks, but it's tastefully designed and well equipped. The cabin is modern, neatly put together and usable. It looks a lot like the Ibiza, there are lots of top-notch materials, but there is a lack of fun.
Is the SEAT Arona practical? Like the Stelvio, it isn't the best in its class where practicality is concerned. It's useful for most everyday situations, headroom has been improved, and there should be enough space for everyone to feel comfortable. The 400-litre boot outdoes the Hyundai but it lacks the versatility of some of its rivals.
Price:
SEAT – £16,555 – £24,640
Verdict of our 2017 Alfa Romeo Stelvio Estate Review
Alfa Romeo had to deliver with this, they're first ever SUV – and they have. It's gorgeous, drives well, sports an upmarket cabin and boasts strong engines. It lacks a bit of practicality, but if it's a desirable SUV you're on the lookout for, you could do a lot worse than give the Alfa Romeo Stelvio Estate a try.
When you lease a car with OSV there are no hidden costs, request a call back and we'll find you a finance, lease or purchasing deal designed just for you.