Review Of The Audi A4 Diesel Saloon
The new Audi A4 Diesel Saloon is one for people who appreciate the finer things in life. It boasts one of the best cabins in this class, it's one of the most stylish cars in this class, and the best thing? It's economical.
Audi has traditionally faced off with BMW and Mercedes in this market but it now faces stiff competition from the likes of Jaguar and Infiniti, two brands we'll be taking a look at in this review.
OSV takes a closer look at what it's all about with our 2018 Audi A4 Diesel Saloon review.
The A4 suffered from vague steering last time around but Audi has now shored up both its performance and its handling prowess. It's still no great entertainer but its steering is now sharper and there is more communication. Active steering is an optional extra but we recommend that you avoid it as it makes things feel too artificial behind the wheel.
The suspension has been softened so that ride quality is now more comfortable, but there's still minimal body lean. Adaptive suspension is available and it does boost ride quality. That said, it doesn't come cheap and might be worth overlooking if you're not that bothered about a soft ride.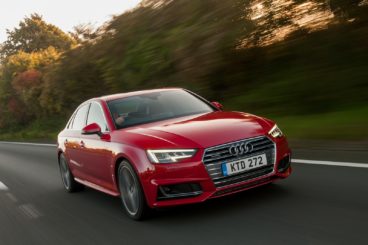 Quattro four-wheel-drive is standard on some models but front-wheel-drive is a fine setup here. Buyers have a choice between a 7-speed S Tronic dual-clutch automatic 'box and a 6-speed manual, while an 8-speed automatic is reserved for the bigger engines. We like the 7-speed auto transmission best as it lets you take control if you want and the changes are smooth in automatic mode.
In terms of its engines, there are plenty of diesels to choose from. The 2.0-litre diesel is available with either 148 or 187bhp, and both variants are quieter and smoother than any diesel that came with the A4's predecessor.
Either of those engines are solid picks that will suit most buyers, but if your budget stretches further and you want more power, a brawny 3.0-litre V6 diesel is available in two power guises. The 215bhp variant is fast but the 268bhp variant races from a standstill to 62mph in 5.3 seconds, making it faster than a number of hot hatches.
It's a powerful, grippy engine that's paired up with Quattro four-wheel-drive and an 8-speed automatic transmission.
Audi A4 Diesel Saloon Interior, Design & Build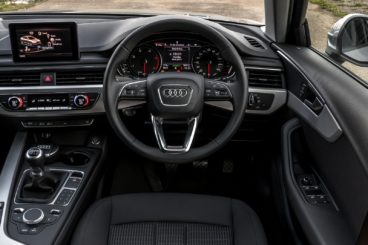 We've reviewed a lot of Audi's and barely had any criticism for any of their interiors. Once again here, Audi has put together an impeccable cabin that's impossible to criticise. It's well-built, there are top-notch materials everywhere and it's stuffed with standard kit.
The dashboard is a lot cleaner than last time with Audi adopting the minimalist aesthetic. It's probably too conservatively designed for some tastes but no one can deny the air of sophistication it gives off.
The brand's Virtual Cockpit is present and correct on the optional extras list, and adding it means there's no need for the usual instrument dials that can clutter the place up. In fact, the only controls on the dash are driver aids and a button for the climate control. Meanwhile, each model gets an "air shower" which is actually the central vent, while Google Maps comes with the inbuilt sat-nav.
In terms of how practical it is, it's longer and wider than last time, which means the driver and passengers have more room. Rear passengers certainly benefit from an increase in legroom while headroom is excellent.
It's easy for the driver to get comfortable thanks to a seat and steering wheel that adjusts a lot, while the boot measures a respectable 480-litres.
Equipment & Safety Of The Audi A4 Diesel Saloon
Standard kit is generous across the range, with even the entry-level model getting the likes of Bluetooth, MMI Radio Plus, a three-spoke steering wheel, cruise control, keyless start, 3-zone climate control, LED daytime running lights and 17" alloys. If you want sports suspension, LED headlights, sports seats and more goodies, you'll have to fork out for the higher-spec models.
Optional extras include the Virtual Cockpit, a pair of adaptive suspension setups and LED matrix headlights.
Is the Audi A4 Diesel Saloon safe? Absolutely. It scored 5/5 when crash tested by Euro NCAP and comes with one of the most advanced adaptive cruise control systems on the market. It also gets state of the art xenon headlights and Turn Assist.
Costs Of The Audi A4 Diesel Saloon
Prices for the new car start out from £27,810 and rise to £43,500. For more information on our leasing deals, check out our page here.
In terms of its running costs, the A4 Saloon boasts a diesel that's almost the most frugal in the entire class. The engine in question is the 2.0-litre Ultra diesel that returns a high of a 74.3mpg economy while emitting 106g/km of CO2. If you're a cash-conscious buyer, you'll struggle to find better elsewhere.
If you need a bit more power, the 2.0-litre 187bhp diesel returns 67.3mph and emits as much as 119g/km of CO2. All models cost £140 per year in road tax, while the most frugal diesel engine sits in insurance group 20. The most powerful 268bhp diesel, on the other hand, occupies group 36.
Pros and Cons Of The Audi A4 Diesel Saloon
Efficient
The most frugal diesel returns over 74mpg, making it one of the cheapest models in this entire sector.
Gorgeous Interior
We're running out of superlatives for Audi interiors. Exquisite, modern and plush with tech.
Comfortable
The driving experience is as comfortable as you want an exec saloon to be.
Looks The Same As Last Time
Audi could have spent a bit more time and cash evolving its looks. It's stylish but dated and will be too conservative for some.
Expensive Options
The likes of adaptable dampers and the Virtual Cockpit are expensive optional extras, but they're just the tip of the iceberg …
Audi A4 Diesel Saloon vs Infiniti Q50 Diesel Saloon vs Jaguar XE Diesel Saloon
Let's see how the car fares against its rivals in the comparison section of our 2018 Audi A4 Diesel Saloon review.
Audi A4 Diesel Saloon vs Infiniti Q50 Diesel Saloon
The new Infiniti Q50 Diesel Saloon offers plenty of quality but it's let down by a lack of excitement behind the wheel and a noisy engine.
If Infiniti hoped their new Q50 would rival BMW when it comes to drivability, they've missed the mark by some distance. There's just not enough communication for the driver to have any sort of confidence. Adaptive steering is a £800 optional extra but it doesn't enhance anything. In fact, it makes things worse.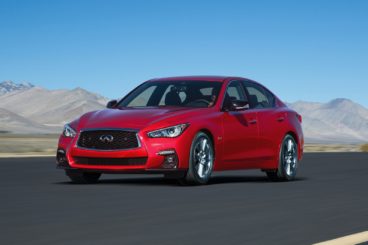 There's just one diesel engine available, a 2.1-litre power plant that develops a decent 168bp, but which completes the 0-62 dash in a modest 8.5 seconds if you stick to the manual 'box. Go for the automatic, and that time is pegged back to around 8.7 seconds.
It's not a smooth or a quiet engine which makes it very hard to recommend over the Audi. It's cheap to run, though, and can return as much as 65.7mpg while emitting as little as 114g/km of CO2. This qualifies it for a 22% BiK rating. Buyers will also be attracted to the fact that it can be specified with a manual transmission.
Inside, Infiniti has added an active noise-cancelling system to keep the diesel engine out as much as possible. It works well overall but when you put your foot down, you will hear the engine rattle.
The soft suspension means that you're fairly comfortable once you're up and running and the car rarely kick-backs even over large potholes.
The design of the car is smart and there's plenty of hi-tech kit. Two touch screens dominate the dashboard, the sat-nav is excellent, and the Q50 comes with voice control that's really clear.
Is the Infiniti Q50 Diesel Saloon practical? It boasts a 500-litre boot which just edges the Audi, the seats are super comfortable, while a neat optional extra allows you to adjust the speed and weight of the steering. Parking sensors come as standard while rear leg and headroom are fine.
Price:
Audi – £27,810 – £43,500
Infiniti – £29,860 – £47,020
Audi A4 Diesel Saloon vs Jaguar XE Diesel Saloon
The new Jaguar XE Diesel Saloon is sharply designed, comfortable and affordable.
It's also fun to drive. It's not a pure drive-focused thoroughbred, but Jaguar has done a good job of blending together comfort with involvement. The steering is accurate, weighty, and it reacts quickly to your inputs.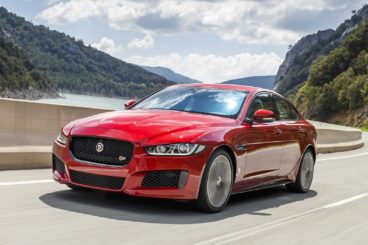 It's also an agile car that comes with the choice of an 8-speed automatic transmission or a 6-speed manual. We like the former as it shifts gears smoothly and quickly, and you can take over by using the available paddles. It will be the most popular gearbox, although it's not as smooth in manual mode as the A4.
JaguarDrive is offered on all models, a system that lets you flick between different driving modes. Four-wheel-drive is an optional extra but it's not really worth adding as it keeps the car in rear wheel drive practically all of the time anyway.
In terms of the engines, there's just one diesel available. It's a 2.0-litre unit that you can get in three different power guises. The smaller of the two develops 161bhp, which is enough to get you from a standstill to 62mph in 8.4 seconds if you stick to the manual 'box. Specify the 8-speed automatic and that time goes down to 8.2 seconds.
The bigger of the pair of engines develops 178bhp and completes the 0-62 dash in 7.8 seconds regardless of whether you stick with the manual or twist. Four-wheel-drive knocks it up to 7.9 seconds.
Rounding off the range is a meaty 237bhp 25d engine that can haul you from rest to 62mph in 6.1 seconds. This one will, of course, be more expensive to run, but if you go for the 161bhp engine, you can see returns of a 75mpg economy.
The 178bhp variant, meanwhile, is good for 67.3mpg and has a BiK rating of 23%.
Inside, the XE's interior is reminiscent of the XF. Fit and finish is excellent, the driving position is sporty and the wraparound dash makes it feel very driver focused. There's plenty of scope for choice where the upholstery is concerned, while the blue ambient lighting gives things a touch of elegance.
An 8" touchscreen is probably Jaguar's easiest one to use yet but it's still easy to get things wrong and hit the wrong button. There are a couple of other flaws in the cabin too, including an unnecessarily wide centre console and a side-air vent that's mounted way too low for the driver.
Is the Jaguar XE Diesel Saloon practical? Its boot is a bit on the small side compared to the Audi, measuring as it does just 455-litres. Add the space-saver wheel and you'll lose 5 more litres. The lip is small at least.
There's lots of room up front for the driver and their passenger, but rear seated passengers will struggle for space. A wide tunnel will make things especially awkward for anyone sat in the middle, while thick windscreen pillars weaken visibility for the driver. All in all, practicality isn't a strength of the Jaguar.
Price:
Jaguar – £28,295 – £48,045
Verdict Of Our 2017 Audi A4 Diesel Saloon Review
For Audi, this is an important car. Have they done enough to ensure it stays one of the top sellers in this market? Definitely. To keep up with the competition, the brand has made the new A4 as comfortable and tech-laden as possible. It's swish, it's affordable to run and it's highly desirable. The new Audi A4 Diesel Saloon is the perfect package.
When you lease a car with OSV there are no hidden costs, request a call back and we'll find you a finance, lease or purchasing deal designed just for you.