Review Of The BMW 4 Series Gran Diesel Coupe
The new BMW 4 Series Gran Diesel Coupe builds on everything we like about the standard 4 Series Coupe; it's just as stylish but has more usability, it's more comfortable, and it should appeal to families who want an upmarket hatchback.
Indeed, the hatchback boot lid and rear doors are strong parts of its appeal, but so too are its powerful engine and svelte looks.
OSV takes a closer look at what it's all about with our 2018 BMW 4 Series Gran Diesel Coupe review.
The new 4 Series Gran Coupe drives a lot like the 3 Series, which means tidy handling and excellent driving dynamics. Adaptive chassis is offered, but even if you don't specify it the accurate steering and sheer amount of feedback available gives you a good idea of what's happening with the front wheels.
Add the £250 Variable Sport Steering and the car is even more responsive.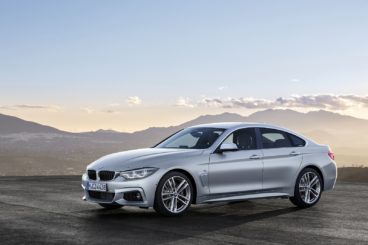 On smaller alloys, ride quality is good and body lean is kept to a minimum. Thanks to a taut chassis, the 4 Series is enjoyable no matter what speed you're at. That said, don't expect the car to smooth out all road surfaces. It's not pillow-soft and there will be instances when it feels a bit crashy.
The bigger engines can be specified with xDrive four-wheel-drive, and doing so means you get more grip. However, extra grip isn't necessary for all buyers as in its standard guise the car feels strong, secure and composed. Anyone who's planning to make frequent trips in compromising conditions, though, would benefit from the system.
In terms of the engines, the 435d diesel model is the most powerful unit in the whole range. It develops as much as 313bhp, boasts 630Nm of torque, and can complete the 0-62 dash in less than 5.0 seconds.
The 430d model is cheaper but still packs six cylinders and is barely any slower.
Those of you on a budget are well-catered for too. A 418d diesel model sits at the bottom of the range, and it shares its four-cylinder 2.0-litre engine with the 420d model. It develops 143bhp while the 420d develops 184bhp, and both of these power plants will account for the lion's share of 4 Series Gran Diesel Coupe sales.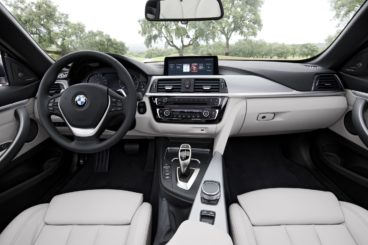 This car is marketed as a sports coupe but it's still super comfortable inside. It looks and feels a lot like the 3 Series, which is no bad thing. It means the centre console is angled towards the driver, all models get the brands iDrive system which is controlled easily via the iDrive controller and the quality of the materials used is excellent.
In fact, you won't find better plastics in any other car in this sector.
The 4 Series isn't as boldly designed as some rivals but there's no doubting its quality. If you're happy with a business-like setting, it will suit you just fine. The steering wheel offers lots of adjustability (electric adjustment is an optional extra), and the seats combine with good ride quality to keep you and your passengers happy.
Is the BMW 4 Series Gran Diesel Coupe practical? The fact that it's added rear doors means it's a lot easier to access back seats than it is in the standard coupe, while the hatchback boot improves usability. It measures 480-litres, which means it's just as big as the 3 Series Saloon. Fold the rear seats and it extends to 1,300-litres in size.
The sloping roofline means headroom could have been compromised, but it's not too bad at all. However, despite there being three seats in the rear the middle seat is really for children only. Legroom is good for all.
Equipment & Safety Of The BMW 4 Series Gran Diesel Coupe
Standard kit is decent, with entry-level models getting a 6.5" colour screen, a digital radio, dual-zone air conditioning, front and rear parking sensors, leather seats, 17" alloys, cruise control, sat-nav, Bluetooth and xenon headlights.
The Sports trim adds 18" alloys, a driving mode Selector, a dark chrome exhaust, more interior and exterior detailing, as well as ambient lighting.
The Luxury trim rounds things off with a better infotainment system, upgraded leather seats with exclusive stitching and chrome exterior trim.
Optional extras include the Interior Comfort package that adds electric seat adjustment and tinted glass and the Advanced Parking Package which comes with parking assist and a reversing camera.
In terms of how safe the car is, it hasn't been crash-tested by Euro NCAP. The car on which it's based – the 3 Series – landed all 5 stars when it was put through its paces and we'd expect this one to follow suit.
Its standard safety kit includes lots of airbags, traction control, stability control and cruise control, while optional extras include a useful head-up display and a camera system.
Costs Of The BMW 4 Series Gran Diesel Coupe
Prices for the new car start out from £33,985 and rise to £48,655. For more information on our leasing deals, check out our page here.
In terms of its running costs, the 420d model is your best bet if low running costs and decent performance are a priority of yours. It returns 67.3mpg economy and emits just 111g/km of CO2.
The 435d, meanwhile, is powered by a much more powerful 3.0-litre turbo diesel unit but returns just 49.6mpg while emitting 150g/km of CO2.
Adding four-wheel drive to any model you choose will have a negative impact on running costs but specifying an automatic transmission improves the numbers.
Pros and Cons Of The BMW 4 Series Gran Diesel Coupe
Attractive
A sharp design and a bold, assertive look make it one of the most handsome cars in this sector.
Great To Drive
It handles a lot like the 3 Series, which is nothing but a good thing.
Practical
Its hatchback boot and extra doors make it more useful than the standard coupe variant.
Pricey
It costs £3,000 more than the 3 Series. How? We're not sure.
Not As Versatile As The 3 Series
The 3 Series is cheaper and it's a better all-rounder.
BMW 4 Series Gran Diesel Coupe vs Audi A5 Diesel Coupe vs Mercedes CLA Diesel Coupe
Let's see how the car fares against its rivals in our 2018 BMW 4 Series Gran Diesel Coupe review.
BMW 4 Series Gran Diesel Coupe vs Audi A5 Diesel Coupe
The new Audi A5 Diesel Coupe has got a lot to offer – it looks great and feels luxurious – but it's not as sharp to drive as the BMW.
Indeed, its on-the-road performance is where it's going to leave some of you feeling a bit cold. There's plenty of power on offer and the steering is nice and precise (if uncommunicative), but ultimately it just isn't that much fun.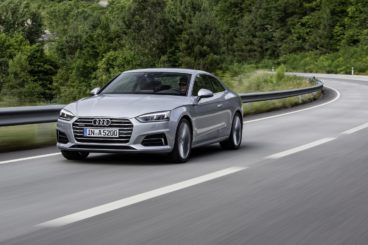 The BMW is more rewarding, while the Mercedes CLA is more relaxed and comfortable. The A5, on the other hand, struggles with poorer road surfaces and overall relies on numbers to impress the buyer.
Those numbers? The 2.0-litre 187bhp diesel kicks things off with a 0-62 time of 7.7 seconds. Add four-wheel-drive and you can slash that down to 7.2 seconds.
The V6 3.0-litre engine will be more like it for some of you. It develops 215bhp, gets Quattro as standard, comes paired up with an excellent 7-speed automatic 'box and can get you from a standstill to 62mph in 6.2 seconds. It's pretty rapid but always feels smooth.
Running costs? The 2.0-litre diesel – when specified as the Ultra version – is good for returns of 68.9mpg, while the bigger 3.0-litre diesel averages 61.4mpg, which is remarkable for a car of this size and an engine of this power.
Inside, Audi has yet again delivered an exquisite interior that's intuitive, well-built and luxurious. There are tactile aluminium accents here and there, lashings of leather, and the design language is slick and modern.
Insulation is good, while the dashboard is easy on the eye. All models get the brands fantastic Virtual Cockpit as standard, as well as the MMI infotainment system.
Is the Audi A5 Diesel Coupe practical? Audi has put the onus on style before substance but it isn't completely without its practical merits. It's got just the two doors, the rear seats are small and hard to access, but the boot measures a reasonable 465-litres. That's smaller than the BMW but there should be enough space for most buyers.
Price:
BMW – £33,985 – £48,655
Audi – £33,840 – £42,895
BMW 4 Series Gran Diesel Coupe vs Mercedes CLA Diesel Coupe
The new Mercedes CLA Diesel Coupe is uber-stylish, and it's also one of the most luxurious road experiences you'll have at this price point.
However, it isn't very exciting or rewarding. It's pleasant enough to drive, there's a decent amount of feedback available from the steering but it lacks the sheer excitement that the BMW can offer.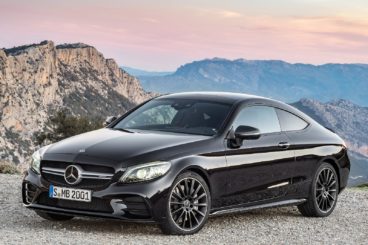 That said, it feels sharper than the Audi A5 at least, and its body is well controlled. Its firm suspension makes it slightly sportier, but it might also serve to put off buyers who were more interested in a refined, cosseted Mercedes.
4MATIC four-wheel-drive is available as an optional extra and it's well worth adding if you feel as though you'll need huge levels of grip. It won't improve the car's drivability, though.
In terms of the engines, a 2.1-litre diesel engine powers both the CLA 200d and 220d models. The former develops 134bhp and completes the 0-62 dash in 9.0 seconds, while the latter produces 175bhp and completes the same dash in 7.7 seconds.
We like the C220d model. It's a capable all-rounder that accelerates well and returns 67mpg. Counting against it are diesel clatter and a frustrating 7-speed automatic 'box. The 200d, when paired up with a manual 'box and returns 67.3mpg, and 70.6mpg if you specify the automatic.
Inside, the CLA looks a lot like the A-Class, which means fit and finish is good, all models get a 7" tablet-style screen, while a textured leather multifunction steering wheel helps to add a bit of class.
Insulation is good and the design is smart, but in terms of overall quality, we'd have to say that the Mercedes falls short. To boost quality, you have to spend £2,000 on an Exclusive Package that gets you leather trim, heated seats and other goodies.
Is the Mercedes CLA Diesel Coupe practical? It's boot measures 470-litres which is just shy of the BMW. It's not the easiest boot to use, thanks to a high slip and a narrow opening.
Similarly, the CLA doesn't go too easy on rear seated passengers. The roofline limits headroom, and despite this being a five-seater anyone who sits in the middle will have to contend with a wide transmission tunnel.
Upfront, the driver and their passenger get plenty of room and there is a decent amount of storage space available.
Price:
Mercedes – £26,490 – £49,350
Verdict Of Our 2018 BMW 4 Series Gran Diesel Coupe Review
It's billed as a sportier version of the 3 Series, while a hatchback boot and rear doors mean it's also a more practical version of the standard 4 Series Coupe.
However, we'd strongly suggest you take a look at all three cars as the BMW 4 Series Gran Diesel Coupe isn't the obvious choice. It's stylish, confident, powerful and efficient, but with so much choice around it's important that you assess your options.
When you lease a car with OSV there are no hidden costs, request a call back and we'll find you a finance, lease or purchasing deal designed just for you.