Review Of The BMW 7 Series Diesel Saloon
The new BMW 7 Series Diesel Saloon showcases the best of what BMW has to offer: It's stunning inside and out, brims with luxury, dazzles with new tech, shimmers with style, and it offers a peerless driving experience.
If you fancy owning one of the most assured cars on the planet, test driving the 7 Series is essential. It doesn't shift big numbers, which means you'd be one of a few owners, but it also isn't just a case of BMW showing off because it also boasts low running costs and is super practical.
OSV takes a closer look at what it's all about with our 2018 BMW 7 Series Diesel Saloon review.
As far as luxury saloons go, none are as entertaining to drive as this one. More often than not, the buyer gets a chauffeur to drive the 7 Series for them, but if you do that you're missing out on what is genuinely a top-drawer driving experience.
It's more agile than last time, feels more involved than last time, and each mode comes paired up with a slick 8-speed StepTronic automatic gearbox that shifts gear with velvet smoothness.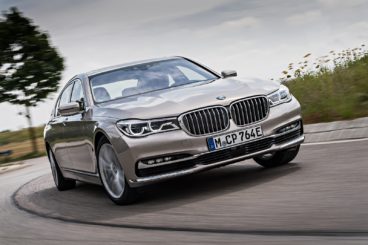 If you want to increase agile even further, the £1,195 rear-wheel-steering wheel is ideal, especially for the long wheelbase model where increased manoeuvrability is welcome.
In terms of the engines, none are what you'd call cheap, which is surely why buyers are hardly going to base their decision according to price. That said, the economical 730d diesel model stands out for its blend of low running costs and strong performance.
It's powered by a 3.0-litre engine that develops 261bhp, and which has plenty of shove to get this hefty saloon from A to B with breathtaking ease. It's a comfortable model that can be made even more comfortable by adding options to the adaptive air suspension setup (which comes as standard), while a £2,450 Executive Drive Pro system enhances ride quality even more by priming the car according to the state of the road surface.
The 730d diesel covers the 0-62 sprint in 6.1 seconds before maxing out at 155mph. If you go for the heavier long wheelbase model, expect to cover the same sprint one-tenth of a second longer.
Other diesel engines include a 725d model that hauls the car from rest to 62mph in 7.1 seconds and a xDrive four-wheel-drive 740d model that completes the same dash in 5.2 seconds. It's refined and quick but its extra performance and the four-wheel-drive system might seem unnecessary to most buyers.
BMW 7 Series Diesel Saloon Interior, Design & Build
The 7 Series boasts a 5-star interior that's stunningly designed, achingly luxurious and beautiful to look at. Its materials are all top notch and the amount of advanced tech onboard will please the gadget lovers.
But perhaps the best thing about this car is how quiet it is. On the move you could hear a pin drop, while comfort is also excellent. It really is a great way to travel.
The dashboard is hi-tech but understated, and is dominated by a brand new infotainment screen. However, the first thing buyers might notice is the rich wood trim. It's gorgeous.
The dials are big and clear, and a head-up display comes as standard. It's super handy because it means drivers can check for necessary information while keeping their eyes on the road.
All models come with a sat-nav system that gets 3D buildings, as well as the brands remote services smartphone app that lets you check exactly where you are on the map. It also lets you unlock and lock your doors remotely.
Is the BMW 7 Series Diesel Saloon practical? It's not short of space, though if practicality is important to you, you'll probably want to go for the long wheelbase version. It lets you choose between a pair of reclining armchairs or a traditional 3-seat rear bench.
Either way, the shorter model is 26mm longer than last time, so it's hardly cramped for space. Moreover, the passenger seat can be tilted forward or shifted forward for extra rear seat space. The headrest folds away as well.
The boot, meanwhile, measures 515-litres.
Equipment & Safety Of The BMW 7 Series Diesel Saloon
Standard kit across the range is good, with all models getting a 3-spoke leather steering wheel, heated seats, a reversing camera, parking sensors, auto-dimming headlights, Bluetooth wireless charging, a digital radio, cruise control, a 10.25" colour screen, LED brake lights, four-zone climate control and 18" alloys.
All models also get the brands ConnectedDrive system, a concierge service that connects you to local hotels and restaurants.
The long wheelbase model also gets a roller sun blind for the back window and an electric glass sunroof.
The optional extras list is lengthy and expensive, but buyers might be interested in the Rear Seat Comfort Package. It costs £4,185 and grants your rear seat passengers access to a touchscreen tablet that lets them control all sorts, from the multimedia system to the climate control function.
In terms of how safe the car is, it hasn't been crash tested by Euro NCAP and probably won't be. However, we expect it to be very safe and its standard safety kit includes braking assistance, stability control anti-lock brakes and lots of airbags.
Costs Of The BMW 7 Series Diesel Saloon
Prices for the new car start out from £62,725 and rise to £138,265. For more information on our leasing deals, you can check out our page here.
In terms of its running costs, the massive 725d diesel model is remarkably frugal and can return as much as 60.1mpg. However, the 730d model is going to account for most of the sales, but despite clocking 0-62 in 6.1 seconds, it can still return around 59mpg economy.
The four-wheel-drive 740d xDrive model rounds things off, returning 55.4mpg and emitting 134g/km of CO2.
Insurance-wise, all models are expensive and occupy groups 45-50.
Pros and Cons Of The BMW 7 Series Diesel Saloon
Packed With Advanced Tech
This is BMW's most technologically advanced saloon so far, with all models getting ConnectedDrive and more goodies.
Economical
A huge 7 Series Saloon returning over 60mpg would have been ludicrous a few years ago.
Refined
Its excellent levels of refinement add to its sophisticated and luxurious image.
Understated Looks
It's not as visually striking as the 5 Series.
Expensive Options
The Rear Seat Comfort Package alone costs almost £5,000.
BMW 7 Series Diesel Saloon vs Mercedes S Class Diesel Saloon vs Audi A8 Diesel Saloon
Let's see how the car fares against its rivals in the comparison section of our 2018 BMW 7 Series Diesel Saloon review.
BMW 7 Series Diesel Saloon vs Mercedes S Class Diesel Saloon
The new Mercedes S Class Diesel Saloon is quiet, packed with advanced tech and just as luxurious inside as the BMW.
In terms of how it performs on the road, buyers will have to decide between the driving finesse of the BMW and the supreme comfort offered by the Mercedes. The S-Class's smooth, relaxed driving experience can't be matched, and this is what the essence of the car is all about. It's absolutely gorgeous to travel about in.
In fact, the only car that comes close to matching its comfort levels is a Rolls Royce.
Body lean is well managed and it grips well, but if you want to be entertained you'll have to stick to the BMW.
In terms of its engines, an old V6 diesel has (finally) been ditched in favour of a 3.0-litre straight-six engine that powers both the S350d and the S400d model. In the former, the engine develops 264bhp and in the latter it develops 335bhp.
In both models the engine is smooth and quiet, and most buyers will be satisfied by the S350d. It's quick and has a lot of torque to call on.
Running costs? The S350d model is good for returns of 50mpg while emissions stand at 139g/km of CO2. The bigger S400d model is likely to average around 40mpg, which still isn't bad when you consider how big the engine is.
Inside, the Mercedes is more than a match for the BMW on many fronts – luxury, quality and technology. Refinement and comfort is impeccable, a pair of 12.3" TFT screens sit behind glass on the dashboard, all models get a COMAND infotainment system as standard, and there are lashings of brushed aluminium, wood veneer and leather here, there and everywhere.
Is the Mercedes S Class Diesel Saloon practical? There's certainly no lack of space, either in the short or long wheelbase version, and it's the sheer amount of space that contributes most to its high levels of luxury. Leg and headroom is excellent upfront and in the back in both the short and long wheelbase versions.
The boot, meanwhile, measures 500-litres.
Price:
BMW – £62,725 – £138,265
Mercedes – £72,705 – £187,240
BMW 7 Series Diesel Saloon vs Audi A8 Diesel Saloon
The new Audi A8 Diesel Saloon is smooth, handles neatly and, like the BMW, offers plenty of advanced tech.
Audi has never intended for their A8 to be the most entertaining car on the road, but it's surprisingly sharp this time around. It's quiet, comfortable and, despite being so heavy, fun to drive.
Its sense of fun and agility is helped massively by its four-wheel-steering system that reduces its turning circle, but overall the BMW is still sharper.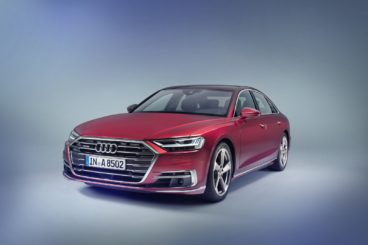 In terms of its engines, a 3.0-litre diesel unit continues to be a top seller. It develops 282bhp, has plenty of pulling power, and covers the 0-62 sprint in just under 6.0 seconds. It's paired up with an excellent 8-speed automatic 'box, and gets a mild hybrid system that helps to keep running costs down. As a result, the engine is able to return 50.4mpg.
This is even more impressive when you consider that the A8 is heavier than last time (despite Audi adding magnesium and carbon fibre components to keep its weight down).
For now, the 3.0-litre unit is the only diesel in the A8 range, but a 4.0-litre V8 power plant that develops 429bhp will be added to the ranks later in 2018.
Inside, the A8 boasts a quality interior that matches the BMW. It's mostly quiet, even at speed, although the wide tyres do intrude a bit, but if you want a whisper quiet experience, the Mercedes is the one to go for.
Its clutter-free dashboard is the most visually striking one we've seen in an Audi so far. It gets a 10.1" central touchscreen, an 8.6" screen below it, as well as the brands excellent Virtual Cockpit. In terms of hi-tech, then, the Audi is on par with the BMW.
Is the Audi A8 Diesel Saloon practical? Luxury saloons live and die according to how much space they can offer, but despite this A8 being the biggest one yet, it can't rival the BMW for space or practicality.
Instead, the A8 has the sensation of space, which won't be good enough for most buyers. Rear seat space is better than last time – but only just, and two adults will be far more comfortable back there than three.
The boot measures 505-litres, though, which is good.
Price:
Audi – £71,000 – £74,995
Verdict Of Our 2018 BMW 7 Series Diesel Saloon Review
Laden with technology, loaded with power and pace and yet able to boast low running costs, the new 7 Series seems to have it all. Sophisticated, refined and good to drive, it's a pearl of a car. Sure, it's not quite as agile or as visually compelling as some BMWs, but the new BMW 7 Series Diesel Estate is still an amazing piece of machinery.
When you lease a car with OSV there are no hidden costs, request a call back and we'll find you a finance, lease or purchasing deal designed just for you.