What are the consequences of Brexit for the car industry?
UK will exit the EU on March 29th 2019
Brexit will affect the import and export of cars
Carmakers want free trade to be a key point of negotiations
What effect will this have on delivery of your new car?
So, you're thinking about buying or leasing a new car in the next few months? You know that it's going to take some time for the car to be assembled how you want, but it's still only going to be a few weeks, right? What happens if you don't need your car until May? Is Brexit going to make that much of a difference?In all likelihood, you will have read something about how Brexit is going to affect some areas of your life.
Newspapers are full of articles warning of the potential negative effects that our withdrawal from the EU will have on people's lives. There has been mention of the possibility that you might need a visa to take your summer holiday in Spain – something that would spell the end of a last-minute European city break. There has also been speculation that the recent removal of roaming charges when using your mobile phone abroad will be reinstated. More recently, mention has been made that you'll be unable to use your UK Netflix or Spotify account when travelling.
Of course, all the headlines are just speculation. At the moment, no one knows exactly what is going to happen, and this lack of knowledge means that businesses feel they have no choice but to prepare for what could be seen as a worst-case scenario.
Brexit has dominated the news for over two years and with the deadline fast approaching plans still have to be made and a deal needs to be struck.
One thing that has become apparent is that no matter what decisions are made and what the deal eventually negotiated actually looks like. Theresa May has warned that it's incredibly likely the UK will leave the single market and customs union as a part of Brexit and all this will mean that the free movement of goods across European borders could end. As not all cars are built on UK shores this may also have an effect on how long it takes for your new car to travel from the factory to your driveway.
Another thing that will affect the length of time it takes for goods, like your new car, to arrive in the country is the necessity for businesses to learn a new way of working. The introduction of new customs processes will impact on every industry that relies on import and export, especially the motor industry, which relies on thousands of deliveries per day to get your car assembled and off the production line.
Looking for a new car but not sure what offers are currently available? Sign up for our weekly newsletter and we'll send you the best special offers on vehicles right to your inbox.
So how will Brexit affect me buying a new car?
When Europe's carmakers gathered in Paris at the beginning of October this year there was clear disquiet. The fact that Brexit is an unpopular subject and something that the industry is dreading is no secret. Companies like Nissan, Toyota and Honda have acknowledged they are nervous about the lack of progress being made in reaching a deal. Manufacturers warned of potentially detrimental effects on the future of the car industry in the UK following a 'no deal' Brexit.
Car companies and other industries that rely on transport of products through Europe are understandably concerned about the implications of leaving Europe without a deal in hand. They are requesting that the government make sure the topic of free trade is part of the negotiations.
Why this might affect you even if your car is assembled in the UK
Even if your car is assembled in the UK it is likely that some of its parts will have been transported across the channel at some point during the manufacturing process. The graphic below shows you the journey that a single bumper used in the construction of the Bentley Bentayga takes before it's added to the luxury vehicle in Crewe.
Components such as engines, transmissions and even windscreen wipers require a great deal of warehouse space, and in order to reduce this, many car manufacturers operate a 'just in time' or 'JIT' delivery system. This system relies greatly on components being delivered to factories just before they're needed. Every day over 1,100 trucks cross the Channel with deliveries intended for car and engine plants based in the UK. Just a few hours' extra getting through Customs will be enough to cause damaging delays in the production line.
If the UK government are unable to negotiate an acceptable deal for both sides before March 29th next year, then it's likely anything being transported from the EU would, by World Trade Organization rules, incur a 10% tariff, which could see the price of that brand new car increasing by more than £1,000.
The WTO tariff wouldn't only affect car manufacturers; pharmaceutical companies and oil producers are among the other UK-based industries concerned with the additional costs they will potentially incur following our EU divorce. It's important to note, however, that cars and car components are the UK's second largest export to EU and non-EU countries (such as America, Canada and China), adding up to over £41 billion in value per year. They are also the third largest import after electrical and mechanical machinery, with a value of over £54 billion in 2017.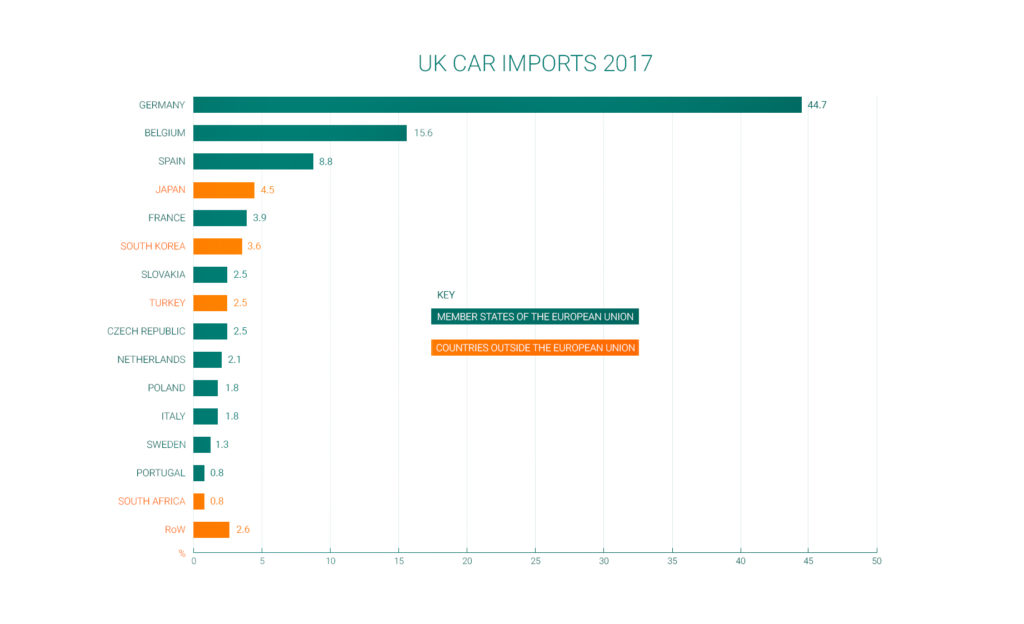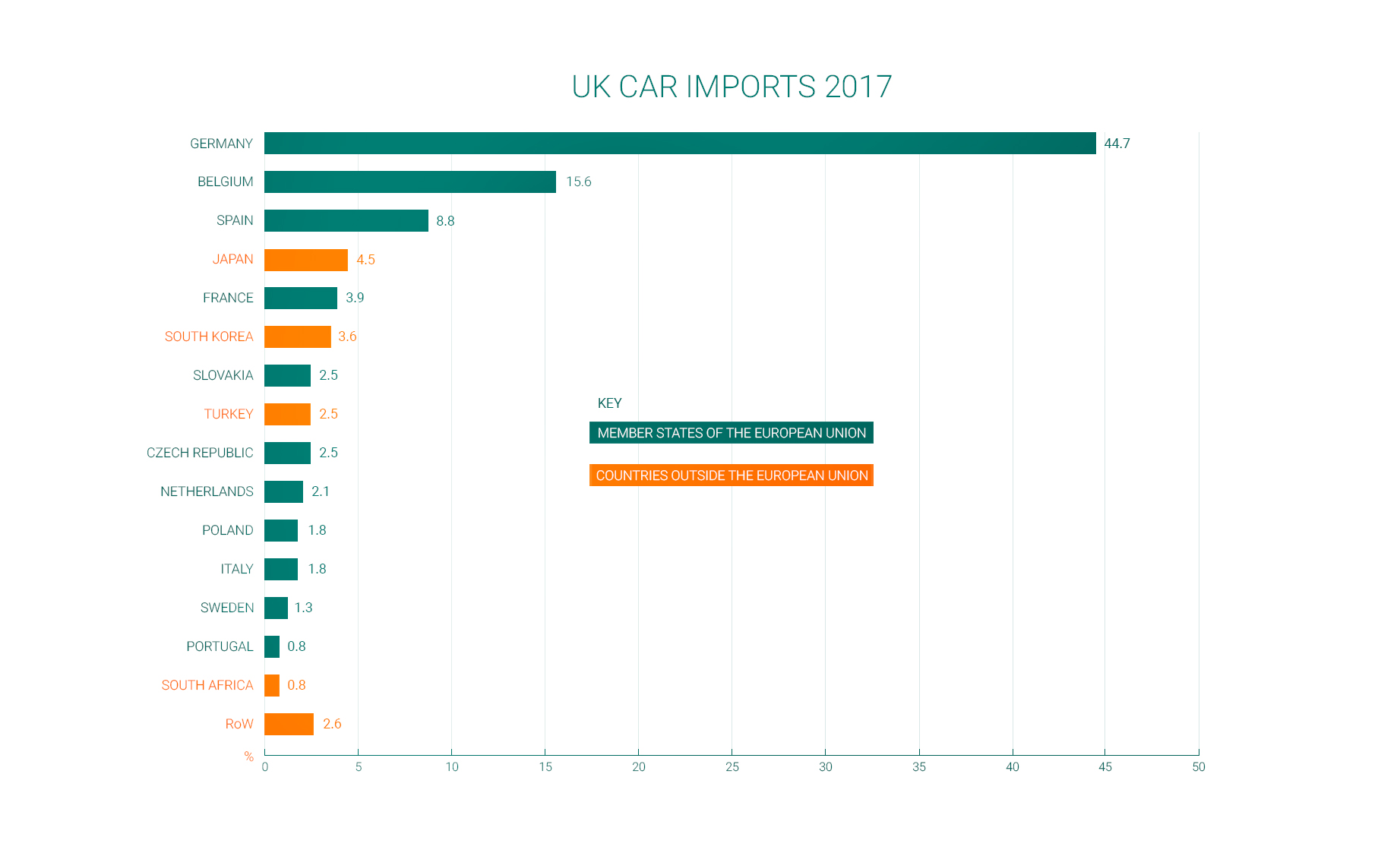 The National Audit Office recently released a report warning that despite progress having been made in preparing for a no deal exit from the EU, businesses that rely upon borders running efficiently to conduct their business will experience issues for the first time after March 29th.
Sir Aymas Morse, head of the NAO said, "The government has openly accepted the border will be sub-optimal if there is no deal with the EU on 29 March 2019. […] But what is clear is that businesses and individuals who are reliant on the border running smoothly will pay the price."
There would also be additional delays for the goods travelling into the country. This is what is giving car manufacturers who rely on a smooth border crossing of cars and components into and out of the UK on a daily basis a great deal of concern. A sudden change like this will have serious implications for British industry as a whole.
One concern, post-Brexit, for companies that only trade with countries in the EU is the introduction of customs declaration forms. This new requirement will not only increase the amount of preparatory work a business needs to carry out prior to sending a shipment overseas, but it will also increase the volume of paperwork that HMRC has to process, potentially up to 260 million declarations in a year (a rise of over 200 million). This will further complicate and delay deliveries until an efficient system is in place, both at HMRC and the individual businesses.
Even if you've placed an order before Brexit, if it hasn't arrived in the country before March 29th there will be delays when crossing the border and there may even be an increase in costs for you as the customer.
What are carmakers' feelings about Brexit?
At this year's Paris Motor Show a number of carmakers were not shy in sharing their concerns on the state of Brexit negotiations. They also took the opportunity the motor show presented to announce any plans they have already made to prepare their UK-based factories for multiple possible exit scenarios.
In some cases companies are looking to pre-empt potential delays with deliveries from the EU by either closing their UK factories temporarily or, where they have warehouse space available, stocking up on necessary car parts in order to ensure they aren't 100% reliant on deliveries coming into the country that could be delayed at the border. Some UK manufacturers are also trying to encourage major suppliers of components to open plants in the country to minimise future risk to their supply chain.
The UK is BMW's fourth-largest market and annually they sell over 250,000 cars to British motorists, so the company is rightfully concerned about how they currently see the negotiations for Brexit progressing. The business acknowledges that they will need to carefully examine the impact of any changes introduced once a deal has been finalised and look at how the new rules and regulations will affect how they run their factories across the country.
BMW aren't the only carmaker finding the lack of information surrounding a potential Brexit deal to be unsettling. Japanese carmaker Nissan, who employ almost 7,000 workers at their Sunderland plant, are warning of serious implications to the car industry should Britain prove unable to forge a trade deal with the EU prior to March 29th. They are apprehensive, feeling that leaving the EU will see a loss of seamless trade. Their concern is valid, at the present time they only store enough components in Sunderland for half a day of work on the production line.[
The Honda plant based in Swindon use the JIT system to reduce the amount of warehouse space needed to store components for their cars. As the plant only maintains a stock of parts to hand that would keep their production line running for an hour they rely on the prompt arrival of 350 trucks a day from Europe to provide them with everything they need to assemble cars on site. They, like many other carmakers who operate the JIT method for their production line, know that a 2-minute problem at the border can cause hours of delays due to traffic build-up on both sides of the border.
Toyota, who export over 90% of the cars made at their Derbyshire plant to Europe, joined their fellow carmakers in warning of uncertainty in the light of the current status of Brexit negotiations.
Vauxhall: Change and Investment in the UK
While Toyota, BMW and Nissan are talking about what they are planning for a post-Brexit car industry, PSA Group, who purchased Vauxhall-Opel in 2017, pre-empted any Brexit issues and axed 650 jobs at the Ellesmere-based plant at the beginning of the year.
At the Geneva Motor Show in March this year, Carlos Tavares, the CEO of PSA Group acknowledged that the loss of freedom of movement would have an impact on production and affect the sustainability of their two manufacturing plants in the UK, in Luton and Ellesmere Port. He also said that PSA Group could not "invest in a world of uncertainty". A month later, in April, Tavares visited their Luton plant where he announced PSA Group's plans to increase output to 100,000 vehicles per year at their Luton plant, this announcement also included plans for the new Vivaro van to be built in the UK from 2019.
Despite the positive announcement about investment in the UK from Tavares in April this year, at the Paris Motor Show, Maxime Picat, the European Operational Director of PSA Group said that there were limits to what they are able to do post-Brexit, fear over the additional cost implications that switching to the World Trade Organisation terms is a huge concern, "If we suddenly have to start manufacturing for the UK in the UK, and Europe in Europe, there will necessarily be an impact on production".
Carmakers like Toyota, Nissan and BMW that trade regularly with the EU and UK need free trade to stay in place. The introduction of the WTO 10% levy on goods would be devastating to some businesses and cause others to seriously consider their position within the UK. While, for the most part, the focus remains on issues that the UK will experience once we leave the EU, car manufacturers acknowledge that both sides of the negotiations will experience complications when shipping goods if the UK loses free trade.
What plans are car manufacturers making for a post-Brexit market?
In addition to voicing their concern about the lack of progress with the Brexit deal, BMW announced a change to their summer maintenance shutdown.
Every summer the BMW MINI factory in Oxford, like many others around the world, is closed for several weeks to allow for essential maintenance to be carried out. Any closure has an effect on the availability of newly manufactured cars and BMW usually prepares well in advance for their annual shutdown. With the date for Brexit fast approaching, BMW decided that they will bring the 2019 maintenance closure forward and plan to shut down for at least a month immediately following March 29th in order to give themselves time to prepare for any new processes introduced in a post-Brexit UK.
BMW also warned that they might also consider moving all manufacture of the quintessentially British MINI from the UK to The Netherlands if no deal is made, something they currently believe has a 50-50 chance of happening.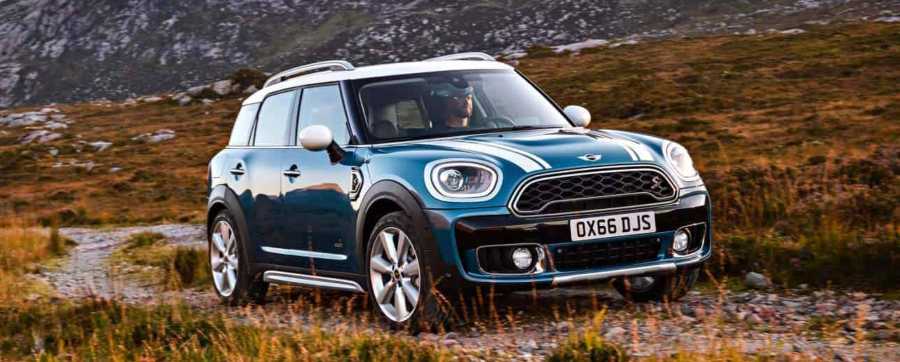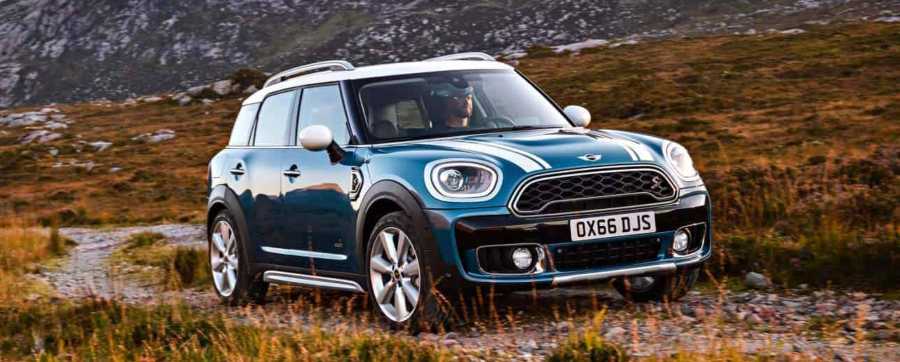 The CEO of Toyota Europe, Johan Van Zyl, told attendees at the Paris Motor Show that their plant in Derbyshire will have to close temporarily following March 29th, and the future for the estimated 2,600 employees who work there is uncertain. Van Zyl's concern is that the impact additional cost would have on their competitiveness: "In the longer term, if we were to change the logistics it would add more cost and impact on our competitiveness, and of course the future of our operation." The possibility of being unable to sell their vehicles duty-free in the EU market would harm future plans for their UK sites.
Have you been searching for a new vehicle? Call our team of vehicle experts and they can help you to find the right one.
Why will this affect my new car?
In 2017, over 2.5million cars were purchased in the UK, out of these, an estimated 360,000 (1 in 7) were also built here. As mentioned earlier in the article, many components of a car are transported here from somewhere in the EU, US or Asia. Even a car that is 100% British can contain small parts that were driven across the border in a lorry. Some cars arrive at the docks ready to be driven off the lot, having travelled thousands of miles by land and sea before reaching your driveway.
What's being done to help car manufacturers prepare for Brexit?
The UK government is still in negotiations with the EU to come to a deal which will benefit everyone involved. While it's not an ideal situation to be in with the deadline for the UK's exit moving ever closer, there is little which can be done, except for trying to pre-empt the decision yet to be made and prepare for every possible scenario.
Carmakers are currently preparing for a hard Brexit (no deal), with temporary shutdowns and stock-piling components a large portion of their planning. But all the time no final deal has been made there is hope that Theresa May and her government will be able to arrange an exit package that includes free trade.
In an effort to minimise any issues that a so-called hard Brexit would have on the large number of SMEs (small or medium enterprises) that form the backbone of the automotive industry in the UK, the Society of Motor Manufacturers and Traders (SMMT) have launched a Brexit Readiness Programme. This programme aims to help prepare the SMEs for possible changes in trade conditions between the UK and EU countries following our withdrawal from the European Union.
What can I do to prepare for Brexit?
With the path ahead still unclear, and deals still to be made, the recommendation is to order your car in enough time that it will be parked in your driveway, or at the dealership, before March 29th.
Some carmakers have already announced they are preparing for a hard Brexit and they have already confirmed temporary shutdowns of their UK factories, which means production will come to a halt. Changes in border requirements are the most likely scenario, which means that delays in goods, including cars, arriving in the UK is inevitable.
LOOKING FOR A NEW VEHICLE?
Contact our experienced team and we can help you to find the vehicle that fits your needs and budget. Call us on 01903 538835 or request a callback.
Fed up with looking for your next vehicle?
Need advice from an experienced Vehicle Specialist on what vehicle is right for you?
Book your FREE consultation now