Lexus LC500 convertible review: a truly luxurious car?
On the hunt for a sleek, stylish, and professional convertible with an outstanding reliability record and exhilarating performance? The Lexus LC500 Convertible could be your perfect next car.
How is the exterior of the Lexus LC500 Convertible designed?
Jumping straight into the review, let's start with the design of the car, particularly the front end. It's rather prominent as it sticks out on the road. It's also relatively wide.
With the Lexus LC500 Convertible, you receive the signature Lexus grille at the front, housed in between is the Lexus badging. This grille acts as an air intake to cool down the engine, with some nice side intakes in front of the front wheels.
Those nicely complement the "Deep Blue" metallic colour that we configured with the model we chose to review. That also nicely complements the Ochre Smooth Leather that we chose for the interior. There are plenty of metallic options for the exterior and 5 options for the interior.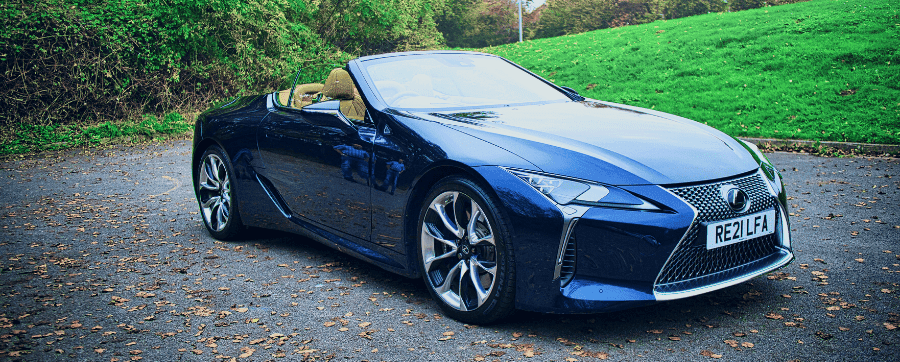 LED headlights come as standard, with automatic high-beam and the "Follow Me Home" function.
This function allows the headlights to stay lit for approximately 30 seconds after the engine is switched off, allowing you to exit the vehicle and head inside without worrying about needing a torch or other light source.
You also receive daytime running lights and LED side lights. We found it great to see LED headlights as a standard option.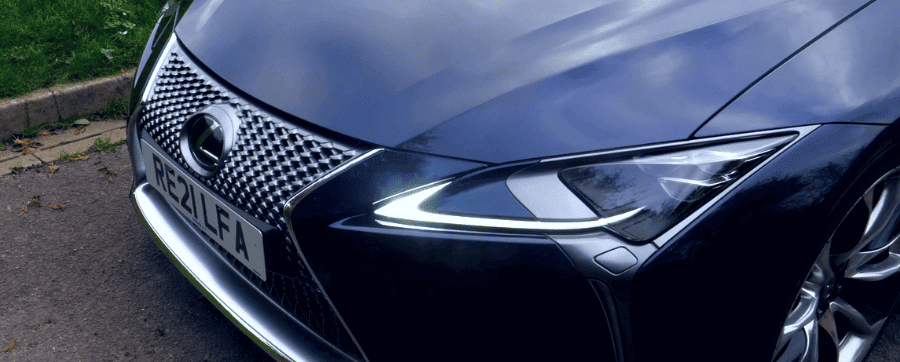 As standard, the alloy wheels are 20-inch but can be upgraded to 21-inch forged alloys that come with the Sport+ pack, which is the top-spec trim level.
However, as mentioned, you can also configure these as an optional extra for the standard configuration. We chose the 21-inch forged alloys and thought that they looked gorgeous and will draw everybody's attention.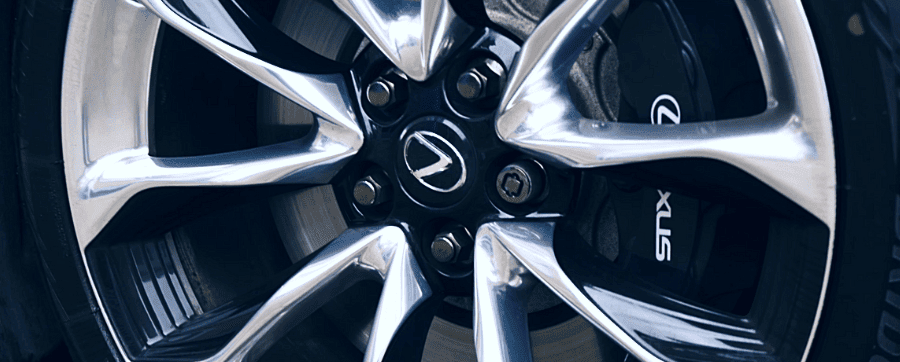 Next up is the side profile. It's very sleek and exactly what you would expect from a Lexus vehicle. The door handles pop out quite extravagantly and as you pop them out the door mirrors will fold out.
These door mirrors are auto-dimming, auto-folding, and heated, very handy, especially in the winter months. They also have a memory function, remembering how it was set previously and reverting to those settings when you get back into the car.
While they may take a while to get used to, they add a very nice visual flourish to the vehicle's design.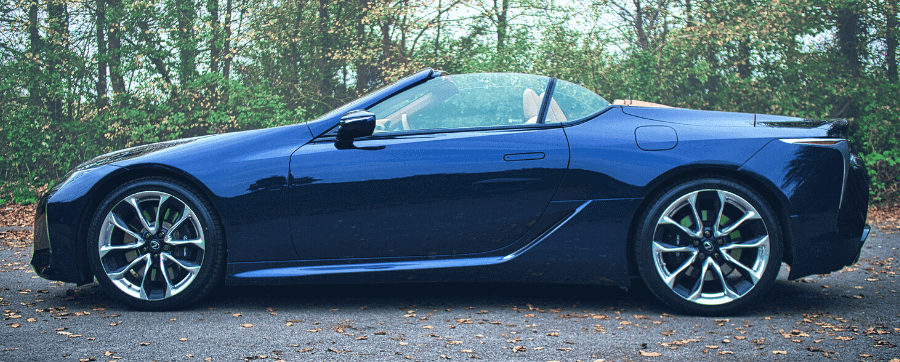 You'll be able to choose two roof colour options, Black or Ochre. We opted for the Ochre, which we highly recommend as it nicely complements the Deep Blue body colour that we also chose, and it looked gorgeous and stood out on UK roads.
You can fold the roof down, at speeds up to 30MPH, so you can take advantage of the one day of sunshine that we have in the UK, and let some light into that cabin and feel the breeze as you travel from A to B. If the weather takes a turn for the worse, you can just fold the roof back up again rather quickly.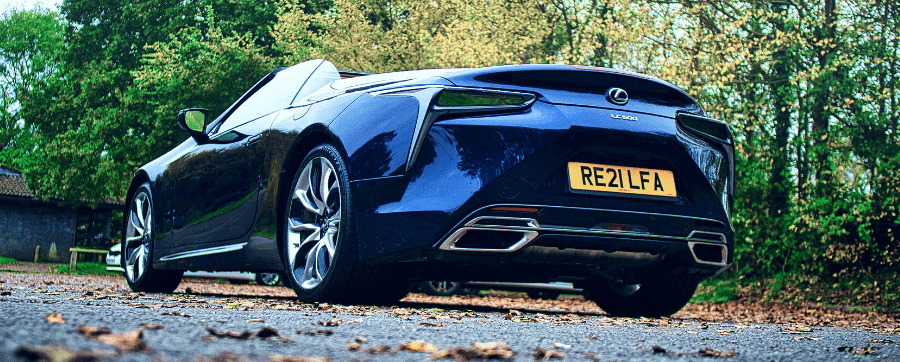 The rear end was probably our favourite part of this vehicle's exterior design. It looks gorgeous, with multi-LED light clusters. The rear end also has some sharp lines that curve down the sides.
They're very bold and very prominent. Just at the top of the boot is the brake light that we loved and below that is the Lexus and LC500 badging.
What we liked about this Lexus LC500 Convertible is that it feels a little bit futuristic, while not going over the top and when viewed as a whole, you can appreciate what a fantastic package this vehicle is.
What is the Lexus LC500 Convertible's boot like?
To get the boot open, you need to hold down a button on the key fob. Unfortunately, there's no automatic tailgate option. You only get 149 litres to work with, so it's not a spacious boot.
It's a very tiny and cramped space, just about enough for two small carry-on suitcases or one mid-sized one, though it will be a tight squeeze.
Unfortunately, we can't promise that your exact suitcase is going to fit there. There's also no way to pass objects through into the cabin as it's all blocked off. There's also not much space to work with in the rear seats either.
If your boot is fully stocked up with shopping bags or equipment, you can use that rear space for other bits and bobs but you definitely haven't got a lot of space to work with.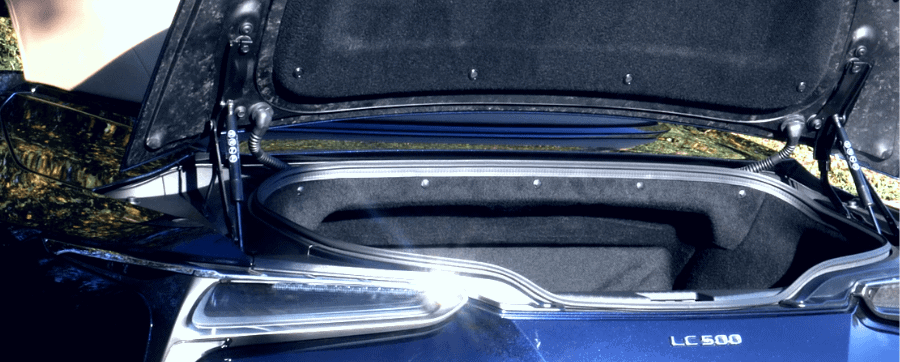 There are several hooks dotted around the boot space to hold in those objects that like to fly around while you're on the move. But in terms of practicality, that's pretty much it.
There's a little bit of space underneath the boot floor, however, it's mainly for maintenance tools. You could put other objects in there but there's not a lot of room to work with.
It is a bit disappointing when compared to its rivals, but if you are considering getting behind the wheel of the Lexus LC500 Convertible, then you're more likely in it for the performance and luxurious cabin and not so much the practicality.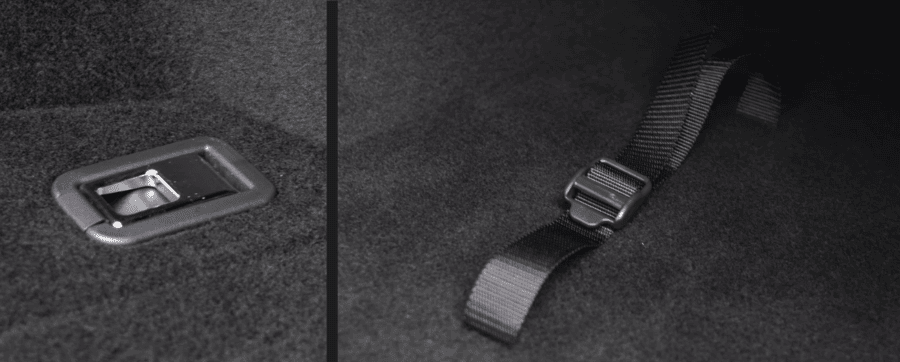 How does driving the Lexus LC500 Convertible feel?
The steering's quite firm but that gives it a nice amount of feel with the front wheels. You're able to fly this convertible around corners as it grips the road very nicely.
Thanks to the comfortable seats, you're nicely held in place as they don't allow you to sway around too much. The only thing that we struggled with was the lower riding position.
We still had a fantastic view of the road ahead, but we had to be conscious when going over bumps as it doesn't particularly handle those imperfections in the road very well as you could probably expect from a low-riding car.
As for speed bumps, you've got to be very careful and slow down so you don't hit the front of the car on them, which is something to keep in mind.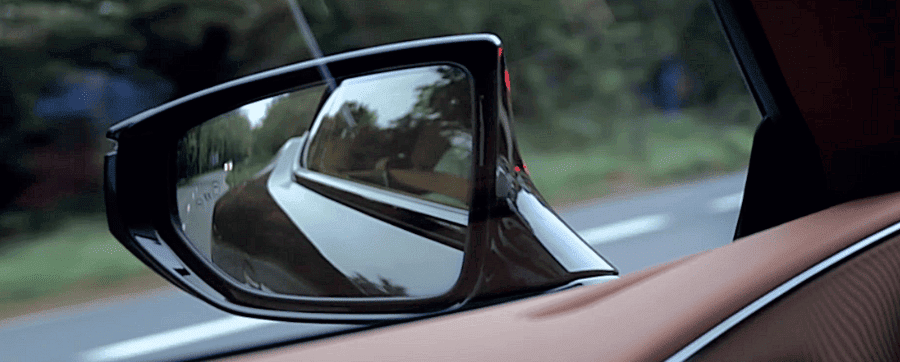 A few technological features that we observed while on the move include the head-up display, showing our current speed.
It projects it onto the road ahead for you so you don't have to glance down at the driving display. Another feature that we loved was the soft top that when opened, lets in a generous amount of light into the cabin.
It retracts fairly quickly in about 20 seconds. If it starts raining, you can also pull it back up pretty quickly as well.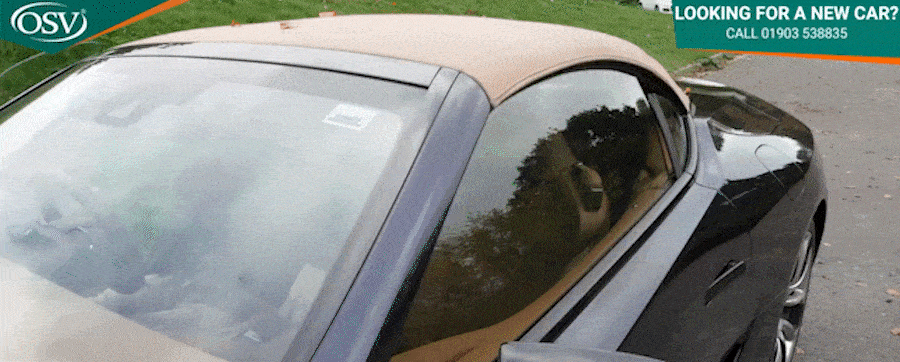 Considering the 5-litre V8 engine under the bonnet, it's smooth and relaxing to drive at slower speeds. So, when in start-stop traffic, in town or while city driving, you'll have a relaxed and not particularly taxing driving experience.
Though when you do build up speed to merge onto a motorway or dual-carriageway, the engine roars and it provides you with an exhilarating driving experience.
What is it like in the driver's seat of the Lexus LC500 Convertible?
As for seat adjustability, we found it very easy to find the most comfortable position. You're able to slide back and forth quite far and it's really easy to adjust the position of the seat using the controls located on the side of the seat.
The front passenger also has electric adjustability which is great to see. This car also has a memory function, meaning it will remember exactly how you've set up the seat so whenever you get in, you won't need to fiddle around with the settings.
You can also set different profiles, so if you and your partner drive this car then you can set individual seating positions for the both of you and save yourself some time trying to get back to your original position.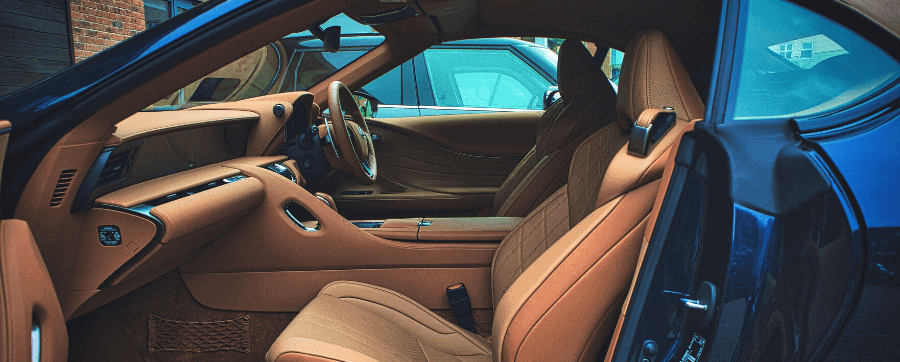 We found the visibility in this Lexus LC500 Convertible to be better than we were expecting. The side pillars on either side of the windscreen are pretty thin, meaning you don't have a very big blind spot. The mirrors are quite large, providing you with a great view of your surroundings.
The windscreen is also quite big, so even though you sit quite low down in this Lexus, you can easily raise yourself using the electric adjustability. We thoroughly enjoyed driving this car around and we found it to be such a fun car to drive.
How has Lexus styled the interior of the Lexus LC500 Convertible? What tech does it feature?
For our car review, we adorned this cabin in ochre leather which is the smooth leather that is provided as standard. If you opt for the Sport+ pack, you also get semi-aniline leather.
We loved the use of leather with some nice materials dotted around, such as the stainless-steel effect material on the air vents and the gloss black material by the Mark Levinson sound system.
Finally, on the centre console, there are some nice grey and black materials. The inside of the cabin is nicely designed, giving it a very premium and plush feel, which is definitely what you want to feel from a car that costs nearly a hundred thousand pounds.
As for the steering wheel, this car is fitted with a three-spoke wheel, which comes heated as standard, perfect for those cold winter mornings.
On the left-hand side of the wheel, there are buttons for the media, and on the right-hand side, we've got buttons for the cruise control.
There are also some magnesium paddle shifters, which are perfect if you love the convenience of an automatic transmission, but also love the feeling of changing gears on the fly, like with a manual.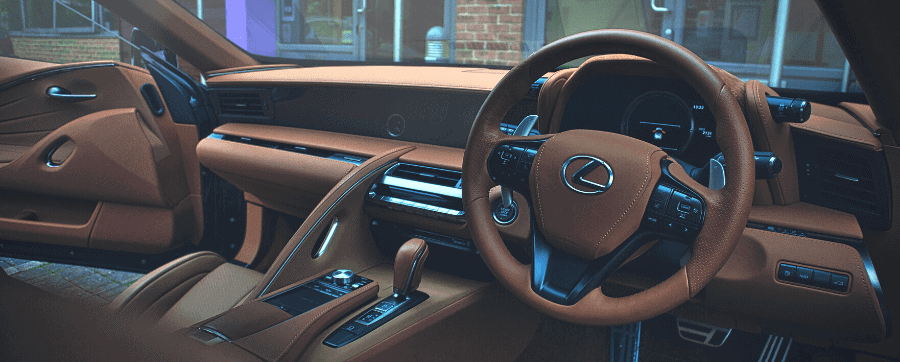 Up from the left of the wheel is a toggle to change between the different driving modes. We recommend you keep the car in Comfort or Eco mode for the majority of your time as you'll be maximizing fuel efficiency.
This Lexus LC500 also comes with a Normal, for everyday driving, and a Sport mode. While this car is already fast, doing 0 to 60 in five seconds, if you want to get even faster off the block or maybe you're merging onto a dual carriageway or motorway, you can choose the Sport mode and have fun driving.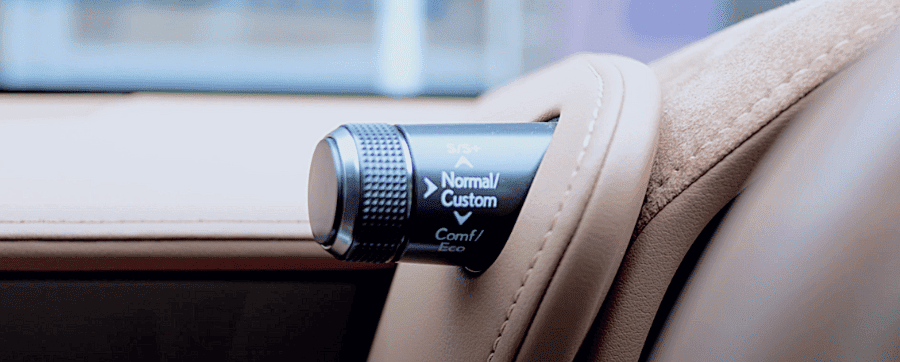 Behind the steering wheel is an eight-inch driver display, which has all the information you would expect, such as how fast you're going and how much fuel you've got left (which is quite important as the miles per gallon with this car isn't great).
We configured this car with the optional heads-up display and we recommend this feature, however, it doesn't come with the top-spec Sport+ pack.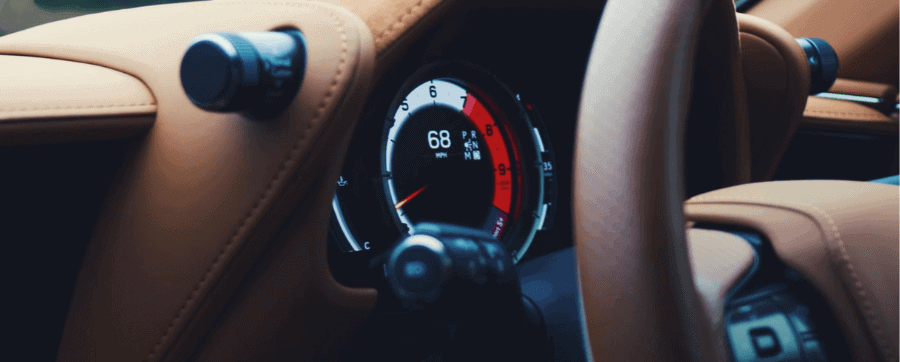 The infotainment centre comes with a 10.3-inch Lexus Navigation display with full European maps and connected services. Apple CarPlay and Android Auto also come as standard, perfect if you want to mirror your smartphone apps onto the display, instead of using the Lexus integrated infotainment service.
We enjoyed how Lexus has styled their system, despite receiving a bit of slack from other reviewers. It's quite easy to navigate and it's quite easy to cycle between the different options just by sliding your finger along the touchpad near the armrest, as you would on your smartphone.
It's intuitive and there's not a lot of input lag, which makes it easy to use while on the move. However, it's not as good as what you'd find in a brand-new BMW or MINI as they've got their systems down to a T.
The biggest complaint we had is that due to how it's placed into the leather dashboard, it can sometimes be hard to see, and we did find ourselves leaning over sometimes to see the screen.
It would have been a lot better if the screen was angled slightly more towards the driver so it's easier to select those options while still focusing on the road ahead.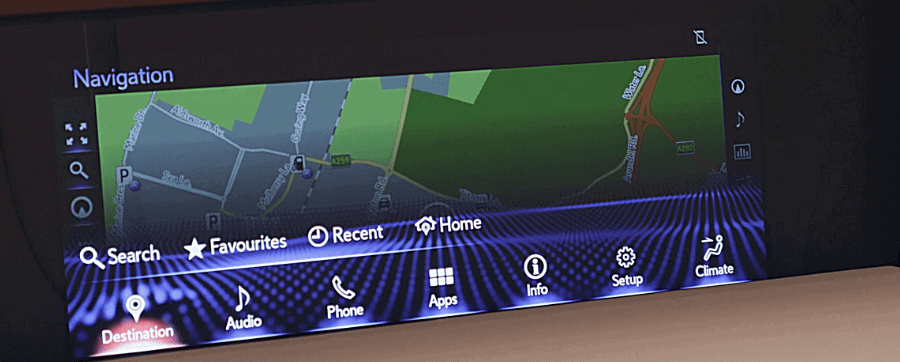 Below the screen is a nice compartment for the climate controls. We were happy with how this works as it's not too intense, it's not like someone has put a fan to your face, and it's not too light either, making for a nice balance.
We also enjoyed that the climate controls were all physical buttons while also having the option to control them through the infotainment centre. It was very easy to adjust the intensity of the climate. Below those climate controls, there is a CD player.
So, if you're somebody who hasn't yet abandoned physical media and hasn't made that transition to Spotify or Apple Music, and want to play Queen's Greatest Hits or something like that, you can pop it in there and have fun while on the move.
If you're looking for somewhere to store the CDs, there's a button to the left of the centre console that smoothly opens up the glovebox. While it's not the biggest glove box in the world, you can slide a few things in there.
Further down the centre console, there is a little compartment with a single cup holder which you could also use to store your keys if you just want to put your bottle in one of the door bins, in which there's enough space for a small flask.
We also configured this car with the optional Mark Levinson sound system which sounds phenomenal.
It is an optional add-on, like the heads-up display so it doesn't come with that Sport+ pack but if you're an audiophile, this is worth considering as we think that you're going to love playing your albums and podcasts while on the move.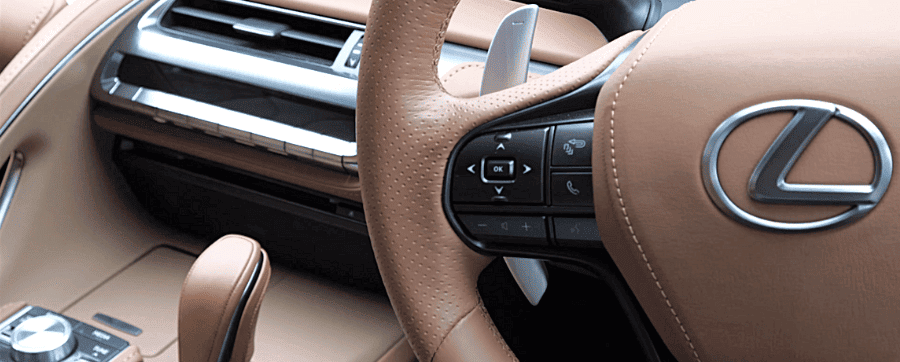 As we've already touched upon, the Lexus LC500 Convertible has an automatic transmission and 10-speed auto, with all of the controls conveniently placed next to the driver.
Next to these controls are the media controls, so you can easily navigate between the radio and your media if you connected your phone with Bluetooth, Apple CarPlay, or Android Auto. From there, you can select a track, tune the radio, and adjust the volume quite easily while on the move.
There is also a touchpad for the infotainment screen. Further down the centre console are the roof controls and the driver's window control, hidden by a flip-up cover that matches the interior.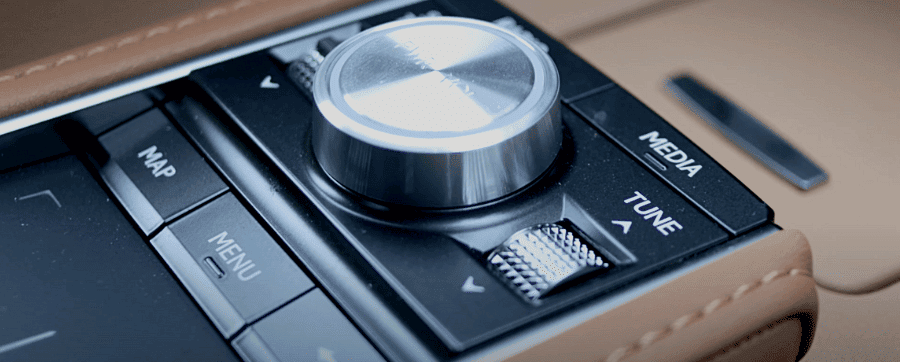 Between the seats, under a sliding top, is a small storage compartment, perfect for sweets or snacks, but if you slide the top back, it will open from the side, revealing a deep storage compartment.
Inside are a couple of USB ports, an Aux-in socket for your phone, and a 12-volt socket for charging your devices. We were impressive as there's quite a lot of storage to be had in the cabin overall.
Other features inside the cabin include a handle to the left of the centre console for the passenger to hold on to if you're skyrocketing down the road.
Lexus has also continued to include analogue clocks, complementing the infotainment display, highlighting a contrast between old and new technology, which we enjoyed.
The front passenger also has a net to the right of their feet, on the side of the centre console, which we don't often see.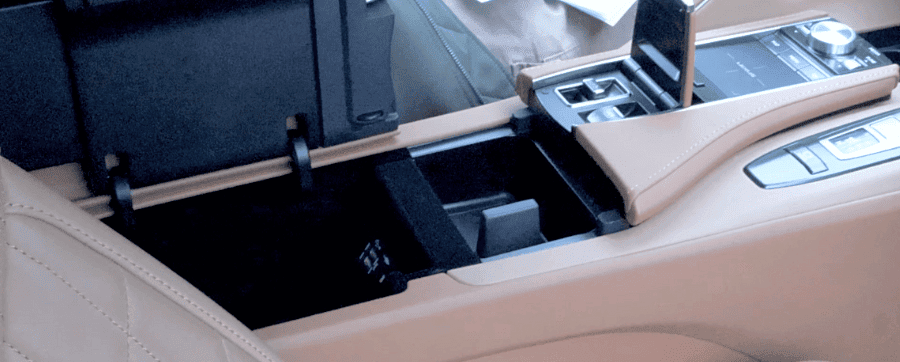 On the whole, aside from the rear space, we were impressed with the quality of the interior with the premium and plush interior materials and with the high-quality tech on offer.
What do you need to know about the Lexus LC500 rear seats?
To get in the back of this Lexus, you do need to mess around with the seat adjustability and slide the seat forward. Once the seat is pushed as far forward as possible, you still are left with quite a tight gap.
Once, you're able to get in the back, once the driver or front passenger pushes the seat back, it does feel cramped with the seats touching our knees quite aggressively.
There's not a lot of storage either: there's no door pocket and there's no pocket in the back of the seats for a tablet or magazine. You can take advantage of the centre compartment, but you have to awkwardly reach over into the front cabin to open it.
There are a couple of Isofix fittings on either seat, so, you could attach a child's chair but overall, we were quite disappointed with the "backseats".
On a positive note, the seats themselves are quite comfortable as they're nicely padded and adorned in the same gorgeous leather, found in the rest of the interior.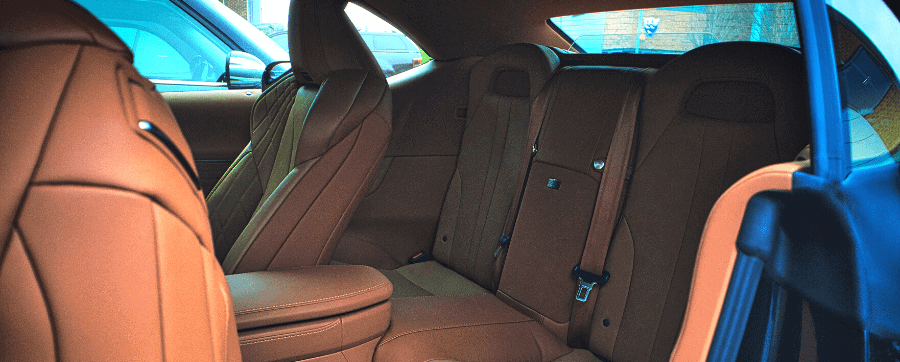 What are the Lexus LC500 engine specs? What about the car's carbon emissions?
This Lexus LC500 Convertible is powered by a mighty five-litre V8 engine, producing up to 457bhp and 530Nm of torque, providing you with an incredible 0 to 62MPH time of just 5 seconds, with a top speed of around 168MPH.
As touched upon earlier, this car is configured with 10 Speed Auto, a fantastic transmission which smoothly glides through the gears and gets up to speed extremely quickly.
If you want to experience a manual driving mode, you can turn on that option and play around with the paddle-shifters to mimic the gear changes.
All the previously-mentioned power is sent to the rear wheels, allowing the car to be very sporty and quite agile when navigating around tight corners and bends. It's certainly an extremely fun car to drive.
Unfortunately, this exhilarating performance comes at the cost of poor fuel efficiency, so, expect around 24.1mpg on the combined cycle which isn't great.
If you want to maximize this as much as possible, you can put the car in the "Eco" or "Comfort" mode, however, you won't be enjoying this car as much as you can.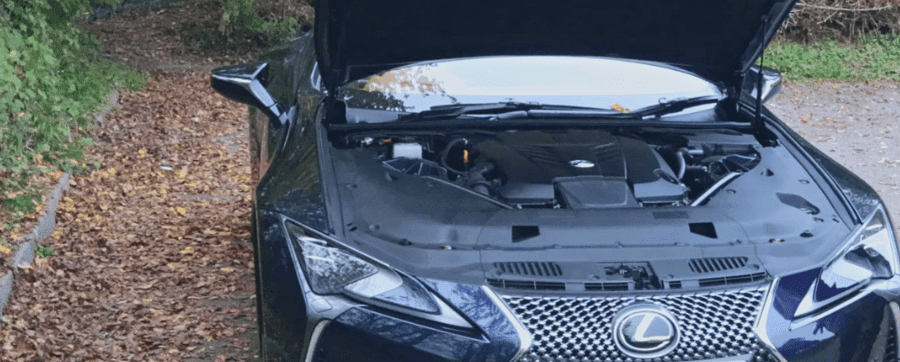 Again, CO2 emissions are not very good, outputting around 275g/km on the combined WLTP cycle, meaning this Lexus LC500 is in the highest band for the benefit-in-kind company car tax rates.
If you want to take advantage of these significant savings there is a hybrid version of this model that may be worth considering.
How can you configure the Lexus LC500 Convertible?
Standard Convertible Trim
Let's start with the standard Lexus LC500 Convertible trim. This will set you back £99,845 and it comes with a wealth of standard equipment, which is great considering the price tag of this vehicle.
Firstly, you get 20-inch alloy wheels and a gorgeous four-layer soft-top roof with a very premium feel. You also get a host of safety features courtesy of the Lexus Safety System pack.
This includes road sign assist, blind-spot monitoring, lane keep assist, cruise control, and lots of other safety features, making sure all of your safety needs are met.
The vehicle is also fitted with adaptive variable suspension with six different driving modes, allowing you to customize the driving experience to your particular needs, whether you want to stick it in Eco to save on fuel, Comfort, if you just want a leisurely experience, or if you want to eke out as much performance as possible, then you can stick it into Sport S or even the Sport S+ mode.
You also get 3i LED headlights with automatic high beams. Front and rear parking sensors come with this vehicle; these are especially handy if you're moving over from a different body style to this rather long vehicle as it can take some time to get used to it, so the parking sensors will come in handy when navigating in and out of tight gaps.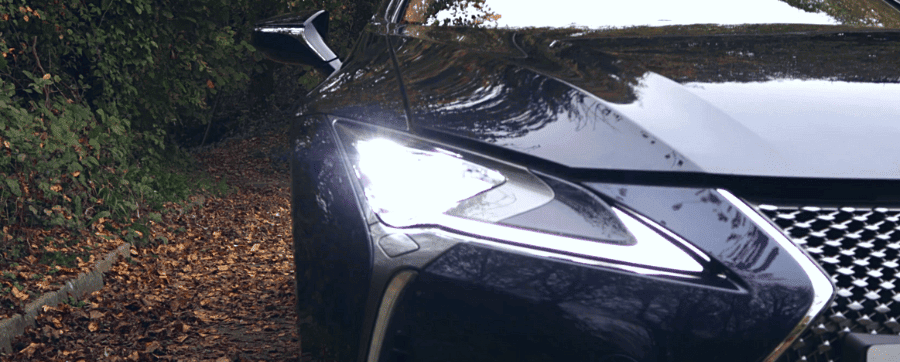 Inside the cabin, you get smooth leather upholstery for the front seats. On the other hand, the back seats are adorned in Tahara man-made leather.
The front seats are also heated and ventilated, and they're also eight-way electrically adjustable with two-way power lumbar support, allowing you to find the most comfortable driving position.
Additionally, they also come with a memory function that allows you to press a button and the seat's configuration will be saved, allowing you to have the perfect driving position when you re-enter the car. The steering wheel is also electrically adjustable and heated.
In terms of tech, the Lexus LC500 Convertible is fitted with the 10.3-inch Lexus premium navigation system, which is also hooked up to a 12-speaker audio system.
You also get Apple CarPlay and Android Auto and a reversing camera, which, again, is handy for getting out of tight parking spaces, especially when considering the length of this vehicle.
Overall, an extremely impressive wealth of equipment is offered by this entry-level model. Surprisingly, you would expect to see a lot of these features on higher-grade Lexus and Toyota models, so we enjoyed seeing these high-tech equipment features offered on the entry-level trim.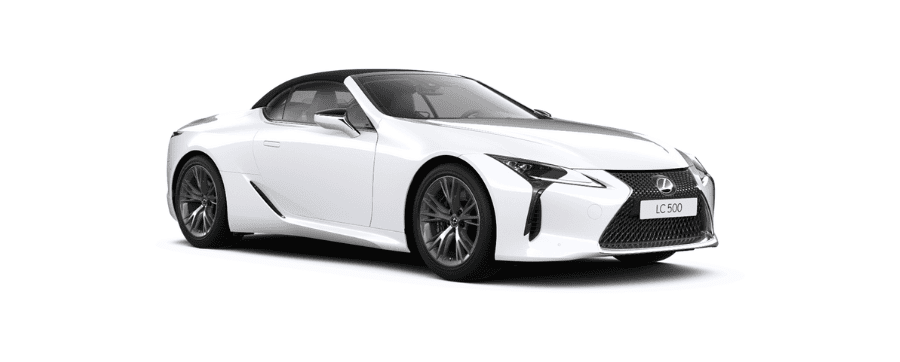 Sport Pack Plus
The only other trim level or "pack" as Lexus calls it, is the Sport Pack Plus. This starts from £105,695 so quite a significant premium over the entry-level model.
With this grade, you get gorgeous 21-inch forged alloy wheels, semi-aniline leather upholstery for the front seats, and neck heaters, which is not a common feature as it's something you don't see in a lot of cars these days.
The car is also fitted with carbon-fibre scuff plates with Lexus inscription and a Torsen® Limited Slip Differential.
So, if you want to maximize the sportiness out of the LC500 as much as possible, then you do need to go for the Sport Pack Plus, however, do weigh up if these couple of features are worth the almost £6,000 premium.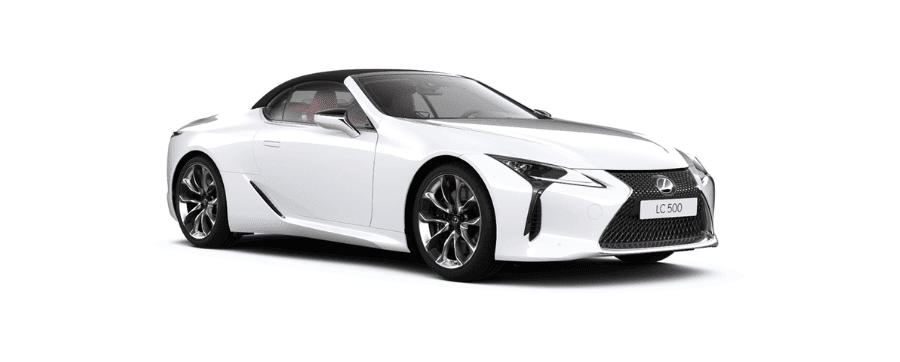 What optional features are available?
It's also worth highlighting the available optional features: you can configure the 21-inch forged alloys, semi-aniline leather upholstery, and neck heaters to the entry-level model as they're available as optional extras.
Other optional features include the head-up display (£1,250), which we selected and found to be very helpful, so make sure to consider that if you want your driving information projected right in front of you, so you don't miss it while on the move.
There's also the 13-speaker Mark Levinson ® premium surround sound system (£1,000), which sounds brilliant. There are also some "Special Metallic" paint options for an extra £500.
If you like the sound of any of these features, make sure to have a look through them and see if you want to add any of those to your configuration.
Should you buy, lease, or finance a Lexus LC500 Convertible? Is the Lexus LC500 reliable?
Well, if you're looking for a car that's extremely fun to drive, thanks to that exquisitely powerful roaring engine, coupled with a nicely and beautifully-designed interior, with lots of high-quality materials, then this is a fantastic convertible for you.
Another thing you do need to take into account is Lexus' incredible reliability record. This car is very unlikely to break down on you and even if it does, the service that you'll get from the Lexus team is second to none, which we can't say is going to be the case for this car's premium German rivals.
What are some downsides of this vehicle? Firstly, you have to be very conscious when going over speed bumps due to that low-riding position as you don't want to knock the front of the car.
Also, it doesn't do a great job of handling imperfections in the road, meaning you will feel the impact of potholes and awkwardly sized drains when driving over them as they're going to reverberate throughout the cabin.
We have seen some motorists have complaints about the infotainment system, and while we prefer the infotainment setups in BMW and Mini models, we didn't mind it that much.
Lexus is introducing a new infotainment set-up with the new NX and hopefully, the next revision of this model will have the newer set-up which looks much more promising.
However, our biggest complaint was the poor level of practicality: the boot space is pitiful and the rear bench needs to go entirely as you can't fit two adults in there as it's an incredibly tight squeeze.
We found this car to be made for two adults and two adults only. By getting rid of that rear space, it could hopefully make the boot space a lot larger to fit more stuff in the back which would just increase the practicality.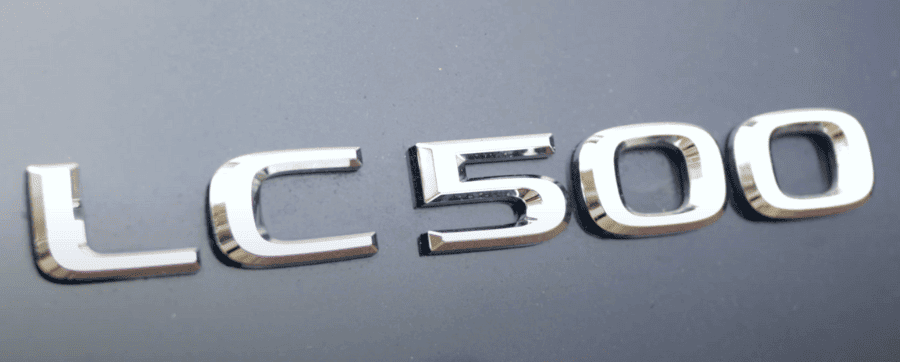 Overall, we enjoyed our time with the fabulous Lexus LC500 Convertible.
If you'd like to find out more and get a bit more info from OSV's Vehicle Specialist and get the ball rolling on delivery, then make sure to get in touch today on 01903 538835 or click the banner below to book a consultation at a time that works for you.
If you'd like to get a better look at this convertible, check out our full Lexus LC500 Convertible video review over on our YouTube Channel, and make sure to subscribe if you want to see more in-depth vehicle reviews. Alternatively, you can also read more of our written car reviews.
Fed up with looking for your next vehicle?
Need advice from an experienced Vehicle Specialist on what vehicle is right for you?
Book your FREE consultation now