Review Of The Lotus Elise Convertible
Boys love their toys, and they'll love the new two-seater Lotus Elise Convertible, one of Britain's most beloved sports cars. It's agile, sporty, menacing and noisy – perfect for any enthusiastic driver who wants to feel the wind in their hair as they do 0-62mph in 4.6 seconds.
The Elise hasn't always had the best safety record. However, any concerns in this area have been eased, after European safety legislation demanded cars like this are more secure. Now in its third generation, the Elise Convertible is safer but still just as much fun as ever.
(and if it makes you feel better, you can pretend it's still just as dangerous)
It's been improved in other ways for 2017, and now weighs less, sports brand new rear lights, and comes with an open-gate gear selector.
OSV takes a closer look at what this earth scorcher is all about with our 2017 Lotus Elise Convertible review.
BMW may have dreamt up the "ultimate driving machine" tag, but anyone who's ever driven an Elise knows that it's this one that actually deserves that moniker.
And as we all know, the best cars to drive are the ones that don't need to make a song and dance about it.
Get behind the wheel of the new Elise, put your foot down and you'll know what we mean. It's bursting with character and a sense of fun. It doesn't weigh much at all, which boosts its agility, while its mid-engined layout ensures excellent responsiveness.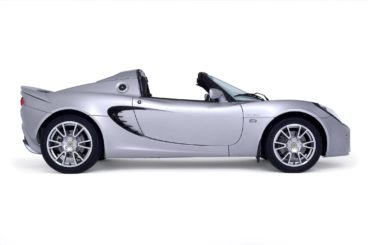 It's very driver-focused, too. You sit in a supportive, contoured seat that's like something out of a racing car, and the pedals are well-positioned. The steering is as joyful as a go-cart, and it's impressive that you can feel exactly how much grip the wheels have.
Incredibly, thanks to how well-judged the suspension is, the ride is smooth.
In terms of the engines, a supercharged 1.8-litre petrol unit powers the S Cup variant. It develops up to 217bhp, and does 0-62 in a storming 4.6 seconds. It sounds awesome, even if the supercharger is not the same as in previous, roaring Elise's.
It comes paired up with a 6-speed manual transmission that's always egging you to keep pushing on. And because feedback is so good, you're always confident that you're in control.
But it's not just straight line performance that's so impressive here. On weaving country roads, the Elise remains agile and precise.
However, there is a caveat. To unleash the car's true potential, you'll need to work hard. You won't be able to enjoy all the Elise's power and fury until you get to the higher revs. And at this point, you'll be going head-spinningly quick.
Lotus Elise Convertible Interior, Design & Build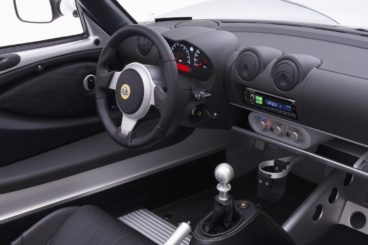 Accessing the seats isn't easy. But once you're in, you're in. And you'll notice immediately how driver-focused the cabin is. It's certainly not been designed with your passengers in mind.
Lotus have gone for the simple is more aesthetic, and nothing will distract you from the job at hand except two dials (literally).
But while it's easy to criticise Lotus for their sparse and cheap-looking cabins, the Elise is nothing if not built for max ease of use. It's not luxurious or flamboyant – but then, it never has been.
Moreover, it's comfortable. We have no complaints with the ride quality, and when the roof is up the engine is fairly sedate. That said, it's the loud exhaust which might get on your nerves when you just want to chill. You can bolster up insulation by adding a Touring Pack, an optional extra which also adds electric windows.
It's far from a practical car, but its 117-litre boot is – perhaps laughably – one of Lotus' biggest. Storage spaces include a cup-holder (seriously, this is as good as things get) and … not much else.
Still, who buys one of these for a jaunt to Tesco?
Equipment & Safety Of The Lotus Elise Convertible
Standard kit is actually really poor. But before anyone feels cheated by such a high asking price, it's worth bearing in mind that what you're paying for is craftsmanship, engineering wizardry, power, and design. To that end, the Lotus Elise is money well worth spent.
There isn't much to say, then, about its standard kit. All models get alloys as standard, with the SC model getting a unique rear spoiler.
In terms of safety, it's been hard to gauge in the past how safe the Elise is. Lotus buyers are clearly too busy having fun on the track to fill in customer satisfaction surveys, but because ESP and ABS systems are mandatory on all cars, you can be sure that the Elise has never been more secure.
Standard safety kit includes seat belt pre-tensioners, airbag's, a cornering brake control system and brake assist.
Costs Of The Lotus Elise Convertible
Prices for the new car start out from £31,500 and rise to £44,600. For more information on our leasing deals, check out our page here.
In terms of its running costs, you can expect that the Elise won't come cheap. Indeed, for some buyers interested in this type of car, it's often the high running costs that prove to be the major stumbling block.
However, Lotus have done well to shave some weight off their Convertible. As a result, the Elise can return as low as 44.8mpg economy. In even better news, the yearly road tax bill is just £145.
If you opt for the more powerful Cup 250 variant, you can expect to return 37.7mpg economy at best. The yearly road tax bill, meanwhile, is £300.
Pros and Cons Of The Lotus Elise Convertible
Great Fun To Drive
Sporty and agile, the Elise Convertible remains one of the best production cars to drive.
Economical
You can shop 'till you drop, but you won't find many sports cars that can return 44.8mpg like the Lotus.
It's Got The Image
It's a British icon that looks as dangerously cool as ever.
Just The Two Seats
This shouldn't be a massive deal breaker, as plenty of four-seater sports cars would be a lot better if they had just two seats. But should you want room for your kids, you'll have to look elsewhere.
Sparse Interior
It's very driver-focused and spartan. Luxurious and welcoming, it isn't.
Lotus Elise Convertible vs Alfa Romeo 4C Spider vs Porsche 718 Boxster
Let's see how the fares against its rivals in the comparison section of our 2017 Lotus Elise Convertible review.
Lotus Elise Convertible vs Alfa Romeo 4C Spider
The new Alfa Romeo 4C Spider dispenses with the idea that all Alfa Romeo's are the perfect gentleman. It's mad, bad and dangerous – a typically fiery Italian!
Set down low, there is no denying that the 4C Spider is a handsome thing. Like the Lotus, it's a car you buy because you want it, not because you need it.
It's only got the one engine, a turbocharged 1.75-litre petrol power plant that develops up to 237bhp. That's enough to get you from rest to 62mph in 4.5 seconds, before maxing out at 145mph.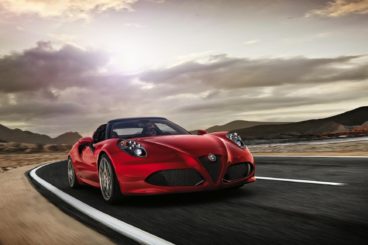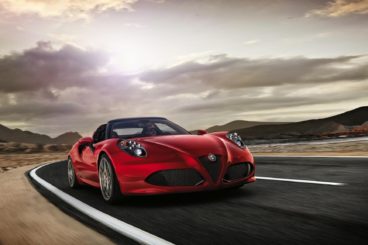 It looks and sounds the part, its engine sounding like a hornet's nest at its angriest. Its exhaust is also full of character, with the turbochargers clearly doing nothing to dilute its vocals.
It's not, however, the easiest sports car to drive. The fact that power is delivered instantly means it's a tricky customer that requires you to muster all your skill and experience if you're to control it at speed.
Even on a straight line it's a bit of a wild animal.
Running costs are kept relatively low by its lightweight nature, and you can return 40.9mpg at best. Road tax, meanwhile, is set at £180 a year, which is very reasonable. It's easily one of the most affordable sports cars to run.
Inside, the wheels come off a bit. While the exterior is as flamboyant as an Italian opera singer, the interior is as bland as a caravan in Skegness. Cheap plastics are poorly judged by the brand, who have clearly splurged all their budget on the way this car drives.
It's also uncomfortable. And while Alfa Romeo will tell you that all models come with carbon-fibre, it scratches too easily to be a selling point. We do like the new TFT screen, however, as well as the aluminium pedals.
The boot measures just 110-litres. It's barely usable, thanks to its size and a weird shape. For example, you have to lift your luggage over the bodywork to get them in. Talk about inconvenient.
Storage spaces meanwhile are non-existent. There is a net and a leather pouch, as well as one cup holder. Presumably, Alfa Romeo expect your passengers don't do coffee.
Price:
Lotus – £31,500 – £44,600
Alfa Romeo – £60,000 – £67,800
Lotus Elise Convertible vs Porsche 718 Boxster
The new Porsche Boxster is faster than before, better looking than before, and cheaper than before.
However, it's also now got turbochargers. When it was first mooted that Porsche were adding turbochargers, die-hards literally died (hard). When it was confirmed and the Boxster rocked up in its sparkling new turbochargers … the purists realised it's not a game changer after all.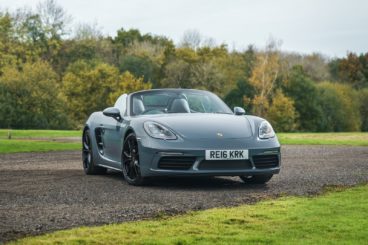 Truth is, the Boxster has actually got better. Okay, it's lost some of its feral sound. But it's a stronger performer, handles just as well as ever, and now does 0-62 in a brutal 4.2 seconds. That's if you opt for the range-topping Boxster S and its 2.5-litre 345bhp petrol engine.
Otherwise, the smaller 2.0-litre petrol engine can do 0-62 in 5.1 seconds with the manual 'box, and 4.7 seconds with the automatic. However, you'll need to add the Sport Chrono Pack to achieve those numbers. Without it, the automatic does 0-62 in 4.9 seconds.
So it's fast. And if you add the adaptive PASM suspension system, you can boost its drivability so that it's easily one of the best on the market.
And even though sports suspension is standard, the Boxster always feels remarkably comfortable.
Running costs are worse than the Lotus, with the smallest engine returning 40.9mpg at best (with the automatic). It costs up to £210 a year in road tax.
The Boxster S, meanwhile, returns 38.7mpg at best and 34.9mpg if you pair it up with the manual 'box. It costs up to £230 a year to tax, so the difference between the two engines is marginal.
What's more than marginally different is the gulf in class between the Porsche and Lotus when it comes to their interiors. The Porsche excels with a brand new 7" infotainment system, a smaller steering wheel, and some neat new air-vent trims. However, it's a shame that leather upholstery isn't standard. Apple CarPlay, LED daytime running light, sports seats and air conditioning is all standard, though.
And for a two-seater sports car, it's reasonably practical. It has two boots, which combine to offer 280-litres of luggage space. That's decent, but it's frustrating that the two boots by themselves offer no more than 150-litres of space. No doubt, you'd rather just get one 280-litre boot.
Other than that, storage space is good, and includes a reasonably-sized cubby, an assortment of pop-out cup holders, and a glove box.
Price:
Porsche – £44,750 – £53,700
Verdict Of Our 2017 Lotus Elise Convertible Review
A race car trapped in a production car's body, the new Elise has the kind of on-the-road drama that send keener drivers crazy. It's fast, powerful, desirable, and comes with a retractable roof. If this is your one chance to splash out on a British sports car icon, the Lotus Elise Convertible is begging you to give it a good seeing to.
When you lease a car with OSV there are no hidden costs, request a call back and we'll find you a finance, lease or purchasing deal designed just for you.