Review Of The Mercedes-Benz E-Class AMG Estate
It's barbecue season at the time of writing this, and the new Mercedes-Benz E-Class AMG Estate is an absolute sizzler that, like the food, is perfect for all the family. Smoking hot, tasty and beautiful, it's one of the best cars on the road today.
As ever with Mercedes, they've double-downed on comfort and luxury. But, despite its high listing price, the engine is reasonably efficient. How reasonable? It depends on what you expect to be reasonable from a 3.0-litre twin-turbo V6 engine!
Excited? OSV takes a closer look at what the new car is all about with our 2017 Mercedes-Benz E-Class AMG Estate review.
Throughout the E-Class engine range, it's clear that Mercedes have prioritised comfort over sportiness. But when you get to the high-performance E43 AMG model, things are taken up a few notches.
Its 3.0-litre twin-turbo V6 engine delivers a whopping 396bhp, which is enough to cover the 0-62 dash in 4.7 seconds. That's actually slower than the Saloon variant, but it's only slower by a cheetahs whisker. Top speed is 155mph.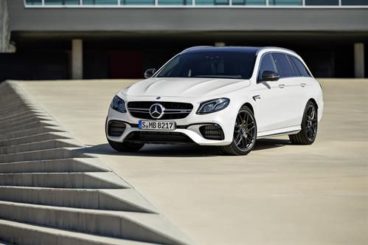 The V6 engine is four-wheel-drive, which means there is plenty of traction and grip available. It's also responsive and flexible and accelerates quickly no matter what gear you're in. Its 9-speed automatic gearbox, meanwhile, is a bit jerky at high revs, however.
But while there is no doubt Mercedes see their E-Class AMG Estate as a performance car, there is no getting away from the fact that it's an Estate – a large, bulky Estate. It's more of a good cruiser than anything else, though we have to give credit to Mercedes for making it fairly agile in bends. Moreover, the steering is well-weighted.
The engine makes a bit of noise, but it's more of a buzz than a snarl. There are rivals with better-sounding engines if you're keen on that sort of thing. If you're not, you'll be pleased with its relaxed nature. If you do want more power, there is the option of an E63 S AMG model that produces an incredible 604bhp, and which can rocket you and your loved ones from a standstill to Waitrose in 3.5 seconds.
Okay, we lied – from a standstill to 62mph is more like it.
Overall, BMW as ever is more fun to drive, with the E-Class AMG Estate being more relaxed and chilled than entertaining. That's not a bad thing, of course, though it depends what you're looking for.
Mercedes-Benz E-Class AMG Estate Interior, Design & Build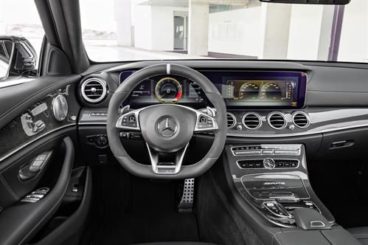 Complimenting the relaxed vibes is the interior, which as expected is near-perfect. There was a worry that this AMG was going to be so high performance that it would lack the comfort of the Saloon variant. Fortunately, that isn't the case, and the comfort levels have been maintained.
That said, the AMG model's ride isn't quite as smooth as the standard E-Class range. Its 19" alloys and low-profile tyres beef things up and aren't as capable of absorbing the pain from broken roads. Hit a pothole, and you'll definitely feel it. At the same time, the supportive front seats will cushion some of the blows.
The car benefits from air-suspension too, while insulation is good. The suspension isn't at all noisy, while only the faintest rustles of wind enter the cabin.
Meanwhile, since the engine doesn't quite have a guttural roar, it isn't so intrusive.
The dashboard is as impeccably put together as it ever has been in an E-Class model. Mercedes have paid close attention to detail, and it's not gone unnoticed by these eyes. The quartet of metal swivelling central air vents are a highlight, but there is luxury all around you. Elegantly designed, cool to the touch and logically arranged, it's a delight to be inside.
In terms of how practical it is, Mercedes just had to build on the good work of previous models. That they have. There is oodles of space upfront, and passengers in the rear get a good amount of interior space, too. The roofline has been made longer, and this sees improvements on back seat headroom.
The boot is huge, and measures 640-litres. Fold the rear seats and you can extend that to 1,820-litres if you wish.
Equipment & Safety Of The Mercedes-Benz E-Class AMG Estate
Standard kit is generous. Distinguishing the AMG model from the standard models are 19" alloys, more leather on the dashboard, stainless-steel pedals and a steering wheel adorned in AMG Nappa leather.
It comes with a seat comfort package to diminish the effect on ride quality made by its bigger alloys, as well as a COMAND online navigation system. This allows for interactive mapping and WiFi.
We don't have any concerns for its safety. Euro NCAP awarded it all five stars for its crash test performance, while its safety kit includes 9 airbag's, autonomous braking, an upgraded version of cruise control, and blind spot assistance.
Costs Of The Mercedes-Benz E-Class AMG Estate
Prices for the new car go as high as £59,320. If you want to lease the car, you can pick up a deal from as little as £620 + VAT per month. For more information on our leasing deals, you can check out our page here.
In terms of its running costs, the AMG model doesn't fare too badly. In isolation, its 32.8mpg economy might not look so attractive, but it's better than most equivalent rivals. It emits 197g/km of CO2, so road tax will be high for the first year. After the first year, road tax is just £140, but a surcharge of £310 bumps the yearly bill up to £450.
Insurance will be pricey, but it could have been worse. The E-Class AMG Estate sits in insurance groups 42 and 43.
Pros And Cons Of The Mercedes-Benz E-Class AMG Estate
Comfortable
The luxurious, easy going nature of the car is complimented by excellent levels of comfort. On the motorway, its accomplished 9-speed automatic transmission makes for an excellent cruiser.
Large Boot
Although smaller than last time, its 640-litre boot is one of the biggest in this class.
Luxurious
The interior is laden with tech, well-built and stylish.
Sedate Driving Experience
If you want to blend comfort with agile handling, you'll need to look elsewhere.
Unrefined Diesel Engine
More of a minor gripe this one, but if you push it hard the diesel engine will get cranky.
Mercedes-Benz E-Class AMG Estate vs Porsche Panamera
Let's see how the car fares against its biggest rival in the comparison section of our Mercedes-Benz E-Class AMG Estate review.
Mercedes-Benz E-Class AMG Estate vs Porsche Panamera
The new Porsche Panameras price tag starts out from £70,000. That might seem a lot for a five-door Hatchback. But make no mistake – this is like no other Hatchback you've ever seen before.
It certainly doesn't look like a Hatchback, with Porsche "sexxing" it up so that it looks like a Porsche sports car. And have you ever been in a five-door Hatchback that can do 0-62 in 5.7 seconds? These are numbers your Mum could only dream about when she had to nip you to school in her Fiesta.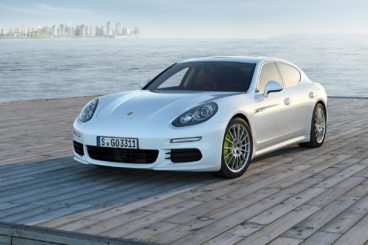 Whichever engine you choose you'll get plenty of pace and performance. For the purpose of this review, we're focusing on the entry and mid-level models. The aforementioned smallest petrol model is backed by a turbocharged 2.9-litre six-pot engine that produces 325bhp, and does 0-62 in 5.7 seconds.
The 4S takes things up a notch, delivery 434bhp, and launching you from rest to 62mph in 4.4 seconds.
The Panamera 4S is the sole diesel model. It develops 416bhp, and does the 0-62 sprint only fractionally longer than the entry-level petrol model. It feels just as quick, emits a spirited sound we think keener drivers will enjoy, and has a massive amount of pulling power available.
A hybrid engine rounds off the range. Known as the Panamera 4 E-Hybrid model, it boasts astonishing pace. It dusts off the 0-62mph dash in just 4.6 seconds, and yet can still return a claimed fuel economy of 113mpg. It can keep going on just battery power for 31 miles at a top speed of 87mph.
So, all engines are jet-heeled. But despite all that blistering pace and performance on offer, the car is easy enough to drive. There is no denying that it's huge, and this will present problems when parking in tight spots. But you can add the reversing camera to help.
Apart from that, families don't need to be at all intimidated. It's excellent in a straight line, confident on twisting B-roads, and makes for a great motorway cruiser, too. And if you opt for the four-wheel-drive model, you'll benefit from plenty of grip. The only thing we'd criticise is the lack of feel from its steering.
Meanwhile, adaptive air suspension is an optional extra we recommend adding if you want the ride to be as comfortable as possible.
Running costs will either be manageable or they'll be pretty scary – it depends which model you go for. The cheapest model to run is the diesel, which can return a claimed 41.5mpg. That's reasonable enough for families on the lookout for a premium large family car.
The entry-level petrol engine also returns a respectable 37mpg while emitting 178g/km of CO2.
However, it's the hybrid model that steals the headlines. Despite being able to keep going until 173mph, it can return 112.9mpg. That's according to Porsche, at least. In the real world, we doubt you'll get anywhere near that figure. Still, it emits just 56g/km of CO2, so it's super green. There will be tax to pay, thanks to the new rules. After the first year, you'll be liable to pay £130 a year PLUS a £310 surcharge because the car costs more than £40,000.
Inside, Porsche have delivered a family-friendly, well-appointed cabin that looks fantastic. The seats are comfy, the layout is logical, and the design is smart. There is a longer wheelbase version available, and this offers more luxury simply by virtue of the fact that you can all stretch your legs some more.
There are a few nods to tradition in here, such as the analogue rev counter. You'll find it sandwiched between two high-res digital dials, which show your cruise control, sat-nav et cetera readings. And for the ultimate in luxury, you can add the £1,100 four-zone automatic climate control so that backseat passengers can enjoy a touchscreen display,
Up front, you get a slick 12.3" infotainment touchscreen which integrates the Android Auto smartphone and Apple CarPlay.
The only criticism we have with the interior is that some of the controls are too fussy and not all that user-friendly.
In terms of how practical it is, the Porsche Panamera fares well. It's essentially a high-performance Porsche that's wrapped inside a practical Hatchback. Head and legroom is excellent upfront, the seats are super comfortable, and the boot measures 495-litres.
That's considerably smaller than the Mercedes, but most buyers might find that it's just as much space as they need. Moreover, you can fold the rear seats to extend it to 1,304-litres. Opt for the hybrid version and you'll have a bit less luggage space, thanks to the batteries.
Head and legroom in the rear could be better, but if you want to treat your backseat passengers to some more, you can go for the longer wheelbase version. If you want to spoil them, you can add the £3,039 ventilated massaging seats.
Price:
Mercedes – £59,320
Porsche – £70,900 +
Verdict Of Our 2017 Mercedes-Benz E-Class AMG Estate Review
If you were worried that the E-Class would lose all its appeal as an Estate car, you don't need to worry anymore. Its cabin is stunning, ride quality is excellent, the boot measures almost 650-litres, and the car is just as luxurious as the Saloon. Large family cars just don't come as tempting as the new Mercedes-Benz E-Class AMG Estate.
When you lease a car with OSV there are no hidden costs, request a call back and we'll find you a finance, lease or purchasing deal designed just for you.