Review Of The Mercedes-Benz E-Class Saloon
If you're looking for a classy large exec saloon with a massive reputation, the new Mercedes-Benz E-Class Saloon is a good place to start your search. It's comfortable, reasonably economical, and packed with the latest advanced tech.
It's also better looking, which means you'll look a lot smarter on the road than last time around when an angular design was one of its weak points. But despite the grace of its lines, it's still got lots of road presence. Combined with strong engines, this is a powerful car for powerful people.
OSV takes a closer look at what it's all about with our 2017 Mercedes-Benz E-Class Saloon review.
The engine range kicks off with a E200d model that's powered by a freshly-tweaked 2.0-litre diesel unit. The same engine also powers the E220d model, where it delivers up to 191bhp and can do 0-62 in 7.3 seconds. The E200d variant, meanwhile, delivers 148bhp, and takes 8.4 seconds to cover the rest-to-62mph gallop.
Both models come with a fluid 9-speed automatic transmission as standard, while you can add 4MATIC four-wheel-drive to the E220d version. Doing so boosts sprint speed ever so slightly.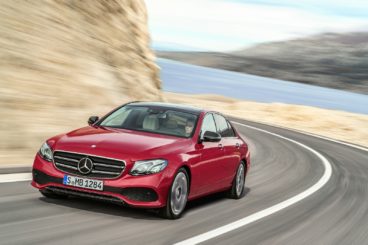 If you're craving more power, the E350d diesel model is worth a look. It's powered by a meaty 3.0-litre V6 engine that develops 254bhp, and it does 0-62 in 5.9 seconds before maxing out at 155mph. It's got a heap of pulling power available, and is significantly stronger than either of the other two diesel options.
It's smooth too, and changes gears effortlessly. It comes with a manual mode, but it only complies if it agrees with your decision. Unorthodox? Maybe. But it works nicely.
There is a high-performance petrol engine on offer too, but it won't shift too many numbers. However, if the thought of a chunky 3.0-litre V6 396bhp petrol engine that can do 0-62 in just 4.6 seconds excites you, this E43 model is well worth a test drive. It comes with four-wheel-drive as standard, as well as reassuringly strong brakes.
There is also the option of a hybrid variant. This E350e model does 0-62 in 6.2 seconds, delivers 282bhp – but is worth overlooking. It doesn't feel as fast as its number suggest, and once the electric motor is killed, acceleration slows down.
In terms of how it drives, this is a powerful car – but it's not a fun car. The steering feels lifeless and inert, even in Sport+ mode, with Mercedes' chief aim being to create a comfortable cruiser. They've succeeded, and there is lots of grip. However, despite weighing less than last time, its bulky frame and build is always obvious.
The entry-level models miss out on AIRMATIC air-suspension, too.
Mercedes-Benz E-Class Saloon Interior, Design & Build
The E-Class Saloon's best feature is its cabin. It's comfortable, spacious and a very pleasant place to spend your time on the road. For sheer quality, it can't be beaten. In comparison, its rivals just feel old-fashioned.,
The best thing about it is its extraordinary levels of comfort. No matter what speed you are at, the car is always quiet, while it seems impossible for anyone to leave here fatigued, even after a long journey. Ride quality is excellent, though we recommend that you add the AIRMATIC air-suspension system for a pillow-soft experience.
The dashboard is impeccably executed. The design is tasteful but bold, and it comes with a quartet of central air vents. It's adorned in leather and various other top-notch inlays. A dual 12.3" widescreen display system is both usable and elegant, and it feels right at home in such sophisticated surroundings.
The ergonomics have been clearly thought out too, with the result being an aesthetically appealing interior that's clutter free and marked by strong build quality and soft-touch plastics.
Despite all this talk of comfort and luxury, the car is also practical. Its wheelbase is considerably lengthy, which improves passenger space. Access is easy for passengers, too. Storage space is also good, and includes a huge glovebox and a central cubby next to the infotainment controls.
The boot measures 540-litres, which is pretty much par for the course in this class. It edges out some rivals, but others are slightly bigger. On its side is a very practical shape, as well as a large opening. Counting against it is a small boot lip.
Equipment & Safety Of The Mercedes-Benz E-Class Saloon
There are only two trim levels available – standard and the high performance AMG model. Both are more expensive than their rivals, but both come with a pleasing amount of standard kit. And it's not just quantity that's on offer here – it's also quality.
The standard model gets parking sensors, LED headlights, sat nav and a reversing camera, while the hybrid model adds blue brake callipers and hybrid badging. The AMG model is sportier, and comes with bigger alloys, a unique bodykit, and sports suspension,
Safety-wise, OSV has no concerns. Euro NCAP awarded it 5/5 for its crash test performance, while its standard safety kit includes 9 airbag's, autonomous emergency braking and the aforementioned LED headlights.
Costs Of The Mercedes-Benz E-Class Saloon
Prices for the new car start out from £35,200 and rise to £57,320. How much it rises to depends on any optional extras you add on. If you want to lease the car, you can pick up a deal from as little as £305 + VAT per month. For more information on our leasing deals, you can check out our page here.
In terms of its running costs, the E350e plug-in hybrid model is the most frugal. Mercedes claim it can return over 130mpg, but we'd caution against getting carried away. In the real world, you'll struggle to get anywhere near those numbers. However, there is no arguing with its emissions of 57g/km of CO2.
That aside, the E200d and E220d diesels are efficient. Both can average 72.4mpg economy, and both emit just 102g/km of CO2. The AMG models with their bigger 18" alloys will be more costly to run, and return 33.6mpg at best.
Pros and Cons Of The Mercedes-Benz E-Class Saloon
Efficient
The hybrid model has claimed economy of around 130mpg, while the two smallest diesel engines are good for over 72mpg.
Upmarket Interior
We shouldn't expect anything less from Mercedes, but occasionally their interiors don't hit the sweet spot. With its minimalist dashboard, twin 12.3" display screens and quartet of circular air vents, this one does.
Excellent Cruiser
Awesome refinement, comfortable seats and good insulation contribute to making the car a fine cruiser.
Sterile Handling
Rivals are more inspiring to drive.
Cliched Looks
It's handsome enough, but we've seen it all before. It's derivative of the S-Class.
Mercedes-Benz E-Class Saloon vs BMW 5 Series Tourer Plug-In Hybrid vs Volvo S90 Plug-In Hybrid
Let's see how the car fares against its rivals in the comparison section of our 2017 Mercedes-Benz E Class Saloon review.
Mercedes-Benz E-Class Saloon vs BMW 5 Series Tourer Plug-In Hybrid
The new BMW 5 Series Tourer Plug-In Hybrid can return 141mpg, can drive for almost 30 miles on just electric power, and feels almost like the traditional 5 Series Saloon to drive.
Indeed, it's got excellent genes, with the 5 Series long-regarded as one of the best ever cars to drive. This one is rear-wheel-drive, and comes powered by the same 2.0-litre petrol engine that powers the 520i model. It's not quite as agile, but the differences are incremental.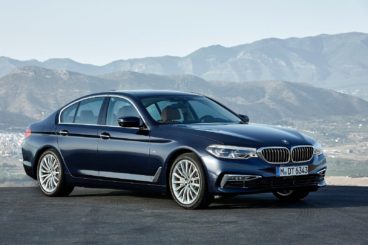 Performance is good. Together, the 94bp electric motor and 182bp petrol engine combine to produce an output of 276bhp, which is enough to get the car from rest to 62mph in 6.2 seconds. So, it's clearly brisk. However, we would argue that it never feels quite as insatiable at high speeds as the 520i model.
As long as the battery has enough charge, you can go all-electric in the town to save on fuel. Doing so provides a super relaxed, super smooth driving experience, and you can cruise up to over 85mph. After 87mph, the petrol engine joins the party.
In terms of its running costs, its fuel consumption figure is impressive. BMW claim it can return over 141mpg economy, but we would caution against believing that figure to be reliable. How close you get to it depends on how you drive, as well as how often the batteries are recharged.
That said, the car can survive on electric power alone for close to 30 miles, which means you could do a 25-mile trip without using any fuel.
Emissions are just 46g/km of CO2. However, thanks to the recent rule changes, there will be tax to pay – £130 a year after the first year. After that, a £310 surcharge will be added on, thanks to its high listing price.
The interior is the same as the standard 5 Series, which means you can expect a smart, well-appointed design. The only things that distinguish it are a new instrument cluster and different buttons for its EV modes. This instrument cluster is 'black panel' and displays all kinds of hybrid info, such as your present battery level.
In terms of how practical it is, the BMW 5 Series Tourer Plug-In Hybrid has a smaller boot than the 5 Series Saloon, thanks to its battery pack. It measures 410-litres, but at least the boot floor is totally flat. However, it's a shame that split-folding rear seats are a £330 optional extra.
Apart from that, interior space is good. Headroom is particularly impressive, and even taller adults will have plenty of room. Cubbyholes, door bins and cup-holders are everywhere, and our only criticism is the hump on the floor that will reduce space for the middle rear-seat occupant.
Price:
Mercedes – £35,200 – £57,320
BMW – £44,750 – £48,000
Mercedes-Benz E-Class Saloon vs Volvo S90 Plug-In Hybrid
The soon-to-be-launched Volvo S90 T8 Plug-In Hybrid is a stylish, affordable-to-run executive car that shares a lot of its features with the excellent XC90.
It's also similar to the Mercedes E-Class Saloon in the way it drives. This means the Volvo S90 prioritises comfort and refinement, though the Mercedes does both better. And like the Mercedes, it isn't much fun.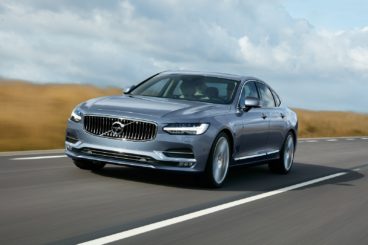 Still, it's a solid motorway cruiser that boasts an impressive ride with the smaller wheels. Insulation is also good. If, however, you do want a bit more oomph, you can add the £835 Polestar Performance Optimisation package that adds a tad more power while sharpening the engine, gearshift action and throttle response.
In terms of the hybrid engine itself, the T8 model is powered by a combination of a 2.0-litre petrol engine and a 9.2 kWh lithium-ion battery. Together, they combine to produce 299bhp. 0-62 can be done in just 4.8 seconds, while top speed is 155mph. These are impressive numbers for such a big car, and they give the Mercedes a run for its money.
Volvo claim it can return over 134mpg economy, but as always with official figures for hybrids, you need to take them with a pinch of salt.
Inside, the car excels, and this is where the Volvo really proves to be a match for the Mercedes. The cabin is beautifully designed and executed, it's comfortable and everything is easy to use and find.
Leather-upholstered seats come as standard, there are lashings of wood here and there, the dash is made from top-notch materials, while the sleek 9" portrait touchscreen looks fabulous. It's super simply to operate, too, with just a single row of buttons that control various things.
It may be a bit disappointing for some that Volvo boots aren't as big as they used to be. But the 500-litre boot here, while smaller than the Mercedes, should be adequate for most buyers.  However, its large load lip is awkward.
That aside, there is a good amount of interior space for four adults. Storage space is also good, and includes a decent-sized glovebox, a few door bins and some cubbies located in the centre console.
Price:
Volvo – £33,900 – £57,000
Verdict Of Our 2017 Mercedes-Benz E-Class Saloon Review
This is the fifth generation variant and, while it looks too similar to the S-Class, the new car has really hit a stride. It's the comfiest car in this class and makes for an excellent cruiser. The cabin is exquisitely put together, the amount of tech (including safety tech) is staggering, and running costs are super pleasing. In short, the new Mercedes-Benz E-Class Saloon spoils you.
When you lease a car with OSV there are no hidden costs, request a call back and we'll find you a finance, lease or purchasing deal designed just for you.