Review Of The Mitsubishi Shogun Diesel Station Wagon
The new Mitsubishi Shogun Diesel Wagon is an assured-looking vehicle that's strong, spacious, tenacious and unbeatable off-road. Not only is Mitsubishi's awesome reliability record in evidence yet again, this is also a car that won't let you down in bad conditions.
There is, of course, a price to pay for such a rough and ready car. It's not exactly the most sophisticated to drive on tarmac, and its functional interior displays a few harder plastics. But if its off-road credentials you're looking for, this warrior should be a must on your shortlist.
OSV takes a closer look at what it's all about with our 2017 Mitsubishi Shogun Diesel Station Wagon review.
Off-road you can go anywhere in the new Shogun and have a great time. On the road, it's a different story. That said, dependability is the keyword here, and it doesn't matter where you are, as the car will have your back always.
There is just the one engine on offer, a 3.2-litre diesel unit that delivers up to 197bhp. That might not sound like an enormous amount of paper, but it's more than enough to produce a satisfying amount of low-down grunt that allows you to ascend steep hills and tow anything you want.
The four-wheel-drive system further bolsters things up, acting as the perfect compliment to the engine. Unlike a lot of similar-sized SUVs, the Mitsubishi Shogun is up for literally anything.
That said, the engine and suspension setup are less capable on the road. There is an excessive amount of body lean in bends, and unless you can somehow stick to smoother-than-smooth surfaces all the time, you'll be in for a bumpy ride most of the time.
There are two variants available – a short-wheelbase model and a longer one. The shorter of the two does 0-62 in 10.4 seconds, while the longer takes a more modest 11.1 seconds to complete the same dash.
Diesel clatter is a bit of an issue, and it enters the cabin along with frequent vibrations. It's not the noisiest car, then, but its guts and glory attitude is something we reckon most buyers will appreciate about it.
Mitsubishi Shogun Diesel Station Wagon Interior, Design & Build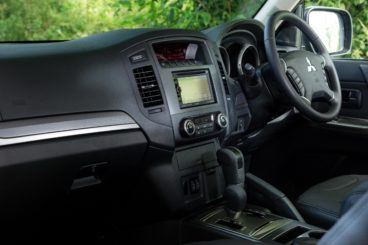 There isn't much comfort in here. At all. There's no use in us mincing our words too much, as the Mitsubishi team have seemingly made no effort to suppress the engine, wind and tyre noise. Driving it can be a harsh experience, and the only way you can drown out the excess noise is by blasting the six-speaker stereo system.
The seats aren't comfortable either. They're flat and don't offer enough support. And while they come with ventilation and heating systems, it's inadequate. Worse still, you can't adjust the steering wheel for reach. Getting comfortable then, is an exercise in futility.
Still, there are a few positives. The functional interior does what it says on the tin, with the dials easy to find and use. A trip-computer screen will prove useful, and the cabin feels built to last.
However, some buyers might not be able to look beyond the cheaper plastics that Mitsubishi have used liberally. If you want a more luxurious SUV, you'll need to look somewhere else.
The long-wheelbase version naturally steals the show where practicality is concerned. It's awash with space and can seat up to seven people if you need it to. The shorter variant has just the three doors, and this can make access tricky.
Both models have a good amount of storage space, including a good-shaped glove compartment, but each gets just the one cup holder.
The longer model boasts a boot that measures 663-litres with all five seats in place, and 221 with seven seats up. The shorter model, conversely, has a boot that measures just 290-litres.
Equipment & Safety Of The Mitsubishi Shogun Diesel Station Wagon
Standard kit is good. The entry level model gets LED running lights, 18" alloys, air conditioning, a leather steering wheel, a six-speaker stereo, Bluetooth connectivity, and cruise control.
Splash more money on a higher-spec trim, and you get the likes of a touchscreen sat-nav, a reverse camera, and a DAB radio.
Safety shouldn't be an issue. This is a tough car that's built on the back of Mitsubishi's solid dependability record. However, Euro NCAP have yet to crash-test it.
Its standard safety kit includes airbag's, traction control, ISOFIX child-seat mounts, and electronic stability control.
Costs Of The Mitsubishi Shogun Diesel Station Wagon
Prices for the new car start out from £32,645 and rise to £43,300. For more information on our leasing deals, check out our page here.
Running costs are not pretty. There is only one engine available, but opting for a longer wheelbase version will change the economy for the worse. That said, the shorter variant isn't exactly frugal, and returns 31.4mpg at best while costing £500 a year to tax.
The bigger, seven-seater variant, can return just over 30mpg and costs the same to tax. But it will be hard to achieve that figure on a day-to-day basis.
It's expensive to insure, too. The cheapest model occupies group 30, while the most expensive one occupies group 37 out of 50.
Pros and Cons Of The Mitsubishi Shogun Diesel Station Wagon
Invincible Off-Road
It has an impressive go-anywhere ability that can't be bettered in this sector.
Reliable
Mitsubishi have a solid record for reliability. Add the car's tough shell and go-anywhere ability, and you can be sure it's not going to let you down.
Option Of Seven Seats
Not all cars of this ilk offer seven seats, which makes this particular lifestyle station wagon stand out. Moreover, interior space is good for all.
Expensive To Run
It costs more to run than a Porsche Cayman.
Weak On The Road
It's not a total disaster, but then again that depends on what your tolerance levels are like for a constantly bumpy ride and excessive body lean.
Mitsubishi Shogun Diesel Station Wagon vs Jeep Grand Cherokee S vs Ford Escape
Let's see how the car fares against its rivals in the comparison section of our 2017 Mitsubishi Shogun Diesel Station Wagon review.
Mitsubishi Shogun Diesel Station Wagon vs Jeep Grand Cherokee S
The new Jeep Grand Cherokee S is a huge, spacious, commanding SUV that's an excellent rival for the Mitsubishi.
As usual, the Cherokee has been set up to be comfortable, rather than an adept handler. So while it's not going to be much fun as you weave your way through winding country roads, ride quality is always good.
The steering is light, and despite its size it's fairly easy to drive. Moreover, it comes with an 8-speed automatic transmission that you can literally forget about while it shifts seamlessly through its gears.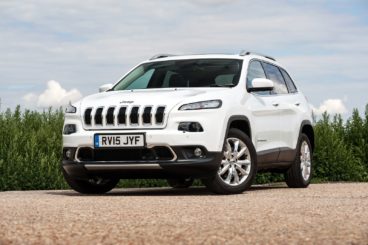 There is noticeable body lean, and it isn't as agile as rivals. And if you drive it too enthusiastically, it can leave you and your passengers feeling a bit dizzy.
In terms of its engines, a 3.0-litre diesel engine can do 0-62 in 8.2 seconds, and is our top pick. A V8 6.4-litre petrol unit, on the other hand, will be simply too thirsty for most buyers in this market. It's a beast of an engine that does 0-62 in a frankly ludicrous 5.0 seconds, but it's one of those headline-grabbing engines that's mostly unnecessary.
On the road, both engines are a bit awkward, but off-road the Cherokee excels. A 5-mode off-road controller is standard, and lets you modify the setup according to the terrain you're on.
In terms of its running costs, the V8 petrol's returns of a 20.9mpg economy will price it out of most buyers' shortlists. It also emits a whopping 315g/km of CO2, which results in a bigger tax bill than almost every other car out there.
The 3.0-litre diesel is much more sensible, and returns 40.4mpg while costing £215 per year to tax.
Inside, the Jeep Grand Cherokee S has been given another makeover. Acoustic glass windows and Active Noise Cancellation ensure a more relaxing cabin, while Alcantara roof lining and leather seats have been added to the higher-spec models.
There are just the five seats, with no option of adding two more. Head and legroom are excellent for all, and the large windows help to create a real sense of space and brightness inside the cabin.
There are plenty of storage spaces, including numerous door bins, cubbies and cup-holders. Meanwhile, the boot measures 782-litres, and comes with a retractable load cover, and a powered tailgate. It can be extended to 1,554-litres by folding the rear seats.
Parking the Jeep won't be easy, owing to its sheer size. However, all models get a reversing camera as standard.
Price:
Mitsubishi – £32,645 – £43,305
Jeep – £47,580 – £72,800
Mitsubishi Shogun Diesel Station Wagon vs Ford Escape
The new Ford Escape is a smart-looking SUV that has all the hallmarks of a Ford: Safe, good to drive and practical.
Its handling is – as ever with a Ford – one of its strongest suit. A 2.0-litre EcoBoost engine is our top pick; it delivers good acceleration (0-62 can be done in just 7.1 seconds), solid braking, and feels stable and composed at speeds.
Sure, the steering feels artificial, but it's hard to find a compact SUV that doesn't feel so artificial these days.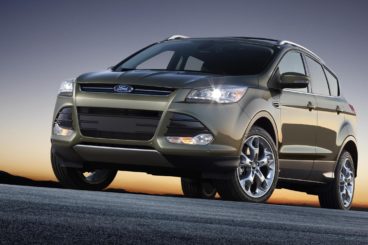 Four-wheel-drive is standard, a system here that feature advanced power distribution that improves handling in poorer conditions. It doesn't really matter where you escape to, the new Ford reassuringly has your back covered.
That said, it does get caught wanting now and then. But which car of this mold doesn't? Moreover, comfort is mostly good thanks to sound ride quality.
As well as the 2.0-litre EcoBoost engine, a new 1.5-litre four-pot unit is available. It's not got as much oomph to make it our top choice, but it can return better economy. The 2.0-litre engine returns 20.5mpg at worst, and while that's at worst, it's still a pretty alarming figure.
The cabin has been designed with ease-of-use in mind. The quality of the fit and finish and materials used is high, and the amount of standard kit on offer is good. The dials and buttons are within sight and reach, and while the design is more functional than anything else, we think buyers will appreciate its utilitarian aesthetic.
The seat height is good, access is a cinch, and an 8-way power driver seat makes it easy to get the position you want. Moreover, a manual tilt-and-telescope steering wheel further makes it easy to get super comfortable.
Interior space for all is decent, but there are roomier models on the market – including the new Mitsubishi Shogun Diesel Wagon. Visibility is also better elsewhere, but build quality is strong. We expect the Ford Escape SUV to be able to deal with most of what you can throw at it, and its materials look durable enough, especially at this price point.
The boot, meanwhile, measures 68 cubic feet with the seats up. That's pretty much par for the course in this class, but you can find SUV's with bigger boots. However, we like its foot-operated hands-free power tail-gate, and we imagine buyers won't want to buy a car without it after this one.
Storage spaces include pockets on the backs of the front seats, a narrow centre console, and various cubbies here and there.
Price:
Ford – £20,250
Verdict Of Our 2017 Mitsubishi Shogun Diesel Station Wagon
Tough, dependable and fearless, the new car is a Marine on wheels. It's a monster in bad conditions, offers up to seven seats, and looks and feels like a tireless workhorse that won't let you down.
For all its positives, there are negatives. But if you can get past those alarming running costs and don't mind a jerky ride, the uncompromising new Mitsubishi Shogun Diesel Station Wagon is a sure bet.

Latest posts by Will Titterington
(see all)