Octopus Electric Vehicles vs other EV providers
Who is Octopus Energy?
What do Octopus electric vehicles offer?
OSV vs Octopus Energy
Select Car Leasing vs Octopus Energy
RAC vs Octopus Energy
DriveElectric vs Octopus Energy
Vanarama vs Octopus Energy
Pink Car Leasing vs Octopus Energy
Go Green Leasing vs Octopus Energy
You may recognise the brand's beloved pink eight-legged sea creature, or you may have heard of its spectacular schemes through an article, promising amazing energy-saving deals. You may even know of someone working there, thanks to its impressive presence on the professional social networking platform LinkedIn. Octopus electric vehicles outsourced a HUGE increase of new young employees within the last 2 years. Which is fantastic for helping the new generation voice and charge the ongoing political climate action.
It is also a brilliant way to spread the new Octopus electric vehicles scheme – word-of-mouth – to a lot more people.
So, what is the Octopus energy scheme offering to new EV goers, and how does it compare to other electric vehicle companies on the market? Let's dive in…
Who is Octopus Energy?
Founded in 2015, Octopus energy is a fairly new UK-based company specialising in renewable and sustainable energy. It also provides electric vehicle solutions known as 'The ultimate EV package', that's right. You can get a new car, charging and the energy to charge your car, all in one.
What do Octopus electric vehicles offer?
At face value, what do Octopus electric vehicles offer?
The option to lease a new electric car via a personal or business lease
Option to choose from a limited number of vehicle models
A free home charger and installation with 5,000 miles free when you switch to Octopus Energy (specifically the Intelligent Octopus tariff) OR 5,000 miles free charging on their public charging network
Servicing, maintenance and repairs
Breakdown assistance from the AA
4 tyres every 20,000 miles, including wear and tear tyre punctures
A select number of short electric car reviews
Octopus EV offers another bundle of savings on both an electric charger and installation with their EV packages.
The Octopus EV package includes an easy all-in-one, well, package. Plus, it is all in one place! Meaning you don't have to stay in contact with multiple different companies at once.
The Octopus EV Package comprises of:
Electric car
Electric car charger
Charger installation
The energy to charge it in your home OR money towards on-the-road charging
Servicing, maintenance, repairs, breakdown assistance and tyre changes
5,000 miles of free energy
Additionally, Octopus' impressive 5-star Google review rating could be enough for anyone to choose it as their electric vehicle supplier. But are they the best option available? Plus, how does Octopus EV compare to other electric vehicle companies?
OSV vs Octopus Electric Vehicles
So, how does the Octopus EV Ultimate Package compare to what OSV can offer you? Most importantly, can you see yourself using either of these companies to supply you with the best electric vehicle possible?
As you can see from the chart below, if you are looking for flexibility within your vehicle buying options, including which model you will get behind the wheel, then OSV would be your best choice.
If you are happy only leasing your electric vehicle, with limited options to choose from with an EV charger and installation package, then Octopus Energy could be for you.
Let's take a look and compare what each company offers: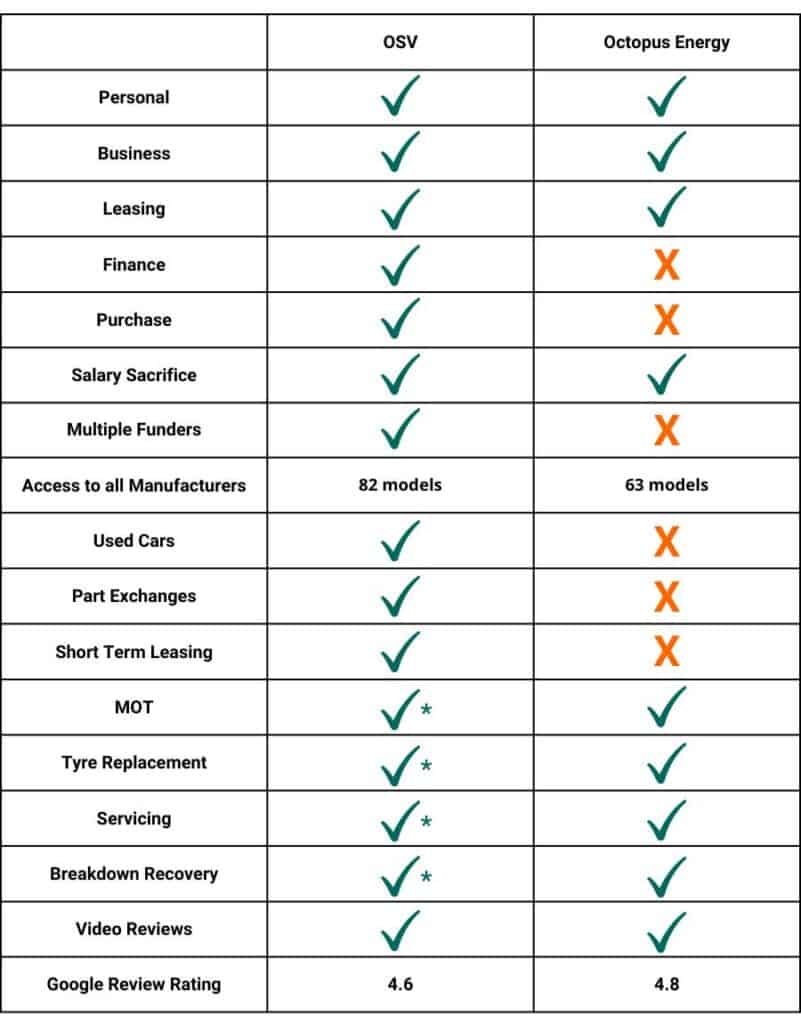 If we directly compare Octopus Electric Vehicles to OSV, you can see that you will get a lot more flexibility and choice when sourcing your electric car with OSV. On top of this, OSV can provide over 100 years of combined experience in the motor industry, so you are speaking to vehicle experts who really know their stuff.
Used cars and part exchanges are also on offer, along with short-term leasing. So, there really is every option available to suit you, whatever your needs and requirements are.
Octopus EV does offer an attractive electric 'bundle' which means everything you need such as the charger, maintenance, servicing, breakdown recovery, MOT, and tyre replacement is all in one place.
OSV also offers this package at an additional cost to the vehicle, which means you have the choice to build it into your agreed vehicle lease, finance or purchase, or you can choose to go without it.
If you are looking for a new company, with a handful of electric vehicles to choose from because you find decision-making difficult, perhaps Octopus Energy is the ideal company for you. However, if you want more flexibility, a consultative approach and to talk to vehicle specialists with a combined experience of 100 years then book your FREE consultation with OSV.
Select Car Leasing vs Octopus Electric Vehicles
Select Car Leasing has been assisting people with leasing cars and vans since 2004. Known as the nation's 'largest independent specialists' for vehicle leasing, they offer support right through until the delivery of your vehicle.
So, does Select Car Leasing promise you a better deal than Octopus Electric Vehicles? Do you want to source your electric vehicle from a well-established company, or from the new kid on the block?
Let's take a look at what's on offer – Select Car Leasing vs Octopus Energy: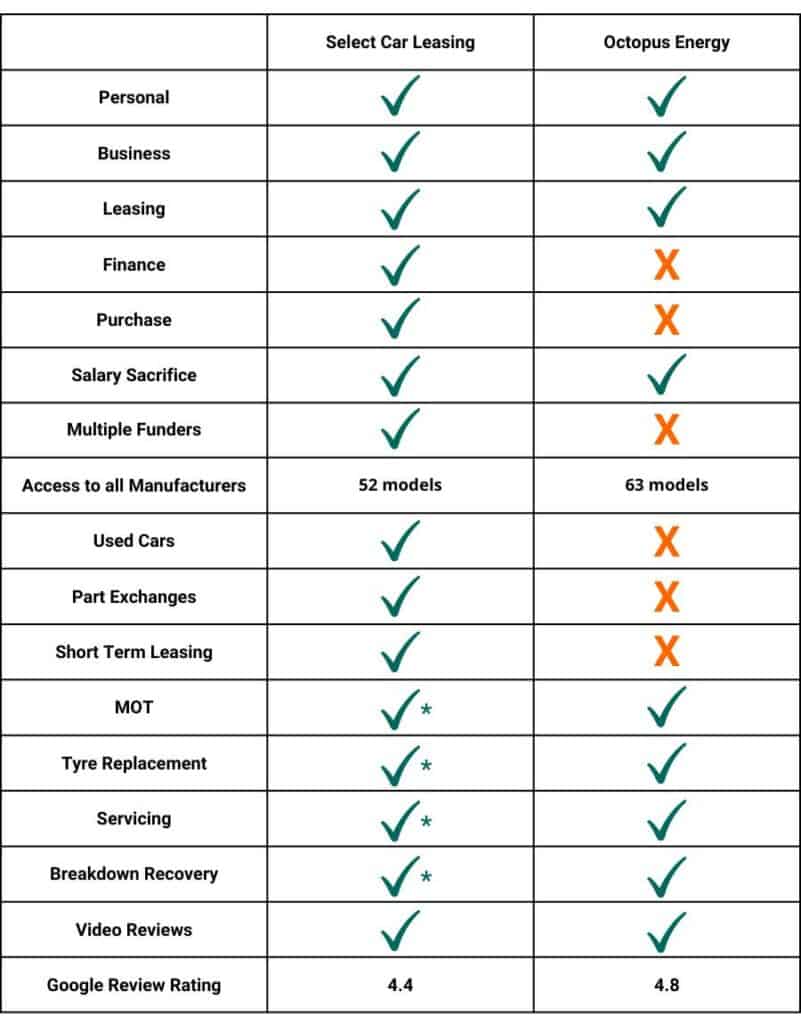 Select Car Leasing can offer more of a choice when selecting your electric car and finance option. Although Octopus Electric Vehicles only offers a handful of electric models, if you are someone who is indecisive by nature, perhaps this is more suited to you.
If, however, you like to have all options possible, Select Car Leasing could be your preferred option.
When comparing both companies' reviews, although Select Car Leasing is rated 4.4 stars, which is very impressive for any vehicle supplier, Octopus wins with a full 5-star rating.
Both companies provide an electric car 'bundle' which includes all the fundamentals of taking care of the electric car. With Select Car Leasing you have the choice to add this to your agreement or go without it. With Octopus, it is automatically included in your vehicle lease.
RAC vs Octopus Electric Vehicles
Founded way back in 1897, RAC is the expert you go to for all emergency roadside assistance. Now as an electric vehicle supplier joint automotive services company, they offer a bundle of EV charging solutions too.
Could RAC be the electric vehicle provider for you? How does it compare to what Octopus Energy has to offer? Let's take a look below: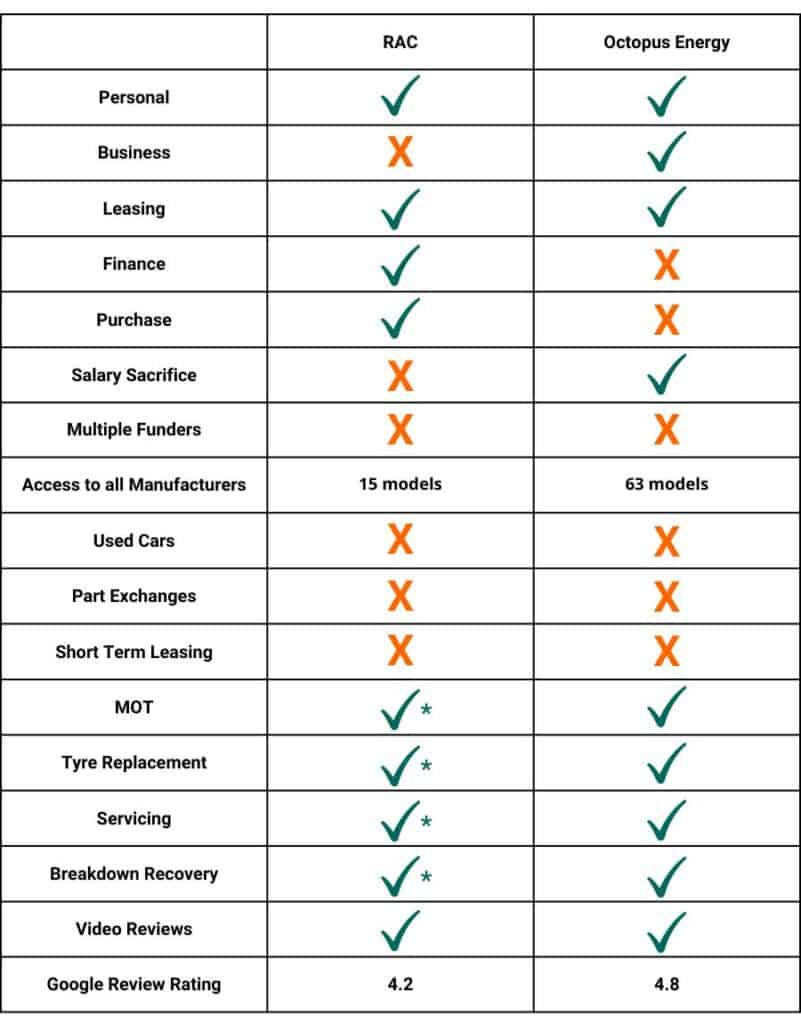 At face value you can see that RAC offers more flexible options in terms of finance agreements, offering the chance to lease, finance or purchase your electric vehicle. If road safety and assistance are also important to you, then the obvious choice would be to go for the well-established RAC.
If, however, you are a business looking to source an electric vehicle with a charging bundle package, you should consider Octopus Electric Vehicles as your vehicle supplier of choice.
Whether or not you want an EV package included in your lease will also help you decide which company to choose. With RAC you can choose whether to add this on or not.
DriveElectric vs Octopus Electric Vehicles
For an impressive 12 years, DriveElectric has been committed to electrifying the nation's driving and helping save the planet. They provide electric car and van leasing solutions to both individuals and businesses.
Is this a company that you connect with? Time to investigate what's on offer: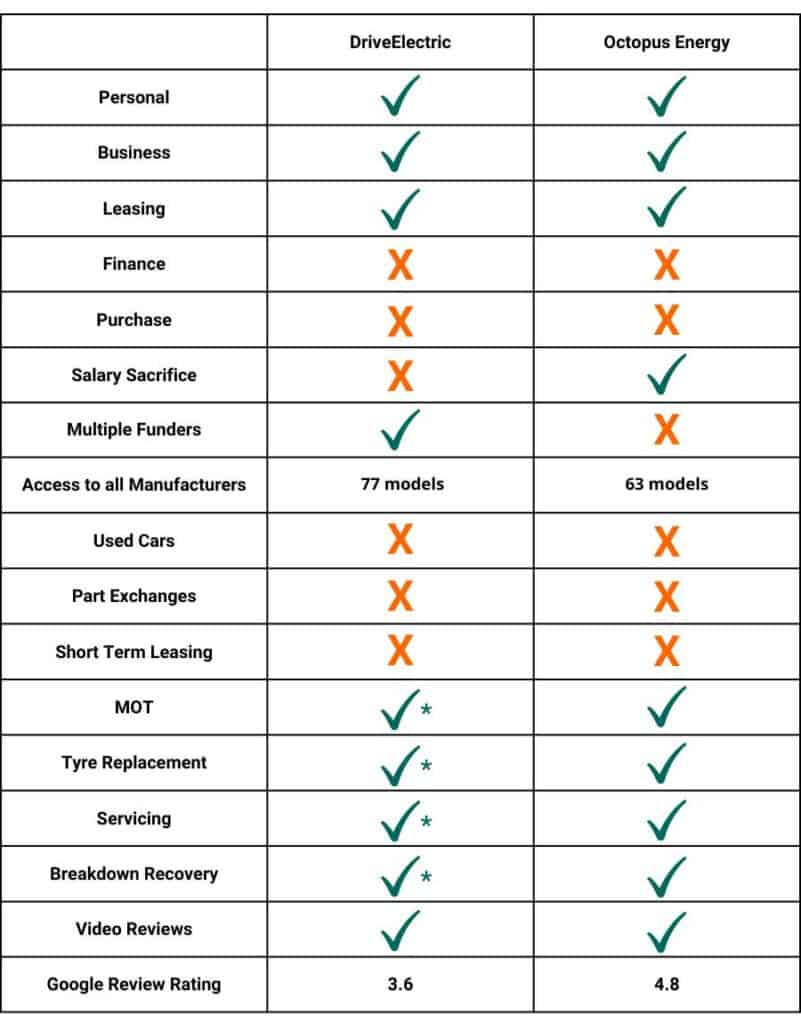 Looking at this diagram, which company seems more appealing to you? If you need a vehicle supplier with a few models available, Octopus Energy could be the company for you.
If you are looking for a wider choice of vehicles, you should consider DriveElectric as your electric vehicle supplier.
If we directly compare both businesses' ratings, Octopus wins by a considerable amount.
Overall, not too much differs between the two. So, you should consider whether a company's credibility via reviews is more important or if your priority lies with having a wider range of EV models to choose from.
In addition, both provide EV packages to help take care of your car. Octopus does this automatically, and DriveElectric for an added cost.
Vanarama vs Octopus EV
If you are looking for personal and commercial vehicle leasing solutions, Vanarama could be the broker for you. You can choose from a wide range of vehicle sizes including cars and vans.
Between Octopus Energy and Vanarama, which delivers what you need?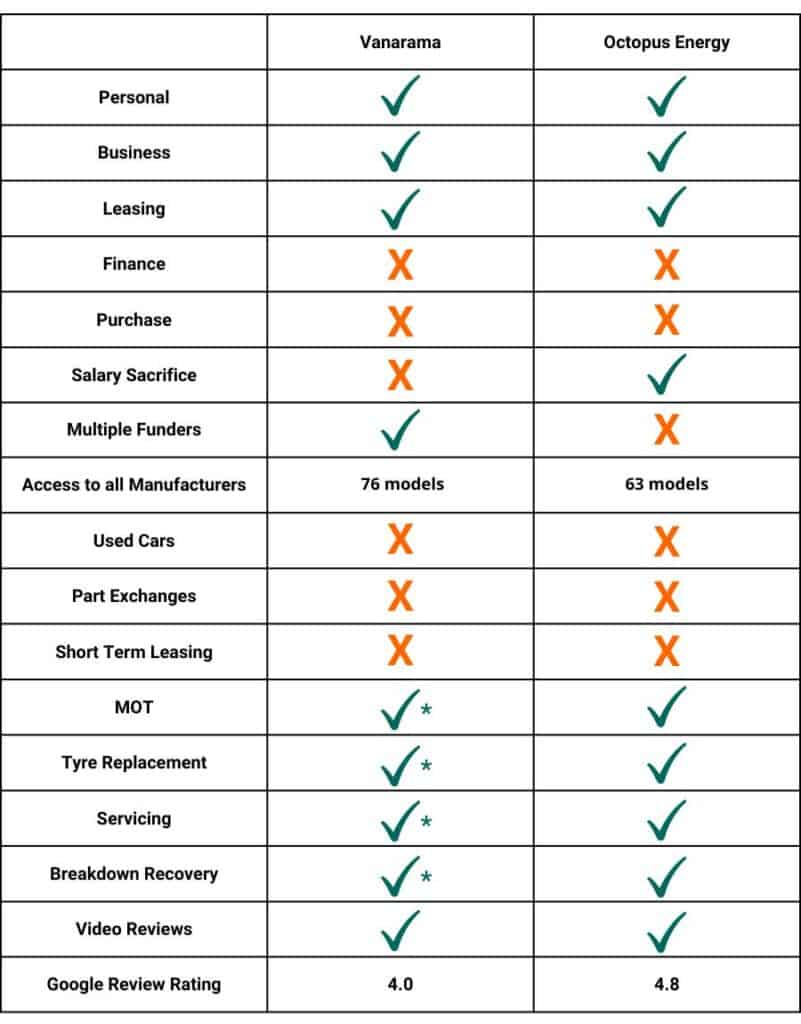 Directly comparing Vanarama and Octopus Energy, you can see Vanarama promises more choices for electric models.
If you are someone who relies their trust on customers' ratings of the company, then the logical choice would be to buy from Octopus Energy with its 5-star rating.
If you would like the choice of an all-in-one care package for your car, then both companies can provide this. The difference is, Vanarama you have the choice. With Octopus EV, it is already included.
Pink Car Leasing vs Octopus EV
Pink Car Leasing offers a wide range of vehicles including vans, cars and pickups for both personal and business leasing.
So, could Pink Car Leasing be the ideal electric vehicle supplier for you? Let's dig in…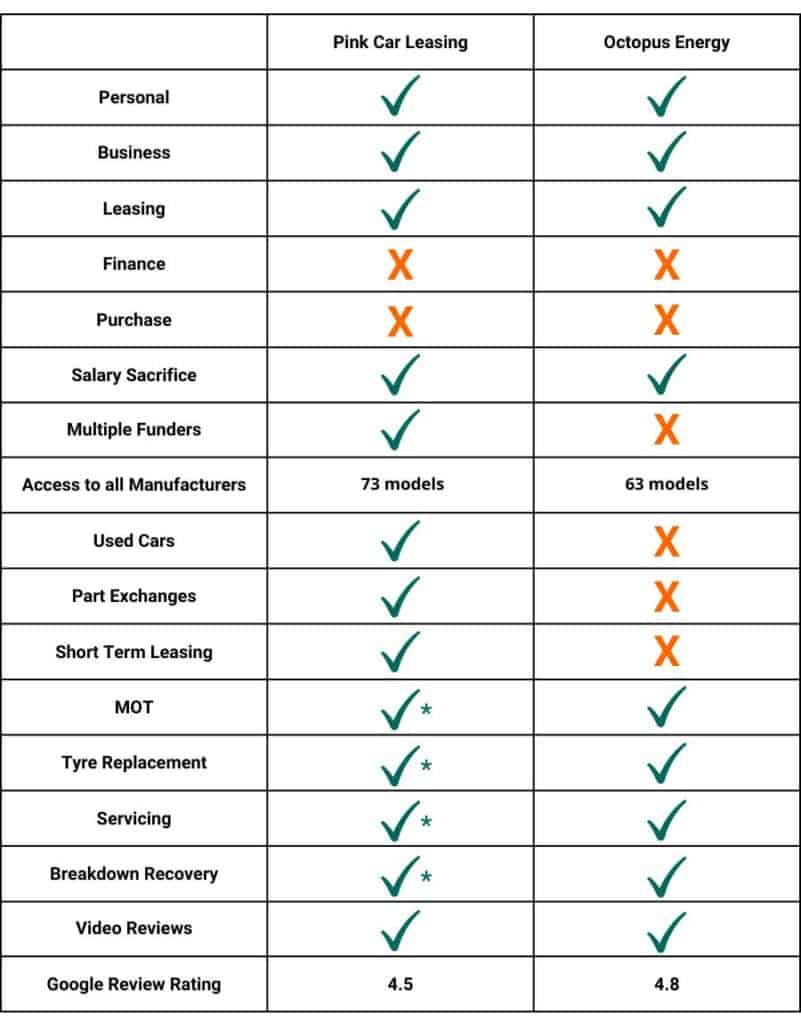 Whether you are looking to lease a vehicle personally or through a business, both Pink Car Leasing and Octopus Electric Vehicles can provide a solution to your needs.
If, however, you are looking to source a used car or part exchange for your existing vehicle, Pink Car Leasing can meet your requirements. The leasing company can also offer short-term leasing and can provide a vehicle with access to all manufacturers in the UK.
Putting this aside, both companies have trustworthy Google ratings, and both provide comprehensive video reviews of the latest electric vehicles, along with an all-electric care package, ensuring your vehicle stays in one piece.
Go Green Leasing vs Octopus EV
Last but not least we have Go Green Leasing. Since 2009 the company has been dedicated to selling only electric and hybrid vehicles, and, (hence the name) aims to fulfil its green goal of assisting motorists in doing their bit to save the earth.
At face value, what does Go Green Leasing offer compared to Octopus Energy?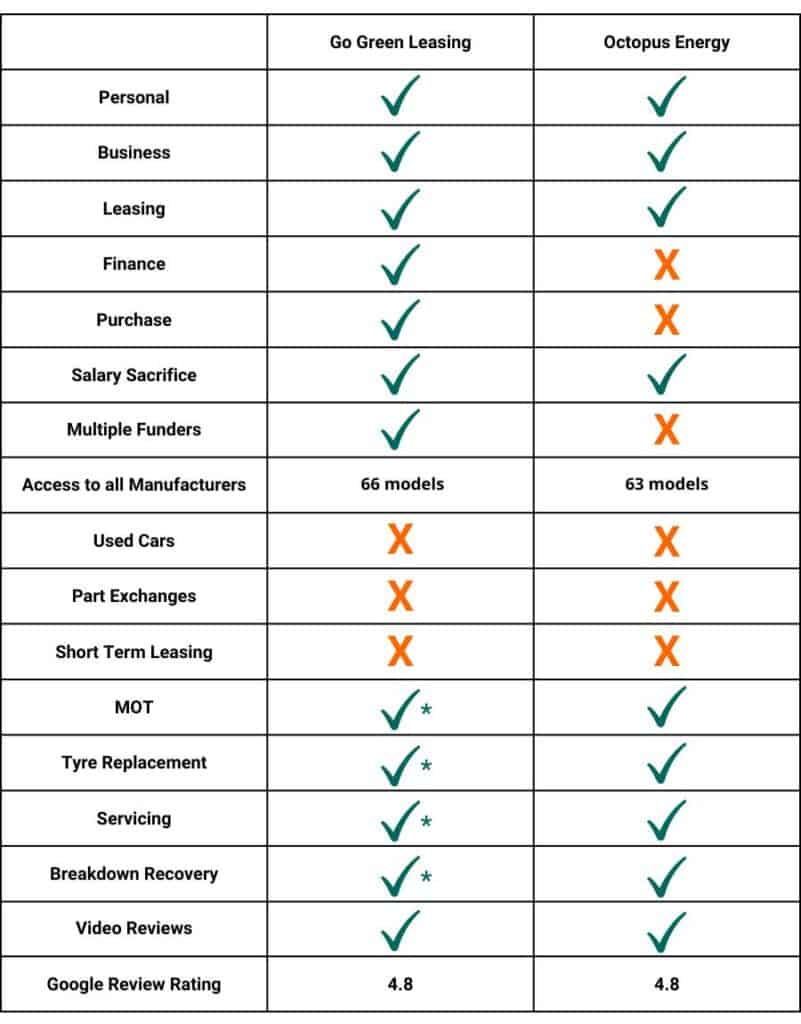 Go Green Leasing can offer more flexible finance options such as financing or purchasing your vehicle.
Otherwise, both electric vehicle companies offer very similar features and products to help you make the switch to an electric car, as well as a care package for your vehicle. This is included with Octopus EV and an optional add-on with Go Green Leasing.
Should you source your electric car from Octopus Energy?
So, should you source your electric car from Octopus Energy? Or is there a different electric vehicle supplier listed that caught your eye?
This decision will depend on whether you need more financial options, more flexibility, or simply would like access to a wider range of models from electric vehicle manufacturers. Once you understand your needs, this should help you decide which company to go for.
If you are someone who likes honest, expert advice, or perhaps you feel clueless and do not know where to even begin, OSV offers a friendly consultation to guide you along the way.
Fed up with looking for your next vehicle?
Need advice from an experienced Vehicle Specialist on what vehicle is right for you?
Book your FREE consultation now