Review Of The Skoda Citigo Hatchback
Need a partner in crime for the drive around town? The new Skoda Citigo Hatchback is the brands funkiest ever model. It's bursting with character, bursting with value, and should bring joy to the hearts of morning commuters who need a pick-me-up on the way to work.
This baby hatchback is actually one of three triplets recently released by the Volkswagen Group. It's distinguished by its sharp styling and a keen sense of fun, and its recently freshened-up looks should be enough to at least convince buyers that it's worth a test drive at the very least.
OSV takes a closer look at what it's all about with our 2017 Skoda Citigo Hatchback review.
Assuming you're going to be spending most of your time in the town, the new Citigo is the perfect companion. It's easy to park, and it has a ball as it weaves its way through city traffic while twisting around tight corners like it's winning at life.
At the same time, if you do need to take it onto the motorway every now and then, it's a willing hatchback that won't feel overwhelmed.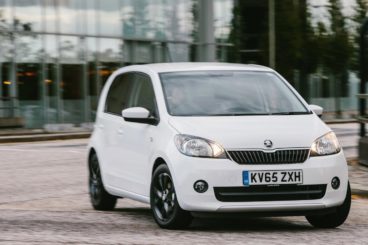 The suspension is a bit on the soft side, which means there will be a bit of lean in bends. But it isn't enough to destabilise the car. Moreover, there is lots of grip on offer, and the steering always feels accurate. Opt for the racier Monte Carlo trim, and you'll benefit from a firmer suspension that stiffens things up while also increasing its agility. This trim isn't actually any faster than the other models, but it gets sharper styling and sporty black alloys.
In terms of its engines, there isn't much to choose from. There is no diesel and just one petrol – a 1.0-litre unit that's available in two power guises. The smallest of these is a 59bhp variant that takes almost 14.0 seconds to get you from standstill to 62mph.
It's by no means a quick engine, then, but it sounds great and manages to at least feel faster than it is.
The more powerful 74bhp unit does 0-62 in just over 13.0 seconds, which doesn't exactly make it much quicker. Indeed, you only notice its extra power when you work it hard. Otherwise, we see no reason not to stick to the 59bhp variant, especially if you'll be spending most of your time in the town.
Both models come with a 5-speed manual 'box as standard, but you can upgrade to a 5-speed automatic if you prefer. We'd caution against it, though. It might sound good in theory, but the fact that it jerks a lot means it's very much a case of try before you buy. Moreover, it costs more to buy outright.
Skoda Citigo Hatchback Interior, Design & Build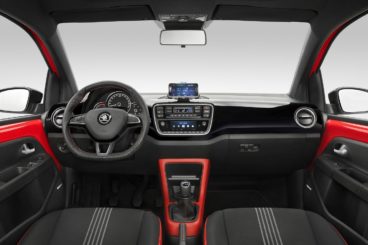 We think buyers will appreciate the fact that its cabin has all the quality markings of a VW Group product. The design is crisp, the layout is simple and user-friendly, and the standard of the materials used is high. Nice touches include a multifunction steering wheel and upgraded instruments from last time.
There is no sat-nav or CD player, with Skoda instead supplying the Citigo with a dash-mounted docking station that's meant for your smartphone. It provides an Android app or an iOS so that you can stream music, get a few fuel-saving tips and more.
The Skoda Citigo Hatchback is no doubt modestly sized, but Skoda has done a good job at getting as much out of its dimensions as possible. There is enough room for four adults to get comfortable, and headroom is good even for a taller passenger.
ISOFIX child seat mount points are fitted as standard across the range, and there is a three door and five door version available. The latter makes it easier to access the rear via wide opening doors, while storage areas in both models include a big glovebox and a number of smaller ones for your bottles of water and phones.
The boot, meanwhile, measures a respectable 251-litres. Fold the rear seats and you can extend that to 959, while for just £65 you can add a variable boot floor. Without it, the load area won't lie totally flat.
Equipment & Safety Of The Skoda Citigo Hatchback
Standard kit is a bit spartan. The S model kicks things off with remote central locking and electric front windows, but it comes without alloys, while its steering wheel is height adjustable only. Adding air conditioning will set you back £650.
The SE model has more to it, and gets all the important essentials, including air conditioning. The SE L trim adds leather and chrome touches to the cabin, as well as heated front seats and parking sensors.
The racier Monte Carlo trim rounds things off with 15" black alloys, tinted glass and black exterior finishes.
In terms of safety, the Citigo fares well. It landed all five stars when Euro NCAP tested it, and standard safety kit is good across the range. Even the entry-level model gets daytime running lights, electronic stability control, a tyre pressure monitoring system, and airbags.
Costs Of The Skoda Citigo Hatchback
Prices for the new car start out from £8,635 and rise to £11,590. If you prefer to lease, you can pick up a deal from £144 + VAT per month. For more information on our leasing deals, check out our page here.
In terms of its running costs, the Citigo is a little champ. All engines emit as little CO2 as possible and all are economical. The 59bhp GreenTech engine is the cheapest to run, and is able to return as much as 68.9mpg if you add the Green Tech kit, which comes with stop-start tech and low-resistance tyres.
The 74bhp ASG auto petrol is the most expensive model to run, but still returns 64.2mpg, while emitting 103g/km of CO2. Whichever model you opt for, all cost £140 per year in tax.
Pros and Cons Of The Skoda Citigo Hatchback
Cheap To Run
All models return over 64.2mpg officially, while CO2 emissions are also down.
Practical
There is so much cabin space that the new Citigo embarrasses a lot of its rivals. There are plenty of handy storage areas, too.
Easy To Drive
It gets 10/10 for urban agility, which will be music to the ears for those of you who otherwise hate negotiating tight city streets.
Entry Level Model Is Basic
It's cheap, but basic as basic does.
Reserved Styling
There are more stylish superminis in this market.
Skoda Citigo Hatchback vs Toyota Aygo Hatchback vs Vauxhall Viva Hatchback
Let's see how the car fares against its rivals in the comparison section of our 2017 Skoda Citigo Hatchback review.
Skoda Citigo Hatchback vs Toyota Aygo Hatchback
The new Toyota Aygo Hatchback is a slick-looking, economical and agile city car that's sure to attract customers who are easily wowed by cuteness. If the Aygo had cheeks, you could just pinch 'em.
In the town, the fun and comfy Aygo is in its elements. Its small dimensions ensure that it's easy to park, zip through traffic, and dart around otherwise tight turns. Visibility is good, thanks to the raised driving position, while the steering is nice and direct.
Body lean is a bit of an issue in bends and it's not recommended that you spend too much time on the motorway, however.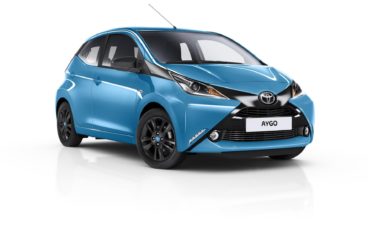 In terms of the engines, there is just one available. It's a 1.0-litre petrol unit that develops 68bhp. It's already been seen in the Citroen C1 and the Peugeot 108, both of which are competent cars, but both of which also come with more powerful engines.
Fit it with the automatic x-shift transmission and it takes a leisurely 15.5 seconds to complete the 0-62 dash. Fit it to the manual transmission, and you can cut that time down to 14.2 seconds. The engine has plenty of bursts of speed and doesn't feel too out of depth at higher speeds.
It doesn't have much power in reserve, however.
It's quiet and cheap to run, and can return a very respectable 68.9mpg while emitting less than 100g/km of CO2. For the first year, you'll pay £120 in road tax and £140 every twelve months after that.
Inside, there is some intrusive engine noise that gets into the cabin, but sound deadening has prevented it from becoming an issue. In terms of its fit and finish, the Toyota Aygo Hatchback is much improved on last time, and is now a comfortable, pleasant place to be.
The dash is stylish and comes with a gloss-black finish, while the controls are easy to find and use. What lets the interior down, though, is not the styling but the quality of the plastics. Some surfaces are hard, scratchy and feel cheap.
Is the Toyota Aygo practical? It's fairly easy to live. There is no denying that it's a small car, but its size is average for this class. Moreover, its compact dimensions and raised ride height are meant to prioritise easy driving in the town.
Still, there is a good amount of interior space, with the only contentious issue being rear legroom. Small windows might cause a bit of claustrophobia, but it shouldn't be a deal breaker.
The boot, on the other hand, could be a deal breaker. It measures just 168-litres. The rear seats can't be folded entirely flat, and there is a distance from the floor to the boot opening.
Price:
Skoda – £8,635 – £11,590
Toyota – £9,255 – £14,895
Skoda Citigo Hatchback vs Vauxhall Viva Hatchback
The new Vauxhall Viva Hatchback is an affordable, roomy small city car that's cheap and cheerful.
As usual with a city car, the Vauxhall excels in the town. You don't need to work it hard to get the best out of it, and it's nippy and willing. On the motorway it's a bit of a different story, but even then the Viva doesn't feel overwhelmed.
Vauxhall has tweaked its steering and suspension so that it can handle Britain's battered roads without too much trouble, but it hasn't had a positive impact on the way the car drives. In truth, it's just not much fun.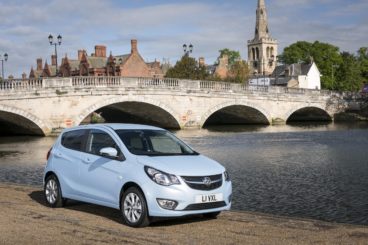 There is just the one engine to "choose" from, a 1.0-litre petrol unit that develops 73bhp, and which takes just 13.1 seconds to complete the 0-62 dash. It's got a decent amount of power, and can be paired up with either a manual or an automatic 'box.
The manual variant can return 61.4mpg, while the automatic variant is good for returns of 62.8mpg. Emissions are more or less the same, with the former emitting 104g/km of CO2 and the latter emitting one gram less.
Inside, the Vauxhall Viva Hatchback is a nice place to spend your time on the road. The interior is slick, the Corsa-derived steering wheel is a highlight, and the glossy trim for the dashboard is a nice touch.
However, while the dashboard looks among the most stylish in the class, the overall feel of the car isn't great. There are some sub-standard plastics here and there. Another issue is insulation, with engine, road and wind noise easily making their way into the cabin.
In terms of practicality, the Viva is hit and miss. Visibility is fine, headroom is excellent, and interior space on the whole can't be knocked. Five adults can sit in comfort, even on longer journeys.
Moreover, the driver's seat is height adjustable, while the steering wheel adjusts for rake. On the other hand, the wheel can't adjust for reach, while storage space on the whole is poor. You've basically got just a glovebox and a miserly 206-litre boot. That's bigger than the Aygo but much smaller than the Citigo.
Price:
Vauxhall – £9,765 – £11,530
Verdict Of Our 2017 Skoda Citigo Hatchback
As always, Skoda is offering plenty of value for money here. The new car is surprisingly spacious, easy to drive and park, and cheap to both buy, run and own.
There often isn't a lot to choose from in the supermini sector. But if it's out and out the value that normally swings it for you as you look to get as much bang for your buck as possible, the new Skoda Citigo Hatchback edges it.
Get in touch to have a chat about your new car
Give one of our helpful team a call to find your perfect vehicle.
ARE YOU INTERESTED IN GETTING A
City Car
?
Get in touch with us on 01903 538835 or request a call back. We look forward to hearing from you.