Review Of The Skoda Octavia Estate
The Skoda Octavia Estate is really hard to beat on value for money. It's practical, comes with low running costs, and has a colossal boot. As always for a Skoda, it's safe and reliable, and can offer plenty of comfort.
Skoda jokes now seem like a distant memory, and whenever someone still insists on telling you one, it feels as though the joke is really on them. This Estate is a class-leader; an all-rounder that edges out its rivals in many aspects. Its key competitors include the popular Ford Focus Estate and the Volkswagen Golf Estate, and OSV compares it with both cars in our Ultimate Skoda Octavia Estate review. Let's take a closer look.
Unable to compete with the class-leading Focus when it comes to out-and-out drivability, this Skoda Estate is comfortable and relaxing. The suspension is firmer than the one in the Golf, and it can't strike the same balance as a BMW when it comes to comfort and entertainment behind the wheel. Four-wheel drive is available if you want it, while a superb DSG automatic 'box is also an option.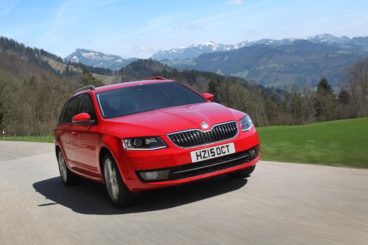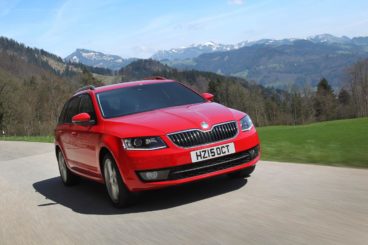 The Octavia Estate comes with a Driver Profile system, which means that you can adjust the steering and engine response according to mood. There is no front differential, however, which means that it lacks a bit of keenness. Normal is the standard and best choice, while Eco causes the throttle to lag.
There is a solid range of engines to choose from, with most of them being borrowed from the Volkswagen Golf canon. All of them are economical, and most of them are pretty sprightly, too.
But it's also worth mentioning that, although this car shares the same underpinning as the Golf and the SEAT Leon ST, there are some engines that are less refined. The 1.6-litre 109bhp TDI diesel unit is an example. It should be quieter, but instead, it's blessed with a bit of a temper and makes a lot of noise when idle.
The vRS is the most performative petrol engine on offer, and it turns this bulky Estate into something of a sports car trying to recapture its youth. It can rocket you and your family from rest to 62mph in just 6.8 seconds before maxing out at a dizzying 152mph. It's one of the priciest models in the range, however.
If you want better economy, the 1.6-litre GreenLine III diesel engine is your man. It still feels relatively quick and covers the 0-62mph sprint in 10.4 seconds. The meatier 2.0-litre 148bhp diesel covers the same distance in 8.5 seconds.
The dashboard is impressively designed to be user-friendly. Everything is clearly assembled and laid out, and it's apparent that the Skoda team took great care in making sure that the dash is easy to operate and makes for a pleasant companion on those longer journeys.
The interior is on the whole impressive, too. The soft-touch surfaces give the car an upmarket feel, although it still doesn't feel quite as classy as the VW Golf. It does, however, feel more sophisticated than other rivals, including the Vauxhall Astra and the Honda Civic.
Getting comfortable is easy enough thanks to the adjustable driver's seat, while the adjustable steering wheel helps, too.
Practicality will not be an issue for anyone, and this car is practical to the core. The mammoth 610-litre boot aside, there is more interior space than inside a Ford Mondeo, which means five adults will be able to sit comfortably enough, even on longer journeys. There are lots of storage cubbies dotted around the place for your bits and bobs, while a false floor underneath the boot further adds to the usefulness of this vehicle.
The only troubling aspect is that the luggage net package should really come as standard. Instead, it will cost you £55.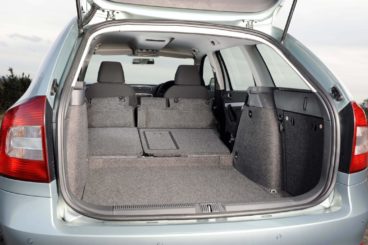 Each version of this Skoda Estate has a generous amount of standard equipment. The base-level trim gets air conditioning, alloys, and a touchscreen infotainment system, while the SE throws in twin-zone climate control, rear parking sensors and also adds more optional extras.
The SE-L model includes sat nav and cruise control, as well as the Front Assist system. The range-topping Laurin & Klement model, meanwhile, spoils you with a leather trim, 18" alloys and LED lights.
Costs Of The Skoda Octavia Estate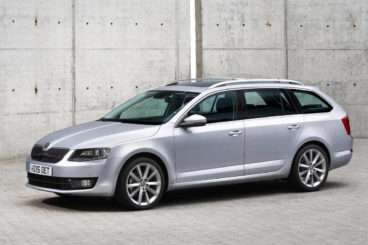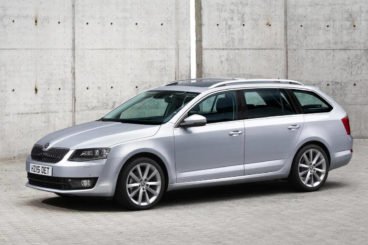 Prices start out from £18,000 and rise to just shy of £29,500. If you're thinking of leasing the car over three years on a contract hire, you'd be looking at paying between £165 and £365 + VAT.
No engine is particularly expensive to run, but the 1.6-litre GreenLine III diesel unit is a technological marvel out on its own and is capable of returning an eye-catching 80.7mpg. It's pretty much unrivalled in this entire sector. The 2.0-litre diesel engine is more performative, though, and can return a very respectable 70.6mpg while costing you just £20 per year to tax.
The petrol engines are impressively economical too, with the zippy 1.0-litre unit returning 60mpg off a sensible drive. It should definitely appeal to companies on the hunt for an affordable fleet.
Resale values are decent if not spectacular, and you should be able to recoup up to 45% of the purchase price if you try to sell your Octavia after three years.
Pros and Cons Of The Skoda Octavia Estate
Pros:
Super Cheap To Run
You'll be searching high and low to find a more economical model in this sector than the GreenLine III. Returning 80mpg, it's free to tax and makes a lot of sense if you're trying to keep costs down.
It's also not too shabby on the road, and can get you from rest to 62mph in 10.7 seconds before maxing out at 127mph. It packs a 50-litre fuel tank, which means you've got a range of around 885 miles.
Massive Boot
If an Estate doesn't have a big boot, it's not going to sell very well. And while the 610-litre boot here can't match the positively gargantuan 680-litre boot in the Peugeot 308 SW, it's still going to be enough for most consumers.
Very Reliable
Skoda's are well known for their safety and reliability, so it's no surprise to learn that the Octavia Estate is a hugely dependable family car. There are plenty of extra safety systems on the options list to bolster your security further, while the brand continues to finish highly on Driver Power surveys for customer satisfaction.
Other cars in this sector might be more fun to drive, but this one will never let you down.
Cons:
Lack Of Badge Appeal
Something the Skoda will always have to contend with is the fact that a Skoda is not and never will be a BMW, a Mercedes, or even a Ford. This lack of badge appeal can be crucial if you're considering a Skoda but quite fancy something a bit more prestigious this time around.
If you can afford something a bit more higher-end, there is no contest. A Skoda, as much value for money as it represents, will always be fighting against pretty-boy Goliath's.
Warranty Is Not Exactly Generous
Despite their reputation for value and reliability, Skoda have decided against offering as lucrative a warranty as some of their rivals. There is a 3 year policy with unlimited mileage during the first 2 years of ownership, but the third comes with a 60,000 mile cap that can be extended to 80,000 in the fourth year if you fork out an extra £255.
Hyundai offers a five-year unlimited warranty, while Kia offers seven.
Skoda Octavia Estate vs. Volkswagen Golf Estate vs. Ford Focus Estate
Let's see how the Octavia measures up to some of its rivals in the comparison section of our Skoda Octavia Estate review.
Skoda Octavia Estate vs. Volkswagen Golf Estate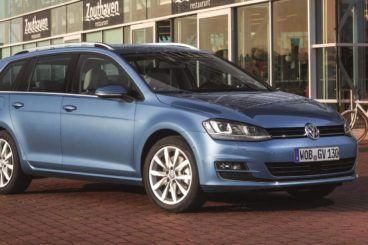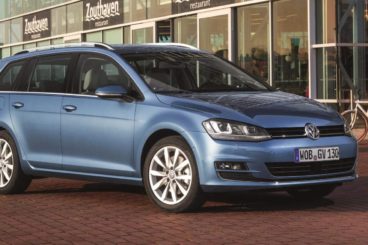 The Volkswagen Golf Estate looks more attractive on the outside, but how much substance can it offer?
The Golf's interior is nicer to look at than the Skoda's, primarily because both these cars are produced by VW Group, with the Golf getting poster boy status. The cabin is smart and benefits from a huge budget which puts it above its closest rivals.
It drives well enough, but like the Octavia, it can't compete with the Focus for enjoyment behind the wheel. Its engine line-up is also let down by some really sluggish performers, though its fastest unit in the range is a sporty GTD diesel unit that can get you from rest to 62mph in 7.9 seconds.
The Golf's boot can't compete with the Skoda's when it comes to sheer, size, but it's really in other areas that the VW doesn't measure up: There is more standard equipment in the Skoda than in the Golf. While the Octavia comes with rear parking sensors and Bluetooth as standard across the range, the VW Golf adds them in as optional extras that will cost you a further £1,140 on top of the list price. Climate control is also standard in the Octavia, but conspicuously absent from the Golf's list.
One optional extra that will cost you a fair bit if you add it to Octavia's arsenal is four-wheel drive. But while it will cost you £1,450 to add some more steel, it isn't even available at all with the Golf.
Prices:
Skoda – £18,000 – £29,500
Volkswagen – £19,000 – £30,000
Skoda Octavia Estate vs. Ford Focus Estate
The Ford Focus Estate is one of the bestsellers in this brand. But does it offer more value for money than the Skoda?
The Ford's wow factor is its class-leading handling. An Estate shouldn't really be this fun to drive, but the brand has dedicated a lot of time and energy into fixing the car's system so that it offers plenty of entertainment on the road. The Skoda is comfortable and relaxed in contrast, but it isn't much fun.
The Ford also looks better when parked up, and comes with the hatchback's cheery disposition and winning smile, despite the extra size and weight. But what it doesn't have that the Octavia Estate has is bags of practicality.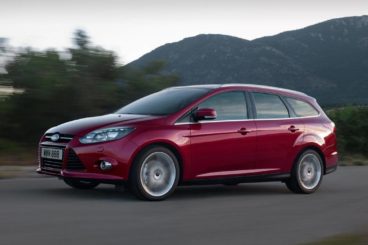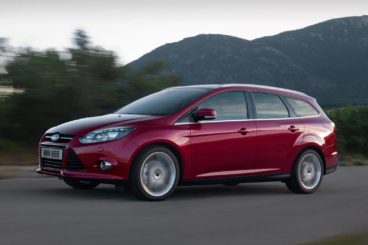 Here is where the Ford comes up a little short. The boot measures just 476-litres, which is over a hundred litres short of the one found in the Octavia.
The Focus' residual values are questionable, too. The range-topping model depreciates rapidly, while the most you can expect to recover after three years of ownership is 39% of the purchase price. The Octavia can recoup 45% of your money.
The Focus Estate is a dependable car, though, and has a strong reputation for long-term reliability. Running costs are good, with the most frugal unit in the range capable of returning 74.3mpg. Both cars offer a solid range of engines, but the Focus can boast more performance and a quicker turn of pace.
Prices:
Skoda – £18,000 – £29,500
Ford – £17,000 – £27,000
There are cars in this sector that have a bigger boot, and there are cars in this sector that can boast sharper handling and badge appeal. But none can claim to be as good all-rounders as this one.
The Octavia is super versatile, and it makes a lot of sense if you're working on a budget but still want a car that is practical, robust, pleasant to drive, and which is reliable. The Skoda Octavia Estate might lack the shine of a BMW, or the mainstream popularity of a Ford, but it continues to do what it does best, which is rewarding customers with plenty of value for money.
Verdict Of Our Skoda Octavia Estate
Looking For A Price For The Skoda Octavia Estate?
Fill out the form below with your details, and one of our highly qualified vehicle specialists will be in contact within 24 hours.
When you lease a car with OSV there are no hidden costs, request a call back and we'll find you a finance, lease or purchasing deal designed just for you.