Review Of The Skoda Rapid Spaceback Hatchback
The new Skoda Rapid Spaceback Hatchback is the regular Rapid's trendier sibling. This means it gets an elongated roofline, a raft of excellent engines, smoother suspension and a shorter tail.
However, it still looks bland compared to rivals and won't be exciting to drive.
Still, a Skoda is a Skoda is a Skoda and the new car is dependable, cheap to run, spacious and practical.
OSV takes a closer look with our 2017 Skoda Rapid Spaceback Hatchback review.
While none of the engines available will excite you, they're all reasonably proficient on the power front. Your biggest concern will probably be getting the right blend of economy and performance, with each engine bringing something to the table.
In terms of how it handles, the Rapid Spaceback is neat and tidy without ever indulging you. The ride is quiet and mostly smooth, but the steering lacks feedback. It's also not what you could call responsive.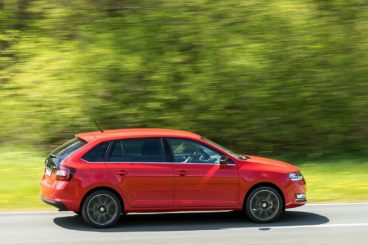 And just in case keener drivers are still reading, the way the suspension is set up for comfort means you won't be having much fun in corners either.
The engine range kicks off a 1.0-litre petrol engine that's available in a few power guises. The smallest and cheapest of the lot develops just 94bhp and can be paired up with a DSG 7-speed automatic 'box if you wish. However, OSV recommends sticking with the 5-speed manual as it suits the car a lot more. The automatic has a tendency to change gears at unnecessary moments.
The more powerful of the 1.0-litre petrols is a better choice if you'll be spending a decent amount of time out on the motorway. Unlike the 94bhp model, it comes with a 6-speed manual transmission as standard.
If you're a high mileage driver, the diesel engines might be a bit more expensive to buy outright, but they make more economical sense in the long run. A 1.4-litre 89bhp unit sits at the bottom of the range, can do 0-62 in 11.2 seconds while returning 70.6mpg.
The biggest diesel engine on offer is a 1.6-litre unit. It's the only engine in the range with four cylinders (the rest have three), and it develops a meatier 114bhp. That's enough to haul you from rest to 62mph in 9.6 seconds while still returning decent economy.
Because it has an extra cylinder, it's smoother than your other options, but gets noisier on the motorway.
Skoda Rapid Spaceback Hatchback Interior, Design & Build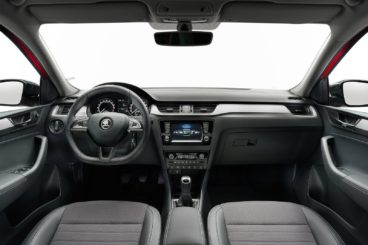 One of the things that has always distinguished the Skoda Rapid Spaceback Hatchback from the regular Rapid is its smoother suspension. Once again, the new Rapid is able to comfortably iron over lumps and bumps in the road, providing you with a smooth way to get from A to B. That said, you will still feel certain imperfections.
Insulation is excellent as always, with only the faintest of diesel clatter getting into the cabin at motorway speeds. It's not really an issue, especially if you have the radio on.
The dashboard is pretty much identical with the one in the regular Rapid. This means it looks neat and tidy, and even quite classy. Indeed, there is a real sense of quality here, but it's let down at times with the use of cheaper materials. That said, this is surely as good as things get at this price point.
Is the Skoda Rapid Spaceback Hatchback practical? Its boot isn't as big as its Rapid sibling, and measures 415-litres. In isolation that's still impressive and better than its close rivals. It can be extended to 1,318 by folding the rear seats, and a variable boot floor is optional. Storage nets are standard.
Interior space on the whole is very good, with the shape of this car ensuring that Skoda was able to maximise its dimensions. In fact, the Skoda Rapid Spaceback Hatchback feels equal to cars from the above class.
Rear knee space is as much as 12", there is more headroom than there is in the conventional Rapid, and there are plenty of storage spaces.
Equipment & Safety Of The Skoda Rapid Spaceback Hatchback
Standard kit is decent across the range. The entry-level model gets the likes of air conditioning, A 6.5" touchscreen and 15" steel wheels included in its listing price, but you'll need to overlook it if you want the more powerful engines. However, it's the SE model where things get really interesting with the addition of electric front windows, remote central locking, and a height adjustable driver's seat.
The SE Tech model adds dual-zone climate-control air conditioning, rear parking sensors, a touchscreen sat-nav system, as well as cruise control and 16" alloys.
In terms of safety, it's hard to argue with a car that was given 5/5 by Euro NCAP for its crash test performance, and which comes with multi-collision braking, anti-lock brakes and electronic stability control come as standard.
Costs Of The Skoda Rapid Spaceback Hatchback
Prices for the new car start out from £14,400 and rise to £19,570. If you prefer to lease, you can pick up a deal from £196 + VAT per month. For more information on our leasing deals, check out our page here.
In terms of its running costs, the new 1.0-litre petrol engine is more economical than the one it replaces. It averages 62.8mpg and emits just over 100g/km of CO2. If you prefer the more powerful version of the engine, you'll see returns of 61.4mpg.
The diesels are even more economical, with the 1.4-litre engine returning over 70mpg economy if you opt for the 89bhp variant.
Pros and Cons Of The Skoda Rapid Spaceback Hatchback
Stylish
It's not the most stylish car you'll ever own, but it's more stylish than the regular Rapid Hatchback.
Usable Boot
It measures an impressive 415-litres, comes with a wide boot opening and is easy to use.
Punchy Engines
Most of the engines have three cylinders, while one has four. All feel smooth, punchy and can cope well with the car on a full load.
Noisy Diesel
The diesel is a solid engine, but it will be too noisy at speed for some.
Hit And Miss Interior
The cabin definitely feels like a budget offering. There are cheaper plastics, and not much luxury.
Skoda Rapid Spaceback Hatchback vs SEAT Toledo Hatchback vs Nissan Pulsar Hatchback vs Citroen C4 Cactus Hatchback
Let's see how the car fares against its rivals in the comparison section of our 2017 Skoda Rapid Spaceback Hatchback review.
Skoda Rapid Spaceback Hatchback vs SEAT Toledo Hatchback
The new SEAT Toledo Hatchback is probably the Spanish brands least sexiest cars. However, families who want a sensible ride, lots of space and an outstanding boot won't be complaining.
Bland looks make for bland driving. There are some decent engines available, with the 1.6-litre EcoMotive diesel and 1.0-litre TSI petrol being our top picks. But none offer any sort of driving enjoyment.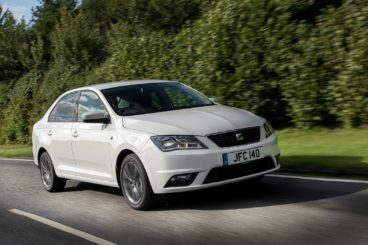 The driving experience can be best described as middle of the road, yet there is a good amount of power and performance available. In fact, only the 1.4-litre diesel engine takes longer than 11.0 seconds to complete the 0-62 dash, with our top picks doing it in around ten seconds flat.
Steering is responsive, but overall the SEAT Toledo Hatchback is safe and predictable.
Running costs are good, with the 1.4-litre diesel able to return as much as the 72.4mpg economy. The 1.0-litre TSI petrol benefits from a turbocharger, and can return 61.4mpg, while the 1.6-litre EcoMotive diesel is good for 67.3mpg.
Inside, the car is fairly comfortable, but bumpier roads are troubling. Insulation is decent but not as good as the Skoda, while the dashboard is smart and logically arranged – but plain.
Where the car really excels is with its practicality. Its 550-litre boot dwarves the Skoda, leg and headroom are excellent, and there is plenty of space for four adults to get comfy.
Price:
Skoda – £14,400 – £19,570
SEAT – £16,500 – £21,900
Skoda Rapid Spaceback Hatchback vs Nissan Pulsar Hatchback
The new Nissan Pulsar Hatchback is smart-looking, spacious and super practical.
Much better to look at than the SEAT and Skoda, the Pulsar is still as unglamorous on the road. It's easy enough to drive, but if you want some fun? Look elsewhere.
When it comes to picking an engine, you'll probably find yourself plumping for the one that saves you the most money. If so, it'd be the 1.5-litre diesel that gets the nod. It has a bit more oomph than the petrol, makes a bit of noise when you put your foot down, but settles down on the motorway. According to Nissan, it returns almost 80mpg.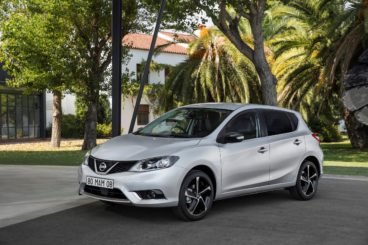 That said, a 1.6-litre DIG-T petrol engine is much tastier. It develops 188bhp, does 0-62 in 7.7 seconds – but takes a hammering at the pumps, returning less than 50mpg economy officially.
Inside, while the Nissan Pulsar Hatchback won't set your pulses racing, it's supremely comfortable. It's also refined, and insulation is good.
The dash is similar to the one found in the Qashqai, which means it's solidly put together, functional and looks okay. The top-spec model gets leather seats and glossy plastics, which boost its visual appeal.
Is the Nissan Pulsar Hatchback practical? Absolutely. Its boxy shape ensures a roomy cabin, while it can claim the longest wheelbase in this market. The steering wheel offers lots of adjustability, there is easily enough room for five adults to get comfortable, but the boot is a bit of a letdown. It measures under 400-litres, which makes it by far the smallest in this class.
That said, its 395-litres of luggage space will be enough for a lot of buyers.
Price:
Nissan – £13,275 – £21,035
Skoda Rapid Spaceback Hatchback vs Citroen C4 Cactus Hatchback
The new Citroen C4 Cactus Hatchback is a distinctive, affordable and practical family car that might look too unconventional for some buyers.
If you love the way the individually-minded Cactus looks, you'll get on board with how it drives, too. It's super easy to drive in the town, thanks to incredibly light steering and soft suspension. As far as relaxing hatchback's go, this is right up there.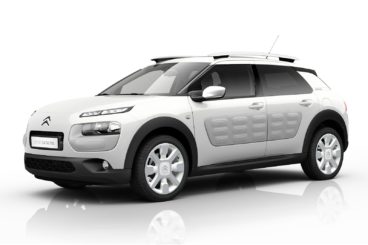 Although it has an easygoing nature, its engines are up to the task of providing it with enough oomph to cope with a full load. The PureTech 110 petrol is OSV's favourite. It does 0-62 in just 9.3 seconds when paired with the manual 'box, and 9.7 seconds if you specify the automatic.
There is the option of a strong BlueHDi 100 diesel too, which does 0-62 in 10.6 seconds. It's impressively economical, with Citroen claiming it can return over 90mpg.
The PureTech 110 petrol, meanwhile, averages 65.7mpg economy.
We have a lot of love for the way the Citroen C4 Cactus Hatchback looks and feels inside. There are one or two cheaper plastics here and there, but the cabin on the whole is too good for them to be a deal breaker.
Pop-out windows won't be enjoyed by everyone, but apart from that the cabin is stylish, simply and tastefully designed, and there are a number of customisable options available. If you want to decorate your dashboard yellow? You can do that! Compared to the Skoda, there is a keen sense of fun here.
There is plenty of substance too. In fact the Citroen C4 Cactus Hatchback scores 5/5 for practicality. The boot is a tad smaller than the Skoda at 358-litres, but we reckon that will be enough for many buyers anyway. Fold the rear seats and you can extend it to 1,170-litres.
There are plenty of storage spaces, including a massive top-loading glove-box, door pockets in each door, and a handy fuel cap holder. Head and legroom are good, while an AirBump side-protection system is a great touch.
Price:
Citroen – £16,400 – £20,555
Verdict Of Our 2017 Skoda Rapid Spaceback Hatchback
The new Spaceback has five doors, a large boot, and a good-sized interior. Thanks to a recent facelift, it's prettier than last time, and as usual offers Skoda's calling card – value for money.
It's the budget offering in the class, but if you need a dependable, practical and easy to drive family car, the new Skoda Rapid Spaceback Hatchback is a solid choice.
Get in touch to have a chat about your new car
Give one of our helpful team a call to find your perfect vehicle.
ARE YOU INTERESTED IN GETTING A
Hatchback
?
Get in touch with us on 01903 538835 or request a call back. We look forward to hearing from you.