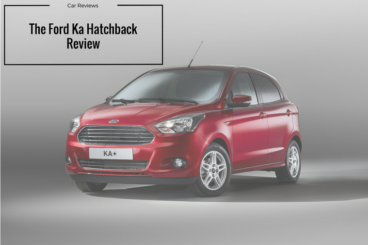 Review Of The Ford Ka Hatchback
For many, the Ford Ka Hatchback's heyday ended a long time ago. The likes of the trendy Fiat 500 and Renault Twingo were supposed to have seen off this one a while back. But here it is, ready for one last hurrah. Is there still life in this one that sold like hotcakes when the Spice Girls were still selling records? Or has it fallen way behind more modern rivals?
The Ka has probably undergone a bigger visual transformation than any other car. It looks almost unrecognisable from the one that set trends two decades ago with its radical aesthetics. However, it's adapted to the times and looks just as cute as any supermini on the market.
It's got plenty of positives. Its ride is comfortable, and its handling is sharper than last time around. It's also more refined, and there are engines to suit those on a budget.
But there are drawbacks, not least a dated interior.
OSV takes a closer look at what it's all about with our 2017 Ford Ka Hatchback review.
When the Ford Ka made its debut two decades ago, it had a refreshing sense of fun. People fell in love with how entertaining it was. Fast-forward twenty years, and the fun is over.
For whatever reason, Ford decided against focusing on this cars' strengths. They've watered down the driving experience, and have decided to borrow bits and bobs from the Fiat 500. We're not sure why, because the 500's chassis isn't on par with the old Ka's. Still, Ford has revised Fiat's chassis so that the ride is softer.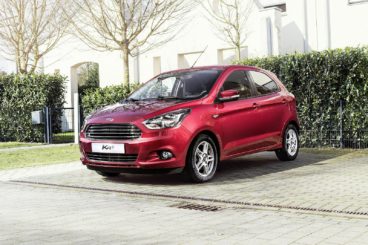 Ford also realised that the 500 lacked steering sharpness. As such, the Ford Ka handles quite well, and body movement is well controlled. There is also a decent amount of grip on offer.
It's still way off rivals in terms of entertainment, though.
There are only two engines available, a 1.2-litre petrol and a 1.3-litre diesel. Both have been lifted from the Fiat factory. The petrol engine is our top pick, even though it develops just 68bhp. That might make it sound underpowered, and it will groan at higher speeds. But it's a hassle-free engine on the whole, and we like its smooth 5-speed manual transmission.
It takes 13.4 seconds to do 0-62, which is reasonable if not impressive. And indeed, there are faster rivals who have smaller engines. It has a top speed of 99mph.
Ford Ka Hatchback Interior, Design & Build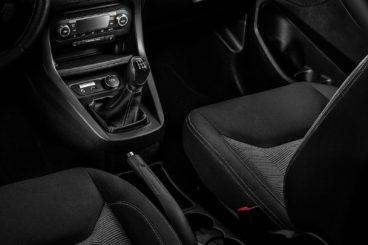 Ford have tried to mimic the zeitgeist when it comes to how this car looks. And it does look as cute and friendly as any other modern-day city car. It looks kinda like the Fiesta, but with a bit less of an edge. It's very different from the original Ford Ka .
Inside, the interior is a simple affair, but it's still got the style. It's got more quality than your typical city car, but it does share some of the 500's cheaper plastics.
Unfortunately, the overall design just isn't as on-trend as rivals. The Ka was the trendsetter twenty years ago, but those days are well and truly gone.
However, when it comes to small city cars, the Ford Ka Hatchback is one of the biggest. This means interior space is good, and there are decent leg and headroom for all. The biggest problem is getting into the rear, and the car suffers from a three-door layout. Go for the more expensive Edge model, and access is easier thanks to a driver's seat which tilts forward.
There are lots of useful storage spaces inside here, including a few cup-holders, and a good-sized glove box. The boot measures 224-litres, which will satisfy most buyers. If you fold the rear seats, you can increase that to 747-litres. That's good for a city car, although the high boot lip is frustrating.
Equipment & Safety Of The Ford Ka Hatchback
The Ka is a pretty basic car, and standard kit is sparse. There is no built-in sat nav, not even on the options list. You also can't check your emails or the weather forecast, nor can you sync your phone. Standard kit includes a 4-speaker CD player/radio, stop-start tech and electronic stability control. You also get body coloured bumpers and alloys.
The Zetec adds a few niceties, including air conditioning, and a leather steering wheel. It also comes with a heated windscreen and electric windows.
When it was crash tested by EuroNCAP, the Ka Hatchback only scored 4 out of 5. This was a few years back. If it was re-tested under the stricter conditions, it might struggle to even score four.
Standard safety kit includes curtain airbags, tyre pressure monitoring, and stability control.
Costs Of The Ford Ka Hatchback
Prices for the new car start out from £10,000. For more information on our leasing deals, check out our page here.
In terms of its running costs, the Ka doesn't do too well when compared to rivals. None of the engines is free to tax, with emissions going as high as 115g/km of CO2. For a small car, that's surprising.
Ford claims their cheapest engine can return 57.7mpg, which is behind what would be competitive in this class. These are only official numbers, too. In the real world, expect the economy to be around the 45mpg mark.
Counting in the car's favour are cheap parts, while the UK is riddled with Ford dealers. So if things do go wrong, help will be close by.
Pros and Cons Of The Ford Ka Hatchback
Cute
It's not as radical-looking as it used to be. But it's just as cute as other modern, 2017 city cars.
Easy To Drive
It's not as dynamic as it used to be, but it handles well and there's lots of grip.
Practical
Its 224-litre boot is one of the biggest in this class, and the cabin is one of the roomiest.
Not Well-Equipped
Lots of stuff is missing, most noticeably air conditioning from the entry-level model.
Not Much Fun
The Ford Ka used to be fun to drive, but Ford have seen a reason to tone things down.
Ford Ka Hatchback vs Renault Twingo vs Fiat 500 Hatchback
Let's see how the car fares against its rivals in the comparison section of our Ford Ka Hatchback.
Ford Ka Hatchback vs Renault Twingo 
The new Renault Twingo is one of the most up-to-date rivals the Ka is facing off against. It looks like something from the future, and blends practicality with the economy.
The Twingo is the ideal city car in that it's right at home in the town. However, it's not as much fun to drive as rivals. It's capable and competent, but that's as far as we'll go. This is something of a surprise, even to us. After all, the car is lightweight and rear-wheel-drive – both of which suggest some entertainment on the road.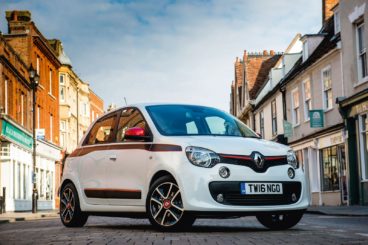 But its lack of weight counts against it, and it isn't as sharp in corners. Moreover, its light steering means there is little feedback.
Still, it's an agile car that won't let you down in the city. It's really tight turning circle is a huge positive, too.
All three of its available engines are petrols. A 69bhp 1.0-litre unit kicks things off, and is an adequate if not exciting engine. It can do 0-62 in 14.5 seconds, which will probably be too slow for a lot of you.
An 89bhp 0.9-litre unit does 0-62 in 10.8 seconds, while a GT model delivers 109bhp, and covers the 0-62mph stretch in just 9.6 seconds. And whereas the Ka has a top speed of 99mph, this Renault Twingo GT has a top speed of 113mph.
Despite the absence of diesel engines, running costs are kept down by the trio of small petrols. Stop-start tech also helps, and the entry-level 1.0-litre engine can return 67.3mpg economy. It's also free to tax. The GT model ups the ante in terms of power, but can still return 54.3mpg. Road tax, meanwhile, is just £30 a year.
The Twingo's cabin is a much more modern affair than the Ka. The layout is simple, the materials are solid, and the seats are comfortable. The dashboard and steering wheel get a good amount of reds to go along with the greys, which brings everything to life. It's a funky interior for a funky 2017 city car.
The interior is bigger than last time, too, which means more interior space. Four adults should be able to sit in relative comfort, and there are enough storage spaces to keep things tidy. There are even a few storage areas beneath the rear seats.
Visibility isn't an issue, and the high driving position also makes this an easy car to park. However, rear seated passengers' view of the road ahead is dented by high front-seat headrests.
The boot measures 188-litres, which is significantly smaller than the Ka's. It's a usable boot at least, and when you lock the rear seats into an upright stance, you can extend the size to 219-litres. It also comes with a low load lip.
Price:
Ford – £10,000 +
Renault – £10,000 – £14,100
Ford Ka Hatchback vs Fiat 500 Hatchback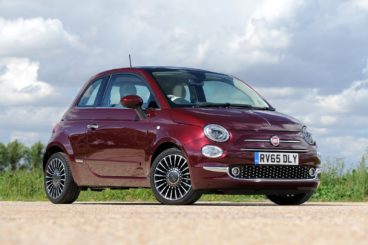 The new Fiat 500 Hatchback is perhaps as popular in 2017 as the Ka was in 2002. Has the Ka got any chance of knocking the retro, fun-loving Italian car off its perch?
The 500 is certainly trendier than the Ka, and is very much a city car for 2017. It also sports a slew of modern engines that contribute to its drivability. In the town, it excels, where its handling and "look at me" styling combine to great effect. It's easy going, and can nip through those gaps in traffic that will leave your dad trailing behind in his saloon.
It comes with the brands City Steering mode, which gives you an injection of power at the touch of a button.
In terms of the engines, the turbo TwinAir two-pot petrol suits it best. It makes this driving lark a piece of cake with its power from down low. It also thrills pleasantly, and can do 0-62 in 10.0 seconds if you go for the 104bhp variant.
A 1.3-litre MultiJet diesel engine is available. It develops up to 94bhp, and can do 0-62 in 10.7 seconds before maxing out at 113mph. Unlike the petrols, though, which emit an engine hum that takes us back to the 1950's, the diesel rattles like a gruff diesel from 2017.
The Fiat 500 Hatchback is a fairly cheap car to run, but Fiat's own official numbers are wide of the mark. The diesel engine offers the best economy, and can return 83.1mpg. It's also free to tax.
However, the petrols are better suited to city life. Fiat reckon their 1.2-litre 69bhp unit can return 60.1mpg, but we reckon you'll struggle to get those numbers. And while Fiat claims their Twin Air engine can return 74.3mpg at best, we again think the 500 will fall short in the real world.
The 500's interior makes the Ka look even more dated than it is. Its bright colours, easy-to-use infotainment system and flashes of chrome create a vibrant setting. You can add a panoramic glass roof for more light, while the seats are nice and soft.
The dash is a well-appointed, well-laid out affair. It comes with a gloss finish which looks nice, but which scratches easily.
Like the Ka, the 500 only has three doors, which does limit practicality. It's well packaged, though, and there should be enough room for four adults. Access is tricky, but the doors do open wide. The seats can also be slid pretty far forward.
The boot, meanwhile, measures 185-litres, which is a lot smaller than the Ka's.
Price:
Fiat – £11,500 – £18,350
Verdict Of Our Ford Ka Hatchback 
In some ways, the return of the Ka feels a lot like the return of a nineties pop band. You get a bit giddy when this kind of return is announced, but soon sober up when you realise its day has definitely passed.
There are more up-to-date rivals, and the city car sector is so different in 2017. Still, few can rival the Ka when it comes to practicality, and its 224-litre boot could swing things in its favour. Cute styling and good handling also mean it's too early to write off the Ford Ka Hatchback.
Request a call back from one of our Vehicle Experts

Latest posts by Will Titterington (see all)